This article may contain
affiliate links
. If you make a purchase through these links, I will earn a commission at no extra cost to you. Thanks!
Utah's renowned Bryce Canyon National Park is perhaps one of the most spectacular national parks in the country, home to the hauntingly beautiful Hoodoos that stand in the thousands throughout the canyon. This amazing national park is also home to some truly top-notch American hiking experiences. In particular, here are 12 hikes in Bryce Canyon National Park that really are worth the trip and of which you should definitely try to check out.
Of course, you probably don't have time to check out all of these beautiful trails on one trip, but that's what keeps me coming back to this park and this part of the country. Indeed, a Utah national park road trip is one of the coolest ways to spend your precious vacation time, because you can pack a lot of amazing scenery into a small geographic area and you can easily visit the neighboring Zion National Park and Grand Staircase Escalante when you come to Bryce.
One thing to keep in mind for any Bryce Canyon hike and something that most people fail to realize is that the park sits at a very high elevation with the rim ranging in elevation between 8,000 to 9,000 feet. This means that if you are not properly acclimatized, you will probably be huffing and puffing more than usual as you ascend back up to the rim. It is important to stay hydrated and take things easier if you're coming from a low altitude and without proper time to acclimatize.
In any case, without further adieu, here's the scoop on 12 awesome Bryce Canyon hikes.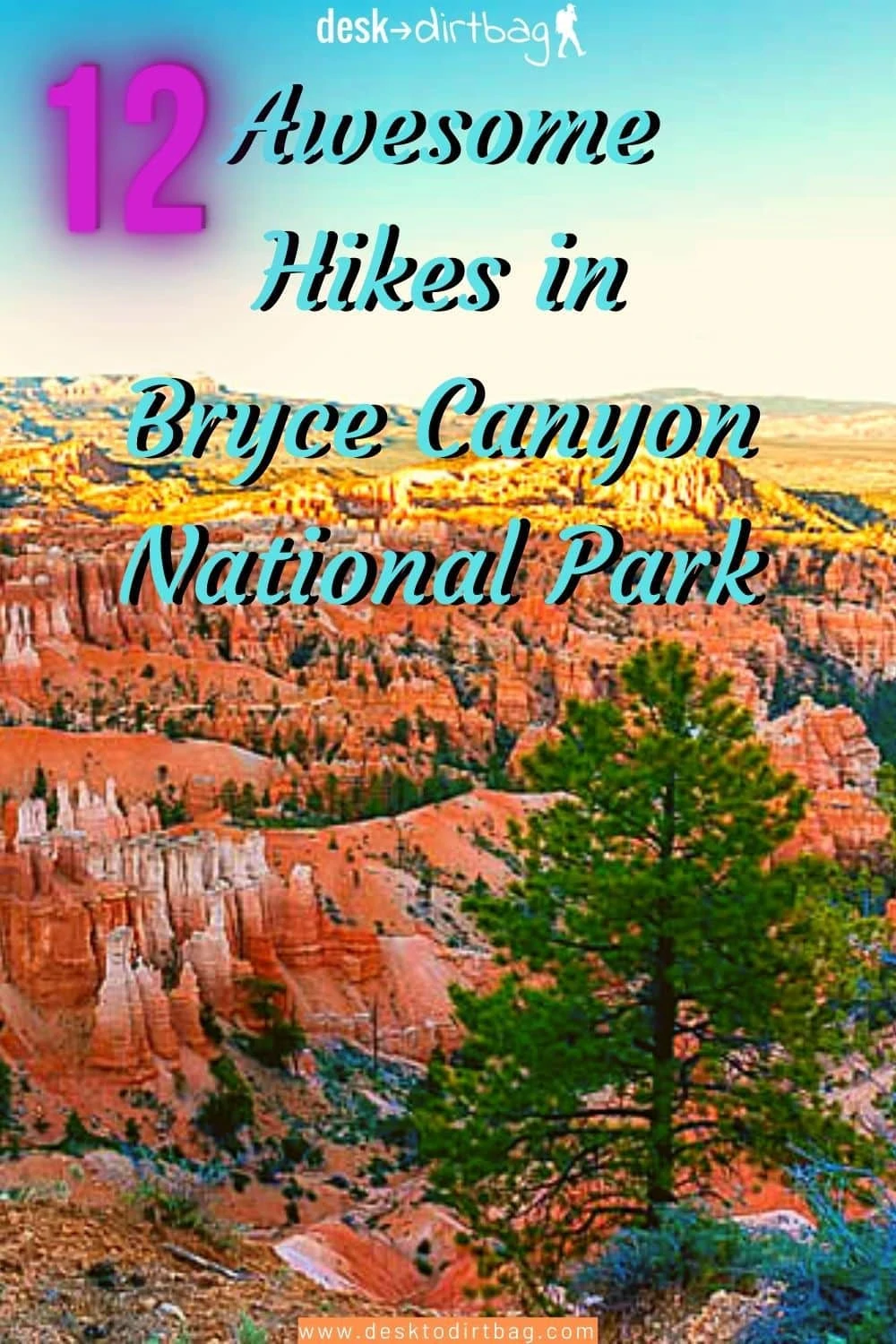 Sunset to Sunrise Trail
There's no better way to get things started off with a visit to Bryce Canyon National Park than by making a jaunt along the park's beginner-level Sunset to Sunrise Trail. This hike is wheelchair-accessible and paved the entire way, so it's certainly easy enough for the whole family to enjoy.
And in terms of enjoyment, this one is a great time with plenty of amazing rock formations to spy as well as some greater views to be had across the park's amazing landscape.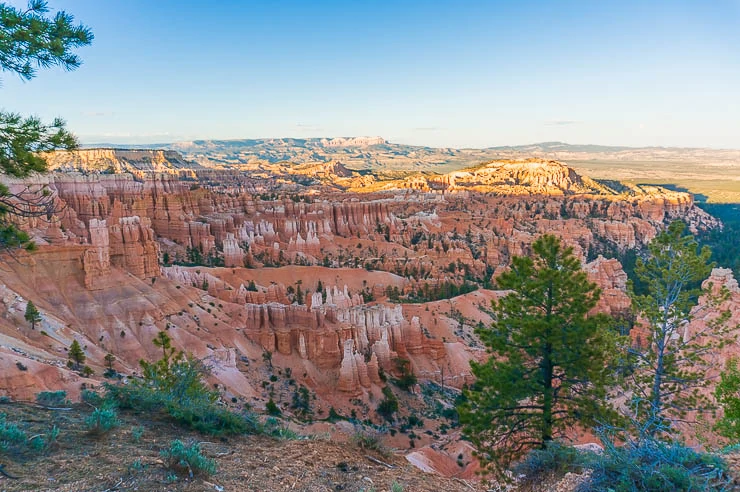 This beginner's hike only takes most hikers around 30 – 45 minutes to complete and runs a total distance of one mile. There's very little elevation change also makes this a quick and easy jaunt for virtually any visitor. Sunset Point and Sunrise Point mark the two trailheads of this great mini-hike.
This is an excellent location for some photography at, you guessed it, sunrise or sunset, as the Hoodoos seem to be lit from within in a sort of iridescent glow.
Queen's Garden Trail
The Queen's Garden Trail hits the next spot on our list of the best Bryce Canyon hikes to check out. That's for good reason, too, as this day trek takes you on a very cool adventure to the heart of hoodoo land. Here, you can see all kinds of interesting fairy chimney spires around the Queen Victoria area of the park as they tower above you.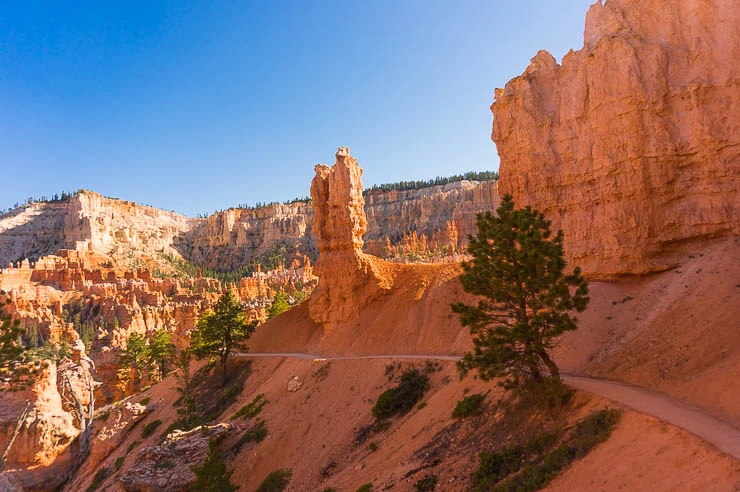 To find this trail, you just simply have to look for its clearly-marked trailhead at Sunrise Point. This is yet another very easy and family-friendly hike with little elevation change and no experience-requiring challenges to face otherwise. From start to finish, round-trip, this great trail option runs the span of just 1.8 miles.
It can be combined with some other great hikes, which we'll get into shortly.
Mossy Cave Trail
Speaking of seeing the hoodoos up close and personal, you may want to consider doing the Mossy Cave Trail hike which is access along Highway 12 (one of the most scenic drives in America) near the town of Tropic, Utah. This access point is outside of the main entrance to the park but is great because you don't have to do a steep descent (and then ascent) to see the hoodoos.
It is a short 1-mile round trip trail that is especially apt for children or senior citizens. The namesake of the trail is an interesting cave or grotto that is covered with moss or lichen and also frequently features some incredible hanging icicles in the winter months.
Bryce Canyon Rim Trail
Returning back to the main section of the park, Bryce Canyon Rim Trail is, by far, one of the park's most well-known hiking attractions, and that's because of a few, combining factors. This trail is a major connection point for many of the other park attractions and trails, and it provides an easy but somewhat lengthy and beautiful expedition through the park's rock wilds.
Taken in its entirety, Bryce Canyon Rim Trail stretches for 11 miles from one end to the other and the fit hiker can easily be tackle this trail on a moderate day hike. It will take you along some of the greatest viewpoints offered here on the canyon rim. If you hike when the shuttle is operating, you could also do it as a 5.5 mile one-way hike, making it more apt for families or new hikers.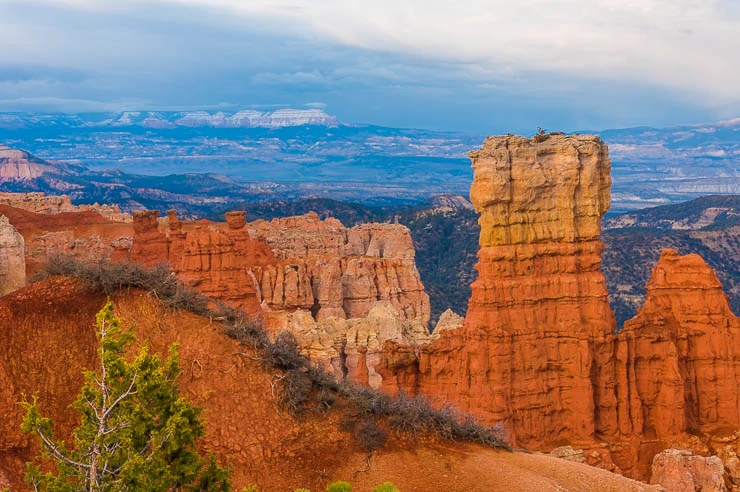 As to the specific scenery you'll encounter along this beautiful trail, this one skirts the rim of the park's famous, natural amphitheater area and also reveals some spectacular, distance views as well as up-close looks at plenty of the local flora and fauna. Another advantage to this particular trail is its always-close vicinity to a great number of the park's many, official, renowned amphitheater viewpoints.
To locate this great hiking opportunity, simply find Bryce Point or Fairyland Point, and you'll have found one of its two trailheads.
Navajo Loop
As we start to step-up the difficulty level of our list of Bryce Canyon National Park's top hikes, Navajo Loops is quite fitting for our next stop as it will bring us down from the canyon rim and start to experience some elevation change. This moderately challenging trail runs right past the park's super-intriguing Thor's Hammer rock formation as well as the famous Wall Street and Two Bridges for plenty of excellent, camera-ready moments among a spectacular landscape.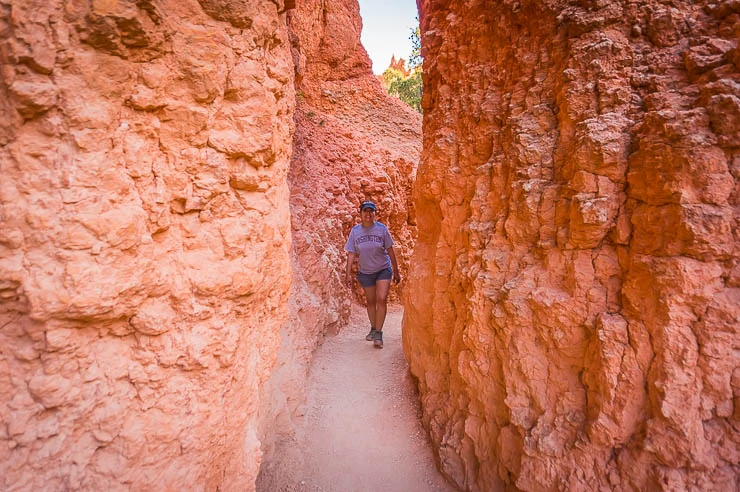 Hikers should be prepared for some good leg work and come with some hiking shoes with good traction, as this trail system does run through plenty of switchbacks and features some undeniably steep stretches of elevation change.
Beginning hikers are certainly capable of this challenge in most cases, but as stated above, all should be prepared for some real legwork here as well as good sun protection and adequate water (read our guide on day hike essentials). Sunset Point marks the easily-found starting point of this great hiking experience.
Queen's Garden – Navajo Combination Loop
We've covered the Queen's Garden Trail, and we've covered the Navajo Loop just above. However, one of the park's feature hiking routes actually combines the two for a singular and very satisfying, 2.9-mile loop experience. Along this trek, you'll see all of the top sightseeing spots featured in the Navajo Loop section in addition to the hoodoo spires of the Queens Garden section, this is definitely the park's most popular trail, however, so expect crowds.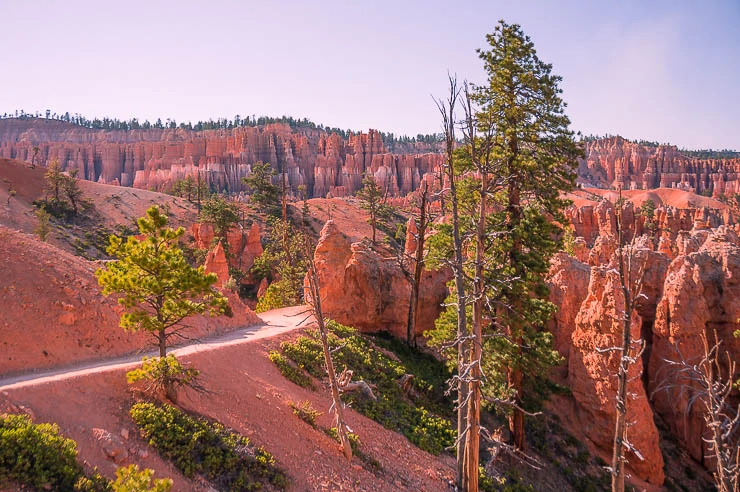 Combined, these two routes present the hiker with a great workout of moderate difficulty. Most complete the full tour in around two hours, although this is a very conservative number considering the many sights there are to take in along the way and which will have you gawking in amazement. The park's Sunrise Point and Sunset Point are the locations at which each end of this trail can be found.
Peekaboo Loop Trail
If you want to see about 10% of the crowd compared to the Navajo Loop Trail and Queens Garden Trail, but which still rests on the moderate side of the hiking difficulty scale, Peek a Boo Loop Trail is a real winner. Visitors to this part of the park can look forward to some favorite and very beloved venues including the park's extraordinary Wall of Windows.
The main area of attraction here, the park's natural amphitheater area, rests at the bottom of the trail's descent which occurs in the middle region of the trail. Due to the steep elevation change either direction of the hike takes you through, this hike is definitely a physically strenuous one no matter how you do it.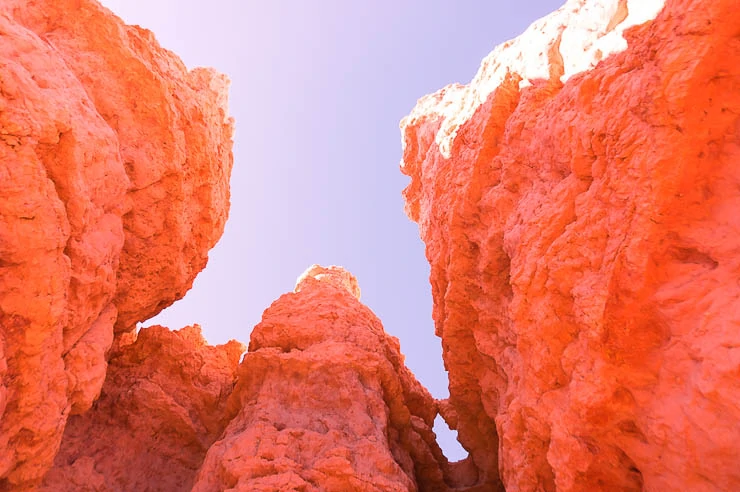 To find the main trailhead most use for this trek, simply find the park's Bryce Point. Most hikers can complete this hike in around four hours, and it runs a total length of about 5.5 miles. In the warmer months, this trail is also particularly well-known for its amazing cover of wildflowers.
Bryce Amphitheater Traverse
Bryce Amphitheater Traverse cuts right through one of the park's signature draws. This hike heads into the park's natural amphitheater area, covering a great extent of its most scenic territory. This also provides one of the park's better opportunities at spying some of the region's unique wildlife since this trail tends to see less traffic than others we've mentioned.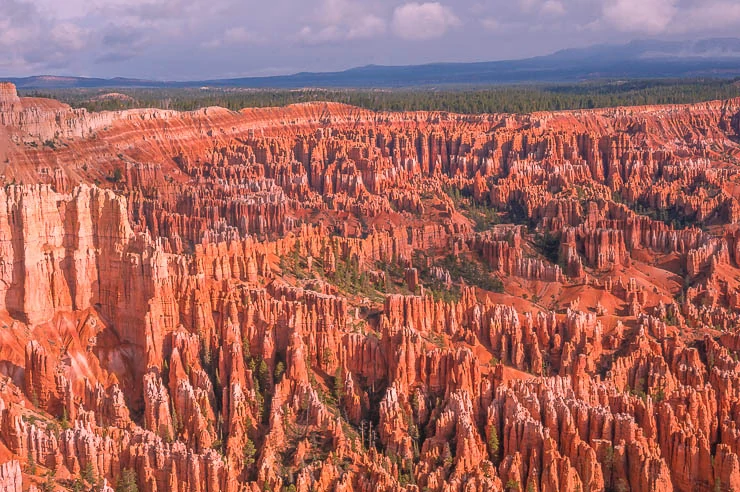 To finish this entire hike, one should be ready for a reasonably strenuous go of about 4.7 miles one way or 7.4 miles if followed in its entire loop path. Plenty of challenging elevation changes also greet the hiker no matter which path you take, although the Rim Trail section of the journey is an easier stretch in which to sort of catch your stamina again. Expect to spend at least four hours on this adventure if taking the shorter path.
Navajo – Peekaboo Combination Loop
The Navajo – Peekaboo Combination Loop weaves a very nice, figure-eight path through Bryce Canyon National Park. For those trying to see as much of the park as possible in a single-day experience, this is a great bet, as it runs a total distance of about 4.9 miles and through some of the park's most interesting draws. These include Thor's Hammer, the Wall of Windows, and Two Bridges, so lots of sightseeing opportunity is packed in on this journey.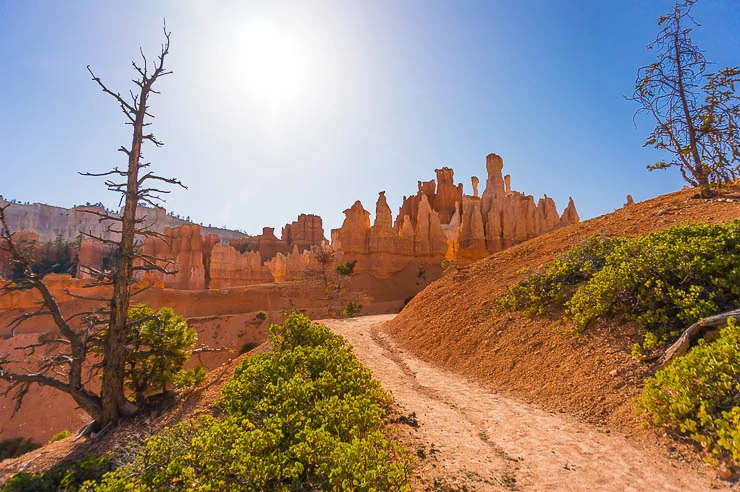 Configured in a double loop system, this hike offers a total hiking distance of just slightly less than five miles. Most take a minimum of three hours to complete this hike, and it is quite strenuous due to its many elevation changes and constantly-changing footing in some areas. Like many of the other most popular hiking trails in Bryce Canyon National Park, this one starts right at the Sunset Point trailhead junction.
Figure 8 Combination Hike
If we had to pick a single favorite hike in Bryce Canyon National Park, the park's celebrated Figure 8 Combination Hike would likely earn that honor. That's because there's really not much left to be desired when you take this trip through the heart of the park's greater canyon area. In fact, taken to its end, this trail hits virtually every major highlight in the park.
To start out on this great hike, you can begin at Sunrise Point or Sunset Point. From here, the winding way takes the hiker along a 6.4-mile double loop, and bits of the Queen's Garden Trail, the Navajo Loop, and Peekaboo Trails all make up various segments of the sight-filled journey. Depending on your pace, allow for four to six hours to complete this great tour.
Fairyland Loop Trail
Finally, in terms of day hikes in Bryce Canyon, it'd be a mistake to forget the park's Fairyland Loop Trail. This staple among the various Bryce Canyon hikes offers perhaps the least crowded journey available here for a truly serene experience. A hike along this loop trail takes visitors on an 8-mile total journey on the much less visited north side of the park where no-less amazing attractions still await such as the Chinese Wall and the Tower Bridge.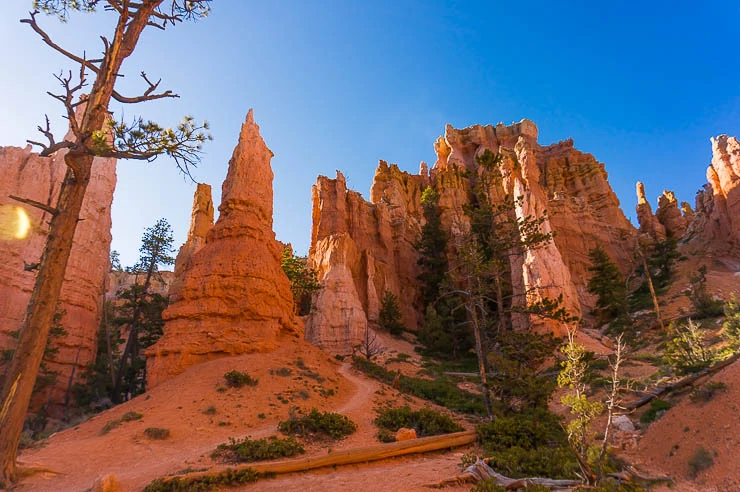 Four hours is about all it takes to make it through this great day-trip, though plenty more time can easily be spent taking in all that this trail has to offer. This is a physically challenging hike, but no special equipment or skills are needed aside from the normal day hiking essentials and some great stamina to conquer the regular elevation irregularities.
Fairyland Point marks the start of this highly memorable hiking trail in Bryce Canyon National Park.
Under the Rim Trail
For those of you looking for overnight backpacking opportunities in Bryce Canyon National Park, the Under the Rim Trail is your best bet. This is the longest trail in the park at nearly 23 miles.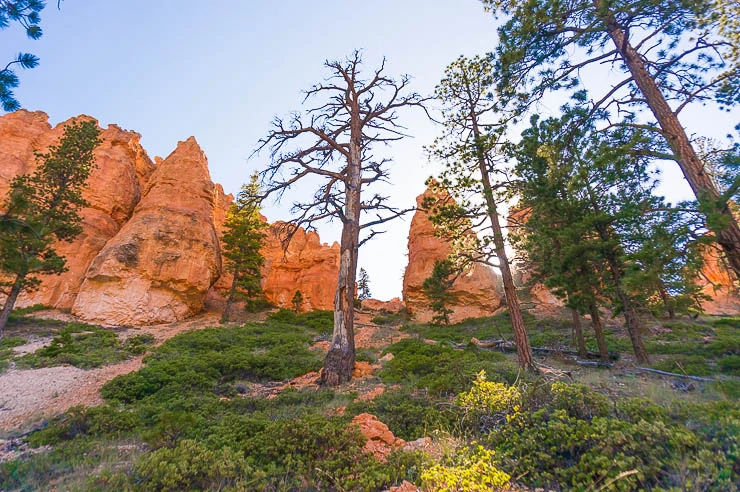 This trail also offers the chance to see the park in a way that most visitors do not, from a bottom-up perspective rather than top-down. While fit and experience ultralight hikers might be able to tackle this as a long day hike, that would be missing out on a crucial aspect which is simply passing the night in the backcountry of this incredible terrain. Much of the trail will take you through forests and along some grueling terrain, you'll regularly catch a glimpse of the looming hoodoos overhead.
You'll need backcountry permits to do this trail, so be sure to stop by the Bryce Canyon Visitor Center for more details. The most common route is to hike from north to south and is a point-to-point hike rather than a loop, meaning you'll need to use the shuttle or station cars.
More Hikes in Bryce Canyon
So there you have it, a sample of some of the best Bryce Canyon National Park hikes, although there is plenty more to explore in this beautiful, underrated national park in the heart of southern Utah.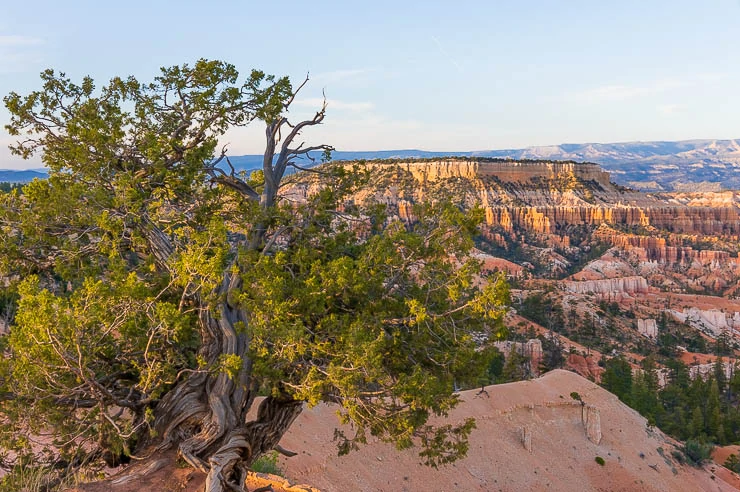 Don't forget to purchase your America the Beautiful Park Pass if you're planning your Utah national park road trip and exploring this beautiful part of the country. Whether you're staying at one of the campgrounds or in Bryce Canyon Lodge, you're not going to want to miss hitting the trail during your visit to the park.
I dare you to try not to be amazed as you look out from Inspiration Point or stand on the edge at Rainbow Point. While Bryce may not get as much attention as Zion or the Grand Canyon, it is undeniably impressive and is one of my favorite national parks in the country.
Read Next: An Epic National Park Road Trip
Share This
Did you enjoy this post about the best Bryce Canyon hikes? Take a second to share it on Pinterest, Facebook, or Twitter. Thanks!
The following two tabs change content below.