This article may contain
affiliate links
. If you make a purchase through these links, I will earn a commission at no extra cost to you. Thanks!
Everyone knows about the most popular national parks like the Grand Canyon, Yosemite, Yellowstone, and so forth. But I thought it would be interesting to take a look at some of the most underrated national parks in the United States. There are 62 protected areas across the United States designated as national parks units, and there are numerous other types of sites like national monuments, preserves, historical parks, etc, also administered by the National Park Service. Lots of those national parks units don't really get much love from visitors, so let's talk about a few awesome places to check out on your next national parks road trip.
A few ground rules:
First, we are only going to be talking about national parks in the Continental USA. That means no national parks in Alaska because pretty much ALL of the national parks in Alaska are underrated and not often visited. They are inherently more difficult to visit but quite spectacular.
I didn't think it would be helpful to have a list full of Alaskan national parks, but would rather focus on parks that could be more easily visited by the vast majority. This means no Gates of the Arctic National Park, Wrangell St-Elias, Denali, etc. But visit them! There are so many places to visit in Alaska that you could spend a lifetime there.
Likewise, this means I'm not going to include national parks in Hawaii or other remote units like Virgin Islands National Park — again, for their remoteness, they are inherently underrated.
Second, I'm only going to be including national parks that I have personally visited. While I haven't visited them all, I have been to a majority of them in the continental USA and feel like a have a good perspective on which are the most underrated national parks in the US.
Third, while annual visitors to each national park will be the main consideration in determining which ones are the least crowded national parks and thus the most underrated, it isn't the only factor. I'm also trying to include underrated national parks that are quite awesome in their own right and deserve to get a little more attention.
If you're planning to visit some of these, make sure to pick up your America the Beautiful Annual Park Pass!
Alright, let's get on with a few of the most underrated national parks in America…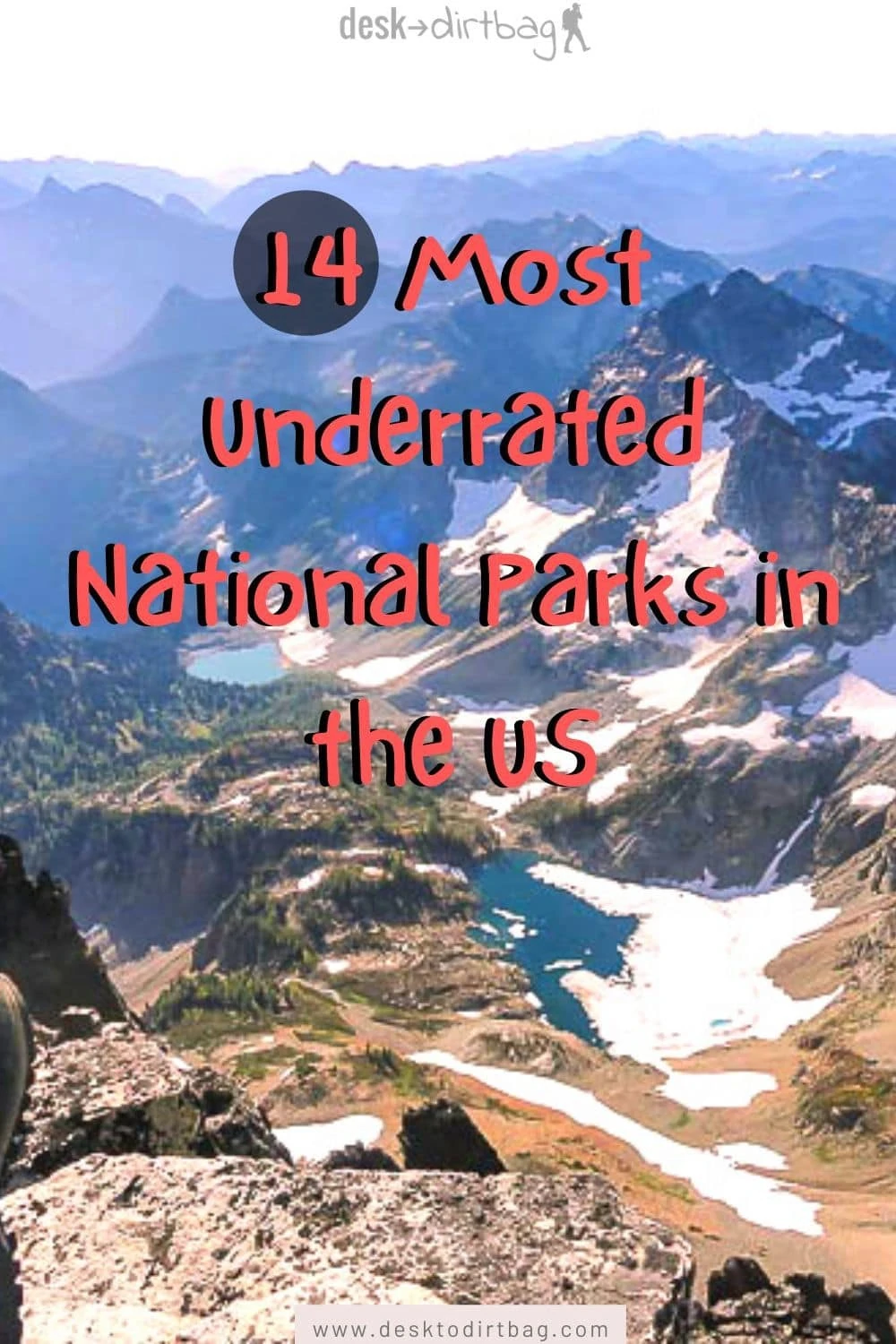 Great Basin National Park
Great Basin National Park is perhaps the most remote and isolated national park in the Lower 48, sitting on a remote edge of Nevada at the terminus of what has been dubbed the Loneliest Highway in the US. This park is centered around Wheeler Peak, the second-highest peak in Nevada at 13,065 feet.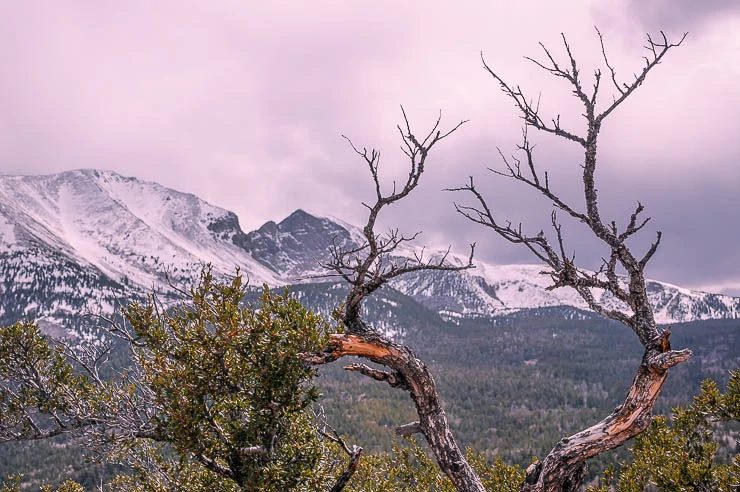 These high mountains and alpine environments aren't something that most people normally associate with the state of Nevada which is evidence of why this park is so special. Here you will find some spectacular canyon walls, moraines, cirques, and valleys, among numerous hiking trails of varying difficulty. The most strenuous hike is probably the Wheeler Summit Trail which starts at an elevation of just over 10,000 feet!
The park is famous for its groves of ancient Bristlecone Pine trees that can date back to 5,000 years old. These are the oldest known living trees and grow in spectacularly gnarled formations at high altitude.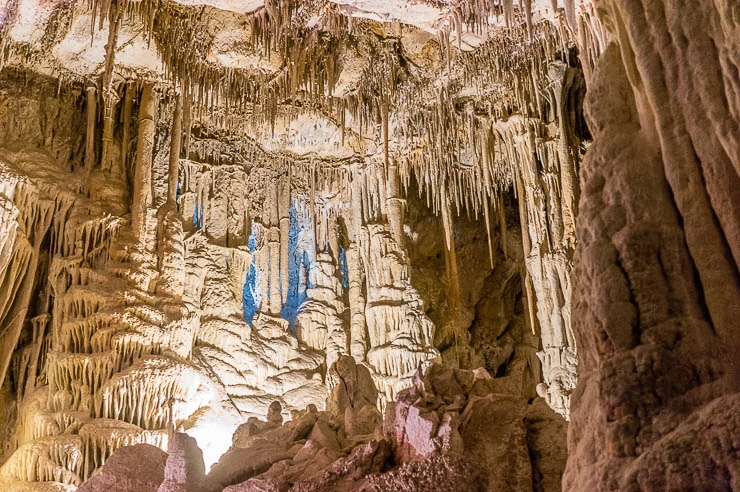 Be sure to also take a tour of Lehman Caves which is a great cave system full of stalactites, stalagmites, and its fair share of bats. It is a really cool experience to take the tour with a knowledgable park service ranger.
Many people don't realize you could visit Great Basin National Park on a long road trip from Las Vegas and an overnight stay. This park, thanks to its remote location, is also home to some of the darkest skies, if you like to observe the stars!
North Cascades National Park
Washington State is home to the amazing Olympic National Park and Mount Rainier but North Cascades National Park is frequently overlooked. Indeed, this park is among the least visited parks in the entire system, which is pretty incredible considering how large it is and how spectacular the park is.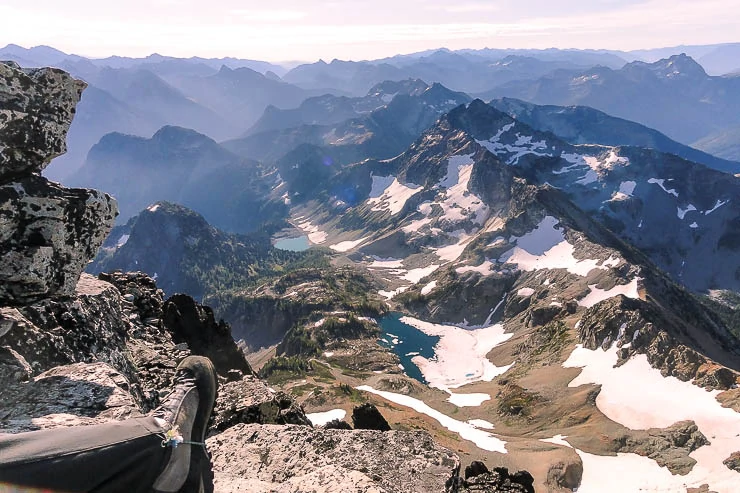 Of course, the lack of visitors is mostly due to the remote location and the fact that there is virtually no road access directly to the park. The park itself is primarily designated as a wilderness area and is divided into two distinct geographical units on either side of the North Cascades Highway (State Route 20).
So while tons of people drive this scenic byway (one of the most scenic drives in America), few actually venture into the boundaries of the park. If you want to camp in North Cascades National Park, you have to hike into a backcountry site. This place is one of the premier wilderness destinations in the Lower 48 and is replete with hiking, backcountry, and mountaineering opportunities.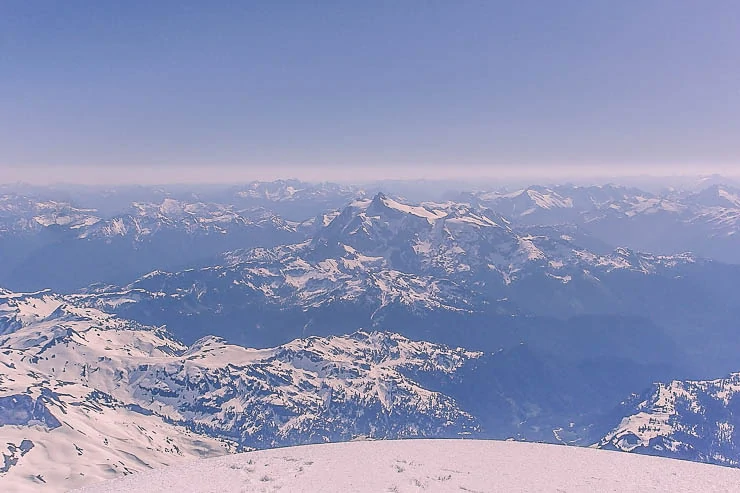 Some of the most spectacular parts of the park, in my opinion, that is still relatively accessible are the Boston Basin area (home to the Torment-Forbidden Traverse, etc), Mount Shuksan (one of the most picturesque and photographed mountains), and there are numerous great hikes that will take you into the park from Highway 20.
Even just beyond the borders of the park lie incredible nature opportunities from the iconic Five Spires to the beautiful Lake Chelan. I've also always wanted to see the Picket Range deep in the park, but haven't done that yet.
Congaree National Park
Conga-what? Most people haven't even heard of this park. Congaree National Park sits in the heart of South Carolina and is a totally different sort of park compared to the two we mentioned above. While this park is relatively small and modest, it is quite often overlooked and contains the largest tract of old-growth bottomland hardwood forest left in the United States. Here you can walk boardwalks through swampy terrain and see unique vegetation like the old cypress trees.
Even if you're just doing the short boardwalk hike through the center of the park, you're still likely to see some unique wildlife from snakes to turtles. Along other hiking trails, you may be able to see deer, bobcats, armadillos, turkey, and other cool creatures.
There are numerous hiking trails in the park, along with backcountry camping opportunities, there is even a 20-mile marked canoe trail (canoeing and kayaking are popular here).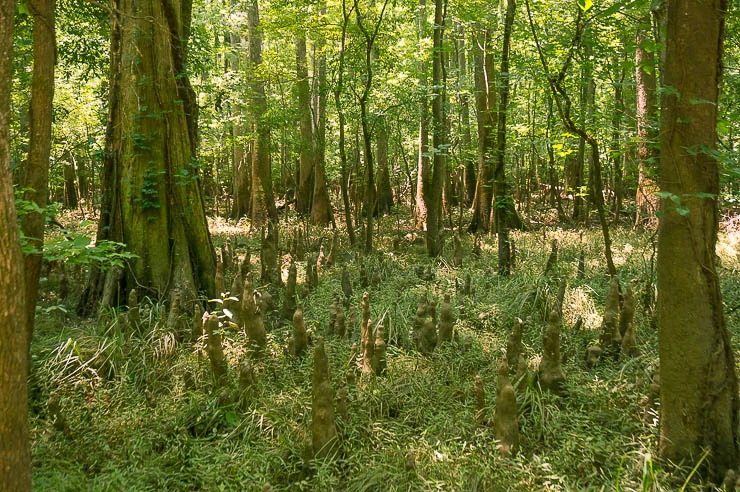 Perhaps the coolest and most unusual attraction of the park is the spectacular synchronous fireflies that dance about for a few weeks every year in the May-June time frame. If you're passing through the American Southeast on your great American road trip, you should definitely stop in at Congaree.
Great Sand Dunes National Park
The pride and joy of Colorado National Parks is undoubtedly Rocky Mountain, but there are a few other, often overlooked national parks, that are also worth your attention! Great Sand Dunes National Park is certainly one of them.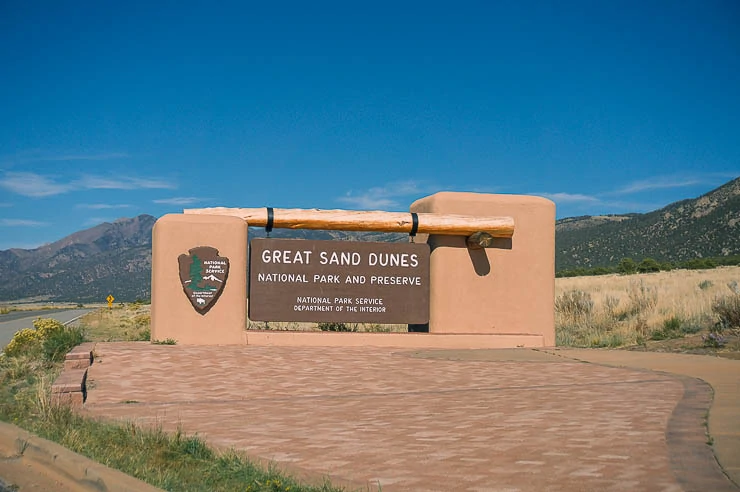 Home to the highest sand dunes in all of North America, some measuring over 700 feet tall, this is a unique and incredible ecosystem. Obviously, the main attraction in a park named Great Sand Dunes is the spectacular sand dunes here. If you've never hiked a sand dune, you're in for a challenging and interesting outing that is often two steps forward, one step back. It is a pretty unreal experience though, feeling like you're hiking in a little slice of the Sahara right here in Colorado.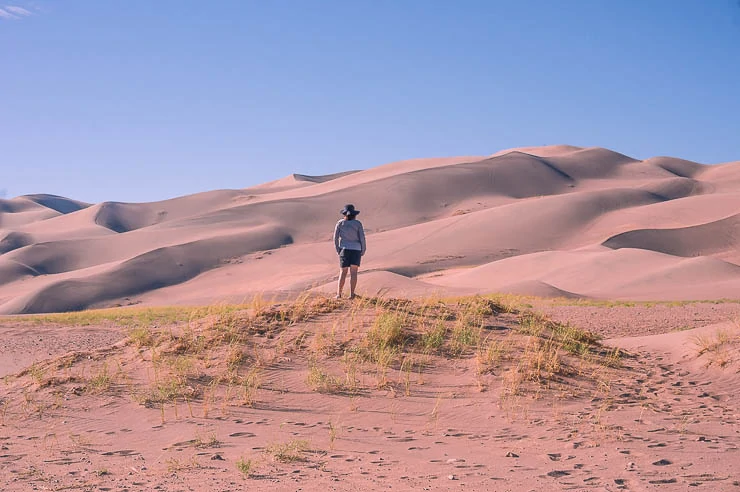 Sandboarding and dune buggies are popular activities here (which you can rent). Be careful in summer though, because the surface of the sand can reach up to 150 degrees in temperature! But let's not also forget that the park encompasses more than the massive sand dunes. It actually continues to the east up to the ridgeline crest of the Sangre de Cristo mountains, providing ample opportunity for hiking and nature among the trees and mountains.
One of the most popular trails is Mosca Pass which is a relatively easy 7-mile round trip hike through aspen and evergreen forests with the occasional distant glimpse of the dunes before topping at below 10,000 feet.
White Sands National Park
Speaking of sand dunes, the newly formed White Sands National Park in southern New Mexico near Alamogordo is another incredible national park. While the dunes here aren't as high as Great Sand Dunes, they are an absolutely gleaming white color that looks like sand taken straight out of the most beautiful tropical beach you've ever seen in photos. The sand here is from gypsum crystals, which is why it is white, and it is the largest dune field of its kind on earth!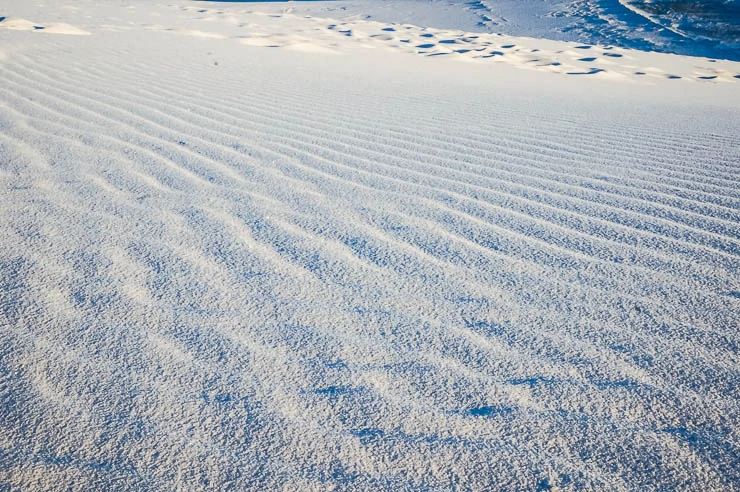 Of course, you can go dune boarding here, but I found it most fun to hike a bit of away from the grounds and find a section of unspoiled sand (no footprints) to just explore and leave my own tracks. There are some backcountry camping opportunities full moon guided ranger hikes.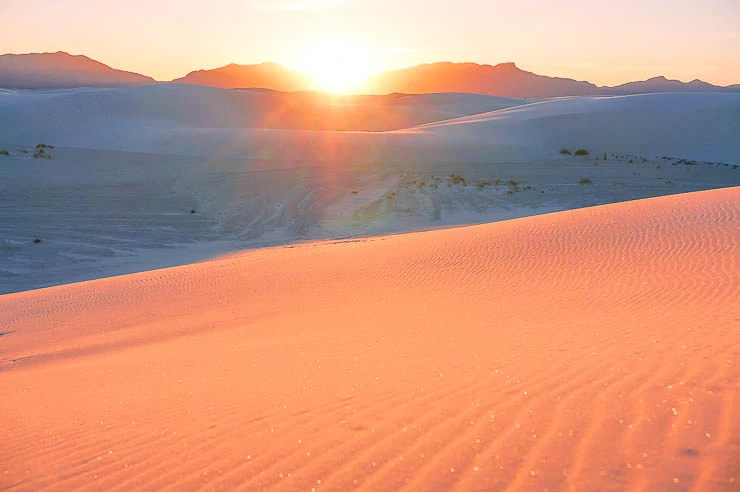 The views here are unreal and provide a spectacular backdrop for photographs. The sand dunes take on the glorious hue of the setting sun. Note that this park is periodically closed when they are testing missiles at the adjacent White Sands Missile Range.
Black Canyon of the Gunnison
Returning to underappreciated parks in Colorado, how about the spectacular Black Canyon of the Gunnison? In terms of canyon parks, everyone knows about the Grand Canyon and probably Bryce Canyon, but much fewer ever visit the Black Canyon in the western half of the state.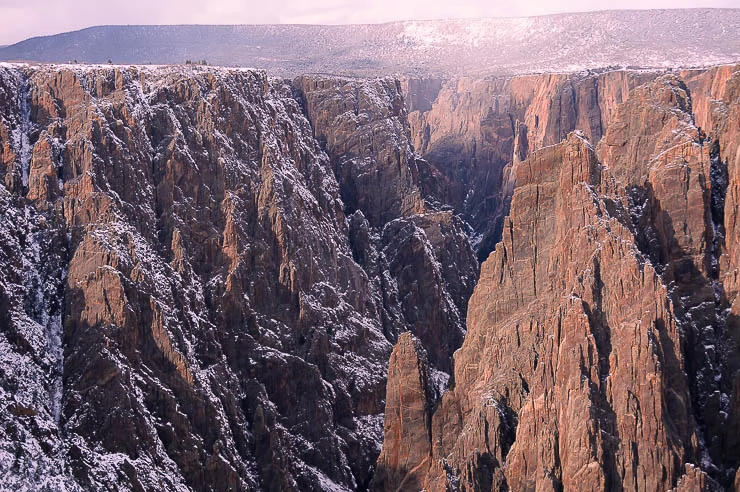 The national park protects the deepest and most dramatic 14 miles of the canyon, but it actually continues on for another 34 miles or so. This canyon is particularly steep with precipitous edges that drop around 2,250 feet to the Gunnison River below. At its narrowest, the canyon walls are only 40 feet apart at the river or 1,100 feet apart from the top of the canyon walls.
The name of the canyon is derived from the fact that very little sunlight reaches the depths of the canyon, with some places receiving as little as 30 minutes of sunlight per day. It is a dark and haunting place that is absolutely spectacular to behold. The aptly-named Painted Wall (with its thick veins running across the rock face) is the largest wall in all of Colorado. Indeed, the Black Canyon is a semi-popular place for rock climbing in Colorado.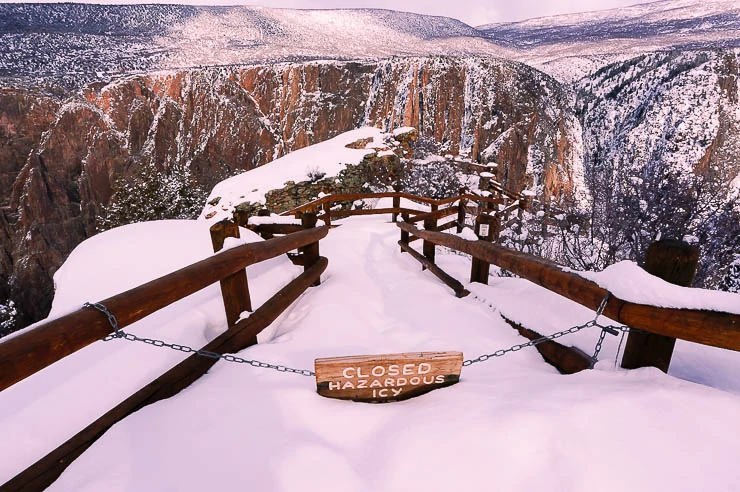 There are two entrances to the park for both the north and sim rim, although the south rim is the more accessible and popular choice thanks to its access near Montrose, Colorado. Montrose is also the gateway to the San Juan Mountains in southwest Colorado, an amazing playground for outdoor lovers! I lived in Ouray, Colorado for a brief period of time.
Mesa Verde National Park
Since we're so close, we might as well include another Colorado destination with Mesa Verde National Park. If you continue south of Montrose, over the Million Dollar Highway, you can beeline toward Cortez, Colorado, and visit this unique place.
Mesa Verde means green plateau in Spanish and while it isn't a true mesa in the geological sense, it is a fairly representative name as this green piece of land juts up from the surrounded countryside. While the nature here is beautiful, it isn't really the nature that is the main attraction here.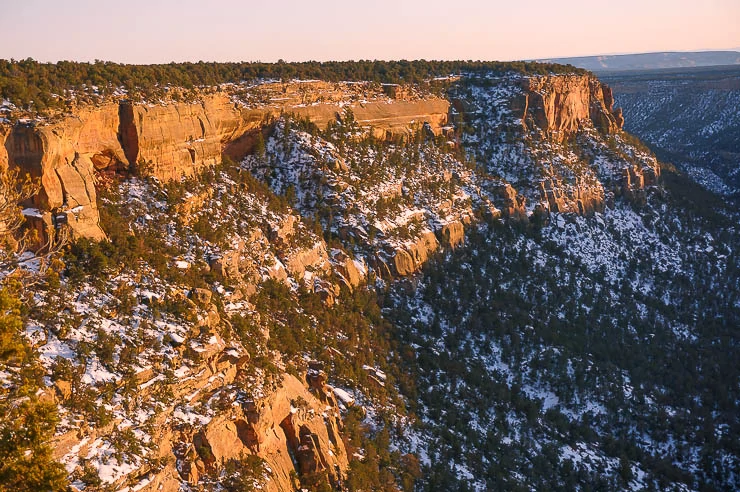 When most people think of ancient ruins in the Americas, they think of Machu Picchu in Peru or the ruins of Central America, but there are some pretty incredible ruins right here in the United States in the Four Corners region. Mesa Verde is perhaps the most extensive and perhaps most spectacular of all of them. Here you will find the ancient cliff dwellings of the Ancestral Puebloans perched delicately on the side of cliffs and under overhangs. It is quite a spectacular setting for which to build a society.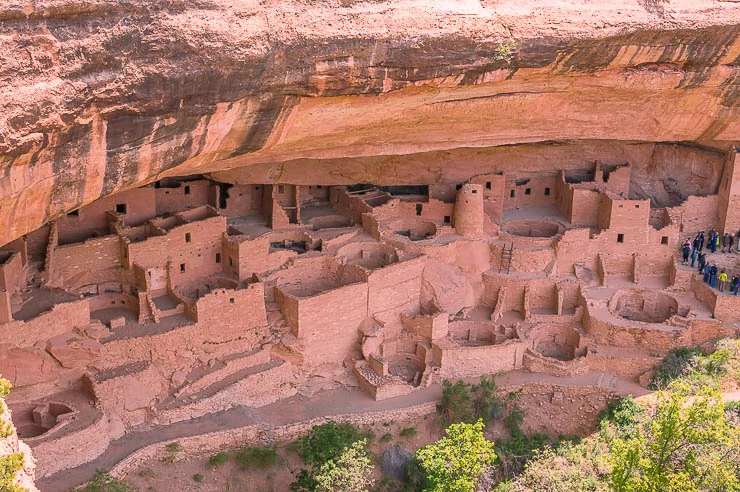 There are more than 5,000 archeological sites and 600 cliff dwellings in the park, the bulk of which was constructed in or around the 12th century — so, dating back almost 800 years now. The inhabitants were eventually forced to abandon the area due to severe droughts, but their architecture remains thanks to the setting, building materials, and climate.
While the ruins are the main draw, there are some great and scenic hiking trails to enjoy and a large campground with 200+ sites.
Petrified Forest National Park
Virtually all the attention goes to the Grand Canyon in Arizona, but there are many other spectacular natural areas to enjoy, one of which is Petrified Forest National Park in the northeast quadrant of the state. This park protects some of the largest concentrations of petrified wood found anywhere in the world among trees which date back some 200 million years. You'll also find sections of shortgrass prairie and ancient petroglyphs from the Ancestral Puebloans.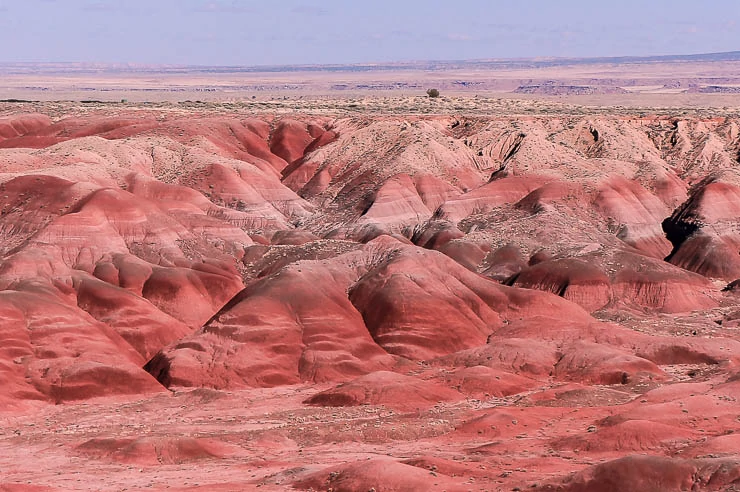 Perhaps the most spectacular natural feature in the park is the Painted Desert section which offers up views of the colorful and highly eroded badlands that seem like something out of a painting. There aren't extensive hiking trails in this park, nor are there any campgrounds, but you will find some relatively short trails to explore some of the park's features.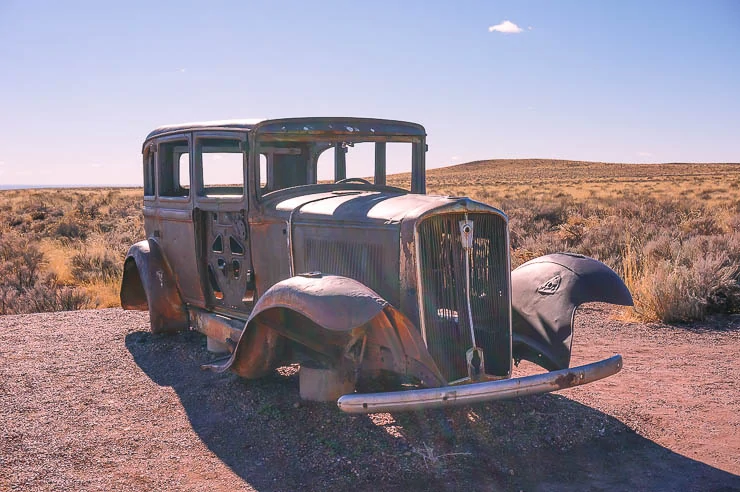 For the road trip enthusiast, like me, you'll find old sections of Route 66 and some relics from the more recent past, which is pretty cool.
This is definitely an underrated national ark that doesn't get much attention but is a great addition to an Arizona road trip, particularly if you're going to continue on to Canyon de Chelly and then Monument Valley.
Saguaro National Park
There are actually two separate parcels of land on either side of Tucson, Arizona (both about 10 miles away east or west) that preserve some of the incredible Sonoran Desert, including the spectacular, giant saguaro cactus. The saguaro cactus can grow to heights of up to 40 feet and are plentiful throughout zones of the park with their outstretched arms reaching skyward. Sunsets here are quite spectacular, particularly with these giants silhouetted in the foreground.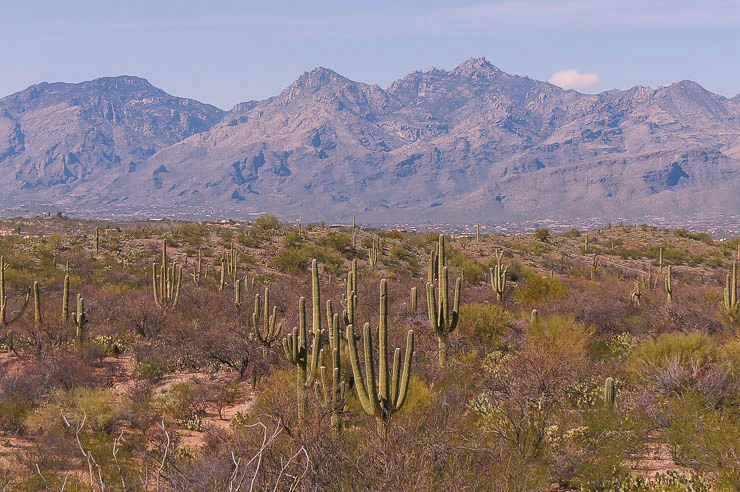 While both sections have a lot to offer, the eastern section is larger and offers more hiking trails along with some mountainous terrain, while the western section has denser areas of the saguaro cacti. If you want to do some overnight backpacking in Saguaro, then look toward the eastern section which is the only area where it is allowed. The classic Tanque Verde Ridge trail can be made into an easy overnighter in the park.
Obviously, hiking in the desert can be a challenge so be sure to bring proper sun protection and plenty of water among the other day hike essentials. If your time is short and you want an easy day trip to Saguaro, the western section and the Bajada Loop Drive are a great option.
Canyonlands National Park
Heading north to Utah, you'll find what is perhaps the best concentration of national parks and other federally protected lands in the country. You could dedicate a few weeks (or months) to just exploring this area on a Utah national park road trip, but if you want to focus on the least crowded national parks in the area, then look toward Canyonlands National Park.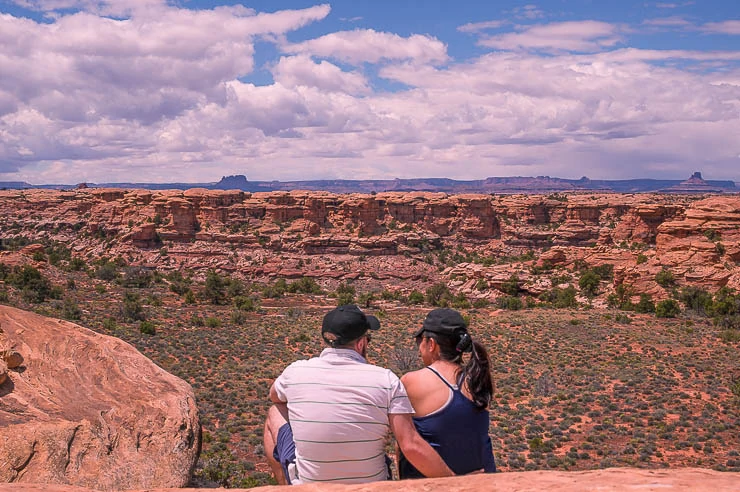 Canyonlands is located in the southeast corner of the state, not too far from the popular Arches National Park which is often filled with crowds. There are actually four different sections of the park: the Maze, Island in the Sky, Horseshoe Canyon, and the Needles. The two most accessible areas are Island in the Sky and the Needles, with Island in the Sky receiving well-over 3/4ths of all visitors thanks to its proximity to Moab, Utah.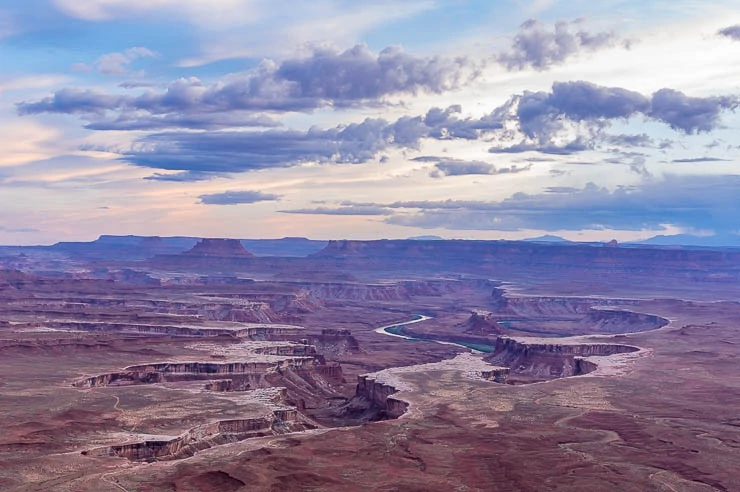 Island in the Sky offers some truly spectacular views over the confluence of the Green and Colorado Rivers from what truly does feel like an island in the sky above the White Rim below. This is an awe-inspiring area offering great vistas and cool geographic features like Mesa Arch.
If you want a little bit more solitude, visiting the Needles or another district is a great place to explore among a cool canyon landscape and the iconic red and white rock pinnacles dotting the landscape. There are a number of longer hikes here that will take you to some cool, relatively obscure arches.
Capitol Reef National Park
Capital Reef sits in the center of Utah's five national parks and is certainly the most underappreciated park among them. While it lacks the dazzling features of the other parks, it is nonetheless an impressive geologic place. The park follows what is known as the Waterpocket Fold which is basically a large buckle in the earth's surface, which lends itself to the incredible features found throughout.
The park itself was named because of the iconic white rock domes throughout the park that reminded early settlers of the capitol building, Capitol Dome being the most obvious example. You'll find a number of attractions throughout the park, including scenic drives like Capitol Gorge (or longer off-road routes), the awesome Cassidy Arch, or the Hickman Bridge. Even the little historic town of Fruita, a town settled by early Mormon pioneers and filled with fruit trees, is quite a pleasant place to explore.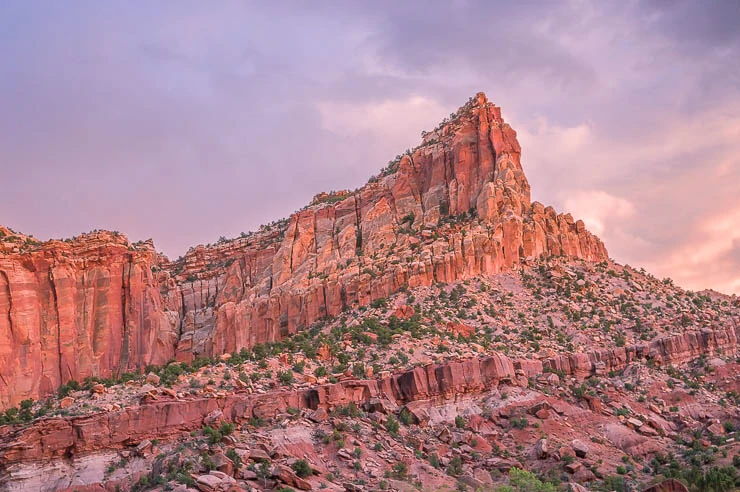 There is no overnight lodging here in Capitol Reed, but there is a campground where you can pass a few days. Linking up to or from Bryce Canyon can be done via Highway 12, which is a beautiful route, and will also take you along Grand Staircase Escalante National Monument which is definitely worth a few days exploring as well.
Badlands National Park
Badlands National Park was one of my most recent "new" national park visits and while I didn't necessarily have any major expectations for the park, I was totally blown away! Second only to Yellowstone, this was the park where I saw the most wildlife, easily. At times it felt like we were driving through a wildlife game farm with the number of prairie dogs, bison, and bighorn sheep we were seeing.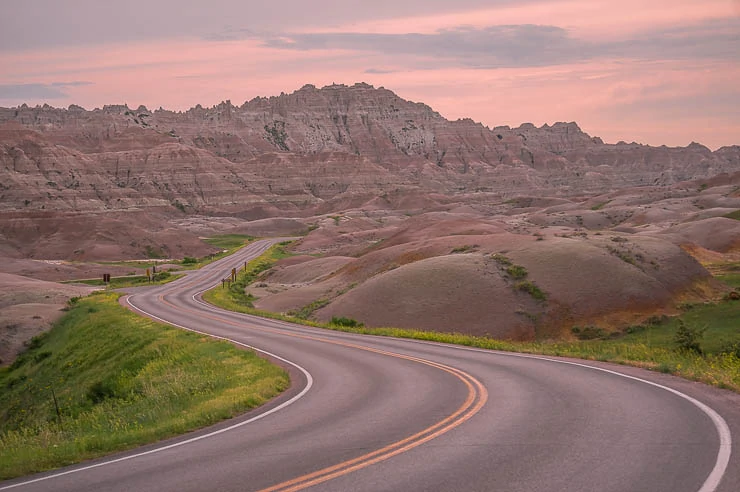 It was a truly amazing place to check out, and that's saying nothing of the wild and incredible geography. I love the badland landscape and Badlands National Park doesn't disappoint. These radical, almost tie-dyed hills have been massively eroded by wind and water over the centuries, leaving their striated colors of rock visible. You'll want to do the Badlands Loop Road, for sure, starting in the town of Wall, South Dakota (stop in at Wall Drug too!). But you should also continue along to the Sage Creek Rim Road, which is a dirt road, and where we saw the greatest concentration of bison.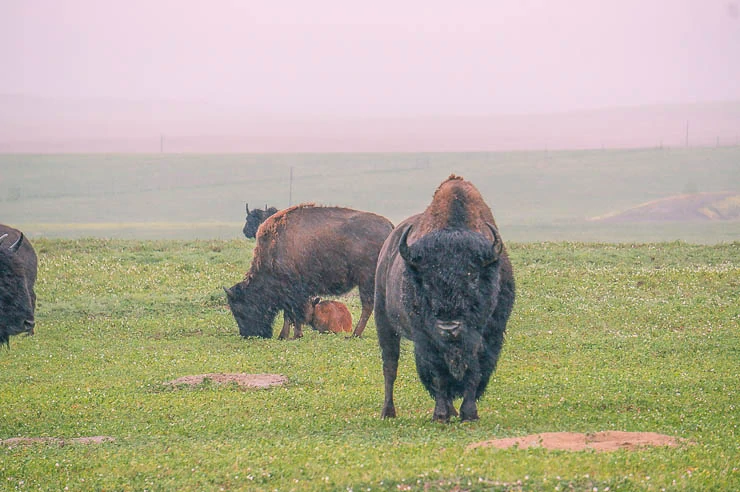 The road itself isn't in too bad of shape, despite warning signs, and we saw a number of cars on the route. We stayed the night at the Sage Creek Campground. Overall, this is a park that I'll admit wasn't super high up on my list during my first national park road trip, but it turned out to be one of my favorites after visiting.
Kings Canyon
Ah yes, California, we couldn't leave you off the list. There are a handful of incredible national parks throughout the state, but one of the most overlooked in the Sierras has to be Kings Canyon. It is frequently outshined by Yosemite and Sequoia, this epic national park has a lot to offer visitors. The park is actually contiguous with Sequoia and the parks are jointly administered by the park service. The main feature of the park is a rugged glacier-carved valley that is more than a mile deep, called, you guessed it, Kings Canyon.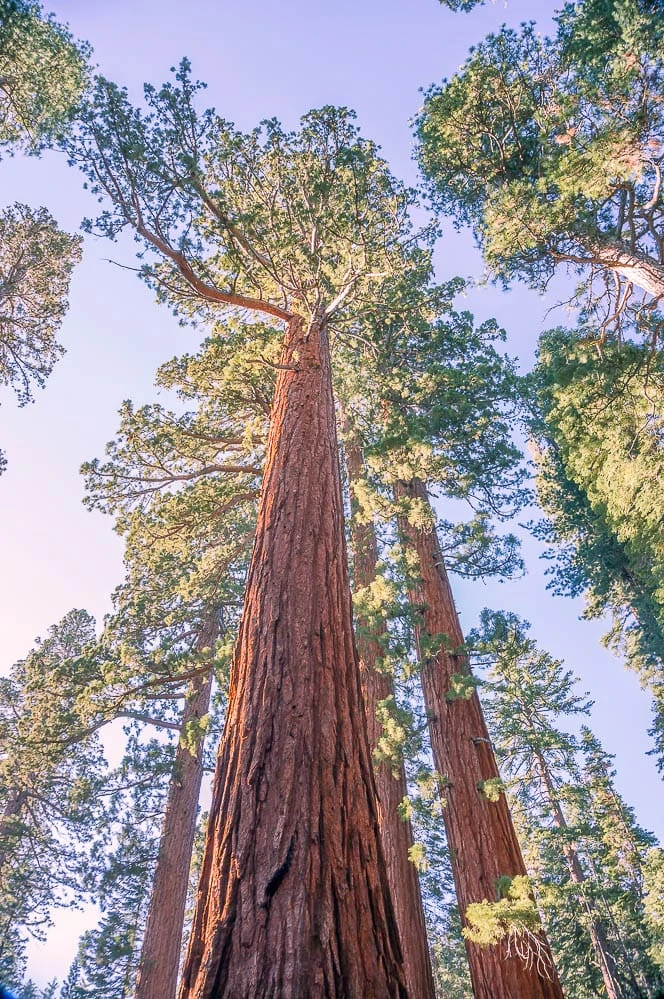 Unlike the neighboring parks, access is relatively limited here, thus resulting in far fewer visitors. There is basically one main road that goes into the heart of Kings Canyon and provides recreation access for those wishing to hike and camp in the backcountry. If you're familiar with the Eastern Sierra, then Kings Canyon sits basically opposite of Kearsarge Pass.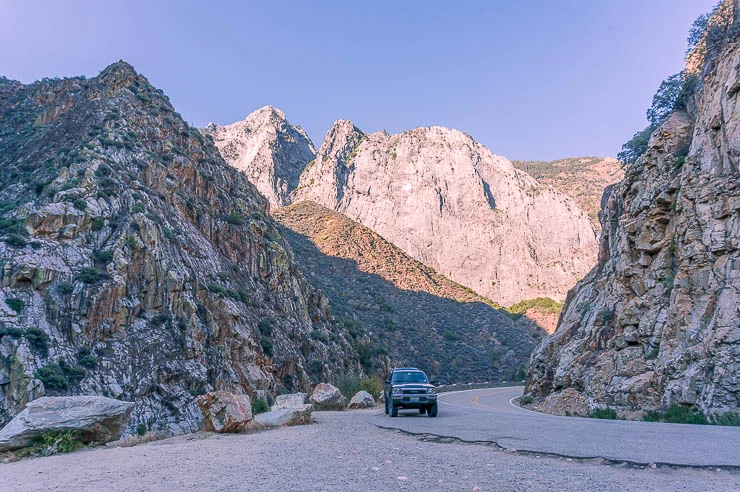 The two main parts of the park are Grant Grove and Cedar Grove. Grant Grove is home to the General Grant Tree, which is the second-largest tree in the world, and this is the busiest area of this seldom visited park. While that is impressive and all, the highlight for me was the Kings Canyon Scenic Byway which has some absolute jaw-dropping views of the beautiful canyon and the surrounding mountains. This park is gorgeous and highly underrated simply because the crowds all congregate in the neighboring parks of Yosemite or Sequoia, but that's all the better for us!
Shenandoah National Park
I think this park is well appreciated by folks living in the Mid-Atlantic Region, but is mostly underappreciated on a national basis, and certainly by people out west who have a plethora of amazing parks to choose from. But while the mountains of Shenandoah may not be as high, they are still ruggedly beautiful. If you're a hiker, I promise you can get more elevation gain and loss here in the Blue Ridge Mountains than most other major peaks… The trails dip in and out of the hollers and valleys almost non-stop!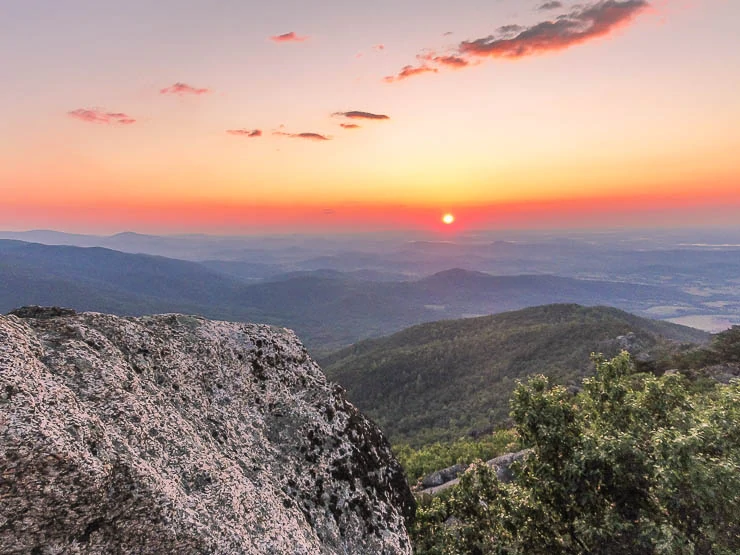 Shenandoah is home to tons of amazing mountains, beautiful vistas, stunning waterfalls, and an almost unlimited supply of hiking opportunities and trails. Not to mention that I've never seen more bears anywhere else in the United States. I'll never forget one foggy morning hiking through and seeing four separate bears in a matter of hours. You're lucky to see just one bear in a place like Yellowstone or Olympic National Park.
Strangely, it is this park that I have probably more extensively explored than any other, thanks to the fact that I lived in Washington DC for so long and used this as a frequent weekend stomping ground. Plus there is probably no better national park for fall colors than Shenandoah — it is drop-dead gorgeous.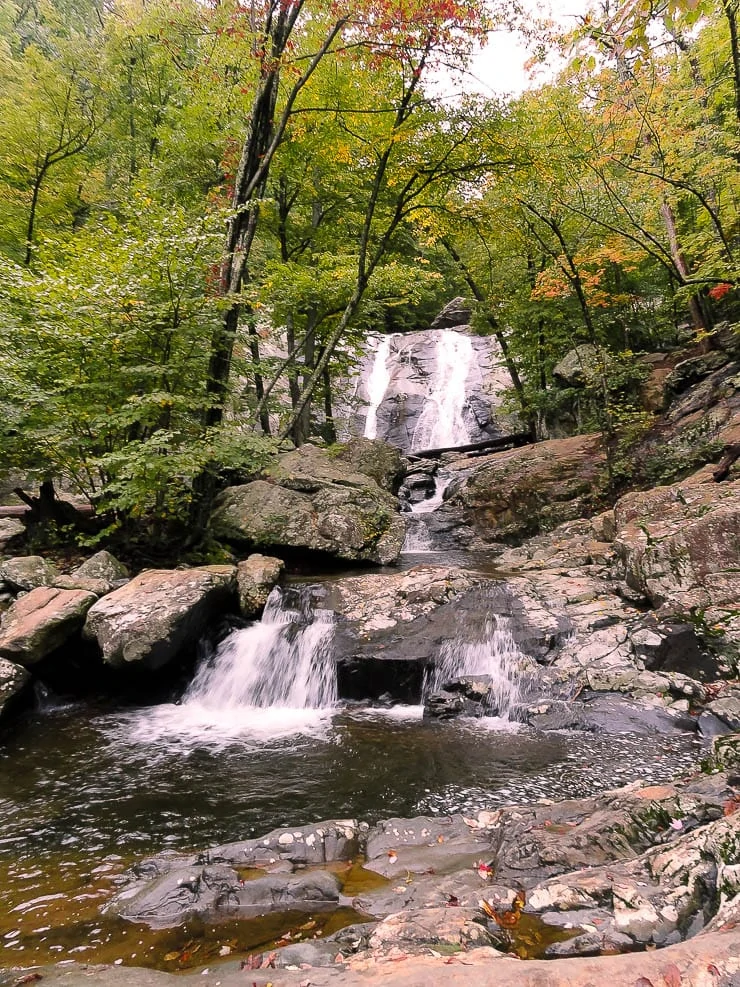 From the beautiful summit of Old Rag and the falls of White Oak Canyon to the always amazing Skyline Drive and the 500+ miles of hiking trails, Shenandoah is a highly underrated national park on the east coast. And we didn't even mention the iconic Appalachian Trail that runs through the heart of this park!
More Underrated Parks to Visit
I haven't been to every national park… yet! So here are a few more that are near the top of my list for want to check out in the future.
Isle Royale National Park: The largest island in Lake Superior is a car-free wilderness with moose and wolves! It also encompasses 400-some smaller islands.
Big Bend National Park: Named after a prominent bend in the Rio Grande River, this large, remote park encompasses a large tract of the Chihuahuan Desert. Likewise, I'd love to explore the Guadalupe Mountains in Texas.
Acadia National Park: This is one that has been on my radar for oh so many years, as I'd love to climb the rocks along the coast, but I just haven't managed to make it all the way up to Maine yet.
What do you think are the most underrated national parks in the Lower 48? Sound off in the comments below.
Read Next: One Epic National Park Road Trip
Share This
Did you enjoy this post about the most underrated national parks? Take a second to share it on Pinterest, Facebook, or Twitter. Thanks!
The following two tabs change content below.