This article may contain
affiliate links
. If you make a purchase through these links, I will earn a commission at no extra cost to you. Thanks!
This past weekend I met up with Kel Rossiter of Adventure Spirit Guides for a two-day run at the classic Torment-Forbidden Traverse (Grade IV, 5.6) in Washington's Boston Basin.
The traverse was an absolutely outstanding route in one of the most spectacular and wild settings I've ever seen.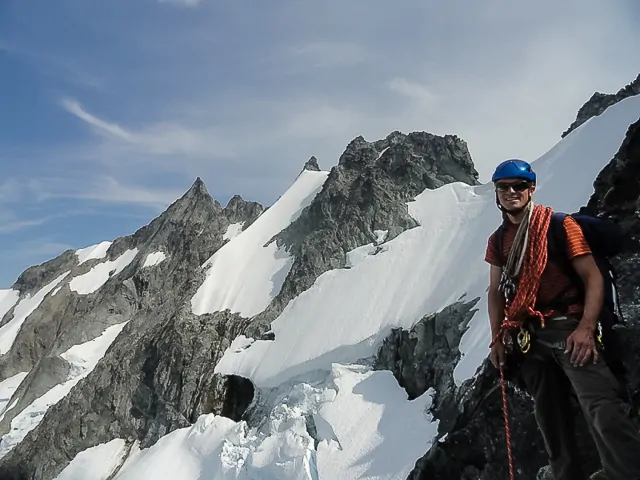 The traverse is not particularly difficult climbing but it is long, committing, and features lots of scrambling, exposure, and fantastic views along the mile ridge between the two peaks and some pretty stellar climbing along the West Ridge of Forbidden (one of the 50 Classic Climbs in North America).
We completed the route in 40 hours from trailhead to trailhead with a bivy along the ridge–16.5 hours on the go on Saturday and 13 hours on the go on Sunday.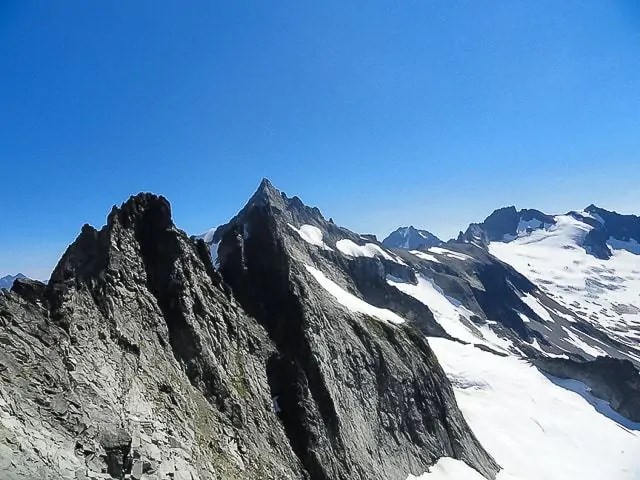 Torment-Forbidden Traverse
I took off from a work a little early on Friday for the long drive up north to Cascade Pass.
I decided to upgrade a few pieces of gear with the aim of lightening my load for this climb and stopped by Feathered Friends and REI in Seattle.
I picked up a pair of the lightweight La Sportiva Trango S EVO GTX boots, which also necessitated a new pair of crampons with a toe bail; then I grabbed the Feathered Friends Vireo which is a lightweight, hoodless, zipperless sleeping bag.
After lightening my gear load–as well as lightening my wallet–I continued north, reaching the end of Cascade Pass (a long dirt road) at 8:30 pm where Kel was already waiting.
I originally connected with Kel based on the recommendations of a few members of the DC Mountain Madness group and ended up ice climbing with him on two different occasions up in New Hampshire this year.
He's originally a Washingtonian and actually from my hometown–though he now resides in Vermont and returns in the summers to guide Rainier with RMI as well as his own trips.
We chatted and caught up for a bit before going through gear and logistics for the trip. We'd be bivying in the parking lot beside our vehicles and then getting an alpine start on day one.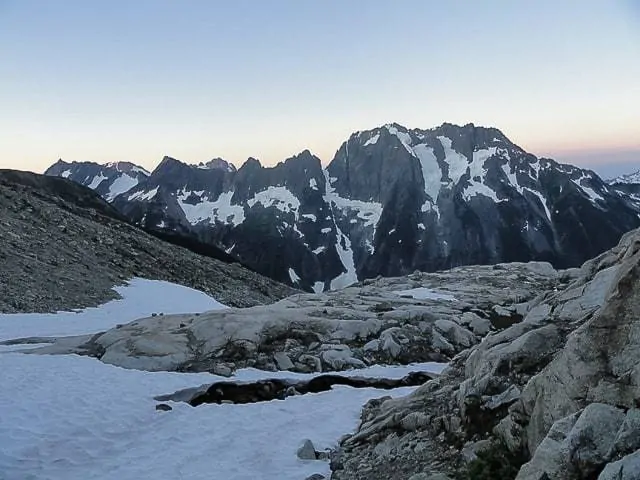 Setting Out for Torment
The alarm went off at 2am… I got maybe five hours of sleep.
Crammed down some breakfast, skipped the coffee (!), and sorted last minute gear before the short drive down to the Boston Basin trailhead (~3,200').
Kel was actually guiding up on Sahale and in Boston Basin in the days just before I came up, so on his way out he stashed some gear (the rope, two pickets, and a Jetboil) at the lower Boston Basin camp (~5,300'), so that saved us from schlepping that 10-12 pounds for the first two hours–kind of cheating, but I'm not complaining!
My pack weighed in at 22 pounds that morning, including one liter of water, which was a weight I was personally quite pleased with, especially in comparison to the previous weekend's climb of Shuksan's Fisher Chimneys.
I used my new CiloGear 40B Worksack which I stripped to the minimum–a couple straps, no hip belt, no framesheet (just a foam pad), and I eliminated pretty much any and all gear that I found unused or extraneous from the Shuksan climb.
We were on the trail by 3am, winding steeply out of the valley in the dark. The trail is heavily vegetated and at times is nearly a pseudo-bushwhack.
We arrived at the lower camp just before 5am, where we grabbed the stashed gear… I took the rope, Jetboil, and a picket, so my weight was now in the low 30s, I would guess, and I left my trekking poles behind.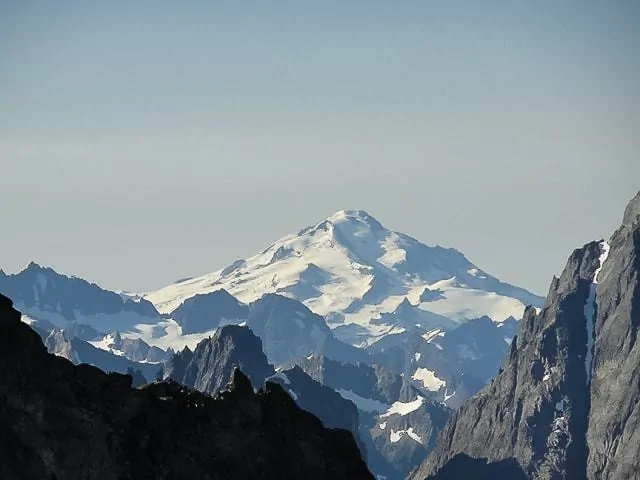 You ascend up the basin for a while before breaking west traversing toward the base of Torment… The trail passes through scree, talus, sections of snow, and some scrambling up rock ledges before arriving at the toe of the Taboo Glacier.
We strapped on crampons and roped up in glacier travel mode for the slog up the snow–there were no significant cracks or crevasses along the route until you reach the bergschrund and moat near the couloir to access Torment's South Ridge.
Objective Dangers
As we were standing adjacent to the moat we saw a big ice fall cascading down Torment's South Face, which was apparently in the same area where Craig Luebben (many would know him as the author of some of the Mountaineer's Red Books) was killed three years ago by ice fall.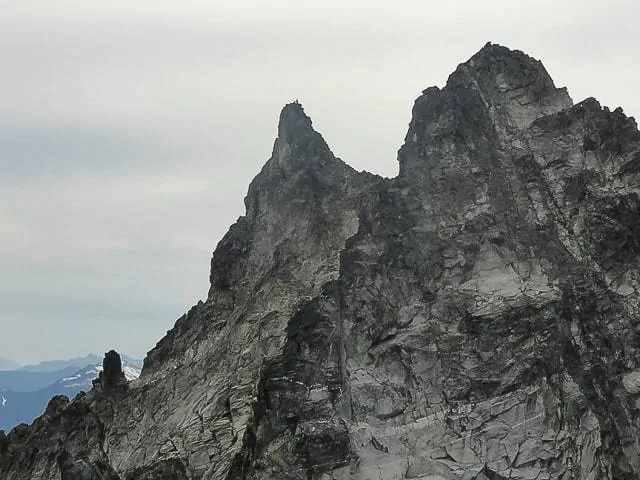 The Torment-Forbidden Traverse is certainly not without its share of objective hazards–rockfall and loose blocks are quite common, particularly through the first half.
We were at the base of the snow couloir by 7:30am, and after re-rigging the rope, Kel pitched out the first section… We avoided the snow couloir by ascending an adjacent loose, dirty scramble up a gully.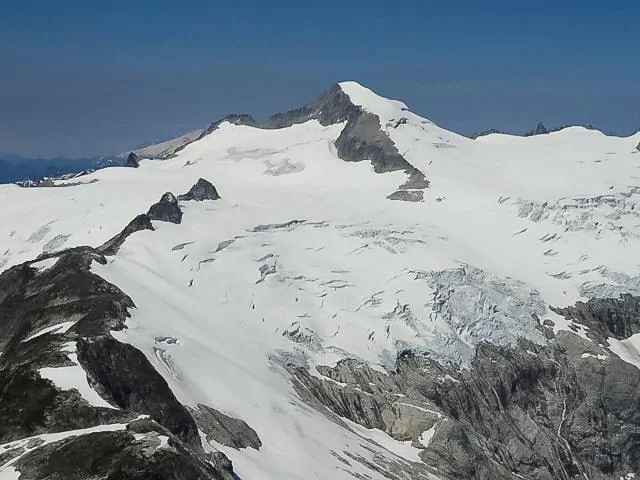 The second pitch featured a small little bulgy overhang with a hand cord attached nearby so you could pull through in a "French Free" manner… There was also a large, very loose block above the bulge that was tempting to pull on–but (after verifying there was no one below us) I trundled it down the cliffside.
This would not be the last of the trundling on this route.
The route continued pitch after pitch, in a generally upward and somewhat leftward direction for much of it. The climbing was mostly scrambling with some low to mid-fifth class sections. The sun was soon beating down on us and it was extremely hot as we approached the top.
Summit of Torment
Kel asked if I wanted to go to the summit of Torment (8,120") or just bypass… "It wouldn't be a proper Torment-Forbidden Traverse, if we didn't!" so on we went, reaching the summit at noon–four and a half hours from the base and nine hours from the trailhead; and 5,000' feet of elevation gain later.
By this point I was pretty much out of water and feeling quite parched, but we took a moment on the summit to take in the views and the mile of ridgeline that stood between us and the summit of Forbidden…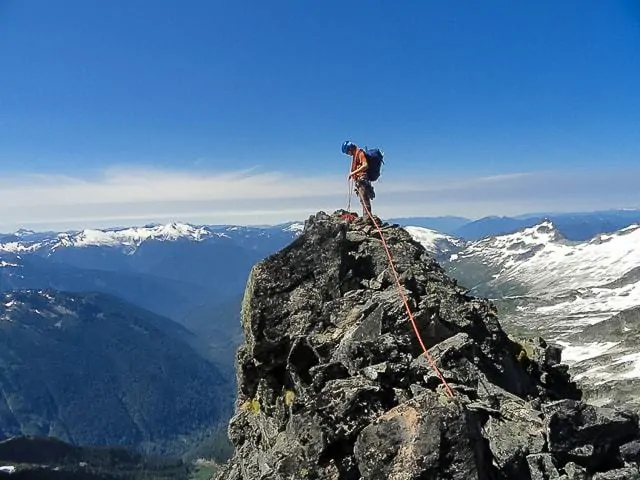 A bit of down climbing to the shoulder led us to a rap station that sends you down to the wild and wonderful north-side of Torment–where there are no roads or trails and it is just densely vegetated valleys, remote alpine lakes, and a sea of glaciated terrain.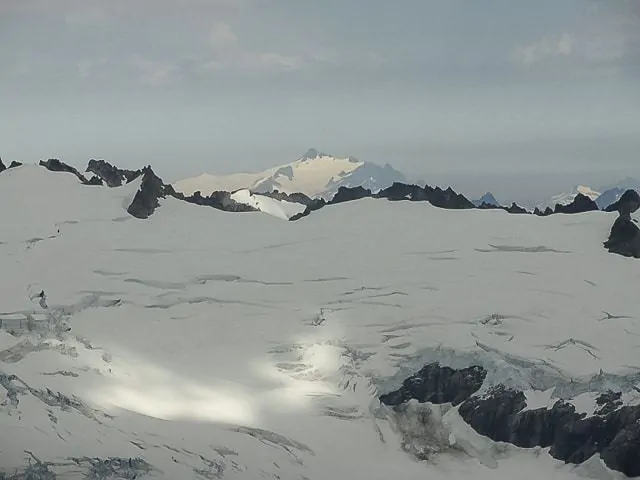 It was definitely a "full-value" rap, which left you free-hanging in space (getting pulled backwards from your pack weight) and on down into the moat–the melted out interface between the rock ridge and the snow pack.
It was instantly many degrees cooler down in the shade and the snow, and we took the opportunity to slowly refill our water from the drip coming off the snow pack…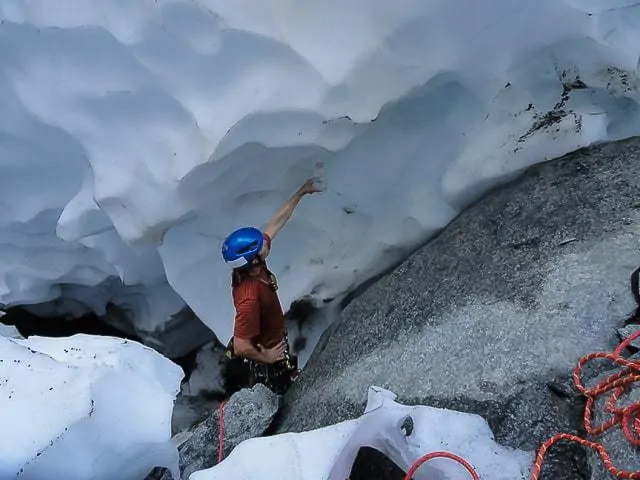 We climbed out of the moat and crossed the small glacier, end running a few crevasses… I popped through knee deep on one when I stepped a little too close to the end…
Traversing the Ridge
Before long you gain the edge of the rock again and begin traversing upward toward the ridgeline again. There are numerous gendarmes and ridges that you go up and then down.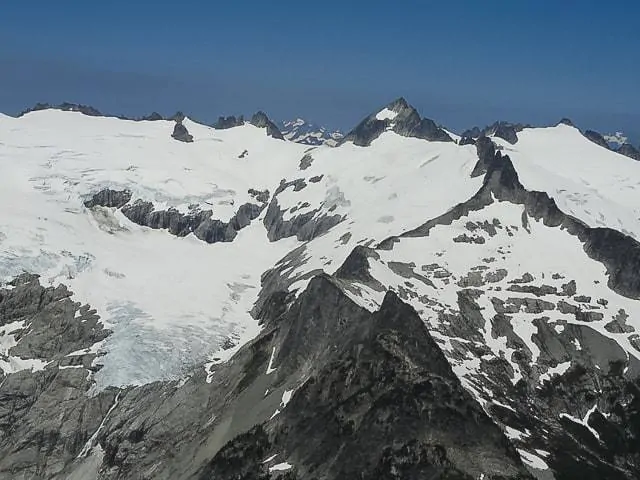 We avoided the steep snow traverse by taking the ridge proper and then popping over to the south side again.
Finding a Bivy Spot
After many hours on the go, we finally passed by a decent looking bivy spot by about 6:30pm.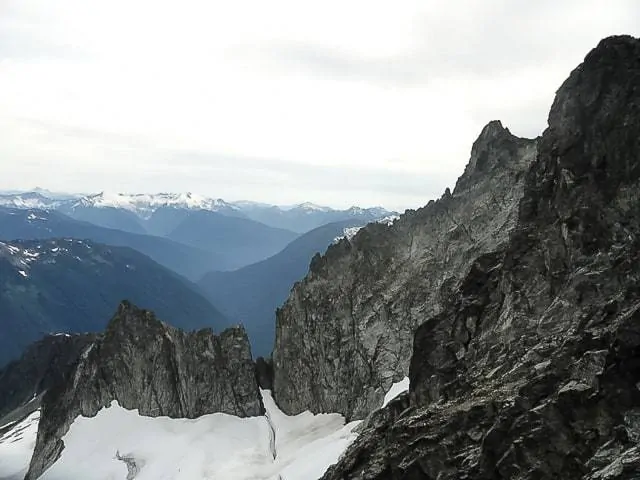 There was a waist high snow moat which we could use to melt water and a couple flatish, rocky areas where we could bivy. Unsure of the next decent bivy spots, we decided to call it there.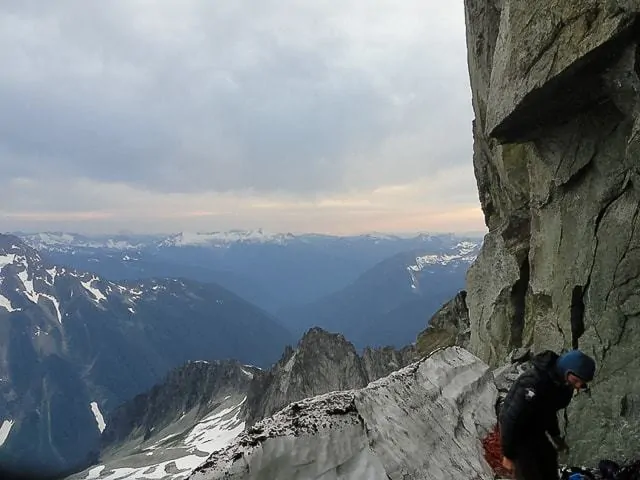 We'd been on the go for 16.5 hours that day, and while I felt tired, I didn't feel completely drained. It certainly helps when you are pitching things out and have the opportunity to belay between pitches.
Our bivy offered us spectacular views to the south with Johannesburg and it's 5,000' relief looming across the valley. We spread out a few things and claimed our respective bivy sites before Kel started melting water in the Jetboil and then had dinner.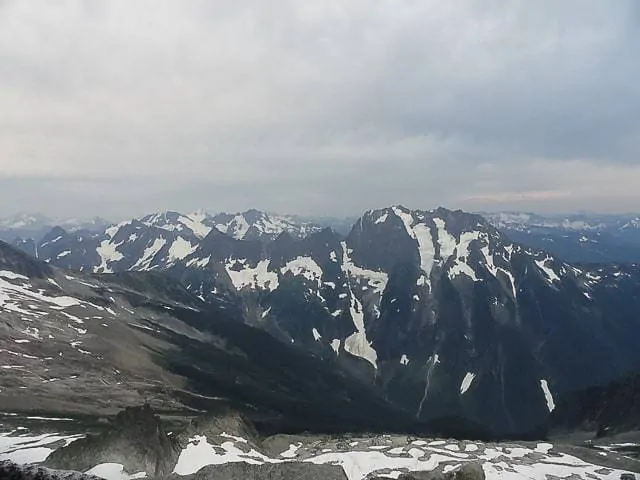 Some ominous clouds had gathered overhead by the evening, and it looked like there was a chance of rain. I had my bivy sack, but still hoped I wouldn't need to put it to the test.
Attacked by Wild Animals
We figured we could huddle on the slabby slope under the roof if it really unleashed… We crawled into our bags at dusk, when all a sudden a mouse scampered right across Kel prompting us to find better places to hang our food sacks…
I was sleeping below a nice overhanging roof and found a decent crack that I put a cam into so my food would be free hanging in space. If the mice were able to get to it there, then they obviously deserve it for effort!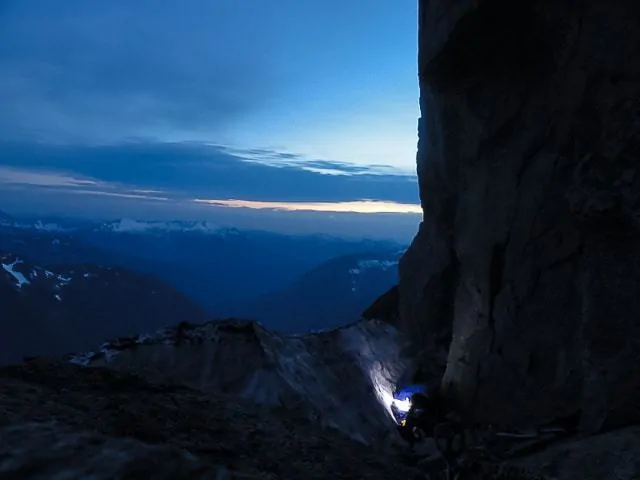 We crashed by about 9pm that night… and I got a decent night of sleep, if you don't count waking up every now and again to readjust myself from gradually rolling down this lopsided rock. I tried to brace myself with a few rocks to my right side to prevent rolling–with some moderate success.
At some point in the early hours I was awoke by Kel's headlamp and movement and I mumbled something about whether it was already time to get up…
No, he had to move his food sack because apparently a big bushy tailed rat was jumping into the air at his food sack. It would miss, then ricochet off the wall and hit his sleeping pad.
I quickly drifted back off, until our real wake up time at 5am.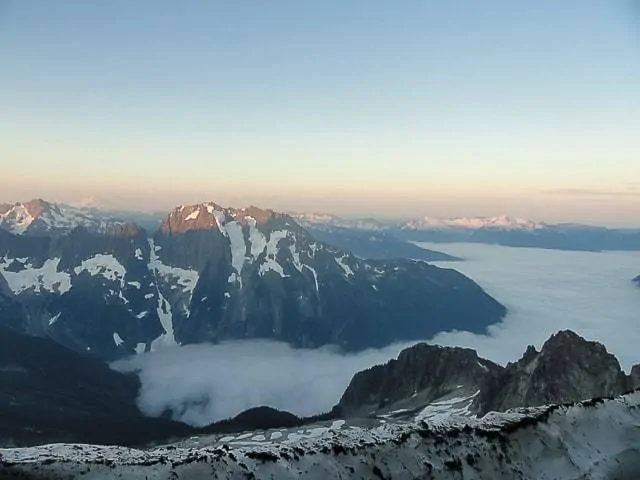 Dawn Breaks on Forbidden
Got my morning coffee and ate a few breakfast bars–we melted some more water to replenish our supplies before hitting the trail at about 6:30am.
The fog had filled the valley below and the sun had started lighting up the top of Johannesburg–quite an awesome view.
A short walk out of camp and we already had to start pitching things out to regain the ridge, not much of a chance to wake up or get your head into it like you normally do on an approach.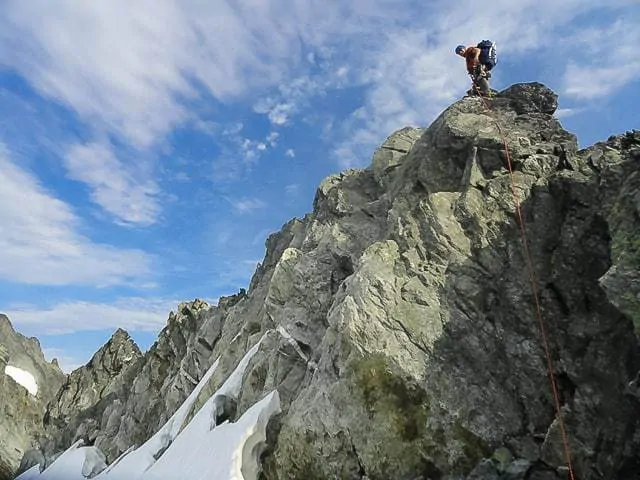 The route soon sped up considerably as the ups and downs leveled off and you are basically walking along a super-exposed catwalk which drops off to the left and the right.
Feeling Exposed
There are a few interesting traversy moves and up and downs, but mostly just sheer exposure.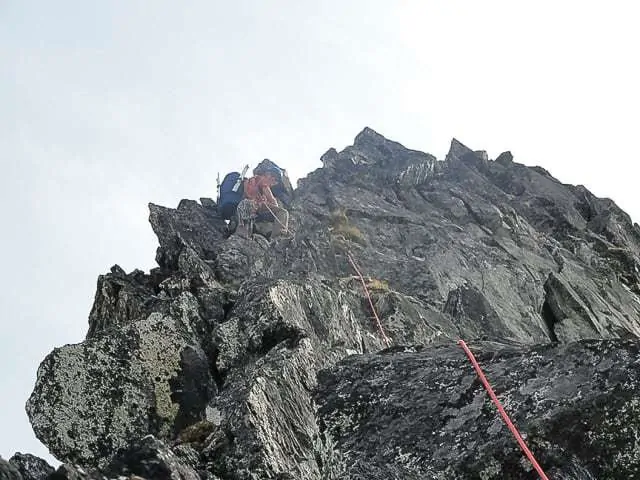 Better than coffee to wake you up!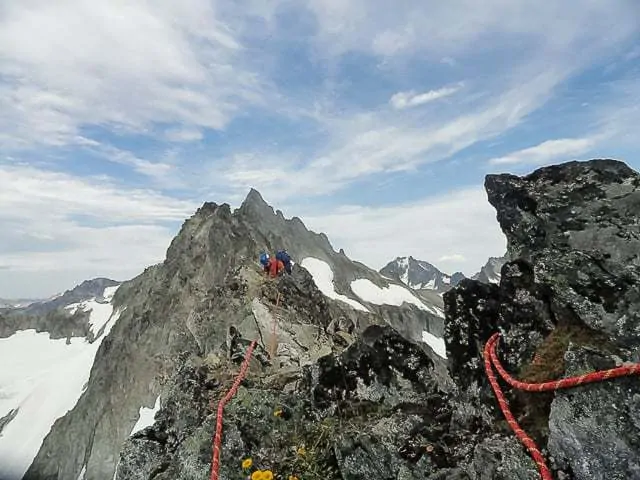 We made the notch below the West Ridge of Forbidden by 9:30am where we dropped all our extraneous gear–sleeping bag, pad, pickets, snow gear, stove, etc–before setting out.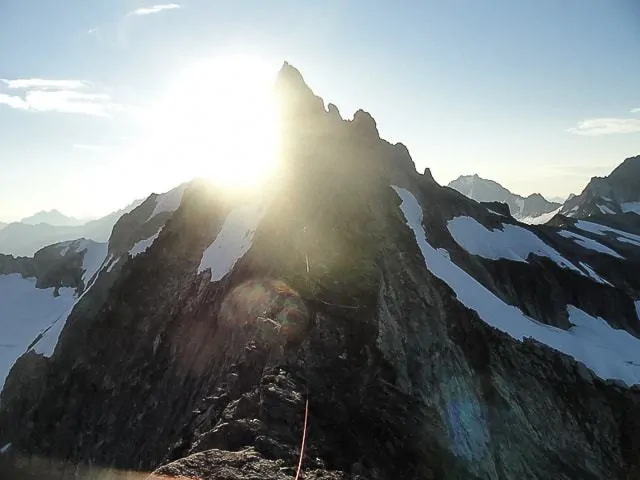 The West Ridge of Forbidden is one of the 50 Classic Climbs of North America, aka one of the 50 Crowded Climbs, but there was absolutely no one on the route ahead of us, amazingly.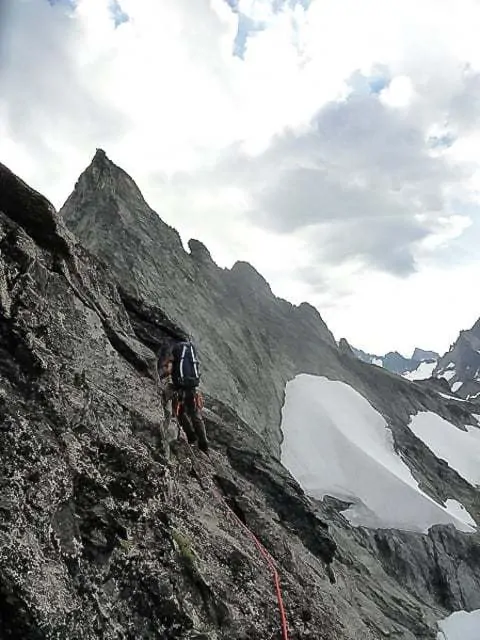 The route is pretty moderate but the exposure is pretty outstanding, which includes hanging belays ~1,200' above the Forbidden Glacier!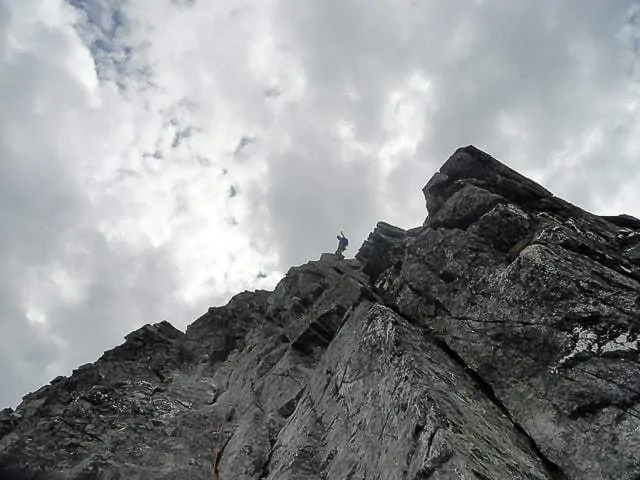 The moderate route gradually steepens to real, vertical rock climbing on stellar quality rock and is just a lot of fun. There are some heart quickening moves across some especially airy parts, but nothing harder than 5.6.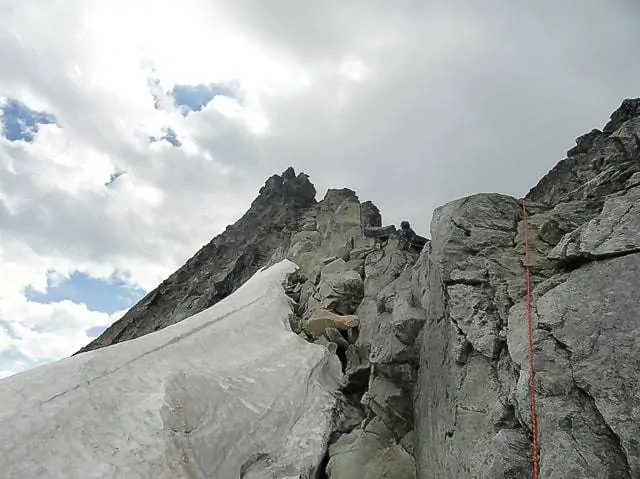 Pitch after pitch of awesome climbing and we finally reached the (lower) west summit of Forbidden. There is a small down climb into the notch and then a scramble back up to the true summit of Forbidden (8.816'), which we reached at noon (oddly the same time as we reached the summit of Torment the day before).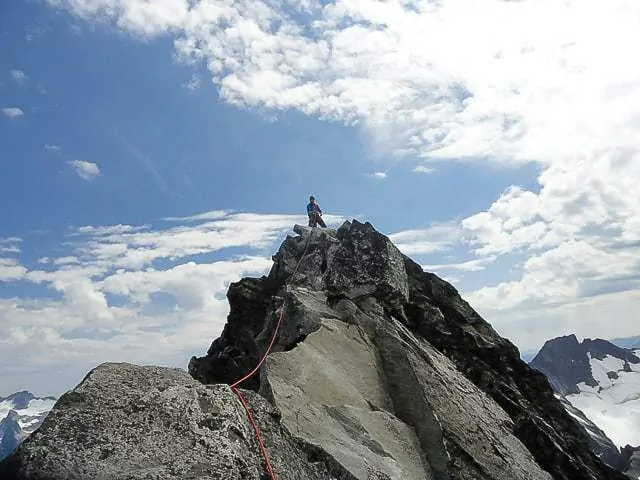 Summit of Forbidden
We had the place to ourselves and just hung for a while snacking and relishing in the outstanding 360 degree views which included Torment, Eldorado, an obstructed Mount Baker, Tepeh Towers, Klawatti Peak, Shuksan, Mount Buckner, Sharkfin Tower, Boston Peak, Sahale, Johannesburg, Glacier Peak and others!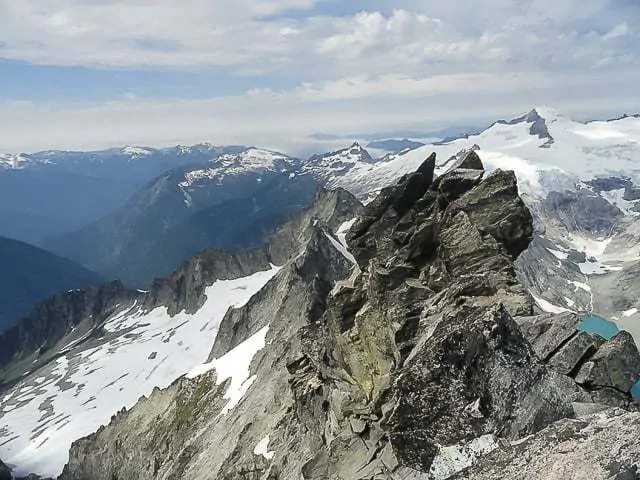 As we began to descend from the summit we finally ran into another party, a group of three that we had seen behind us on the traverse just crested over the lower summit.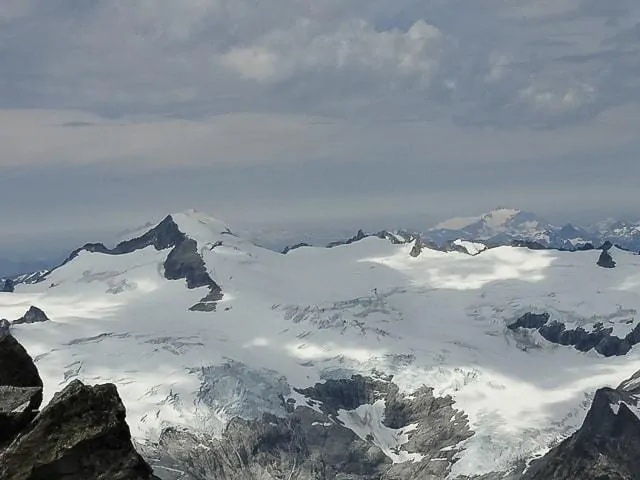 These were the first people we had talked to since high camp in Boston Basin. They had done a lot of simul-climbing and were able to catch up with us here. After they passed us at the summit notch we set off on our descent.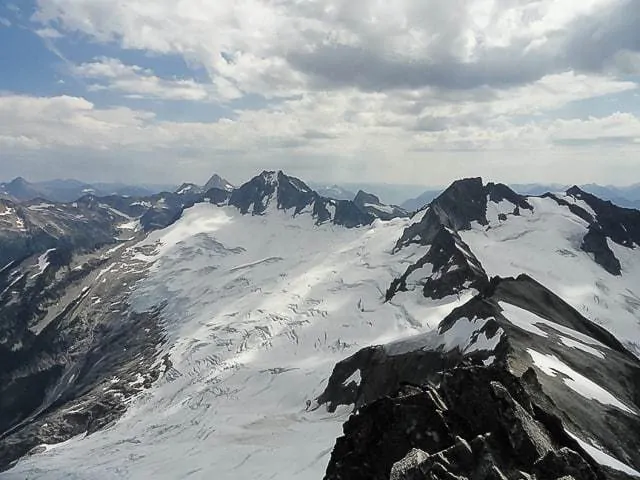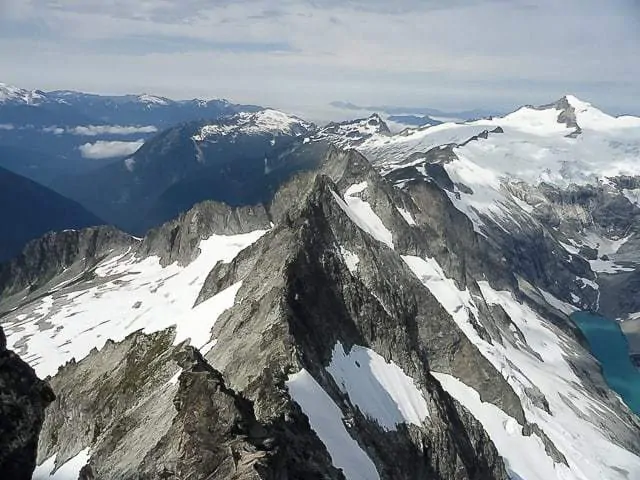 Finding Your Way Down
Unfortunately, there is no easy way down from Forbidden… We down climbed for a bit and then made two rappels off the north side. The other party of three had begun to traverse over the top of us, which made us a little uneasy considering all the large loose blocks we'd seen and even the small loose stuff prone to falling off.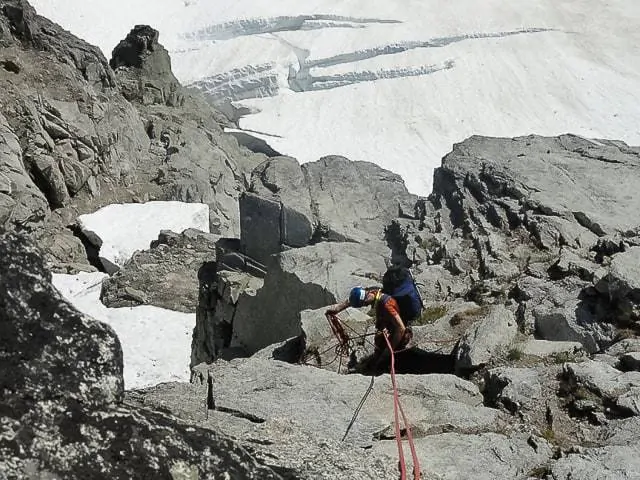 They agreed to hold on for a minute as we passed underneath them and continued traversing along to the west, back toward the notch.
The descent and return to our stashed gear took about as long as it did to climb the route, about two and half hours. We ran into the group of three again at the base of the climb where we discussed descent strategies… they were going to down climb the broken up snow couloir, while we were going to rappel the dirty gully/ledge system.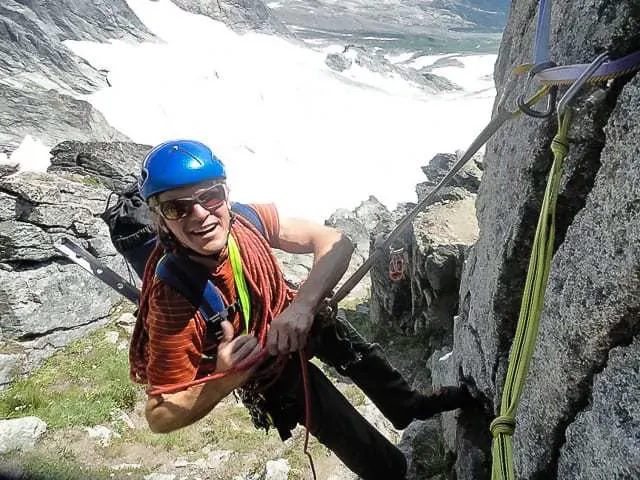 We down climbed from the first rap station and then took the next four raps down. At one point my big pear biner somehow became unclipped and took the long ride down the gully… At the end of the second to last rap it was just sitting there in the snow, amazingly. Obviously it will be retired though.
Back to the Glacier
There were a few tricky moats that needed to be negotiated/jumped over while on rappel, but we eventually made it back to the glacier… Once more in glacier travel mode, navigating around two or three big cracks and then the slog back down the mountain.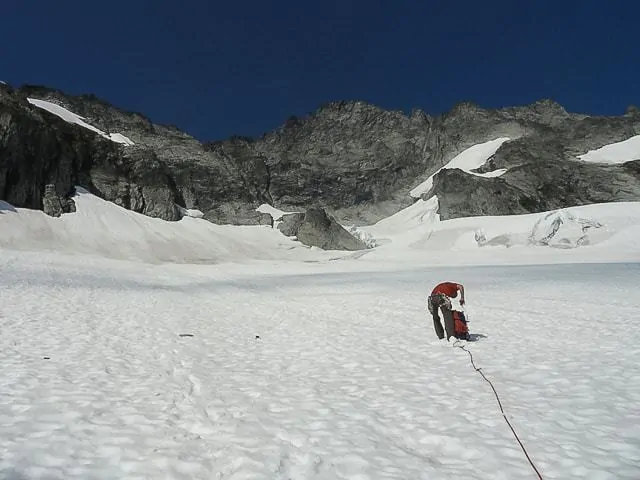 The snow soon gave way to rock slabs coated with little ball bearings and we followed the drainage back out into the beautiful alpine meadows.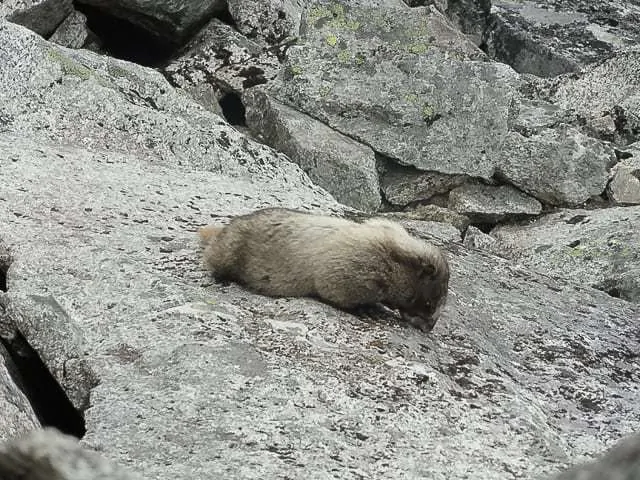 We returned to the lower camp at Boston Basin to retrieve my trekking poles and then began looking for a way to cross the river which now had much higher waters…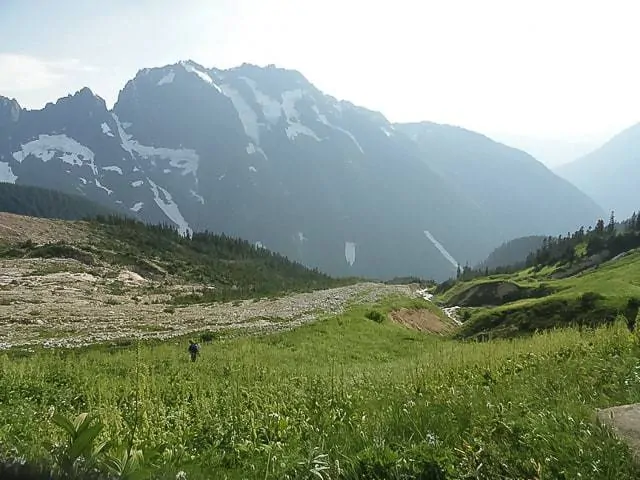 Disaster Strikes
We found a somewhat promising looking crossing, but as I made the first big step across I hit the slippery, slime covered rock and nearly did the splits… In the process one of my trekking poles flew out of my hand and into the river–I tried vainly to stop it, but watched as it floated down the river.
Bummer–it's really nice to have two poles on these steep descents.
The Long Slog
After negotiating another less problematic crossing, you hit the trail and from there it's just one foot in front of the other for the two hour or so hike down hill.
By this point I was definitely feeling tired and sore and ready to be back to the car… Through the brush, clambering over logs, down some steep dirt cliffs.
Finally back to the car at 7:30pm–13 hours after setting out that morning, and 40 hours from when we hit the trailhead the day before.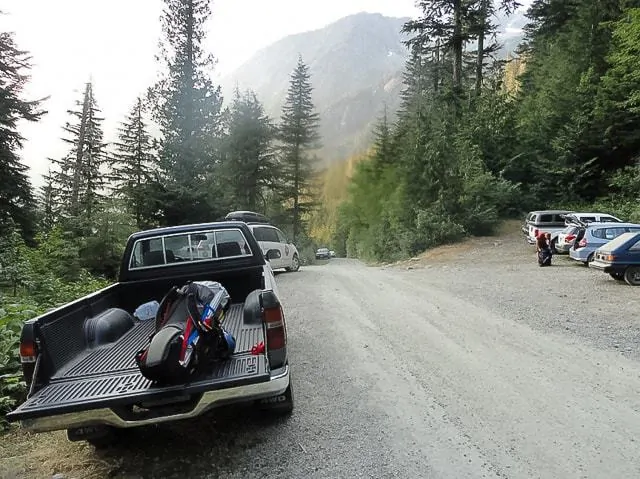 Final Thoughts on the TFT
The Torment-Forbidden Traverse is probably the most scenic and amazing climb I've done…
It's just amazing vista on top of amazing vista the entire way…
Like Peter Croft says about these traverses, it's like you're on the summit the entire time.
The Boston Basin area is just absolutely mind blowing for all the peaks, routes, and big glaciers surrounding it… It's an alpine playground, and quite different from, say, Rainier which is all off on its lonesome.
Obviously, going with a guide just let me follow and not have to worry about getting out on the sharp end or deal with the route-finding challenges that such a traverse entails.
So for me, it was a tiring endurance-fest for the most part rather than a big super technical climb, but I was happy that I didn't totally feel destroyed (well, maybe a little bit by the time I got to the car).
Gear Thoughts
CiloGear 40B Worksack: I've been very happy with my 60L pack by CiloGear, but its just been too big for the majority of the trips I do. Glad to have the smaller, lighter, and nimbler 40B from them.
This was the inaugural run for it, and it was perfect for this. I took three straps to attach pickets, etc, took out the framesheet and just used the foam pad. There was more than enough room for what I carried on this trip, and I often even detached the brain and placed it in the main body of the pack.
Feathered Friends Vireo Sleeping Bag: My only other bag is a 15 degree Marmot bag, which weighs in just below two pounds. I wanted to save weight so I stopped by before this climb to buy the Vireo which is a minimalist sleeping with no hood, and no zipper.
You pair it with a down jacket and then just shimmy down inside and pull the drawcord tight. The bag weighs in at one pound and I found it more than warm enough for the conditions we encountered. I was very pleased.
La Sportiva Trango S EVO GTX: I did another fresh out of the box climb in a new pair of boots, which obviously has the potential to be disastrous for my feet…
But these boots were super comfortable, light, and climbed well. I was prompted to pick these up after seeing basically everyone on the summit of Shuksan with these on, and being jealous at their light summer mountaineering boots. The slight flex is mighty nice and I had no discomfort except for some rubbing on my already raw heels (from last weekend).
Other Misc. Gear Used: Mountain Laurel Designs eVent Soul Bivy, Black Diamond Couloir Harness, Petzl Sum'tec ice axe, Grivel G12 Crampons, Patagonia Capilene 2 Long Sleeve, NW Alpine Black Spider Light Hoody, Patagonia R1 Full Zip Jacket, Feathered Friends Jackorack windshirt, Montbell Alpine Light Parka.
Trip Details
Trip: Private Guided Climb
Guide: Kel Rossiter with Adventure Spirit Guides
When: August 18 – 19, 2012 (2 Days)
Where: Washington's Boston Basin
Cost: $490
If you enjoyed this post, please take a minute to like it, share it, or help spread the word! Thanks!
The following two tabs change content below.