This article may contain
affiliate links
. If you make a purchase through these links, I will earn a commission at no extra cost to you. Thanks!
Saturday morning, three of us from DC UL Backpacking headed out to Shenandoah National Park for waterfalls, some strenuous climbs, and absolutely stunning vistas over the course of 19+ miles on this Old Rag backpacking trip. The highlight of the trip was a bright and early alpine start for an Old Rag sunrise hike to watch the sun come up from the summit.
Note: You'll find details about this hike including a trail map at the end of the post.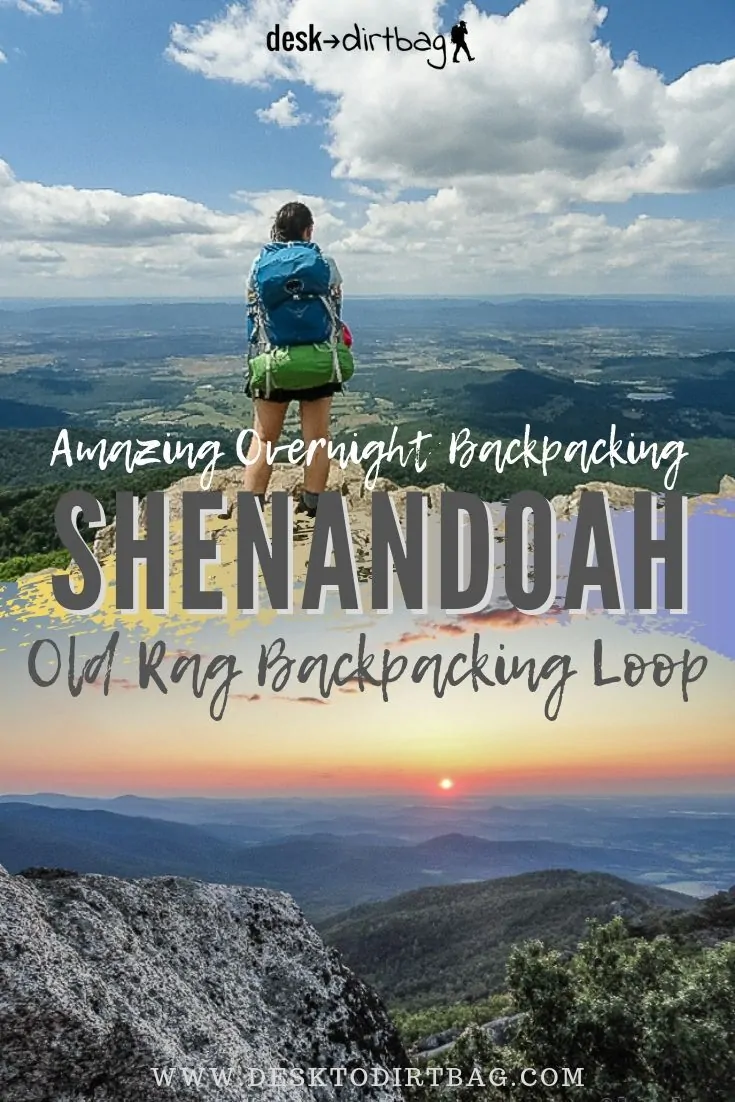 Chris and I rendezvoused with Shinyi at the White Oak Canyon trailhead at around 11 am.
The parking lot was absolutely packed—it's good to see folks getting out on National Trails Day and spending time outdoors in some of America's most treasured natural landscapes.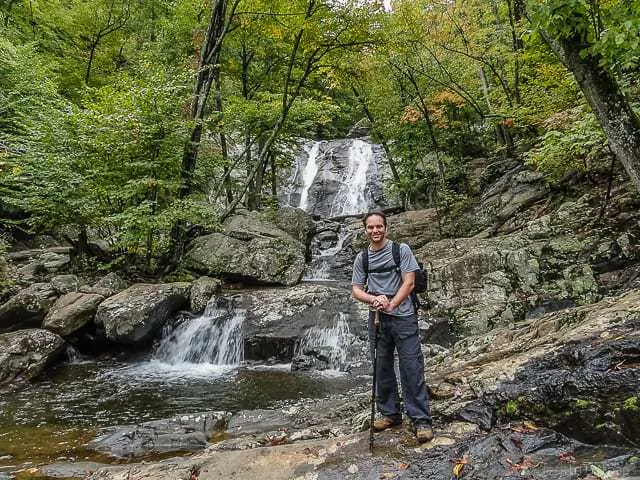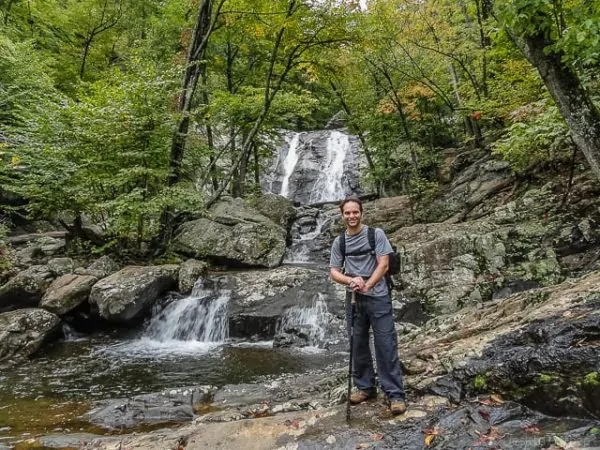 White Oak Canyon
White Oak is also one of the most popular trails in the park as it travels alongside a roiling stream which cascades down a couple of thousand feet through the canyon over the course of three or four miles. There are a number of spectacular falls in both the upper and lower canyon and it never fails to impress.
We took our time ascending up and out of the canyon, frequently caught behind large groups of day hikers and otherwise jumping off the trail at the vistas to admire the falls as well.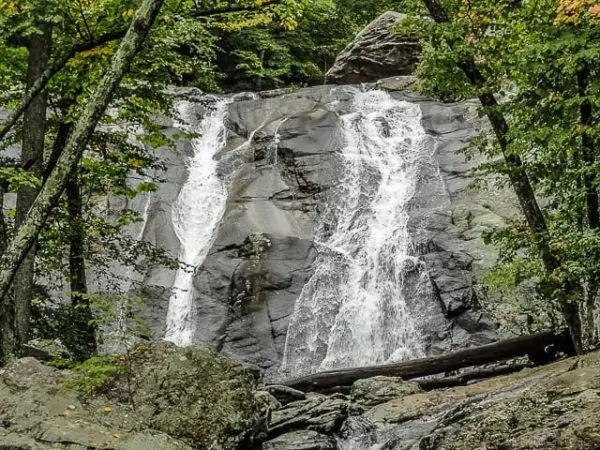 We eventually gained the upper reaches of Shenandoah and crossed over Skyline Drive where we hopped northbound on the AT.
Stony Man
Before too long we reached the junction for the short side trip to the vista at Stony Man (4,011 feet—the second highest peak in Shenandoah) and nearly 2,800 feet above the White Oak Canyon parking lot.
The vista from Stony Man is absolutely spectacular—the last time I was here was a winter hike in which we were completely enveloped in clouds—with a wide panorama to the west.
You can see the entire Massanutten Range, from Signal Knob in the north to Duncan and Strickler Knob where I was just a few weeks ago, as well as the furthest reaches of the southern section. We had a late lunch on top and took plenty of photos.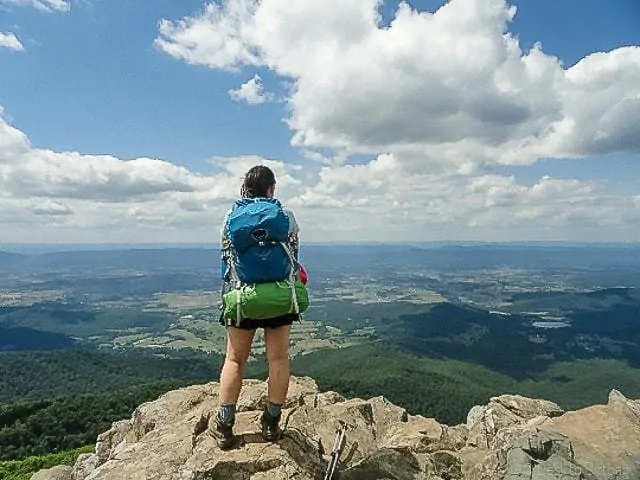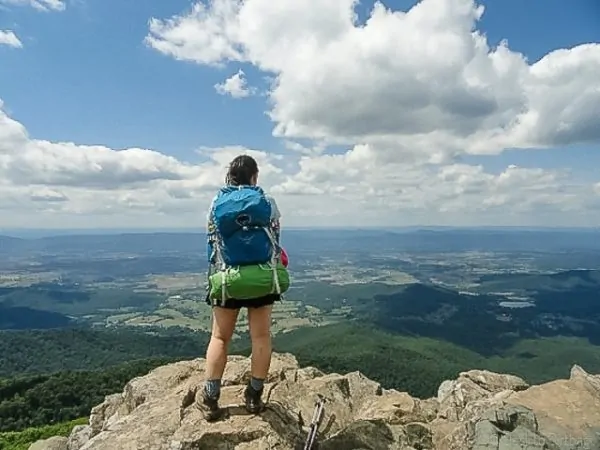 Back on the AT now, we continued northbound and soon reached Little Stony Man, a popular rock climbing destination in the park and another outstanding vista.
Chris stepped off the trail and told us not to wait for him, he'd catch up. But the weather was so great and the view so good, that we decided to just hang out for a bit.
After some time we realized that Chris had probably actually gotten out ahead of us and was trying to catch up to us when in fact we were behind him… I wasn't too concerned though as I knew he was aware of the plan and had been on this set of trails before.
Shinyi and I continued hiking along the AT until we reached the junction for the Nicholson Hollow Trail. We crossed over Skyline Drive once again and then descended back into the valley. Besides White Oak Canyon and the summit of Stony Man, we really didn't see many other people on the trail throughout the trip.
Back in the valley, we passed by Corbin Cabin and there were actually some people in the cabin—one guy shouted out to us that our friend had just passed by and was asking if he'd seen us.
We quickened our pace to see if we might be able to catch up to Chris in the few miles before our intended campsite. But I also figured it was probably futile if he'd been hiking fast for the past couple of hours anticipating that he'd be able to catch up to us.
Backcountry Camping Near Old Rag
One of the biggest problems with making an overnighter on an Old Rag backpacking loop is just where you can camp because there are a lot of areas around here that are off limits to White Oak Canyon camping or even for Old Rag Camping…
Thankfully, there are some areas where you can still throw down a tent for the night, which is how we made this into an overnight loop.
Upon arriving at our intended camp near the junction with Hot Short Mountain Trail, we saw another group of campers in our intended area… They also had an open fire going, a flagrant violation of park policy and pretty clearly articulated on backcountry permits, trail signage and intersections, and by the rangers themselves.
This is the the type of problematic activity that ruins things for everyone else… Don't be like them.
Thankfully we did run into Chris at this point. We backtracked slightly and found a small site where we could all squeeze in. It was a little after 6 pm at this point, so we hung a bear bag line, refilled water, and cooked dinner. The goal was to wake up at 2 am for the hike to Old Rag, so we were in bed by 9 pm that night.
Old Rag Sunrise Hike
My cell phone alarm jarred me awake only five hours later.
I began stirring and packing up camp without a word to my other campmates. It sounded like they were awake and beginning to pack already.
I'm not a morning person, and these early starts are always challenging, but it's worth noting that when the alarm goes off I always pop right out of my sleeping bag in anticipation of summit day, whereas I hit the snooze button at least four or five times on a normal workday.
What does that tell you? I went without coffee at this point and just decided to drink a bunch of water and eat a Bobo's Oat Bar.
It's always hard getting multiple people packed up and ready at the same time, and we didn't end up leaving until 2:50 am, about 20 minutes later than I had hoped.
Sunrise would be at 5:50 am, exactly three hours away, and the summit was four miles away with a couple of thousand feet elevation gain, and a good half a mile or so of fun scrambling. Headlamps donned, we proceeded to hike out along the river.
Arriving at the trailhead to Old Rag, I began to push ahead on my own at a faster pace.
Sunrise waits for no one, and I didn't want to miss it!
The trail is pretty moderate, not overly rocky, and lots of switchbacks up the mountainside, so you can make pretty good time.
I eventually caught up to a small crew from DC Mountain Madness who had driven in from DC to arrive at the trailhead at 2:45 am. I chatted with them briefly before continuing on my way.
The hiking trail covers the majority of the elevation gain, and then the fun starts—lots of rock scrambling and tight little spaces to squeeze through!
There are a few moves where you would definitely want a rope if there was exposure below you.
Passing through it all at night was a lot of fun and made the route finding a little more challenging. I backtracked and had to do a double-take a few times as I scrambled through. My headlamp is not exactly the brightest either, which also made finding blazes challenging at times.
I made it up to the famous staircase with the hanging chockstone, past the hanging rock, through a couple tight and narrow cracks (squeezing through with my pack on and poles in hand), and up a couple committing moves where the remnants of a cut hand rope are still visible.
The predawn light was beginning to glow over the horizon and I wasn't sure whether to stop and just watch from there or to keep pushing on for the summit.
I didn't want to miss the first sliver rising.
I decided to push on for the summit and made it before too long. There were two other guys on the summit awaiting the sunrise.
I quickly set up my GoPro camera to take a timelapse and then started boiling some hot water for my morning coffee. It was another 15 minutes before the sun poked above—and Chris arrived just as it began, perfect timing.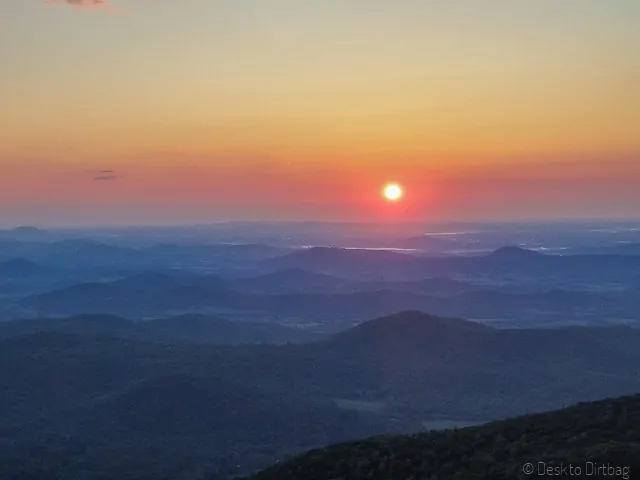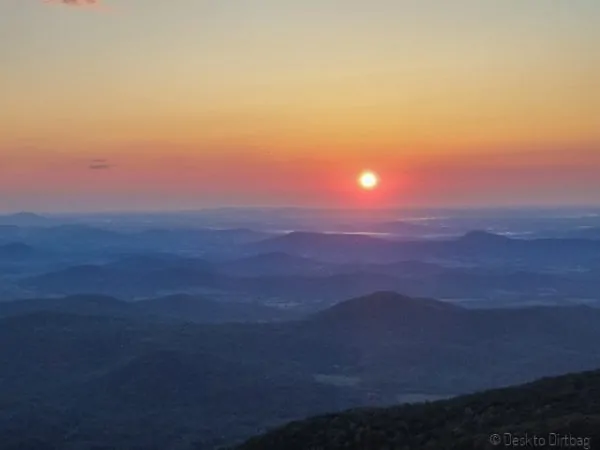 We hung out for quite a while on the summit, drinking coffee, snacking, and just watching the light change in the valley below and across the expanse of Shenandoah. It was quite a way to start the morning.
Shinyi still hadn't shown up at this point, and while I figured she had just stopped somewhere else to watch the sunrise, we did run into two groups that she and Chris had passed earlier and who now said they hadn't seen her in the interim.
Chris and I packed up our bags and began to backtrack and sure enough in about 10 minutes, we ran into her.
She had stepped off to a vista to catch the sunrise and the other groups had passed by without seeing her.
We made our way back to the summit to hang out again briefly before continuing down the other side. It was another three miles back to the cars—down the backside of the mountain which links up with a fire road and then another actual road back to White Oak Canyon.
We'd done about seven miles, caught an amazing sunrise, and we were back to our cars before 9 am! Not long after that, we were in Warrenton at the Frost Diner for an awesome post-hike breakfast, and then back in DC before noon—still with most of the day ahead.
Gear Comments
I split the toe box on my Inov-8 Roclite 315s during the scramble. Not sure when it happened exactly as I didn't notice until later when it was light out.
There were a few cracks that I jammed my foot down into and then got somewhat stuck as I pulled it out, and the granite rock at Old Rag is quite sharp and abrasive.
It should also be noted however that I've been remarking for a few trips that it's time to buy new shoes—the mesh was torn up in places, part of the sole was peeling off, other stitching was failing, etc. They've been well worn.
I've logged 400+ miles in just backpacking miles, which does not include any of the miles I've logged using them as approach shoes while climbing, and all the other times I just wear them around the city or traveling.
Trail Details
Base Weight (without food or water) was 11 pounds, including my day hike essentials and overnight gear
Trail: 19 miles total and 5,300 feet of elevation gain
Route: White Oak Canyon > Appalachian Trail > Stony Man > AT > Nicholson Hollow > Camp near Hot Short Mountain (12 miles). Then the Old Rag hike > Berry Hollow > White Oak Parking Lot (7 miles)
Old Rag Backpacking Loop Map
The embeddable map that I had here previously was broken 🙁 but a reader was so kind as to make another map of this awesome hike on AllTrails. Here's an image, but check out the website for an interactive version.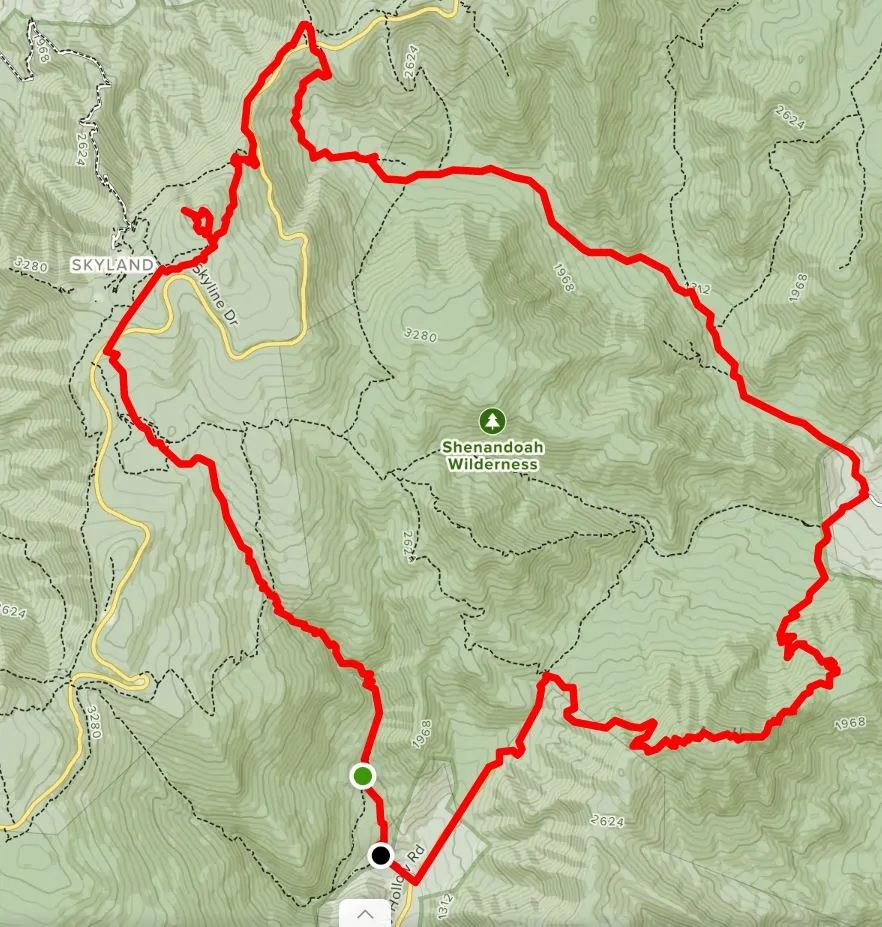 The following two tabs change content below.