This article may contain
affiliate links
. If you make a purchase through these links, I will earn a commission at no extra cost to you. Thanks!
If you've ever considered taking a Utah National Park road trip, then Arches national park is probably high on your list! This is an incredible park, but it is more setup for auto-touring with very short hiking excursions rather than backcountry wilderness experiences. Regardless, there are some truly stunning areas here, and this guide to the best Arches National Park hikes which will take you to the highlights of the park along short but scenic trails, as well as some lesser-known hikes.
It is important to bear in mind that hiking in Arches National Park can be very hot. Your best time to visit is in the shoulder season, which will also help avoid the heavy crowds. Arches is certainly one of the most impressive Utah national parks, but that also means lots of other people and cars. If you visit in the winter, however, you can expect very few people!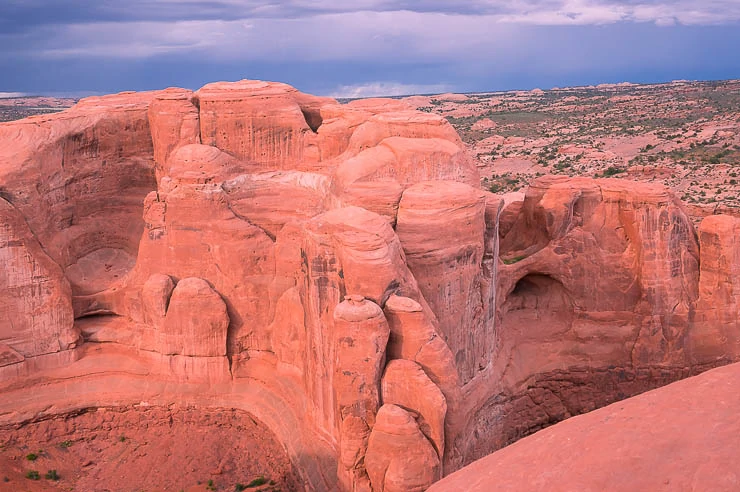 If you're going hiking here in peak season, then plan to bring lots of water (minimum 2-3 liters on you and more in the vehicle), sun protection (read our guide on day hike essentials), and do your longest hike in the early morning, saving the shorter and easier hikes for the afternoon, and perhaps a stop at the visitor center during midday. Remember: you will not be able to see everything in Arches National Park in one day.
In this guide, you will find hikes from easy and scenic to a little bit more bold and adventurous. Undoubtedly, the numerous hiking trails at Arches National Park really have something for everyone. So, if this sounds like your kind of time, grab the gear. We've got some ground to cover!
Pro Tip: Don't forget your America the Beautiful Annual Park pass to save money and visit multiple parks!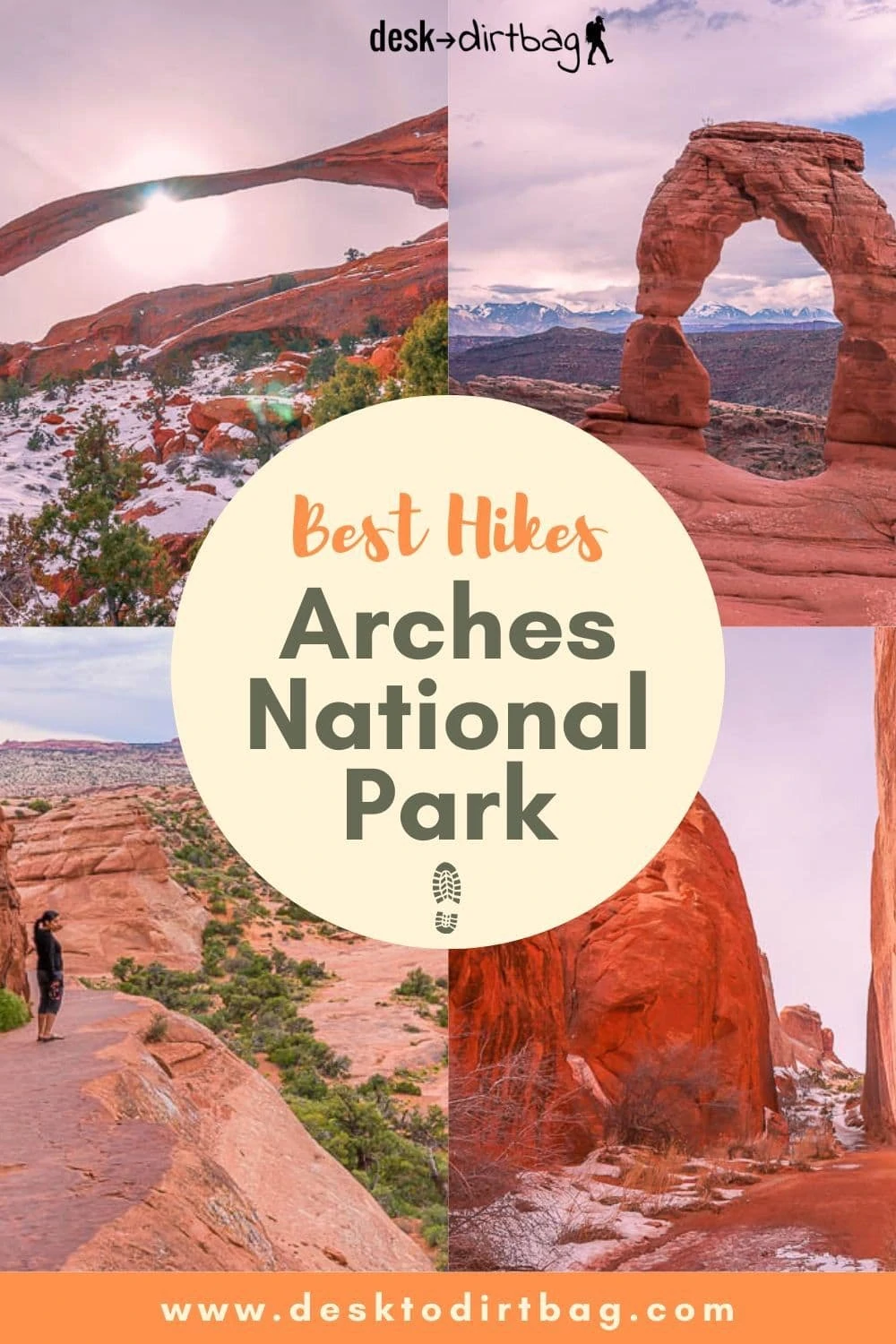 The Windows Hike
The first in our list of the best Arches National Park hikes is The Windows Hike. This trail is an excellent glimpse into some of the park's amazing geographic offerings via a very beginner-friendly trail. Among the iconic formations you'll see on this trail are the park's North Window, South Window, and Turret Arch.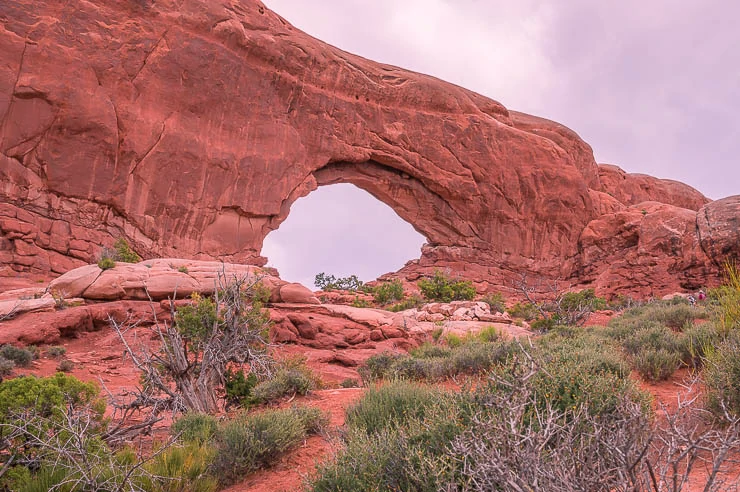 This easy, 1-mile round trip hike is a great opportunity for the whole family, and at only 187 feet of elevation gain across its entire span, the most novice of outdoors-folk can completely conquer this jaunt.
Access to this trail is also easily gained by way of the very clearly-marked Windows Trailhead. Once at the North and South Windows, see if you can pick out the park's "Spectacle" – a very cool illusion of eyeglasses and a nose created by the combined view of the formations.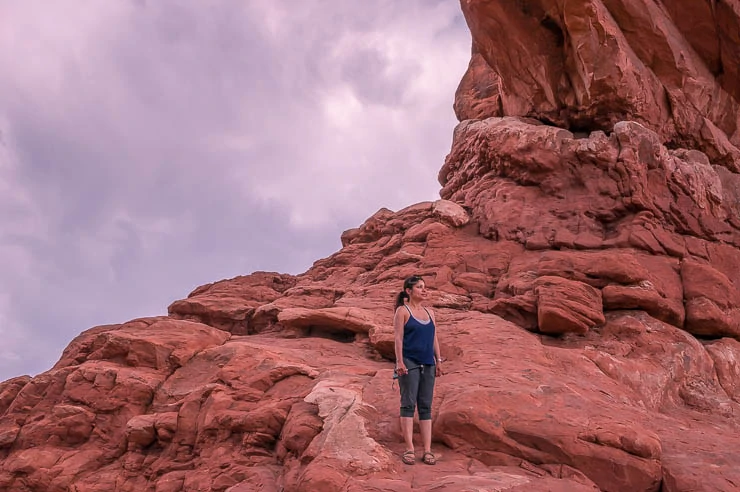 Here in this same parking area, you'll find the short hike to Double Arch, where two impressive arches spring from the same side foundation.
Broken Arch Loop
Starting at the Sand Dune Arch Trailhead, the Broken Arch Loop provides a great circuit for all skill levels of hikers. This easy hike covers a total of two miles round-trip and only offers about 226 total feet of elevation gain across its entire span. This particular hike also offers a great look at some of the area's desert shrubs and other, unique vegetation.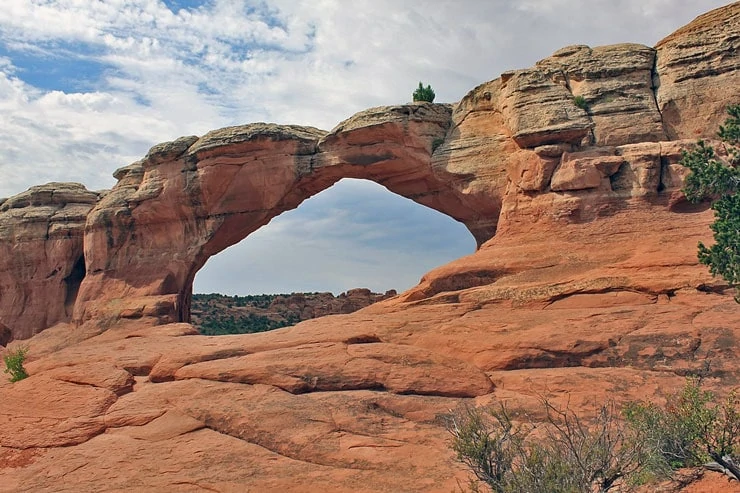 The Broken Arch and Tapestry Arch can be viewed with ease from the Broken Arch Loop which is part of why this hike comes so highly recommended. While being an easy trek, expect less foot traffic along this route through the park, as it's slightly off the beaten path from the many, other more popular trails. Hikers along this route can also expect to see a great variety of the park's fins which are the special, protruding rock formations that arise in interesting patterns from the ground.
Landscape Arch Trail
Landscape Arch Trail represents yet another, great hiking experience for any skill level in Arches National Park. This easy trek covers just 1.6 miles round-trip and at only a total of about 130 feet of elevation change throughout that entire distance. To find the start of this one, simply find the Devil's Garden Trailhead in the park's north side.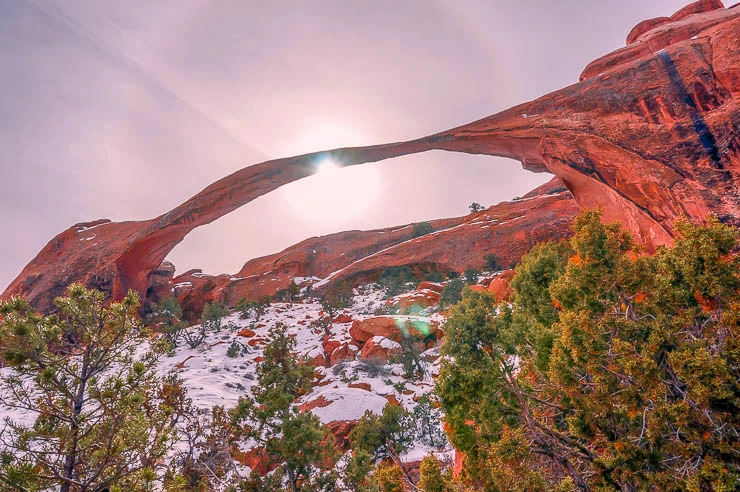 As far as the scenery along the Devils Garden Trail, you can expect another, great opportunity, as this hike takes you right up to the world-famous Landscape Arch. This is considered to be the world's largest natural arch, and it even dwarfs the length of an entire football field. Aside from Landscape Arch, you can also expect a wide variety of desert vegetation and awe-inspiring rock formations and outcrops to spy along the way, like the cool Pine Tree Arch which is a little spur hike.
Further on, we'll also discuss the Devils Garden Primitive trail which is perhaps the best trail in the park!
Delicate Arch Trail
For those interested in one of the park's best, moderate-skill trails, Delicate Arch Trail has the goods. This fun, 3-mile excursion demands just enough of you to present a little challenge but not so much that you'll remember it as one of your toughest hikes unless you're totally new. 610 feet of elevation change takes place here too, so there are more ups and downs than many of the other trails at the park.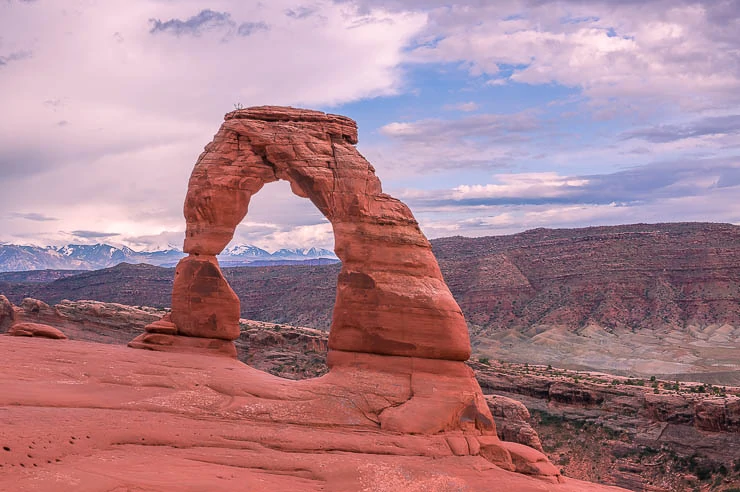 If you can believe it, I didn't even do the Delicate Arch hike the first time I came to Arches National Park. I thought it was too heavily trafficked and popular, so I tried to see some of the more off-the-beaten-path spots. But on my second visit, I finally went to Delicate Arch, and yeah, it's definitely worth it. It's cliche, but Delicate Arch and its setting offering a great view out to the snowy La Sal Mountains, well, it's just one of a kind! Just don't expect any solitude on this popular destination in Arches.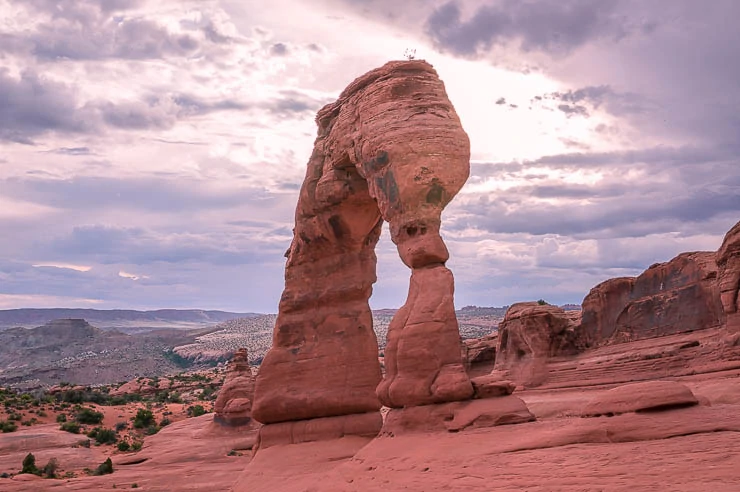 We highly advise all interested to check out the ancient petroglyphs near the trailhead of Delicate Arch Trail. This rare opportunity to see such ancient storytelling is a must-see. Beyond that, we also highly recommend taking time along this trail to soak up the amazing, long-distance views you can catch here, it is particularly beautiful here at sunrise and sunset.
Tower Arch Trail
The seldom visited Tower Arch is like the opposite of Delicate Arch. You might not see a soul out here! One reason is that this trail is accessed from the seldom-used and unpaved (2WD) Salt Valley Road which can be accessed near Devil's Garden. It's about a 10 mile or 25 minute drive out to the trailhead.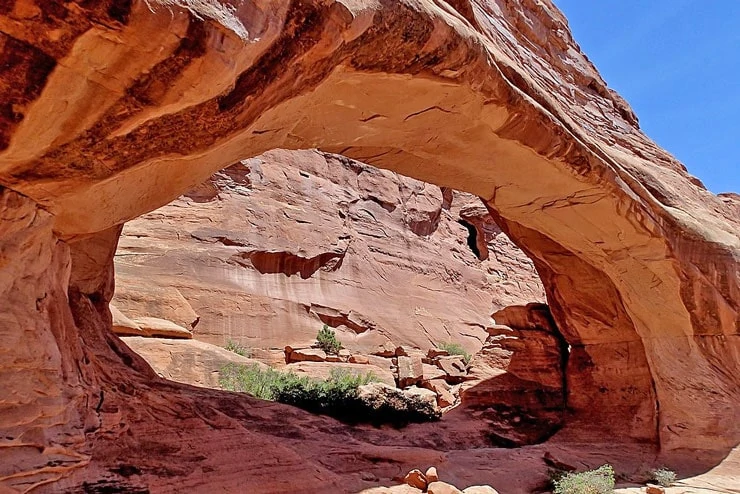 The hike is about 3.4 miles round trip with only minor ups and downs, but it is a more primitive trail marked by cairns. The highlight here is, of course, Tower Arch, which is a spectacular arch nestled among the fractured rocks of Klondike Bluffs. There are also excellent views of the distant La Sal Mountains. Definitely a great Arches National Park hike if you want to get off the beaten path.
Fiery Furnace Trail
Arguably one of the park's most awe-inspiring and adventurous routes is that of the renowned Fiery Furnace Trail. Fiery Furnace Trail takes visitors on an adventure through the park's Fiery Furnace area which is essentially a massive maze of sandstone canyons and rock formations. This is a top challenge at the park, offering some of the park's most rugged and challenging of terrains to traverse.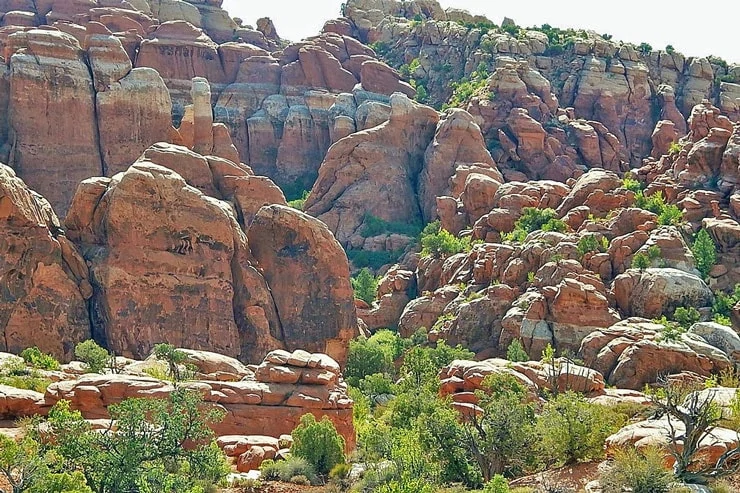 Visitors should know, however, that a hiking permit must be obtained in order to legally hike this trail due to its location, dangers, and challenging overall qualities. A 3-hour, guided ranger tour is another way to gain access, but this requires pacing with a ranger and group for the entire hike if you're OK with that.
The plus-side to taking the guided tour, though, is the ability to learn first-hand from a ranger about the park and this particular portion of it, which is an awesome experience, as well as the safety aspect of being with a group for the duration of the hike.
Balanced Rock Trail
One of Arches National Park's most precarious acts is brought to you by Balanced Rock. To see this curious act of balance by nature a little closer (you can see it from the main park road), the namesake Balanced Rock Trail is your best bet. This trail is one more for the novice (or non-hiking) group since it only runs about one-third of a mile in total length.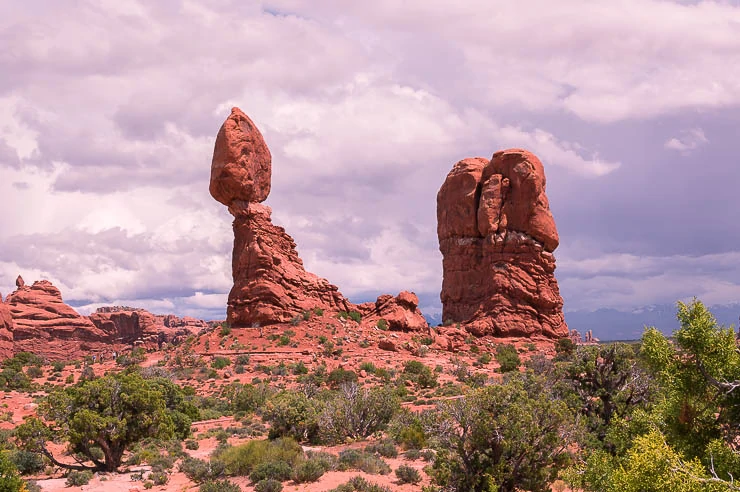 At some point, they say the mudstone pillar that precariously holds up the large "Balanced Rock" boulder overhead will erode enough to fall apart, sending the boulder crashing down below. Until then, you can and definitely should witness this interesting but limited-time spectacle. Expect to see plenty of families and little ones along this easy and very short and welcoming trail.
Corona and Bowtie Arch Trail
I thought I'd include one nearby trail that isn't actually within the park boundaries but offers some more spectacular arches right nearby. This is another easy hike that's certainly worth the time while in Moab, so be sure to check out the nearby Corona and Bowtie Arch Trail.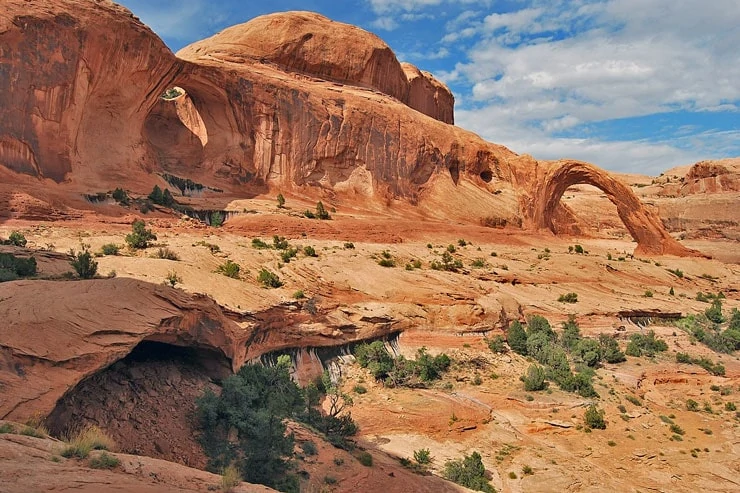 At 2.5 total miles, this is a solid yet relatively quick journey just beyond the park's southern border and along the edge of the scenic Colorado River. Bootlegger Canyon and Bowtie Arch are two more areas that this trail cuts through along Potash Road.
You're sure to have fun on this scenic Moab hike but beware of a few slightly risky spots along the way. A striking, slickrock setting makes up the terrain here, and slick it can certainly be if the conditions are right and your shoes aren't. While presenting an easy to moderate difficulty level, expect this trail to be regularly trafficked except during the early and late hours of the day.
Primitive Trail at Devil's Garden
Finally, for those seeking a longer and more challenging hike that offers a true wilderness or backcountry experience, Arches National Park's Primitive Trail at Devil's Garden is an excellent option. This 7.2-mile round-trip loop trail is the park's longest, and it also acts boldly as one of the park's more challenging excursions.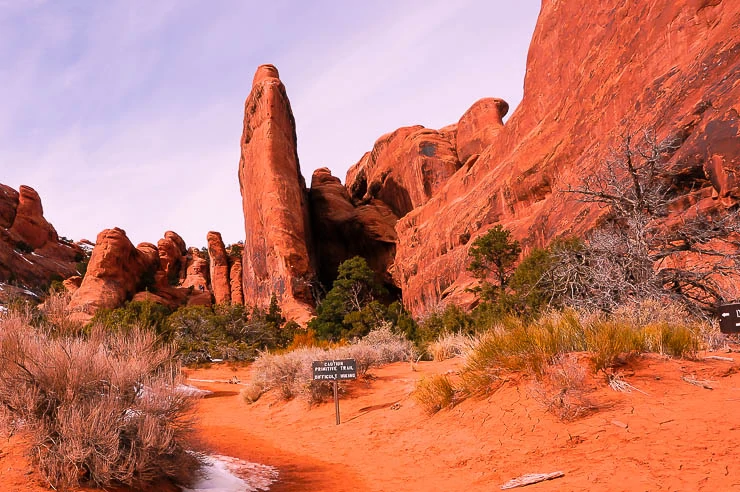 That challenge comes courtesy of the total distance, plenty of elevation changes, and some slab and fin-climbing that requires some general physicality. There also exists the possibility of an area that tends to pool with water, but if you've got grippy shoes, you can possibly avoid it.
Enjoy a trip on this journey past the above-mentioned Landscape Arch that eventually runs into the Double-O Arch and a great, expansive, and shady picnic rest area. From here, the lay of the trail becomes much more basic or primitive, and hikers must be sure to pay attention to the marked rock cairns that mark much of the rest of the way.
The Dark Angel, a very interesting 150-foot sandstone tower also lies just ahead and to the side. If you like a long hike with the potential for an overnight stay, this may just be your favorite of all Arches National Park hikes, and many who love hiking would consider this one to be the best in the park.
More Arches National Park Hikes
So there you have it, an overview of some of the best hikes in Arches National Parks. While there isn't much in the way of long hikes or overnight hiking opportunities, there is no lack of impressive landscapes to take in. Honestly, even the short hikes seem to take twice as long as normal since I'm always stopping and gaping with an open mouth at the incredible, almost surreal landscape, and of course taking tons of photographs.
It doesn't matter if you're among the crowds at Delicate Arch, taking a quick jaunt through Park Avenue, or in a more remote corner of the park such as Tower Arch, this is a place that will leave you amazed by the wonders of mother nature and is a must-visit while on a Utah road trip.
Of course, don't miss out on exploring the awesome little town of Moab, driving upstream along the Colorado River to see Castleton Tower or Fisher Towers, and visiting the nearby Canyonlands National Park (both Island in the Sky and the Needles are almost obligatory stops!). There is almost too much to explore in this corner of Utah, to be honest. You could keep coming back year after year and still be left enthralled.
Traveling to Utah soon? Book your lodging on Booking.com now to save, or if you plan to stay longer. And don't forget to purchase travel insurance that will help protect you against illness, injury, and theft. I use and recommend World Nomads for its combination of coverage and affordability.
Read Next: One Epic National Park Road Trip
Share This
Did you enjoy this post about the best Arches National Park hikes? Take a second to share it on Pinterest, Facebook, or Twitter. Thanks!
The following two tabs change content below.