This article may contain
affiliate links
. If you make a purchase through these links, I will earn a commission at no extra cost to you. Thanks!
One of the many appealing parts of travel, at least for me, is the prospect of learning and using a foreign language. Sometimes it can be a daunting prospect, but I find that even learning the basics of a foreign language can really open up a new travel destination and allow connections with the locals instead of those who work exclusively in tourism. The more you can speak, the wider the doors are (that's certainly been the case for me with Spanish). For something totally different, I've decided to start learning Turkish, so I immediately began researching the best way to learn Turkish on my own.
Yes, Turkish — kind of random, I know, but I'd love to visit Istanbul and Turkey at some point in time, and the language is so very different from anything I've ever studied before, so it will be a good bit of mental gymnastics for my brain.
The most challenging parts about it seem to be the Turkish grammar with its agglutinative structure (pieces get tacked onto words to change their meaning) and just how very different it is from anything I've known. Turkish words also use a somewhat interesting element known as vowel harmony where the endings change depending on the preceding vowels. At least those are the main challenges for English speakers. At least there aren't many irregular verbs, hah.
It's not exactly the world's most common language, but there are some 80 million people that are native speakers, including large groups outside of Turkey in places like Germany or Bulgaria. And who doesn't love a delicious doner kebab?
Since I'm living here in Medellin, Colombia, I will need to focus almost entirely on Turkish self-study or learning Turkish online, since there isn't much (any?) chance of in-person conversations. Honestly, there is no "best way to learn Turkish" or any other language for that matter, beyond 100% immersion. But there are a number of free resources to study Turkish online and even some great low-cost options if you want to speak Turkish.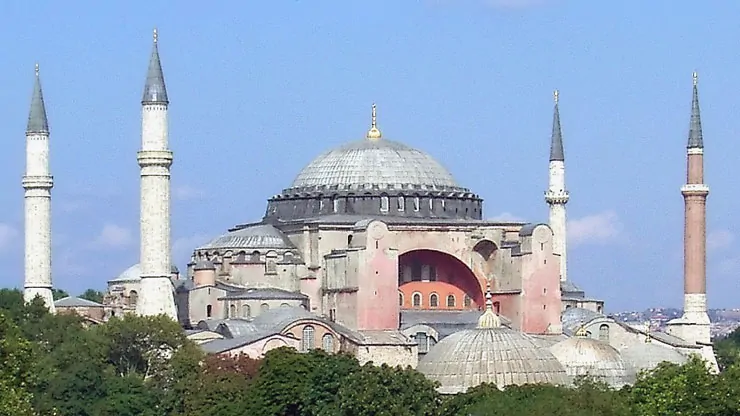 As always, my method is to try out lots of different resources to try and identify the best ones, and then use a handful of different methods simultaneously so you aren't stuck in just one learning method or with one program.
In any case, let's get on with what I've found to be the best way to learn Turkish on your own, from a variety of different sources, including online programs, books, audio courses, and more!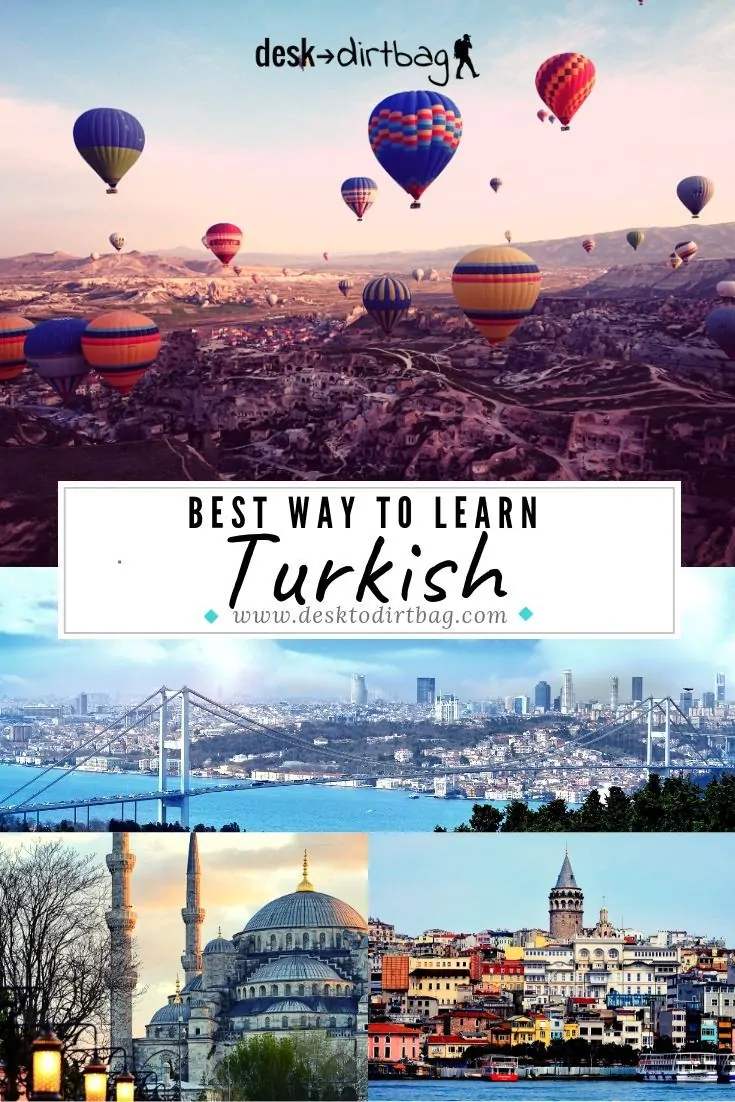 Duolingo for Turkish
Duolingo has become the go-to #1 free language learning tool online for just about any language (including a few fictional ones!) so it is only natural that you'll see it here on this list. Surprisingly, Turkish is the tenth most popular language of study among English speakers.
I've been doing the Duolingo Turkish course for a few weeks now and, as always, find it informative and enjoyable. The best part about Duolingo is the fact that it is always on hand — literally available in your pocket on your cellphone — so you can crank out a quick 10-minute lesson while you are waiting around.
As an example, just yesterday I had to kill a bunch of time waiting for an appointment here in Medellin, but I brought my headphones and did a ton of lessons and review during that time. Certainly much better than scrolling mindlessly through Facebook!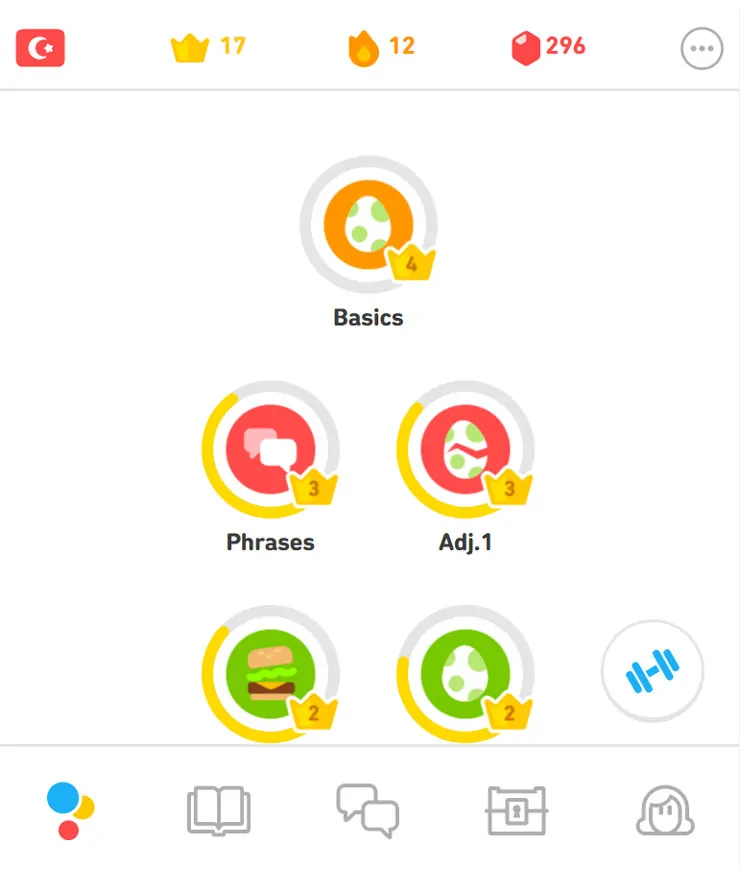 Duolingo is great for learning vocabulary and even basic grammar principles, even if that grammar is not really explicitly taught but absorbed through context and repetition. Duolingo is a bit like the Rosetta Stone of the old days, but newer and better.
My main complaint with Duolingo is the vocabulary and sentences they teach, especially early on. Sure, grammatically it is informative to learn how to say "the dogs eat the frogs," but those phrases really won't ever come in useful while traveling.
I'd love to see them, at some point, revamp their curriculum to focus right away on more practical words and phrases that have daily applications for travelers.
Also, Duolingo is totally free, just supported by ads, so it is probably the most affordable way to learn the basics of dozens of languages, including Turkish.
Pimsleur Turkish
Pimsleur is another one of my go-to programs when learning a new language for travel. These audio courses are not free, but I think they are a great tool to start learning practical phrases relevant to travelers through a purely audio program.
They have many dozens of languages available, including Turkish. Each lesson consists of 30-minute lessons, and each level of a language consists of 30 lessons — so about 15 hours of instruction. Many languages have three levels available (like Spanish), but Turkish only has one level available, sadly.
I've been working through the course slowly (I'm repeating each lesson twice since Turkish is so different and challenging) and love how quickly you are able to put together relatively complex phrases for a beginner within a quick time.
You do feel a bit of pressure in terms of responding since the audio pauses are relatively short, unlike something like Duolingo where you can sit there thinking a long time about each response, which is a good thing because it better emulates a real conversation.
Like anything, there are downsides. For instance, it is meant to be 100% audible, meaning you don't have transcripts of the conversations or even know how words are spelled or written. They also focus entirely on the formal speaking patterns and have some scenarios that your average budget traveler probably won't encounter. But overall, the Pimsleur courses are solid and worth investing the 30 days before you travel to any destination.
Elon.io
This resource was entirely new to me as I researched options for learning Turkish, but they do have a few different languages available, including Japanese. Elon.io is basically a Spaced Repetition System (SRS) where you are exposed to words and then review them in increasingly longer intervals.
Basically, our memories are short, so if you learn something new you will quickly forget it, but if you review within a certain amount of time, it will stick for a little longer. The idea is to regularly review words so they enter into your long-term memory.
The actual interface is entirely web-based and has nearly 200 lessons covering a great deal of grammar as well. This isn't just a vocab system, but something much more comprehensive with details about grammar and structure that programs like Pimsleur or Duolingo never address.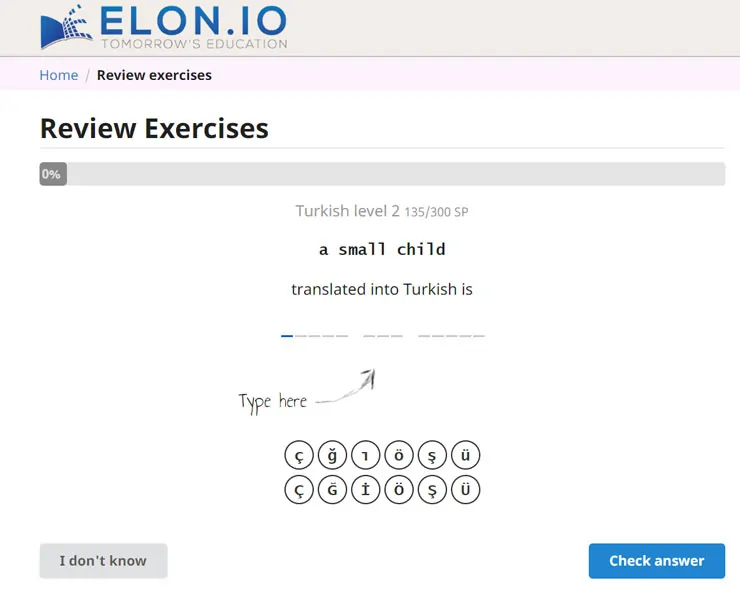 After each lesson, there are words and phrases to learn that helps illustrate what you've just learned. They basically give you an English word or phrase and then you must type in the correct translation in Turkish. There is no multiple choice or fancy flashcards.
The toughest part is probably the fact that the system is strict in terms of spelling (with the special characters or accented letters) so if you get it just slightly wrong it goes back to near the beginning in terms of repetition. Words are already hard to remember in Turkish, so it is an extra challenge to be able to type them perfectly as well!
Elon.io Turkish feels a bit like a cross between a traditional Turkish language learning book and a much harder version of Duolingo. I'm enjoying it quite a bit actually, certainly more than the Turkish Memrise program (which is alright but didn't really click for me) or Mondly (which I wasn't really fond of). Either way, Elon.io is totally free and definitely worth checking out!
Start Learning Turkish with Elon.io
iTalki
iTalki is a language exchange and tutor platform covering basically any language you would like to learn, including Turkish. iTalki is probably the scariest of all these methods because it requires interacting with a real live human being through video or voice calls online! Yes, terrifying for a beginner in Turkish or any other language, but a crucial part of the process.
I'm of the mind that you should start trying to speak the language, even as basic as possible, from the very beginning. This way you can really cement in the bits and pieces you are learning, put them to use, and identify areas where you would like to focus your learning (phrases or topics). Plus it is more catered to you as an individual in terms and is much more useful than "The dogs eat the frogs."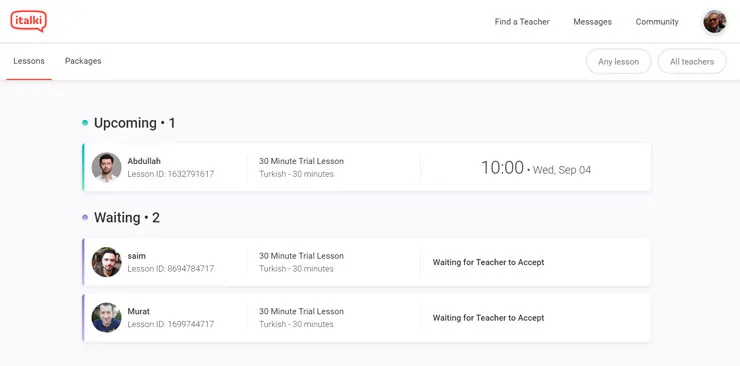 With iTalki you can find free language exchanges with someone who speaks the language you want to learn and who wants to learn your native language, or you can find tutors or professional teachers online, which is the best way to go for beginners.
Tutors have very reasonable fees with prices as little as $6 an hour (for Turkish, but it can be more or less for other languages/countries) for a 1:1 Skype class with a native speaker. You can also find tutors or teachers who offer 30-minute classes if you want to avoid the overwhelm that can come from those situations.
The best way to start is to do 30-minute trial lessons with a variety of different tutors or teachers to find one that you click best with. For Turkish, you can find trial lessons for just $1-2, so they are super economical, and give you access directly to native Turkish speakers. Keep in mind, each iTalki user is limited to three trial lessons, then you'll have to pay regular price. These trial lessons are meant to give you a better idea of the system rather than individual teachers.
If you sign up with my referral code, you can get $10 in bonus credits if you deposit at least $20 in iTalki credits. With $30, you can get approximately five half-hour classes in Turkish (I've seen some five-packs for just $20) — quite a deal!
Start Talking Turkish with iTalki
The Best Way to Learn Turkish
So yeah, that's my take on the best resources to learn Turkish, since there is no one, single resource that will teach you everything you may want to know, even if all you want to know is basic phrases for traveling. A combination of different types of resources and structures is the best way to find which tools resonate the most with you and which will expose you to a variety of different words and points of focus.
For me, at least, sometimes I need to see and hear different language learning concepts from a variety of different angles before it really clicks for me.
After a while of using the above resources, you should start to branch out into other resources like listening to Turkish music or Turkish television shows (you can find popular stuff on YouTube with tons of views).
For the television shows, you could go with a classic show like the Magnificent Century (Muhteşem Yüzyıl) about the Ottoman Empire or pick a favorite show of yours that's been dubbed into Turkish like Breaking Bad (add in English subtitles at the beginning), or you can even find Turkish shows available on Netflix, like the Protector, where you can easily add either the English subtitles or Turkish subs. Pro Tip: Try watching with English subtitles first and then repeat a second time with Turkish subs while the story is still fresh in your mind.
Those are just a few ideas for branching out if you want to try and take your language learning beyond the basics.
Best of luck to you in your Turkish language learning adventures, it won't be easy, of course, but it is still a rewarding process. Wish me luck, as well! 🙂
Resources Mentioned
Traveling to Turkey soon? Book the perfect room on Booking.com now to save. For longer stays, be sure to check out Airbnb. Don't forget to purchase international travel insurance for Turkey, my top recommendation is World Nomads for its combination of coverage and affordability.
Read Next: Top Budget Travel Tips and Resources
Share This
Did you enjoy this post about the best way to learn Turkish on your own? Take a second to share it on Pinterest, Facebook, or Twitter. Thanks!
Photo Credit: 1
The following two tabs change content below.