This article may contain
affiliate links
. If you make a purchase through these links, I will earn a commission at no extra cost to you. Thanks!
Curious about how to walk across America or whether it is even possible? A few years back, Nate Damm set out from the Atlantic Ocean in Delaware and began walking west. More than 3,200 miles and seven months later, Nate walked across America and dipped his toes in the Pacific Ocean in California.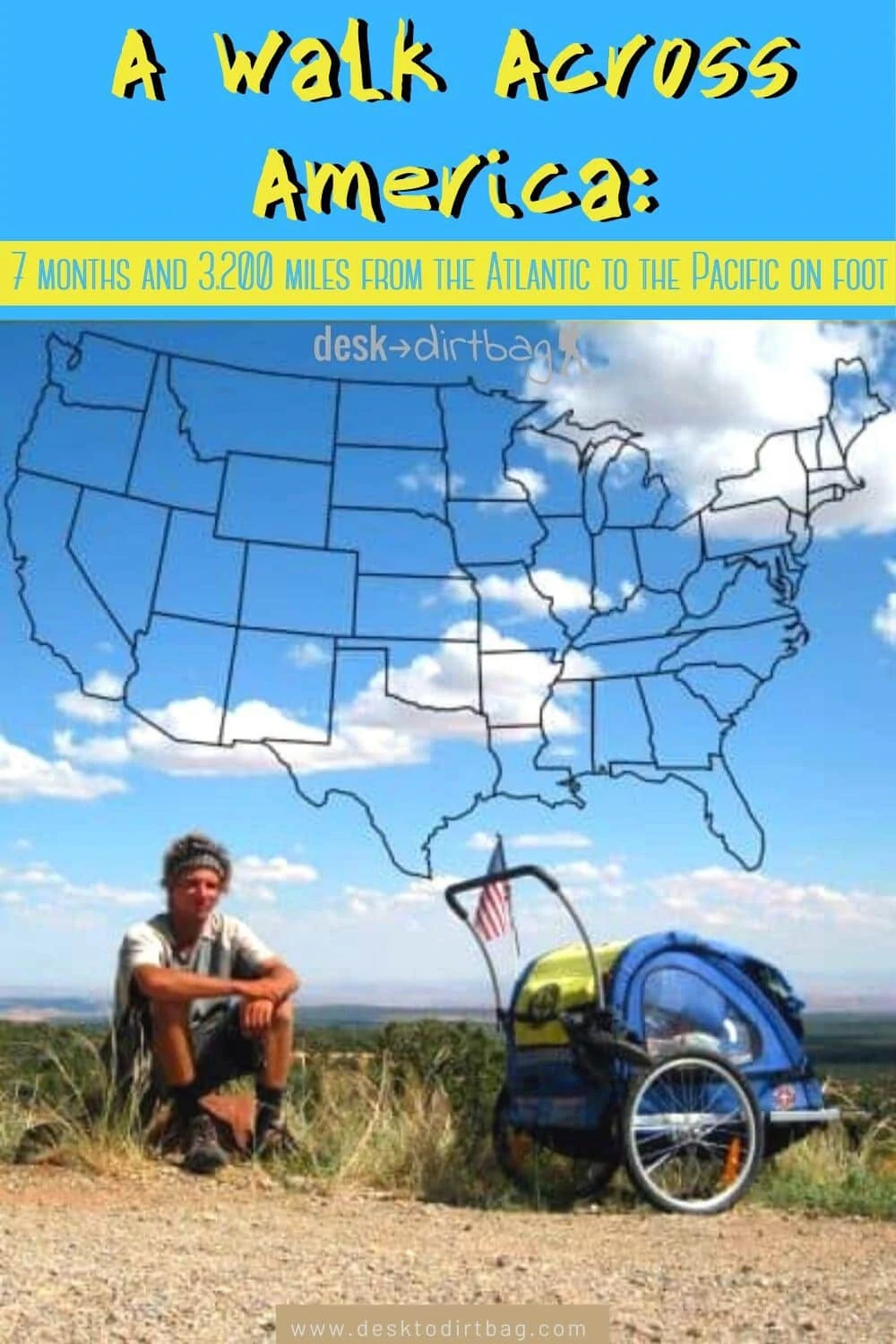 Nate embarked on a solo journey across an immense country that was mostly new to him; not knowing if he'd be able to find a place to sleep on any given night, or what sort of people he'd encounter in the next town over.
I first came across Nate and his story while scouring the web for information about Slab City, California the famous/infamous "last free place on earth" where you can camp for free for as short or long as you like.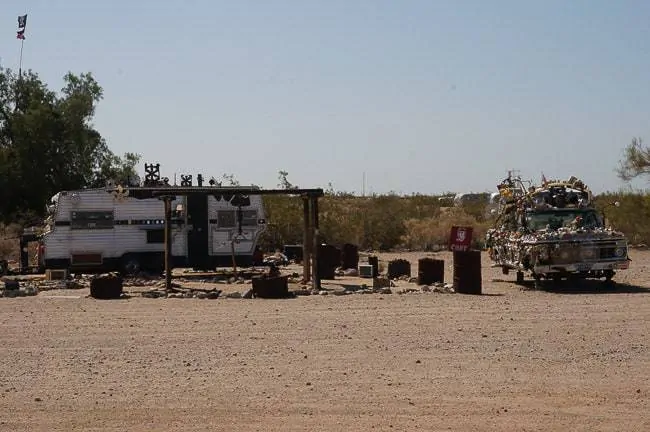 Nate had spent a good chuck of time there and put together a wealth of excellent information for a would-be visitor like myself. In any case, Nate and I stayed in touch and eventually crossed paths at the World Domination Summit in Portland, Oregon.
Nate recently put the finishing touches on his book recounting this trip that changed the direction of his life and his impressions of his own country. I wanted to chat with him about his journey, the nature of adventure, and his nomadic existence.
How to Walk Across America
Ryan: Can you tell us more about how you first became compelled by the idea of walking across the United States from east to west?
Nate: I first heard about a person walking across the U.S. through an article in Backpacker Magazine, and from that first time the idea was planted in my head, I knew that it was something I had to do at some point.
I just became obsessed with the whole concept immediately. I had been very familiar with the A.T. and P.C.T. and similar trails, but had never really considered walking across the country on roads and through small towns, cities, etc.
It seemed like the ultimate way to see America.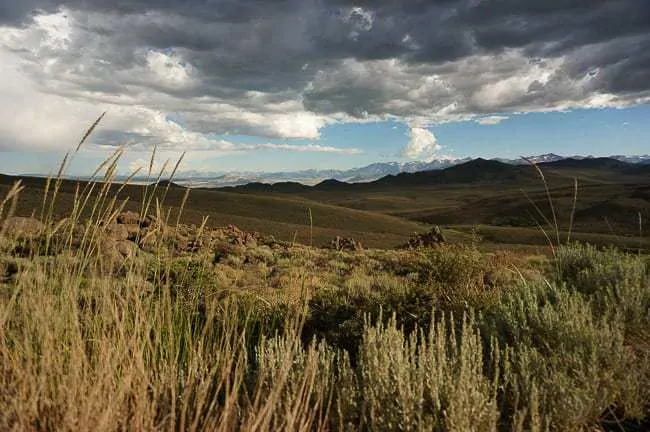 Many of us have big, audacious dreams about leaving it all behind to travel, whether that's a long distance thru hike, becoming a climbing bum, or just backpacking overseas…
After you became fixated on this idea how did you hold yourself accountable to actually making it happen and not just put it off 'til "someday" as so many do?
I did put it off for a long time! It took me a couple years of agonizing over wanting to be on the road but reverting back to what was comfortable instead to finally take the plunge.
I had a really hard time getting over the fear of leaving and essentially giving up life as I knew it for a new, strange adventure that I could not possibly be fully prepared for.
So what I did at first was set a hard date. By that date I had to be out of my apartment and standing on the beach in Delaware, regardless of what it would take to make that happen, how much money I had with me, and all that good stuff.
It was difficult, but I made it happen. Very glad now that I did. 🙂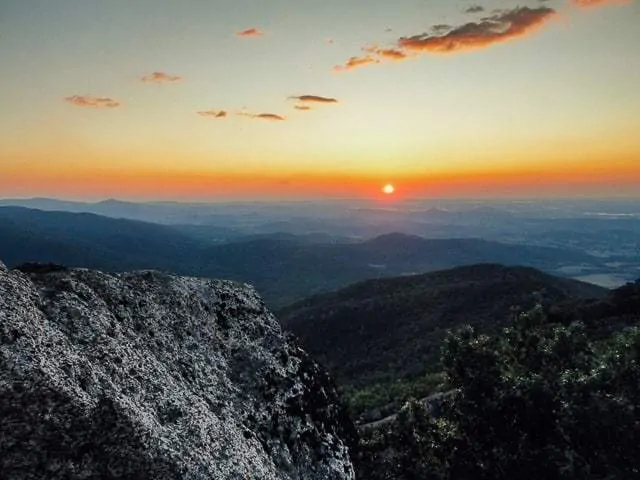 Many people when they think of long distance hiking, immediately think of the Appalachian Trail or one of the other classic long distance nature trails…
What was it about walking through the heart of America, through the cities, the rural heartland, the desert expanses, and rolling prairies, that appealed to you?
Being on foot all the way across the country appealed to me because of how much it would leave me open to meeting people. I had been growing very discouraged about how scary the world seemed to be from watching the news and hearing about all the bad things going on.
I knew there had to be some good stuff going on too! So I figured that walking slowly through small towns and meeting people would be a good way to find some of that good.
I also had a strong desire to see what I was made of. A huge physical challenge paired with having to stay strong mentally and learn how to work with and depend on people seemed like a great way to test myself.
What were your biggest take aways or lessons learned after completing your walk across America?
The biggest one for me was that most people are quite kind and welcoming. I was amazed at the help and encouragement I received from complete strangers on a daily basis.
I really didn't expect that as I planned before the walk. I figured that dealing with people may be a serious problem, it ended up being incredibly enjoyable. I made a lot of life-long friends on the walk and learned that most people are generally good.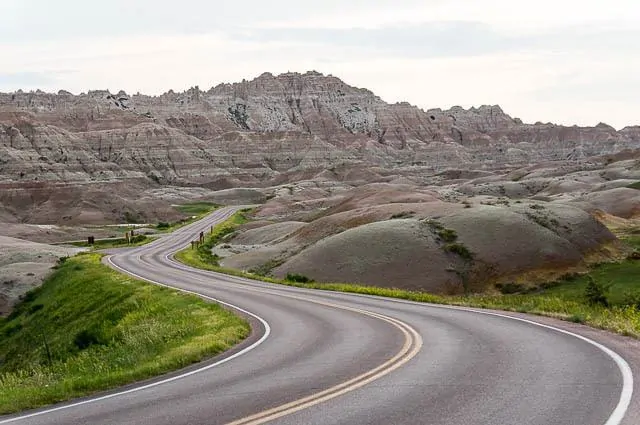 What were your expectations of the walk prior to departure and how did that differ from the reality on the road or how you felt about the walk after completing it?
Well, first I had really underestimated how boring it would be. Ha! It took a lot of time to get used to being by myself so much and just walking all day, every day.
There were moments of excitement every day, but for the most part, things were very relaxed and repetitive. I grew to enjoy that, but it was hard to adjust at first. I'd never really traveled before at all, so everything was new to me.
And as I said before, my expectations before the trip regarding how people would treat me along the way were definitely a bit different than how things turned out, as most people turned out to be great and very welcoming.
In a world where virtually every "big" adventure has been done before, what is the role of "adventure" in the personal, everyday lives of individuals? What does adventure mean to you and what role does it play in your life?
I think that adventure can be something that is much more simple than people may realize, and that you don't need to travel as far as you may think to find it.
Adventure, at least to me, is really just a change in mindset — a willingness to open up to things that scare you a bit and lean into discomfort. You can be adventurous anywhere and under pretty much any circumstances.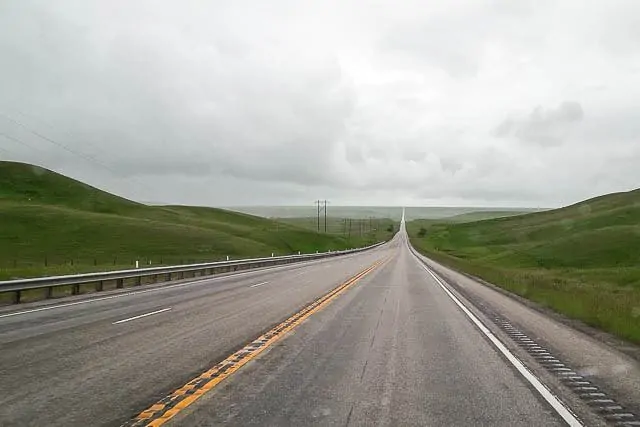 You've continued to travel and live a nomadic existence after completing your walk across America… Did you plan to return to the "real world" after completing it?
I did plan to return to the real-world at first, yes. But about half-way through the walk, I started sensing something in myself that gave me the feeling that I could not possibly go back.
I was addicted to the road, every day held so much promise and excitement that I couldn't imagine just going back to work, bills, all that stuff. So here I am three years later, still wandering around as I please. 🙂
So what's the next adventure looming ahead for Nate Damm?
Walking across the country again! I've known that one time would not be enough since before the first walk was even over, was just waiting for the right circumstances for a second trip to happen. And those circumstances came about.
This trip will be quite different, as I'm not going alone and there will be some other fun stuff going on, which I'll be sharing through my website soon.
I am desperate to start traveling overseas, as I've been just an American hobo for a little over three years now, but figured that one last huge American adventure would be a blast.
That trip is starting very soon in early April, so will be occupying my time for six or seven months.
————-
You can read more about Nate's adventure across America in his newly published book, Life on Foot: A Walk Across America.
I had the opportunity to read an advance copy of his book while I was traveling in Colombia, and I must say it was an excellent read that will make you want to follow in his footsteps.
It's an amazing story of adventure that recounts the kindness of total strangers, the highs and lows, and some of the dangers on the road (like nearly getting hit by cars or being charged by bears!).
It just goes to show that you don't need a ton of money or have to travel to some far flung destination to have a life-changing, amazing adventure.
Check out Nate's book on Amazon.com.
You can also follow Nate and his new adventures at his website www.NateDamm.com, or on Facebook and Twitter.
The following two tabs change content below.