This article may contain
affiliate links
. If you make a purchase through these links, I will earn a commission at no extra cost to you. Thanks!
Ben Slavin embarked on an epic South America motorcycle trip, starting from his home in New Hampshire through Mexico and Central America… More than six months, 23,000 miles, and 15 countries later he arrived at the southernmost most city in the world, Ushuaia, Argentina. An amazing adventure through some truly amazing natural scenery with amazing historical sites and vibrant cultures.
I met Ben during the World Domination Summit in Portland, Oregon, though we unknowingly crossed paths during the Overland Expo a few months earlier, an event which really stoked my desire to overland Central America and beyond. I even recently took my first ever motorcycle cycle classes down here in Medellin, Colombia.
It was an absolute blast, and as part of my effort to profile some of my adventurous friends, I wanted to chat with Ben about his experience overlanding the Americas by motorcycle.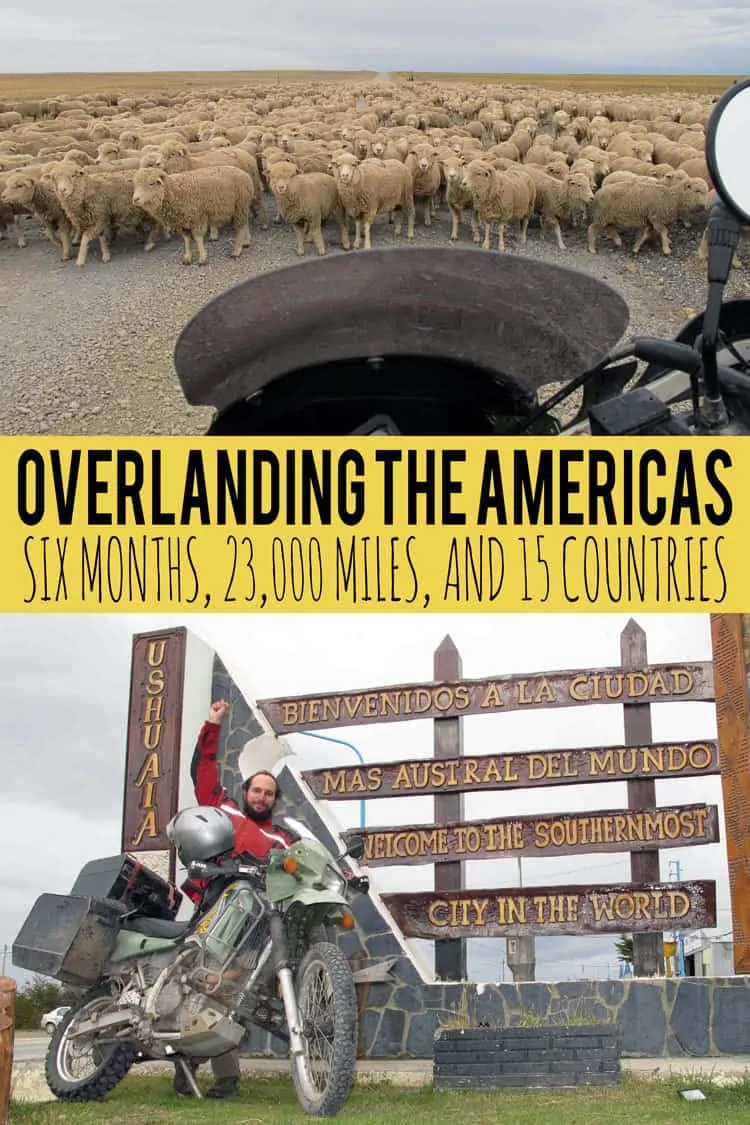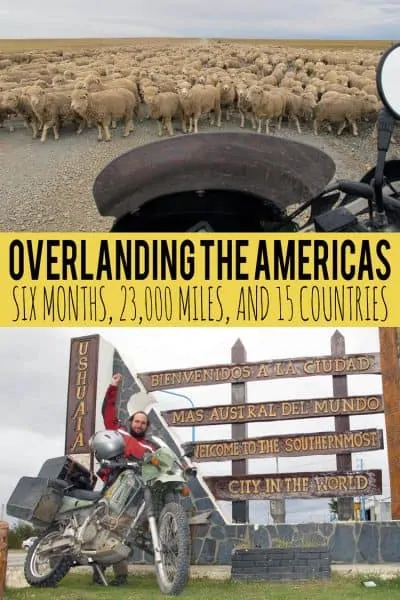 South American Motorcycle Trip
Ryan: Can you tell us more about how you first became compelled by the idea of doing this South America motorcycle trip?
Ben: I was working in the outdoor industry for Jetboil and everyday customers sent in photos of them and their stoves on adventures all around the world. Meanwhile, I was using mine to simply make mac-n-cheese at my office desk. I knew I needed an adventure.
I had been riding a motorcycle for a few years but had never done an overnight trip or a ride longer than 150 miles. I stumbled across www.ADVrider.com and got hooked on the idea of doing a big ride.
I then started learning Spanish using Pimsleur audio lessons during my 20-minute commute to and from work. After 6 months, I had a strong enough foundation and set off for Latin America.
Being Accountable
Many of us have big, audacious dreams about leaving it all behind and traveling in some many or another for long periods of time… After you became fixated on this idea how did you hold yourself accountable to actually making it happen and not just put it off 'til "someday" as so many do?
I knew this is what I wanted to do. But I had to hold myself accountable, so I decided to make it public. I first told my family and friends. When I started my blog, I announced it to the world.
There was no turning back after that. If you have a big goal (travel-related or otherwise), make it known. Share it publicly. Then your reputation will be on the line. There's no turning back!
Additionally, looking at others, I realized that the older I got, the more of a challenge it would be to break away from life's responsibilities. I didn't have any kids or a mortgage. There will always be time to buy a house, start a family, work for years and years.
When will I ever have this opportunity again?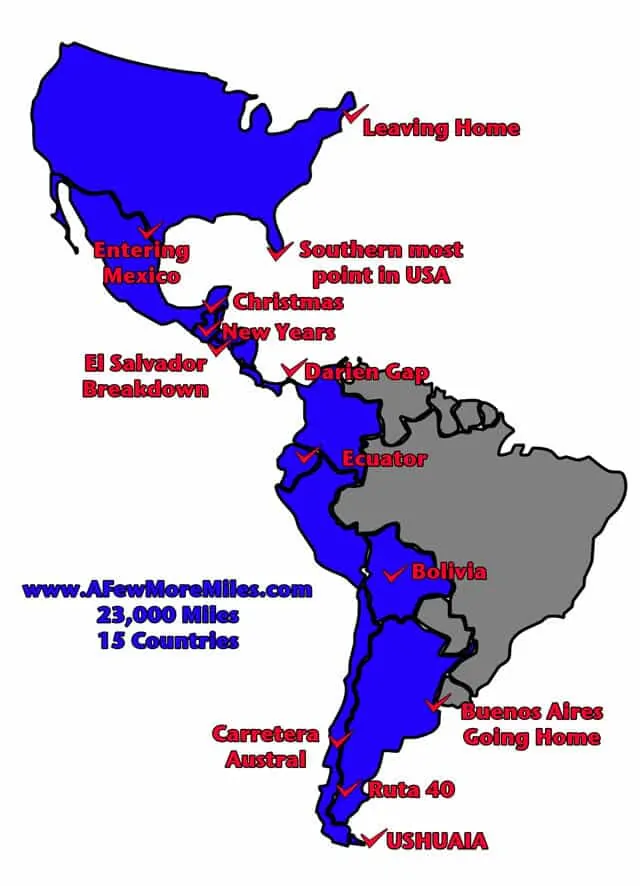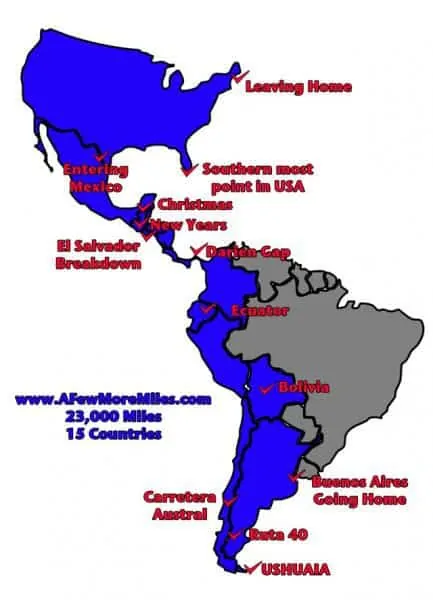 Expectations vs Reality
What were your expectations of the ride south prior to departure and how did that differ from the reality on the road or how you felt after completing it?
My only experience of Latin America before my ride was a one-week climbing trip to El Potrero Chico in northern Mexico.
I wasn't quite sure what to expect.
Of course, I heard about all the negative stories that are published in the mainstream media. I was very excited to cross the border but also slightly terrified. However, after a few days of taking in the Mexican hospitality, I relaxed and really started to enjoy the trip.
As I rode south, I thought that all the countries would blend together. I was surprised to see that an invisible line on a map was a true cultural boundary.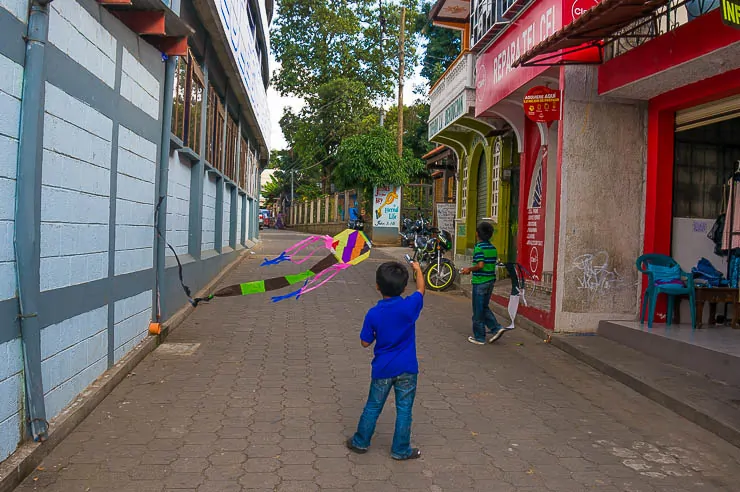 With every new country came new types of faces, new variations of the Spanish language, new customs, and new food. I was amazed at how quickly tacos disappear when you leave the southern border of Mexico!
Additionally, I heard it would be difficult to find parts for my motorcycle. It seemed that motorcycles were everywhere but most were smaller than 250cc. I learned over and over again that Latinos are extremely resourceful.
It didn't matter if I needed a new rear sprocket, a new support bracket for my panniers or a new CDI (master computer) for my bike, the friendly mechanics were always able to fix me up and get me back on the road.
From time to time I carried spare tires with me, but that was mostly unnecessary because every larger city had plenty of motorcycle stores and tires were never that hard to find.
Dangers of Mexico
How do you feel or react about the increasingly loud voices about the danger of Mexico and other Latin American countries? Do you feel that most Americans have an accurate picture of the security situation/problems down south?
As soon as I told people I would be riding my motorcycle south of the border, they quickly and routinely warned me of the dangers. It seemed like everyone had read a horror story in the paper, seen an exposé on TV, or knew of a terrible story from a friend of a friend of a friend.
The truth is, the overwhelming majority of the people I met were genuinely friendly. Sure, trouble is not hard to find if you go looking for it, but if you travel smart, you'll have a great time. Then again, there are no guarantees. But that's part of the excitement of travel.
Nevertheless, I'm conflicted about this issue… On the one hand, I want to educate others about how wonderful the people are south of the border. On the other hand, I want to keep the secret so there is more for me to enjoy!
Overlanding Pros & Cons
What do you feel the pros and cons of overland travel with your own vehicle are compared to, say, the more traditional backpack and public transportation approach to travel?
After having the freedom of traveling under my own means (a motorcycle). I never want to be a bus-backpacker.
I've had to take buses from time to time and I hate it. Being crammed into a stinky bus, swaying through the twisty roads in the heat of summer…
I much prefer to have my own vehicle, to travel when I want and where I want. Lunch breaks and photo stops are my own decision.
Of course, the cons of traveling overland are repairing your vehicle when it breaks. However, that's a small price to pay for the joy and freedom of being on my own.
What is Adventure Today
In a world where virtually every adventure has already been done before, whether that is driving across continents, climbing mountains, or whatever else, what is the role of "adventure" in the personal, everyday lives of individuals? What does adventure mean to you and what role does it play in your life?
When I finished my 6 month trip from New Hampshire to the southern tip of South America, lots of people told me I should write a book. "Why?" I asked. "Because what you did was incredible," they said.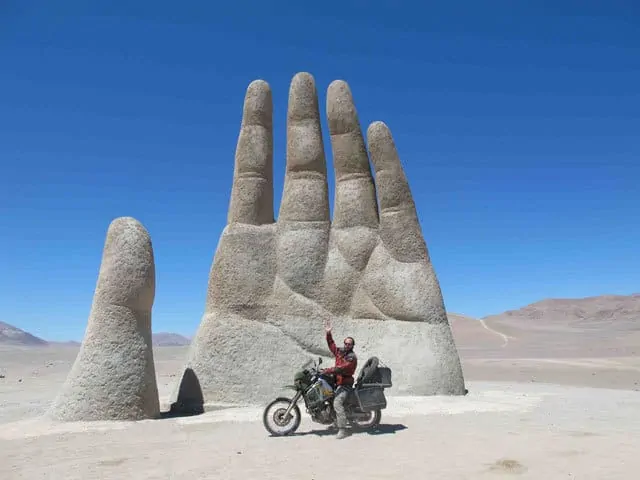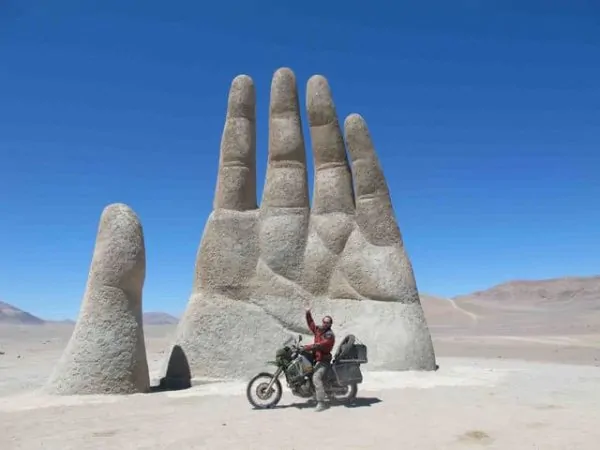 I don't think it was incredible. It was just day after day, mile after mile, and hundreds (if not thousands) before me did a similar ride. What makes my South America motorcycle trip special?
I realized it was special to me.
I stepped away from the "desk job" and set out to do something I dreamed of. It made me believe that I am in control of my life. I choose how I spend my money and my time.
If one-upping is your thing, that's great, go for it. No matter how big or small your dream adventure is, make it a reality. You won't regret it.
Returning Home After
Many people have huge barriers that they put up when it comes to taking time off for a big adventure like yours, and there are also worries about the "readjustment" period when one returns home… Whether that's just reverse culture shock, troubles finding another job, or the call of another adventure… What was your experience with this and what advice do you have to would-be travelers?
One of my worries before leaving for the trip was my career. What would I do when I got back? Interestingly, when I returned home, my previous job asked me to come back.
I was flattered but I decided to take another opportunity with a small startup who helped sponsor my trip (www.micatech.net). Let me tell you, I worked harder than I ever had before and was paid less than ever before but I had way more fun than ever before!
I even went back to Mexico to film a guide for future overlanders. These gigs lasted for a while, but I was eventually offered another job that was too exciting to pass up, and a while later, one more stimulating opportunity came along and I decided to jump on it. At each job interview, we talked mostly about my South America motorcycle trip. It was a great ice breaker.
Reverse culture shock did happen though and there are two things that still stand out in my mind. Going to the grocery store for the first time, I walked in and found a HUGE produce section with jumbo, pristine, colorful fruits, and vegetables.
Apparently, all the beautiful produce is exported to the USA while all the bruised, small, discolored produce stays in Latin America.
The other incident was going to a restaurant with my friends. The place served 14 different kinds of turkey. I just starred at the menu, unable to comprehend.
For months, I had been accustomed to going into a small roadside eatery and asking what they served. They would say chicken, or beer, or pork (but never all three at the same time) and usually prepared just one way. And I'd gladly accept whatever they had.
Now all of a sudden, I had what seemed like infinite possibilities. It was too much for my brain.
Lastly, I hate when people say "You're so lucky, I wish I could do that."
Yes, I am lucky. And, yes, you can do it too!
"I can't afford it" is the most common answer. For some, this may be true, but for most middle-class people, what they are really saying is "I choose to spend my money elsewhere."
I drive a crappy old car, I rarely go out to eat, I have just a few outfits that I wear, and I have a modest apartment. Sure, I'd love to have the new expensive stuff. But it's more important for me to have the freedom and be able to travel.
If you want to take a big adventure, you'll find a way. If not, you'll find an excuse.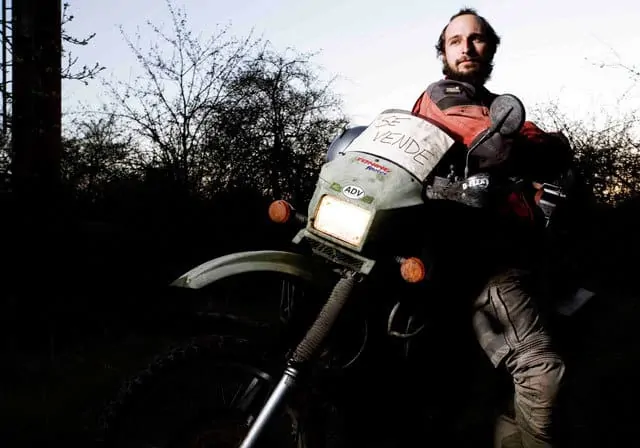 More About Ben
Thanks to Ben for taking the time to answer a few of my questions and share more about his amazing overland travel adventures.
It just goes to show you that with enough determination and vision you can make a truly amazing adventure come to fruition, whatever sort of adventure that may be. If you have any interest in overland travel in Latin America, then you can't go wrong by checking out his DVD set, Motorcycle Mexico.
Ben has ridden extensively throughout Latin America and produced several motorcycle documentaries including the popular www.MotorcycleMexico.com and www.TheNewWorldRide.com. In addition to filmmaking, Ben continues to develop other tools for overland travelers such as www.BorderHelper.com.
When he's not riding around the world, he can be found working in the Bay Area and saving every penny for his next big ride. Check out www.AFewMoreMiles.com to keep up with his travels.
Ben and others planted a seed in my brain, and I eventually decided to follow in their footsteps by driving my truck all the way to Patagonia…
Read More: Don't Drive in Mexico, You'll Be Kidnapped, Killed, or Worse!
Share This
Did you enjoy this post about an epic South America motorcycle trip? Take a second to share it on Pinterest, Facebook, or Twitter. Thanks!
The following two tabs change content below.