This article may contain
affiliate links
. If you make a purchase through these links, I will earn a commission at no extra cost to you. Thanks!
Go outside. Go have an adventure. What role does connecting with nature and finding adventure play in your life? Have you found that the nature effect plays a prominent role in your life?
For me, nature and the outdoors really grounds me and makes me come alive again.
There's just something about the simplicity of camping and the outdoors that I love, far away from the trappings of the rat race and this modern life.
You don't need much to be happy while camping. Perhaps just a hot meal, a cozy and comfortable place to sleep, and maybe a campfire before bed.
There are no smartphones, no Netflix, none of the normal distractions of our everyday lives.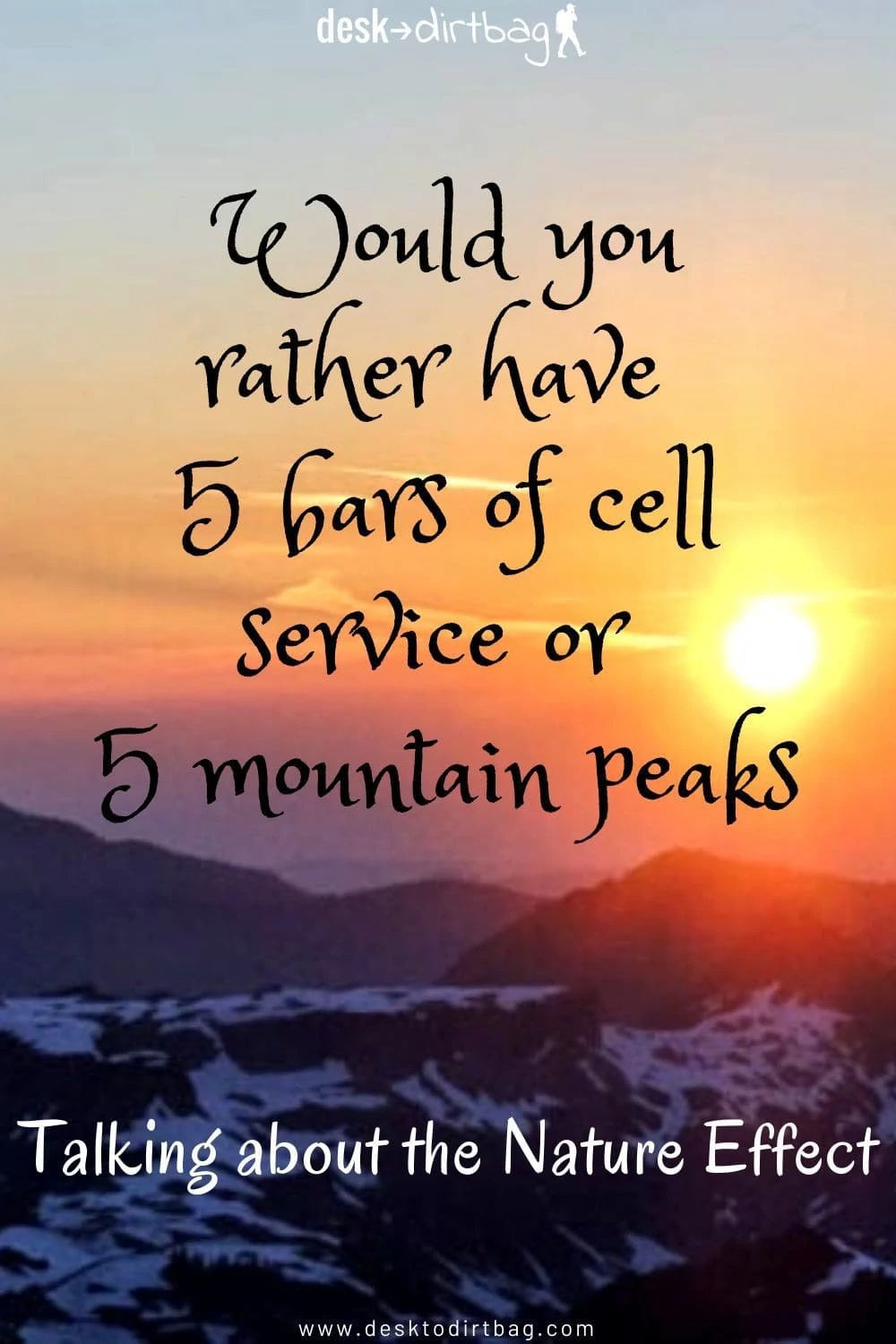 I mean, you can sit around a campfire for hours and watch the flames dance. Camping is like the opposite of the Facebook Effect where you can just scroll on and on endlessly looking through the feed, never spending more than a few seconds on each item.
Our modern world creates a sort of ADHD culture that makes it hard to focus, concentrate, or just be still. For me, nature and the great outdoors serves as a sort of counterpoint.
What do you think about the role of nature in the modern world? Does the nature effect mean anything to you?
S'more Outdoor Podcast
I recently had the chance to sit down with Brett from the S'more Outdoor Podcast to chat about the meaning and importance of nature and the natural world in my life.
Give it a listen now:
You can also listen via the S'more Outdoor site, via iTunes, or via Stitcher.
In this episode we discuss:
The importance and meaning of adventure.
The role of nature in childhood.
What brought me down this most recent path in life.
And so much more!
The podcast was a bit like we were hanging around the campfire and just having a chat.
Give it a listen. Perhaps do so as you take a walk around a local park or through the neighborhood.
One of my favorite times to listen to podcasts is while going for a run, here are a few of my favorite podcasts.
I hope you enjoy. Be sure to visit the S'more Outdoor site for more great campfire discussions about the importance of nature and how we can reconnect.
Share This
Did you like this? Please take a moment to LIKE or SHARE via Facebook, Pinterest, or Twitter. Thanks! 🙂
The following two tabs change content below.