This article may contain
affiliate links
. If you make a purchase through these links, I will earn a commission at no extra cost to you. Thanks!
So you wanna play guitar but you also want to (or have to) travel, huh? The two things are seemingly at odds, what with a bulky acoustic or heavy electric guitar and all the stuff that goes with it. But what about those compact travel guitars?
Is it possible to find a decent and affordable setup that you can take with you on the road or overseas?
After a lot of research and consideration, here's what I came up with for a travel guitar setup that would suit my nomadic lifestyle.
Acoustic or Electric?
I've been using a cheap acoustic guitar for quite some time now and considered using it as my travel guitar but it's just too bulky and fragile.
Acoustic may be the right choice for you, including one of the travel size acoustics like the Martin Travel Guitar, the Washburn Rover, or something even fancier, but the sheer bulkiness of acoustic guitars and the prospect of playing them in cheap hostels with thin walls or other places where sounds might be an issue basically took acoustics out of consideration for me.
The increased portability and quiet-factor of an electric travel guitar was what I knew I needed.
But there are numerous electric travel guitars on the market, so which one to choose?
Hofner Shorty Electric Travel Guitar
Based on online reviews and word of mouth, I kept circling back toward the Hofner Shorty as my travel guitar of choice.
I'll be honest, I was really drawn to the Traveler Guitar models, with their headless neck, and tuners built into the body, but I just couldn't justify the roughly $300 retail price of a Traveler Guitar.
The Hofner Shorty is half that price at only $150.
Overall weight and portability were the #1 concern of mine, but price obviously plays a huge factor as well. It seemed silly to pay double the price for a guitar that is only 5" shorter (thanks to the lack of headstock) and just about one pound lighter.
Besides, this is a guitar for traveling, which will undoubtedly inflict a few bumps and bruises along the way. Each one of those bumps and bruises hurts a lot more when it cost you that much more out of pocket.
The Hofner Shorty is among the lightest, most portable, and best choices for a travel guitar. Dollar-for-dollar, you can't really beat it.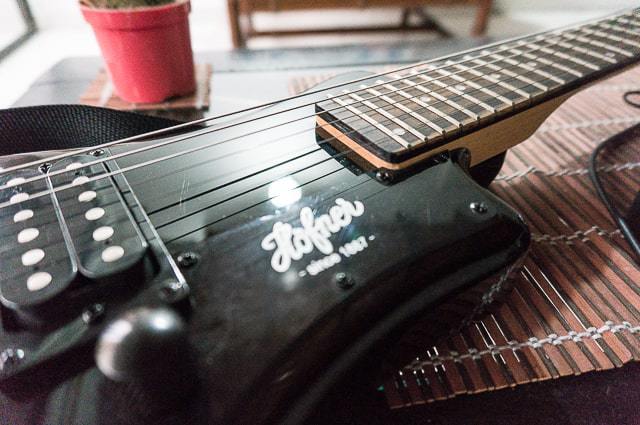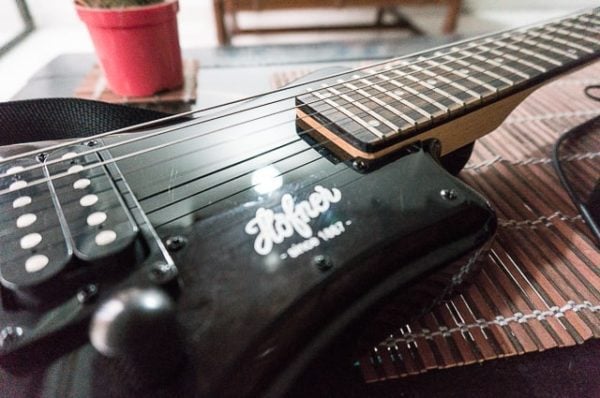 Quick Facts
Length: 33" long, so it is short enough to be taken as carry-on
Weight: 4lbs – not the lightest travel guitar, but pretty good
24 frets – features a full two octaves!
What I Like
Out of the box, the guitar wasn't setup too bad. The intonation was a little off and the action needed to be lowered, but after a professional setup, it plays amazingly well.
It's surprising how small the guitar is. Other electric guitars feel like a ton of bricks, an acoustic feels like a monster. It will take a day or two to adjust to playing on such a small and light guitar though.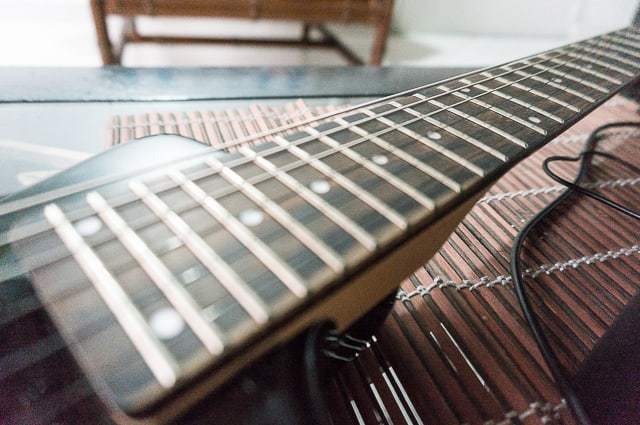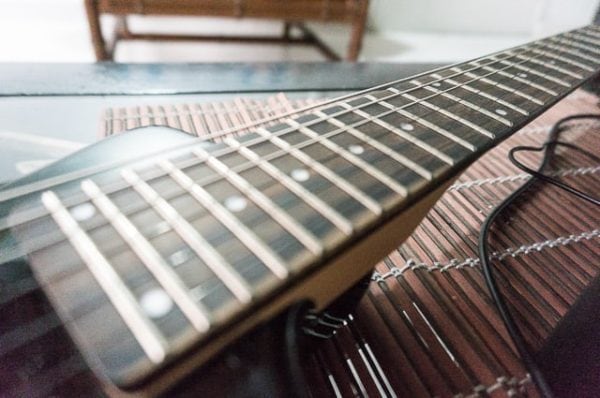 I'm not an expert guitar player by any means, but the tone and sustain of the Hofner Shorty are surprisingly good. It more than suits my purposes for a travel guitar.
It's great that it has a full 24 frets to work with as well.
What I Don't Like
The Bridge – the bridge has an odd wrap-around design which makes it a pain to change out strings. You basically have to loosen all the strings to be able to wiggle the bridge off. Some people have swapped out their bridges for a more traditional and functional design. That may be a future course of action.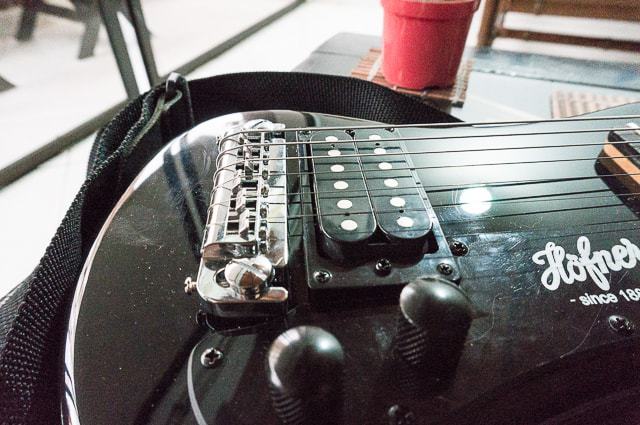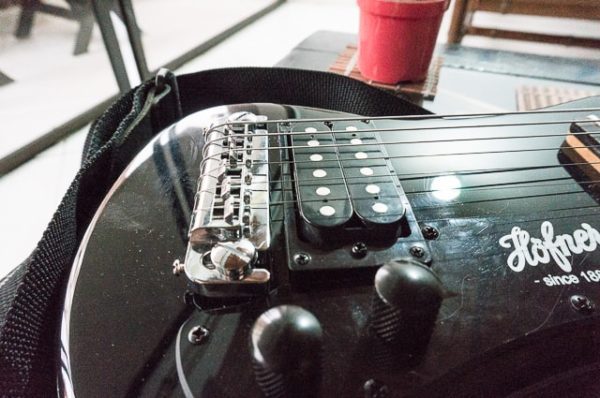 Headstock – I guess I shouldn't complain about this, but I really would have liked a headless guitar. The guitar is very headstock heavy as well, so it wants to tip down when you are playing it. Some people strap on a little counterweight, like their shoe, or clip a carabiner onto their pants' belt loop, or others just become accustomed to supporting the neck so it doesn't tip down. I've adapted to it now.
The guitar is a budget guitar, of course, the tuners are a little shaky, it doesn't have the absolute lowest action, and it's not a perfect guitar.
But again for the combo between price, portability, and playability, this guitar is pretty tough to beat.
Rocksmith
I've talked a bit previously about some of my favorite guitar learning resources, but I'll speak specifically about Rocksmith Remastered 2014 here because it pairs well as a component of the travel guitar setup.
Rocksmith for the PC works like a charm as a fun and effective way to practice guitar while traveling. All you really need is your guitar and the Rocksmith cable to rock out wherever you might be, in the hotel room, at the campground, or wherever.
What I Like About Rocksmith
– Learn Songs – there are more than 1,000 different songs (available for purchase) that you can play along with at increasing levels of difficulty, and thousands of songs available for free by third parties like CustomsForge.
– Session Mode – you can just rock out and improvise with a customized band that plays along with you, or you can play along without the band and just use the program as your digital amp and effects pedals.
– No Internet Needed – Yep, since the program is saved and downloaded onto your PC, you are free to use the program to its full potential no matter where you are in the world… Even on the plane!
It's important to note that you can also use the Rocksmith cable with other programs that serve as your amp and effects, no other hardware is needed, just your guitar, laptop, and cable.
Purchase Rocksmith Remastered or the Rocksmith Cable
iRig UA
So what do you do if you wanna play your electric guitar but not have to deal with the laptop? While you could certainly use the little Vox Amplug portable devices, I think there is a better and more versatile combination.
The iRig UA is a great and highly portable addition to your electric guitar setup. The iRig fits in the palm of your hand and is surprisingly light.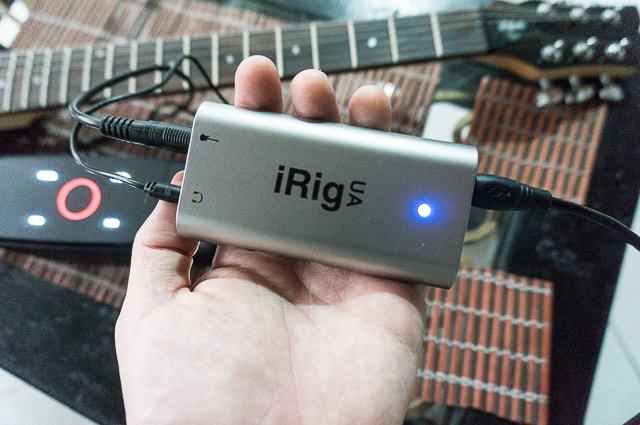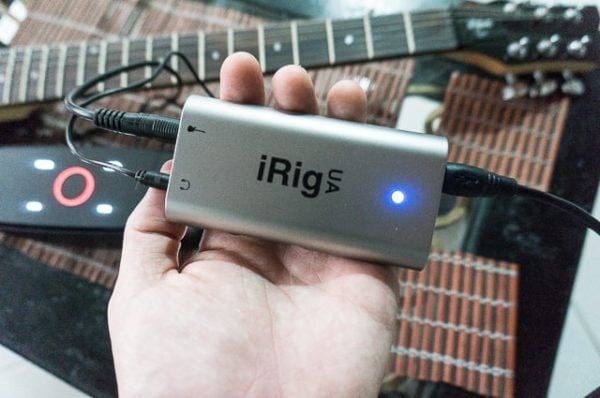 The iRig plugs directly into your smartphone via a micro USB cable and allows you to control a myriad of amps, pedals, and effects directly from a smartphone app like Amplitube (free with the iRig).
Since the iRig draws power from the smartphone, you don't have to worry about replacing batteries as you would with a Vox Amplug, and the built-in software includes a great variety of effects.
You plug your guitar directly into the iRig which essentially acts as an external audio processor, ensuring that there is virtually no lag – at least, no detectable lag – between when you strum the strings and hear the sound. Your smartphone is not involved with audio processing and ONLY acts as the interface for selecting effect or pedals to use.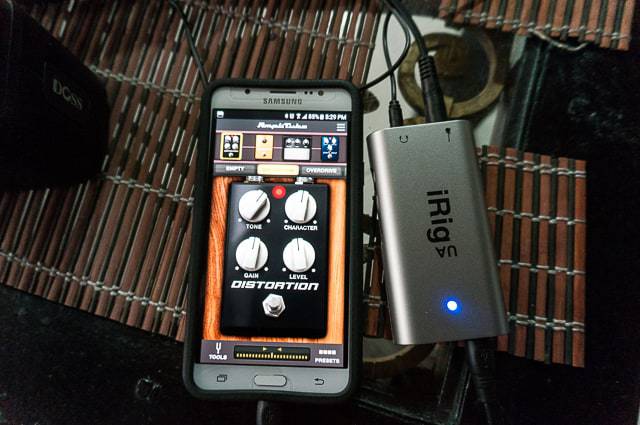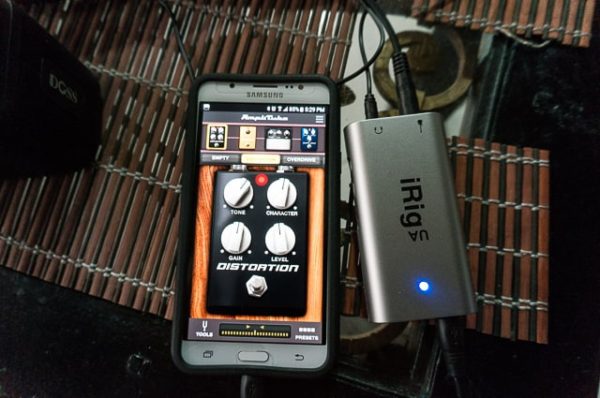 You can connect headphones directly to the iRig and practice in relative silence or you can connect it to an external speaker.
The iRig also has an AUX connection where you can connect music to jam along with, but you can also just pull up other applications on your phone, like YouTube, for instance, to find backing tracks or songs to jam along with.
DOSS SoundBox
Maybe you don't want to rock out with headphones but want to play out loud? If you use the iRig, I would also recommend getting a decent portable speaker like the nice little Bluetooth speakers for playing music.
Any speaker with an AUX input will serve our purposes for connecting to the iRig, but I went specifically with the DOSS SoundBox thanks to relatively cheap prices, great reviews, and excellent 12-hour battery life.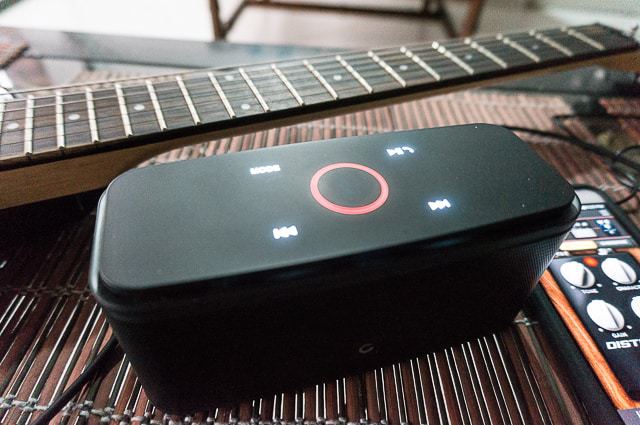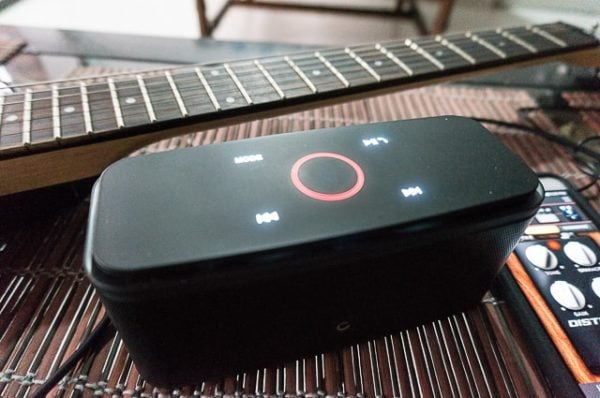 The DOSS SoundBox is surprisingly powerful and puts out a lot of boom for such a portable little device. While it obviously doesn't compare to a full-fledged amp, this is a great combo for playing guitar on the go and is more than enough for the purposes of playing guitar on the road and traveling.
Conclusion
Putting together a decent but affordable setup for playing guitar while traveling isn't impossible! If you pair the Hofner Shorty with Rocksmith, an iRig, and the DOSS SoundBox, you can play and practice your guitar absolutely anywhere your travels might take you.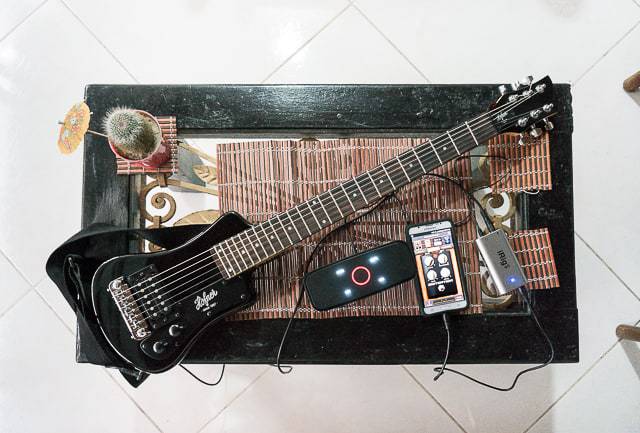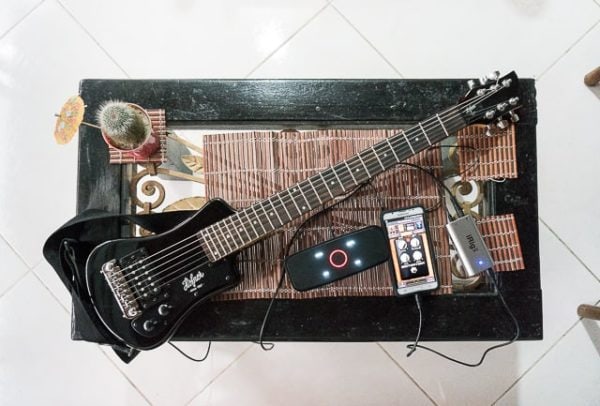 Share This
Enjoy this post about the best travel guitar? Please take a moment to share it on Facebook, Pinterest, or Twitter.
The following two tabs change content below.