This article may contain
affiliate links
. If you make a purchase through these links, I will earn a commission at no extra cost to you. Thanks!
Ah, Jersey… The butt of oh so many jokes, and the land of Tony Soprano, Snooki, Bruce Springsteen, and Jon Bon Jovi. But backpacking New Jersey, is there such a thing? Do they even have woods or anything resembling wilderness in the most densely populated state in the country? Turns out they do, as I learned when backpacking Delaware Water Gap to High Point over 45 miles of pretty awesome scenery.
My only previous experience with Jersey had come from passing through a few times on the train to New York City and one night spent at my buddy's uncle's house on the way to go ice climbing in the Catskills.
So I'll admit I was skeptical about Michael's proposal to spend a three-day weekend backpacking across the state of New Jersey.
I mean, three day weekends are prime real estate for people who love the outdoors… You want to be sure to use those precious weekends on something big and awesome.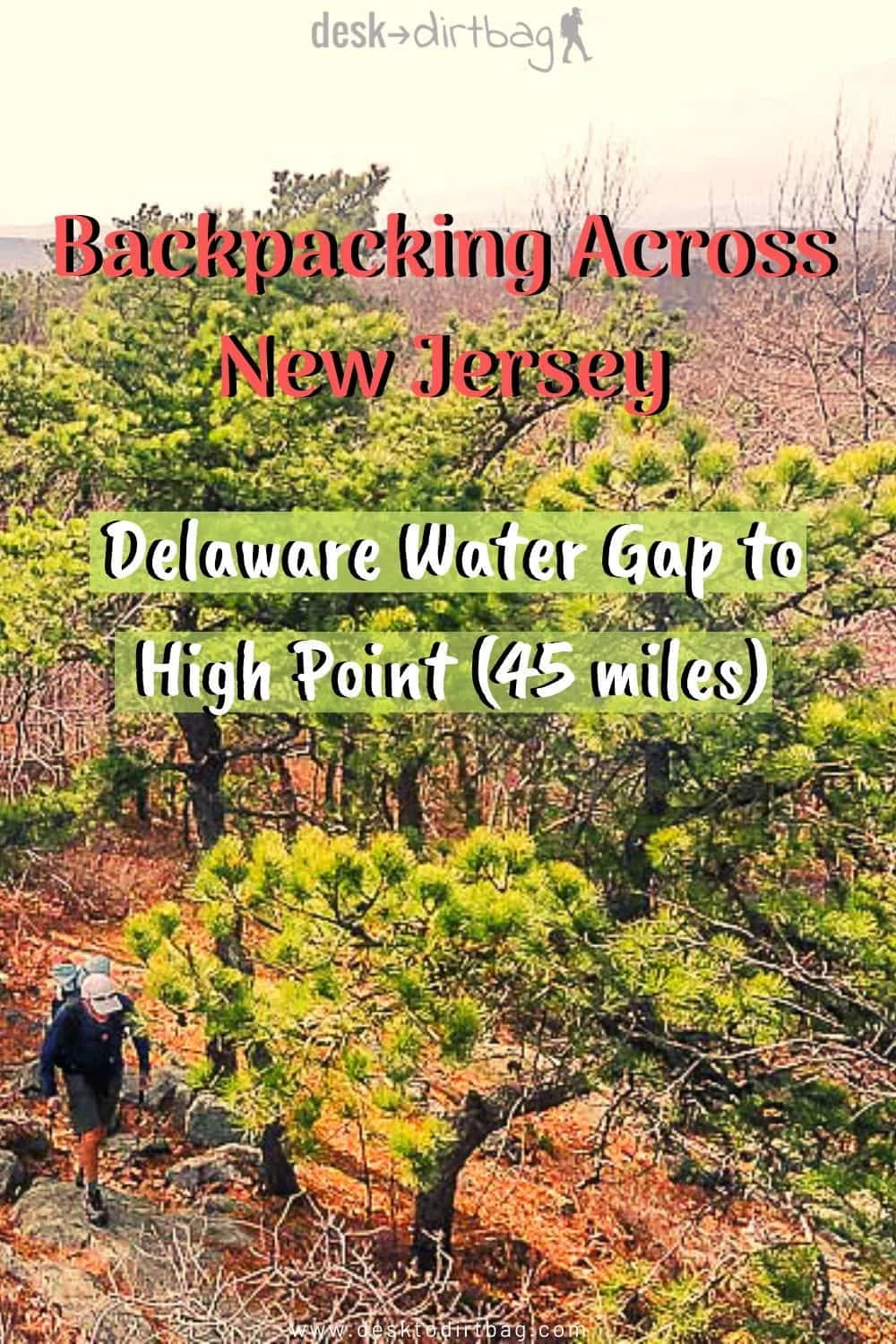 So hiking in New Jersey?
In the end, I was pleasantly surprised by the scenic and rugged nature of the Appalachian Trail through the Garden State—there were numerous glacial lakes and ponds, outstanding vistas, a little wildlife, and spectacular ridgelines that rival or even surpass parts of the Mid-Atlantic.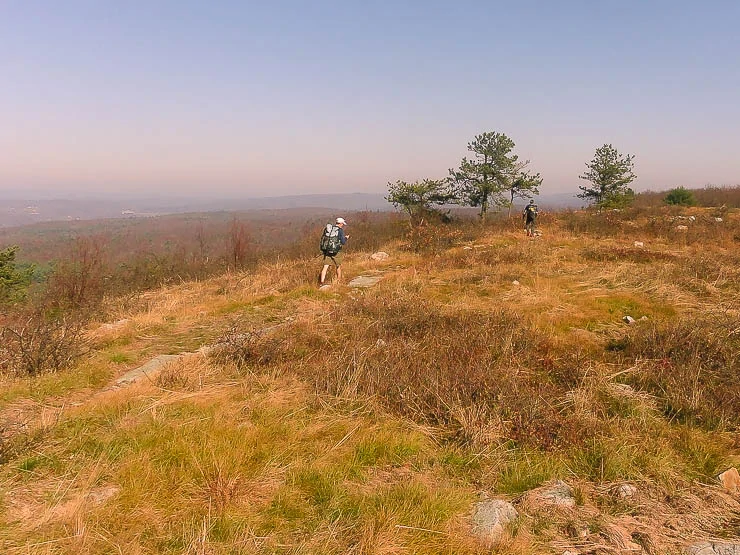 Delaware Water Gap Backpacking
I met up with Michael, Chris, and Dan from DC UL Backpacking on Saturday morning for the four-hour drive up to the Delaware Water Gap on the New Jersey-Pennsylvania border where we'd be meeting up with Holger and John who had already staged a van near the New York state line 45-miles away.
We spotted the familiar white blaze along the adjacent road and hiked along the road and under an overpass. Cars can also be an objective hazard on thru-hikes, it would appear. Thankfully the roadside walking soon gave way to a real trail as we hiked along some beautiful streamside scenery and gently climbed out of the Delaware Water Gap and up the Kittatinny Mountains.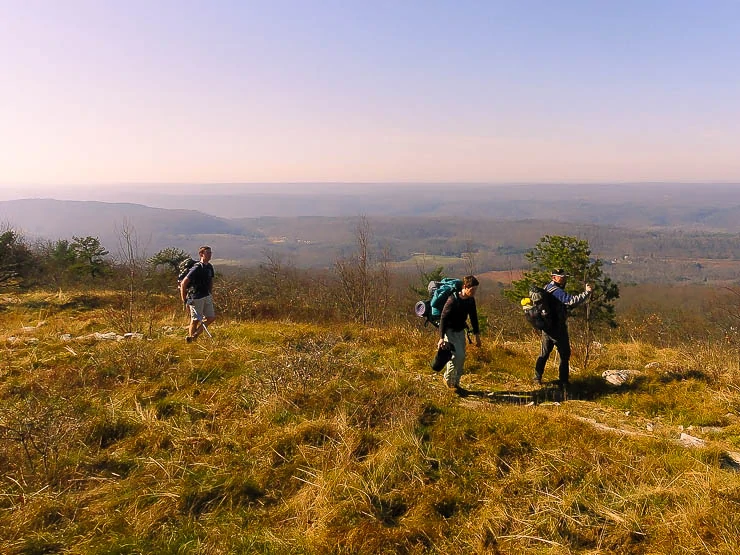 The trail along the upper ridge of the Kittatinny was surprisingly rugged. I mean, the AT is infamous for its rocky trails, but for some reason, I wasn't really expecting as much on a section that doesn't even break 2,000 feet above sea level. The rocks were also not very friendly—thin, sharp, pointy, and vertically oriented to stab into your feet.
I was also struck by the numerous lakes and ponds, which is simply something we don't have further south in the DC area because there was no glacial intrusion in those parts.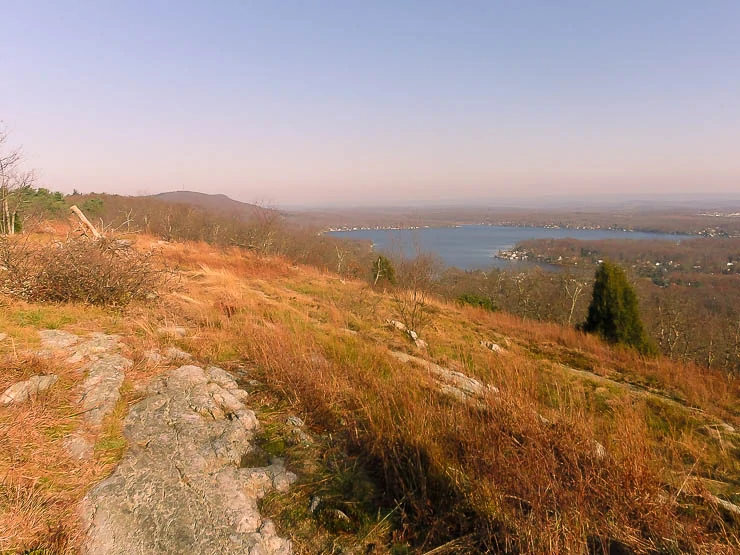 Seven Wonders of New Jersey
We soon came across Sunfish Pond, which was one of the Seven Natural Wonders of New Jersey according to an adjacent sign. We hadn't heard of such a thing, but later research proved it to be real, and we'd actually visited three of the Seven Wonders this weekend (Delaware Water Gap and High Point being the others).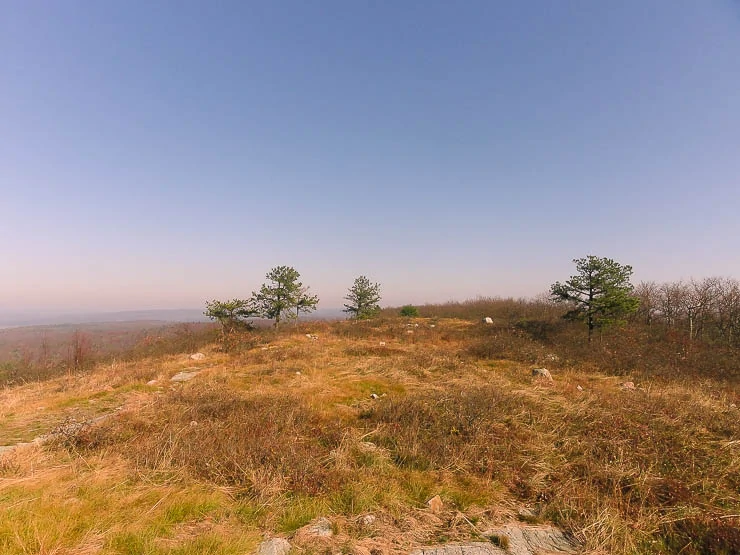 "Is that a sleeping pad stuck on top of a pole?" I asked one of my trail companions at the peculiar sight ahead.
There was a bald knob on a narrow ridge with commanding views of the surrounding countryside and a group of a half dozen or so men clustered beneath this high wooden pole. We hiked closer.
No, that's a big plastic owl perched atop a pole… Wait, what?
We struck up a conversation with the guys below, armed with binoculars. The decoy owl is a target for migratory hawks apparently, and Raccoon Ridge is one of the premier areas to witness the hundreds, indeed thousands over a season, of passing hawks. Unfortunately, during the five minutes we spent there, not a single hawk came by.
It had been a slow day they said, but only the day before hundreds of them had been spotted.
We hiked on past the AMC's Mohican Lodge for a few miles before setting up camp high on the ridge. The early November sun would soon be setting, but we had managed to work in a good 10 miles today even with the long four-hour drive.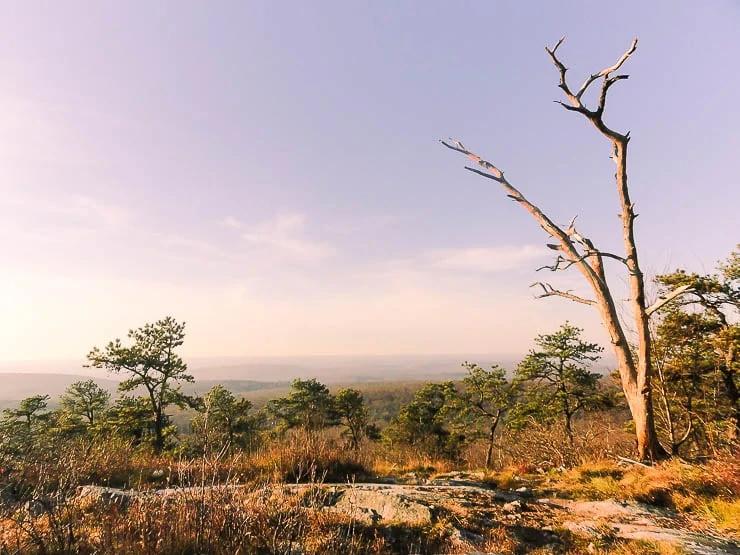 No fires are allowed in the Delaware Water Gap Recreational Area, but we still hung around an old fire ring for dinner.
Heavyweight Hiking
"Now what do you have there?!" Michael blurted out at one point. We all looked over to see Dan sitting over a giant glass casserole dish full of rice and beans along with a half dozen hard-boiled eggs… One of the most decidedly unlight backpacking meals and containers I've ever seen on the trail.
This was after we had already been giving him a hard time for his 2+ pound bag of peanuts. I'm pretty sure Dan had enough food to last a week! We continued to hang around our non-existent fire, serenaded by coyotes, watching the steady stream of planes overhead, and recounting the ridiculousness of Bear Grylls and the guys from Finding Bigfoot.
Day 2 Backpacking New Jersey
We had a full day planned for Sunday, so it was up before dawn at 6 am. I had pitched my MLD TrailStar on the edge of the ridge with the opening facing east to catch the rising sun. It was dark when I got up, but I soon realized we were socked in with cloudy pea soup views… No stunning sunrise today, unfortunately.
We broke camp and were on the trail by 7 am, passing by numerous overlooks and vistas that remained obscured throughout the morning. The trail remained rocky and rugged through this portion but eventually gave way to some softer trails and old roads which allowed us to put some mileage in.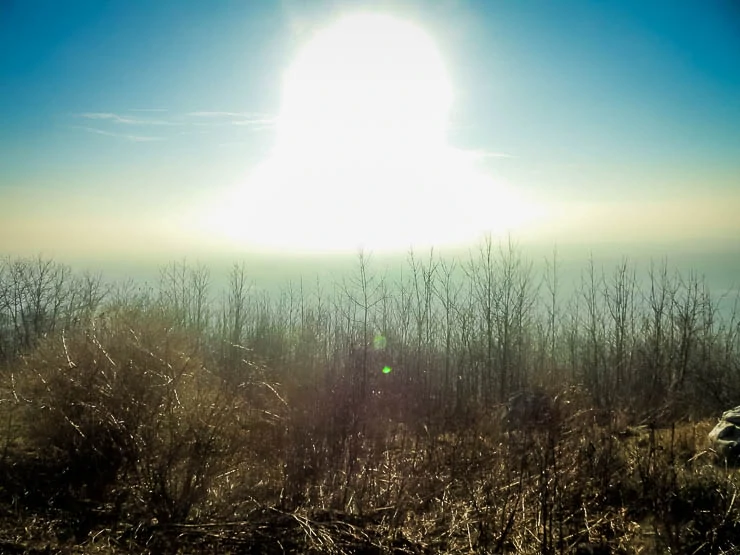 Unlike Saturday, we really didn't see many people on the trail throughout this quiet middle portion of the state. The softer road and trail gave way once again to the rocky, rough trail we had already become acquainted with.
Water was a little less readily available, particularly over the second half of the day. I skipped filling up at one stream and eventually ran out of water toward the end of the day, unable to fill up on water until reaching the Gren Anderson Shelter, where we'd be camped for the evening.
We found ample space to camp beside the shelter, and unfortunately, campfires weren't allowed here either.
We had covered approximately 20 miles over the course of Sunday.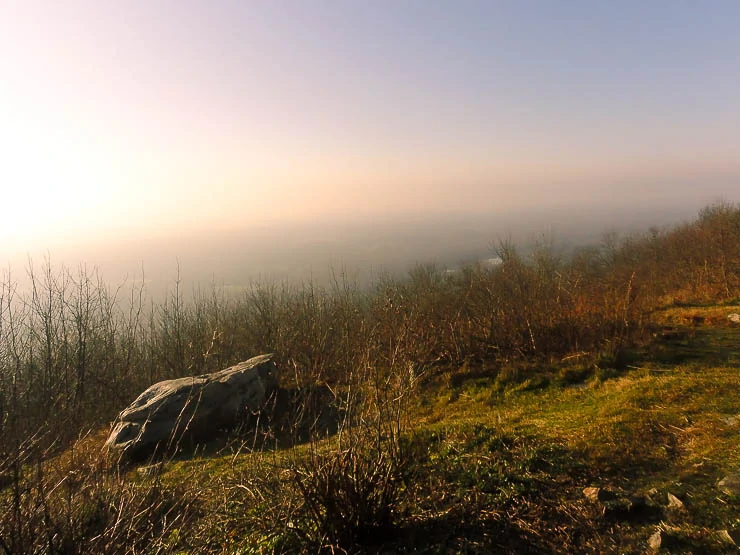 On to New York
Monday we awoke early again for our final push to the New York State line and our awaiting van. A few miles past camp we crested Sunrise Mountain which featured a massive pavilion at the top and easy access to a nearby parking lot.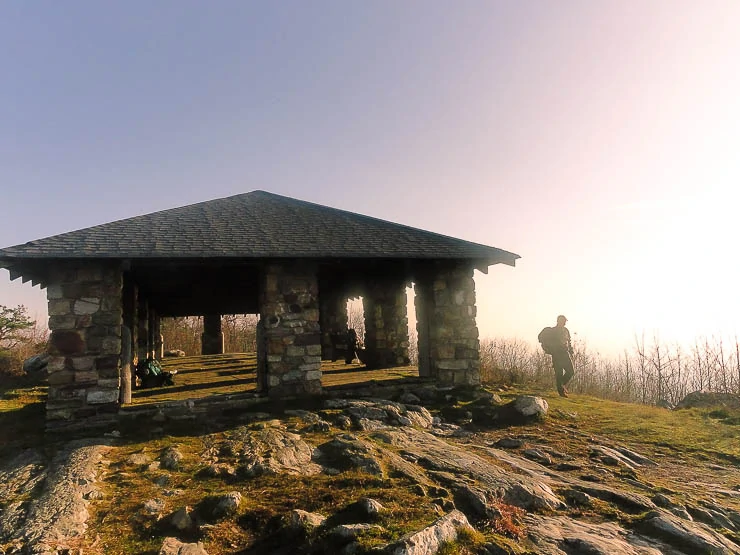 The morning was hazy though so we didn't have the stellar views that we could have. It certainly looked like a great place to catch the rising sun if you hit it on a clear morning. As you get closer to High Point the trail becomes even rockier and more jarring on your already abused feet.
There are steep ups and downs including a few over some small fractured cliff bands. We encountered very few hikers or backpackers through this area, and despite the rough nature of the trails we were making steady forward progress.
High Point, New Jersey
By around noon we entered High Point and soon got a view of the 200-some foot tall obelisk on the hillside. It was like a mini Washington Monument, seemingly out of place in the woods and hills of New Jersey, yet oddly appealing.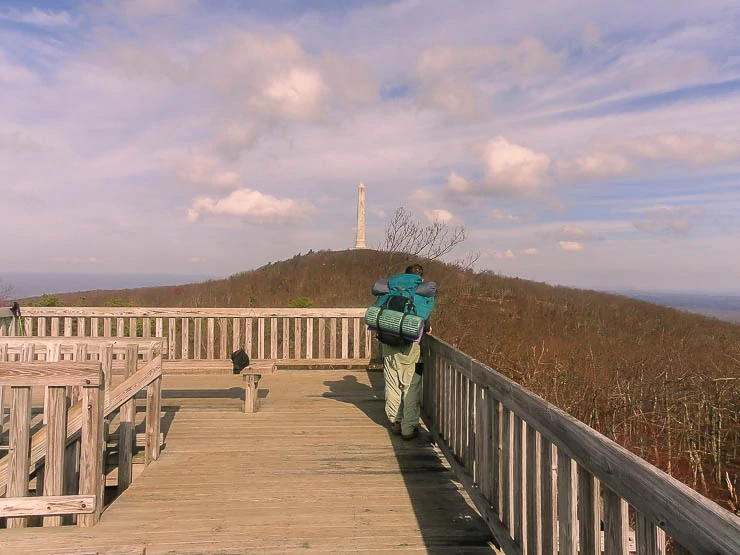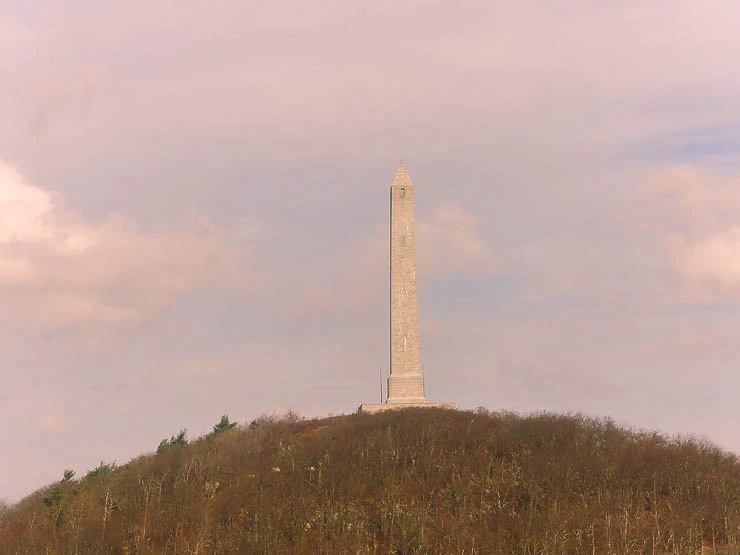 We hit an awesome elevated viewing platform just to the south which afforded 360-degree views of the surrounding area, and then pressed on toward High Point. It's not actually on the AT, there is a short side trail that leads to the base of the monument.
We had come all this way, we had to get a closer look. The view below the obelisk is outstanding, and it seemed like a fitting capstone for the end of our hike across New Jersey. We actually saw a bald eagle soaring overhead as well. Truly awesome.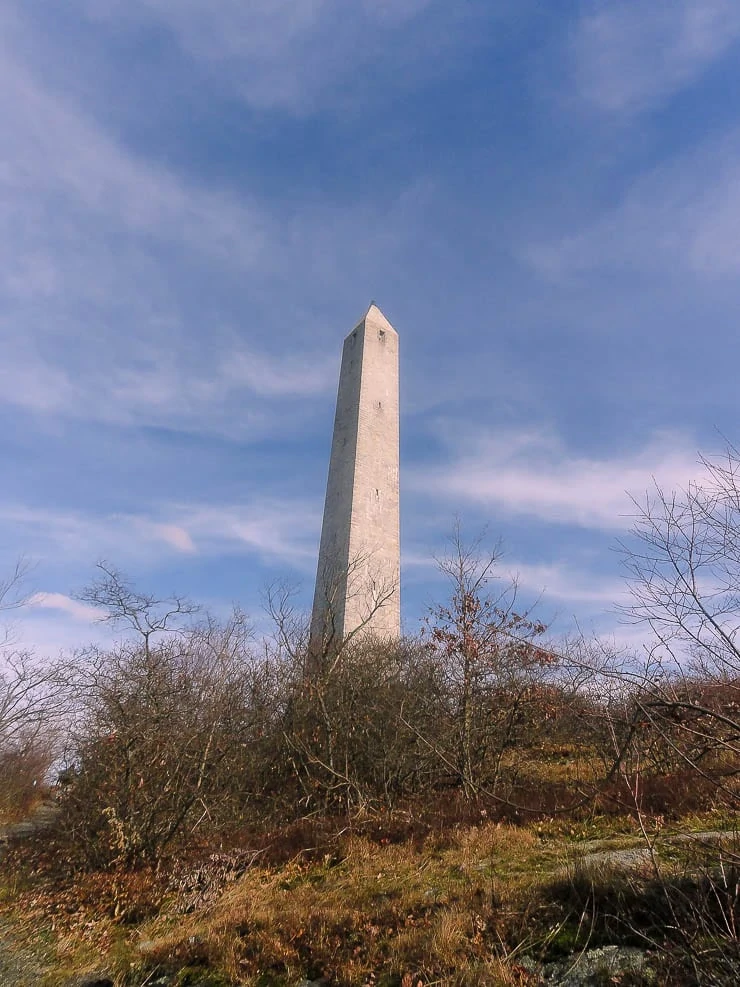 While we had reached the High Point and the end of our hike essentially, we still had to crank out a few more miles to reach our vehicle parked along the New Jersey-New York border.
The AT actually cuts sharply to the southeast/right and continues along in New Jersey for another 30 miles or so before fully crossing into New York. But for our purposes, we decided to hike along the road for another 2/10ths of a mile just so we could step foot in New York and say that we hiked across New Jersey.
To be fair, we should have started in Pennsylvania another fraction of a mile sooner along I-80 so we would have truly hiked across New Jersey in its entirety.
An Awesome Trail
Well, the Appalachian Trail in New Jersey was far more impressive than I thought it was going to be. I was expecting a flat, green tunnel in an overdeveloped part of the country. What I actually found was a rugged, scenic, challenging trail with many outstanding vistas, a good bit of wildlife, awesome lakes, and is certainly a worthwhile weekend trip.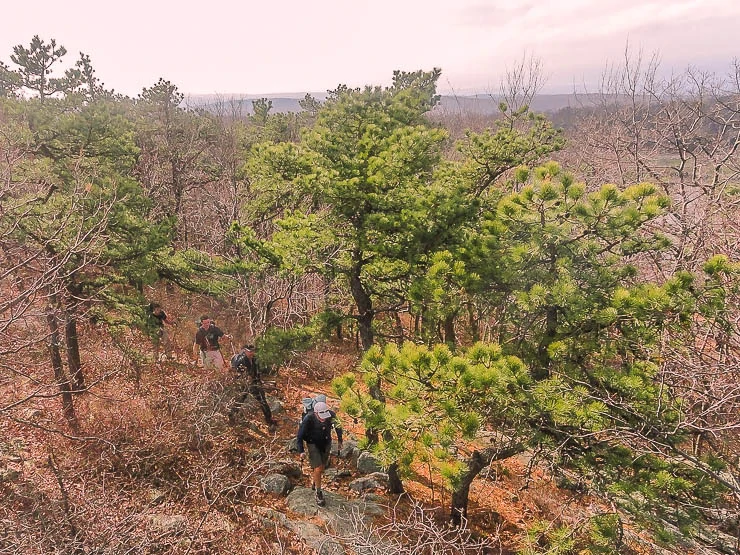 While there are no major climbs, the repeated ups and downs over the course of 45 miles add up—Michael's GPS logged 7,000+ feet of gain and 6,000+ feet of loss.
The Downsides
Backpacking New Jersey from Delaware Water Gap to High Point was surprisingly scenic, rugged, and enjoyable. There are a few downsides though:
noise pollution from planes passing overhead and from vehicles on nearby roadways, particularly at the vistas;
tight restrictions on backcountry camping, only in a few designated sites and at the shelters;
no campfires permitted throughout, unfortunately.
But the pluses outweigh the minuses and if you live in the area I would highly recommend you check out this portion of the AT in New Jersey.
Route Details
We started on the AT at the Delaware Water Gap (New Jersey side), adjacent to I-80. Hiked northbound on the AT over three days with a 10/20/15 mileage split. We staged our second vehicle along Greenville Road, near the New Jersey-New York border. Driving directions from DC to the Northern Terminus and Southern Terminus.
Be sure to check out NJ Hiking to discover more of the best hikes in New Jersey. Read my guide to the day hiking essentials as well!
Share This
Did you enjoy this post about backpacking New Jersey from Delaware Water Gap to High Point? Please take a minute to share this on Facebook, Twitter, or Pinterest. Thanks!
The following two tabs change content below.