This article may contain
affiliate links
. If you make a purchase through these links, I will earn a commission at no extra cost to you. Thanks!
Ever since I started my life in the outdoors, I always gave thought to climbing Mount Olympus. While the 8,000 feet Olympus certainly is not the biggest peak around, it offers an alpine feel rivaling peaks much higher… And it includes a fairly formidable approach.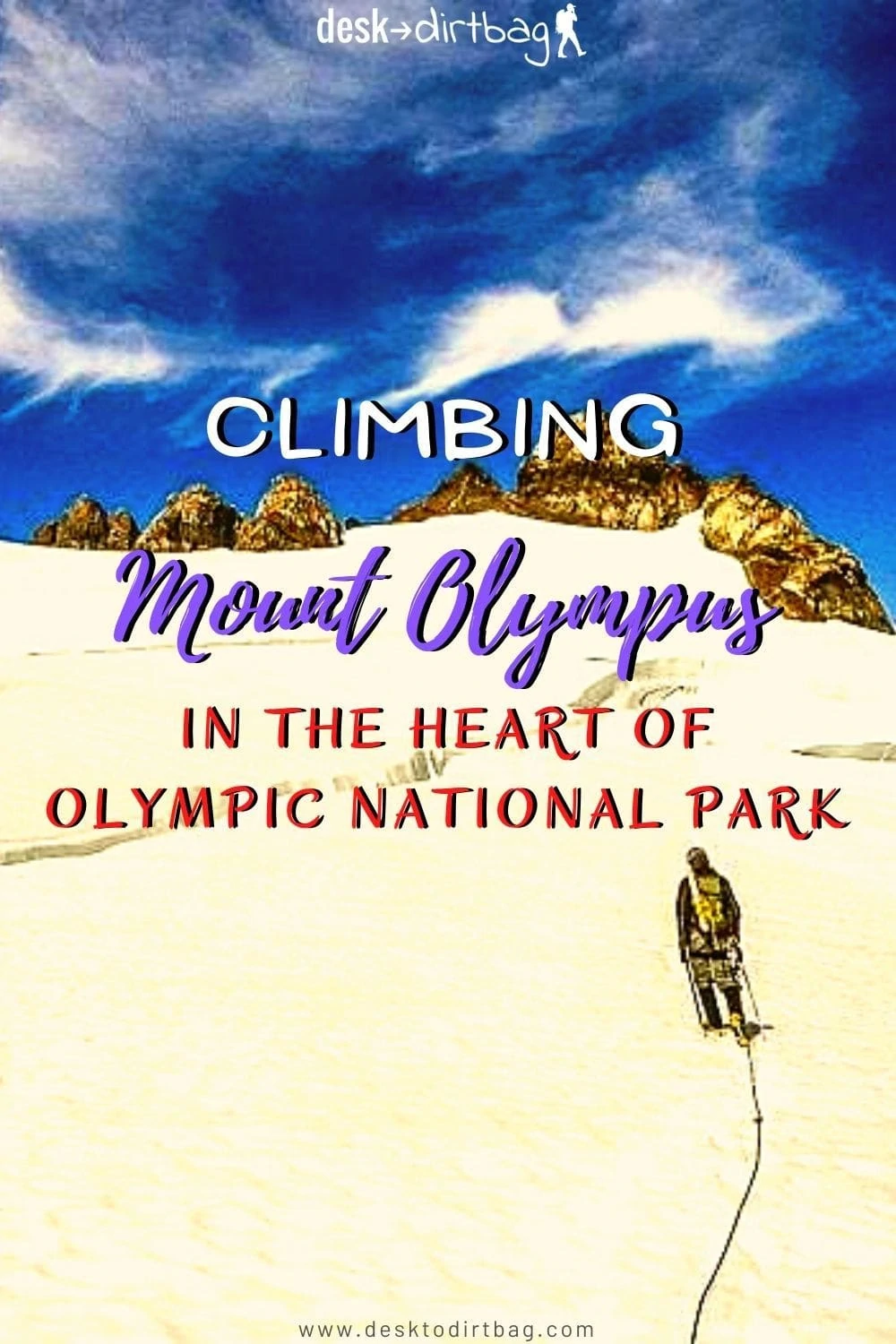 The trip was four days, about 43ish miles total round trip (17.5 one way to base camp). It includes marching through the rainy rainforest, and towering old growth forest dripping with moss, climbing from only 500 feet above sea level to the glaciated heights of the mountain.
Mount Olympus is a climb like no other I had previously done.
I just came off a series of intense climbs in the North Cascades, including Mount Stuart's North Ridge, when I headed straight out to Mount Olympus, deep in the heart of the Olympic Peninsula, with my buddy Evan for his very first climb of a glaciated peak.
Part of the appeal of climbing Mount Olympus, is that it is so very isolated, and requires a long approach with heavy packs no matter what.
Day 1: Lewis Meadows
We got a late departure on a Friday, leaving after 4pm for the nearly 11 mile trek to Lewis Meadows where we would camp for the night.
The terrain is mostly level as it follows the path of the river through the wet forest, and we made relatively quick work of the trail and set up camp around 7:30pm, as the rain drizzled around us and pitter pattered on the tarp.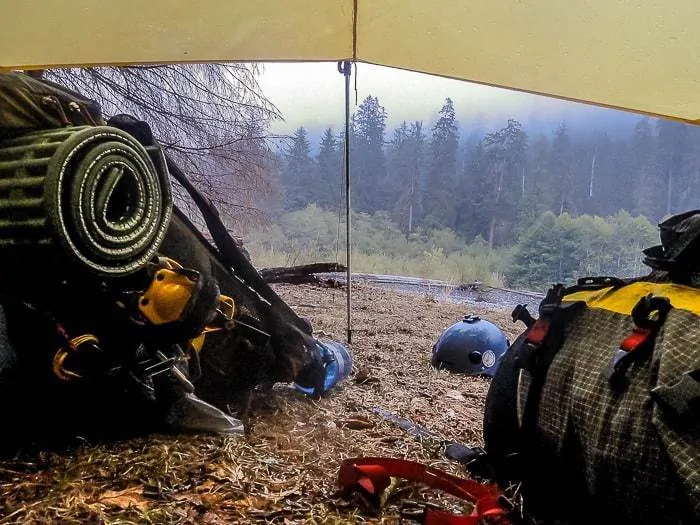 After setting up camp I gave Evan a little crevasse rescue crash session, but hoped that I wouldn't be putting him to the test with an unexpected crevasse fall.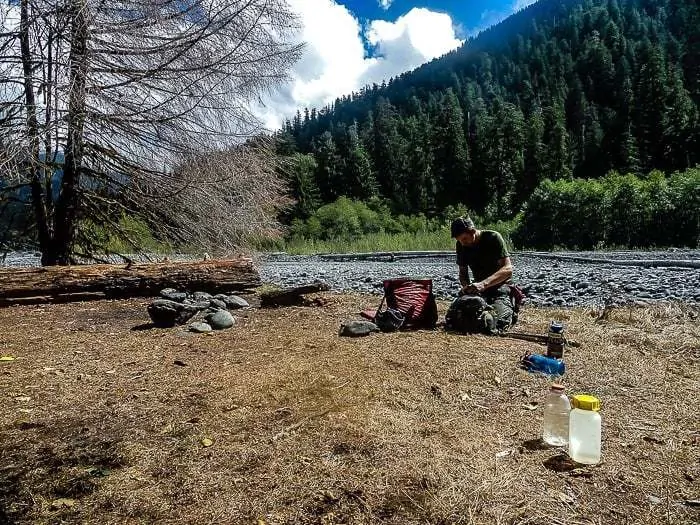 Day 2: Hike to Glacier Meadows
We got a late start the following day, not leaving camp until after 1pm, as we continued hiking mile after mile.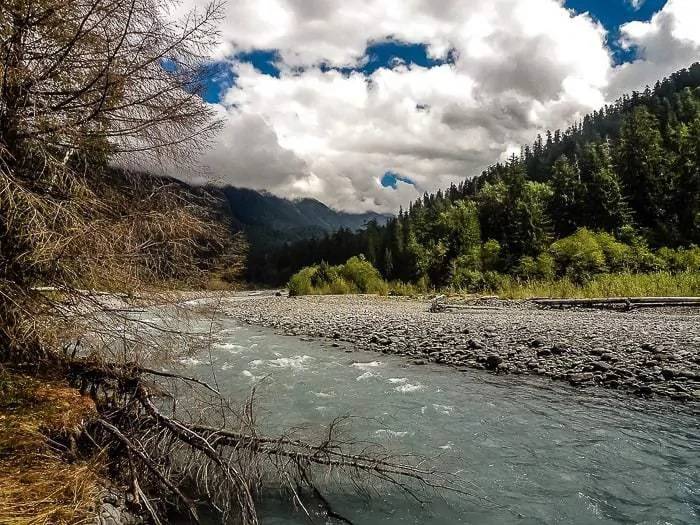 We passed beside humongous trees, everything was awash in green.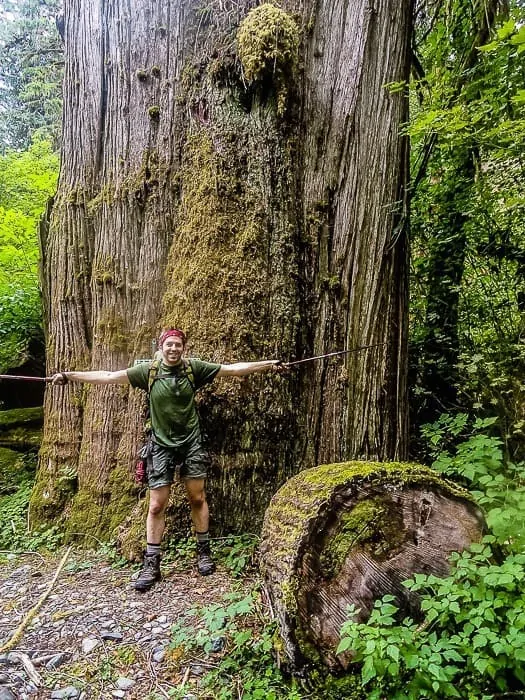 I loved the green scenery, and marveled at how trees and plants grew on top of fallen trees.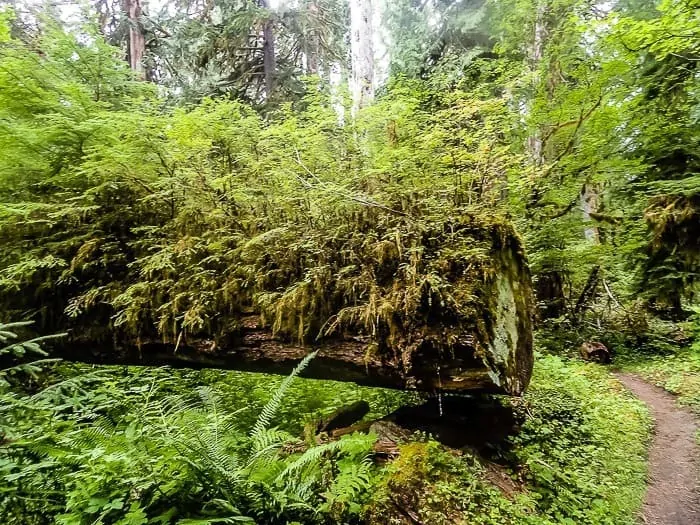 We eventually crossed a wooden bridge over the Hoh River and started, finally, gaining some real elevation as we hiked up to camp.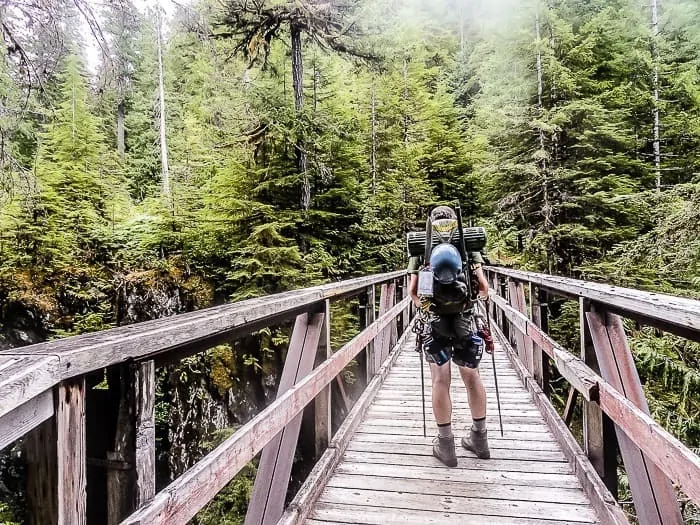 There were was a sketchy rappel down a washout, and then a final push up to camp.
Will, the Park Ranger, popped into check on us and gave us the latest info about the route and conditions on the mountain, including a weather update.
We were all set to go for the summit.
Day 3: Summit Day
The alarm blasted us awake at 3am, still cold and dark, as we fumbled for headlamps and heated up water for oatmeal and instant coffee.
Our alpine start slowly slipped away though as Evan continuously organized things and wasn't really prepared for the 4am departure… We ended up leaving by 5am.
We eventually broke through the tree-line onto the moraine and laid eyes on the incredible Blue Glacier in the early morning light.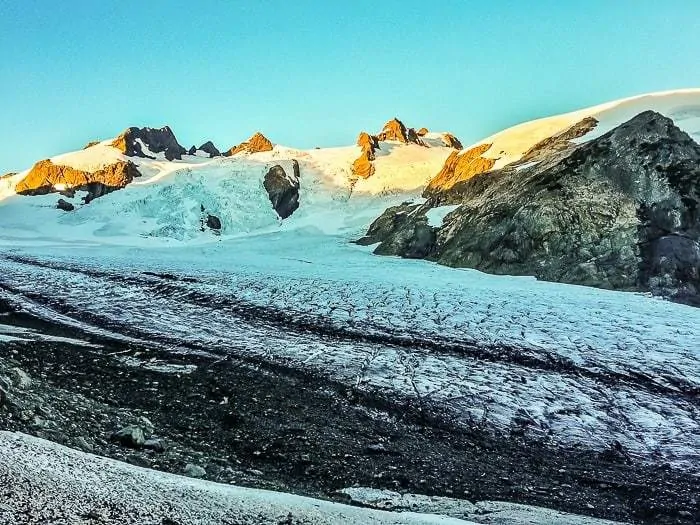 I've seen my fair share of glaciers in Washington state, from Rainier to Baker, but the Blue Glacier, despite it's low altitude was among the most impressive I've ever seen.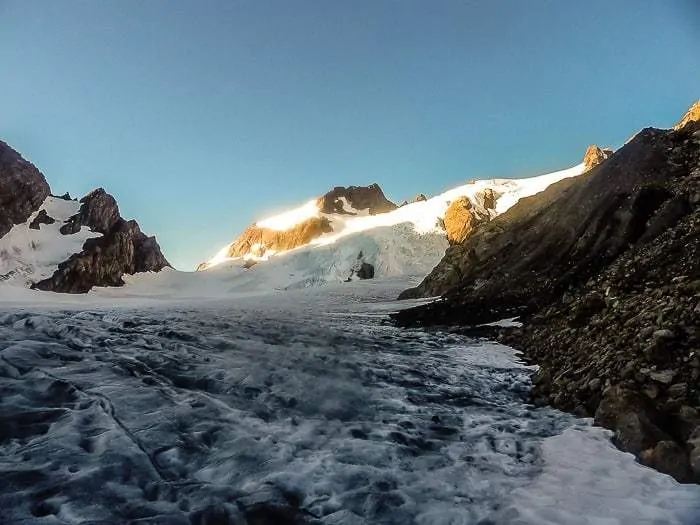 We put on our crampons and started weaving our way across the bare glacier ice.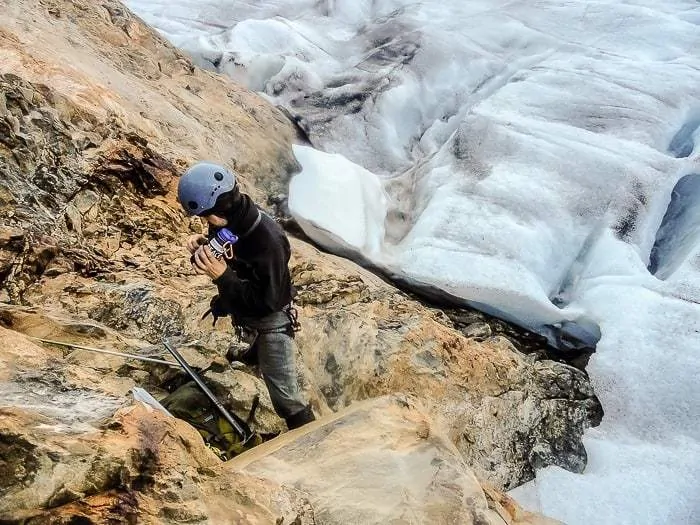 Evan slipped as we were exiting the glacier to the rocky scree and snapped the trekking pole I lent him, but thankfully he didn't get hurt or twist an ankle or anything.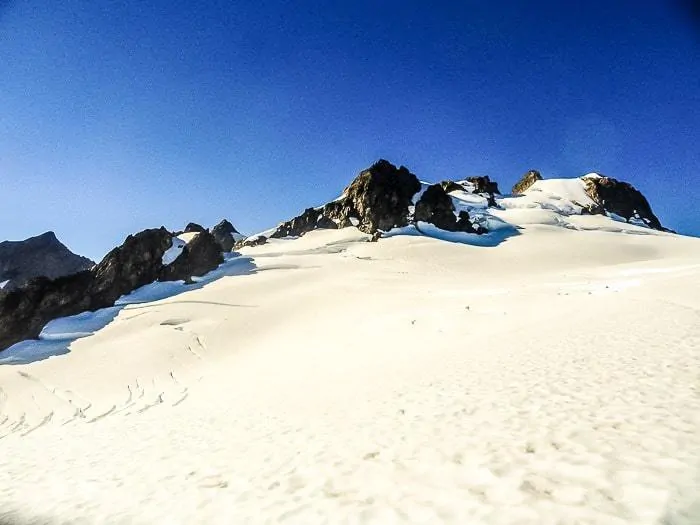 By 10am we were along the Snow Dome, and making our way to the big bergschrund that had opened up.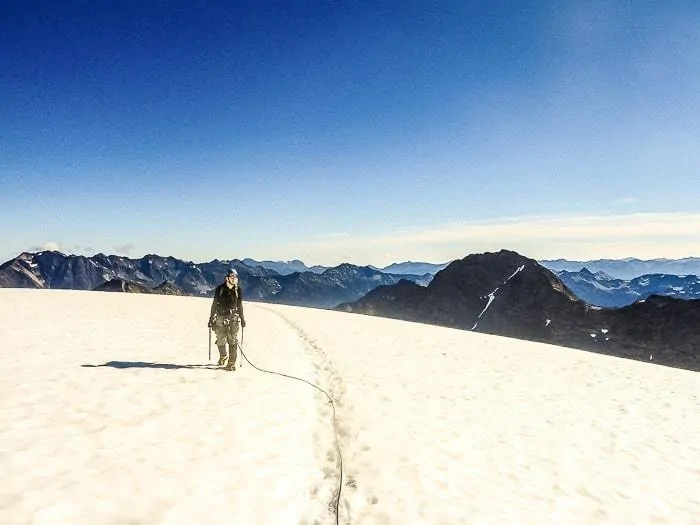 We would have to traverse to the other side of the mountain to make our way to the true summit.
There were a few crevasses opening up on the backside, but the route finding was all straight forward and easy.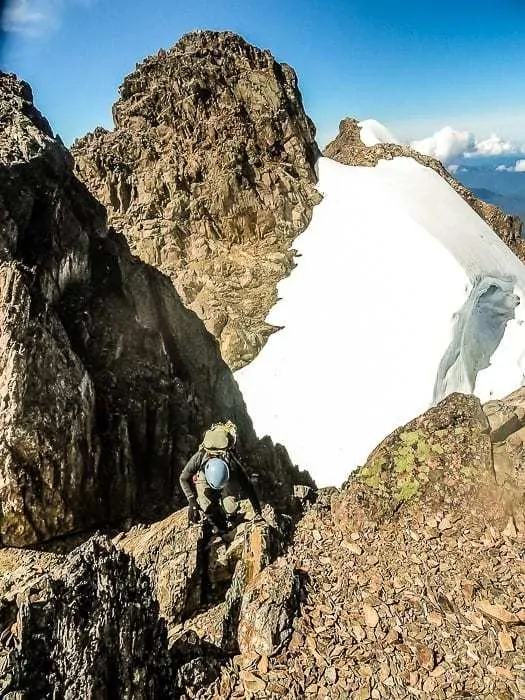 We reached the rocky false summit by 12:15 and opted not to continue to the true summit, which would cause us who knows how long to ascend and descend the rocky chute, and the day was already getting late.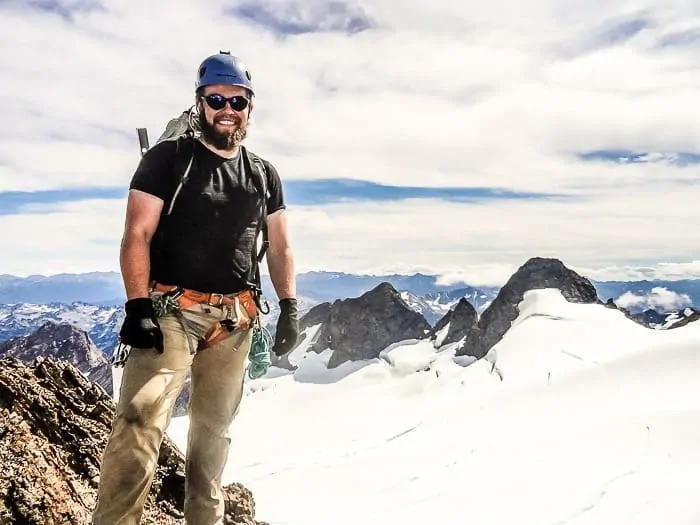 I didn't want us to be descending the mountain in the late afternoon. We'd gotten a late start that morning and not moved as fast as we should have at times.
The summit will be there for another time, and for now the false summit would have to do (which was still pretty incredible, by the way).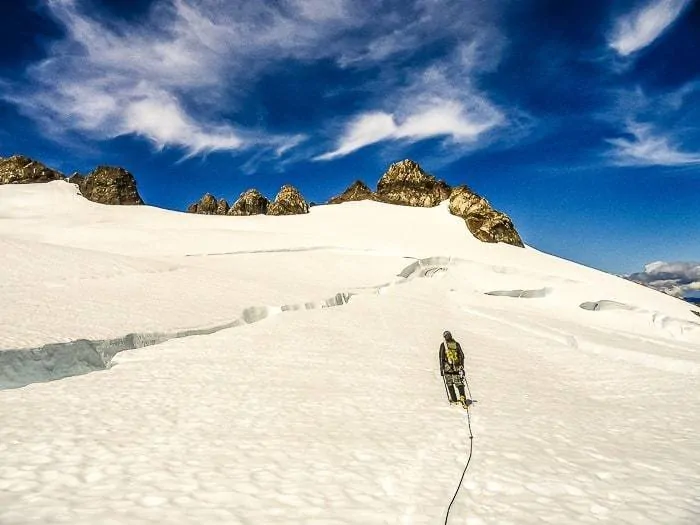 We started the slow slog back to camp, weaving through the crevasses and carefully making our way above the gaping bergschrund.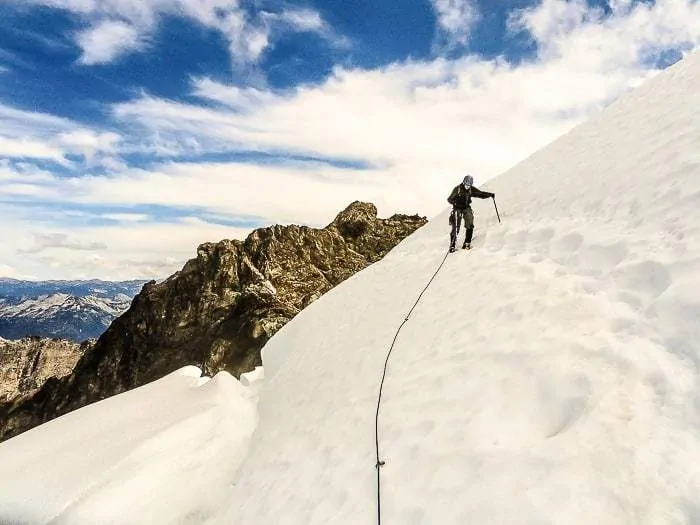 Eventually arriving by about 6pm for a warm Mountain House meal and tucking into our sleeping bags under my MLD tarp.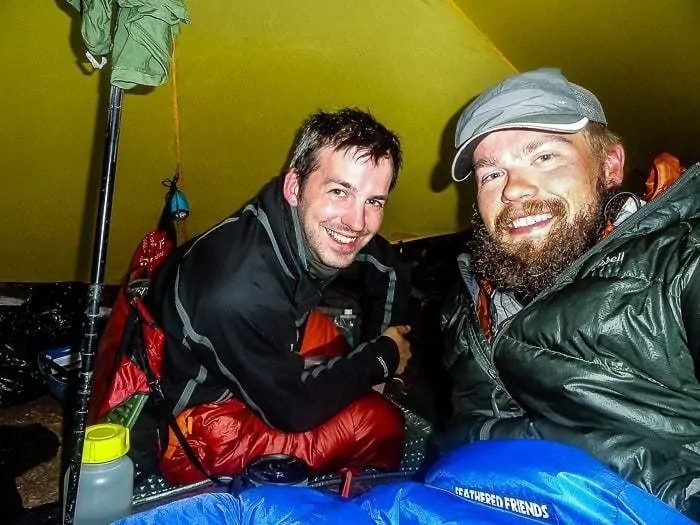 Day 4: Hike Out
On our fourth day out (counting the short first day to Lewis Meadows), we set out to hike all the way back to the truck.
We ate and packed up, ready for the long slog of at least 17.5 miles, with our legs still sore from the hike up, and the summit attempt.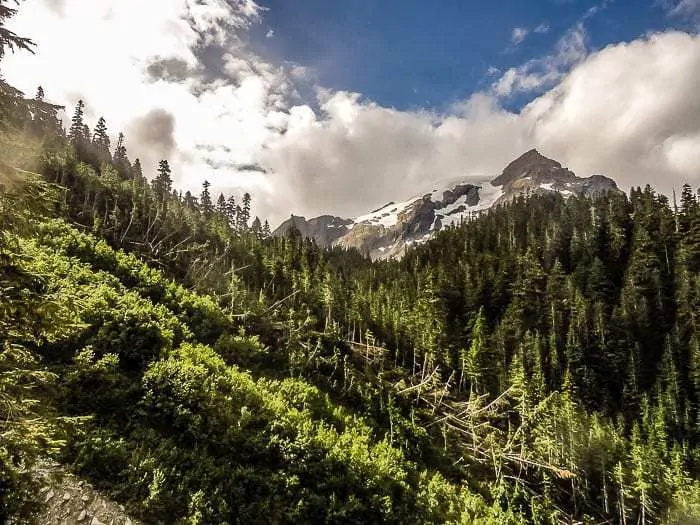 The last few miles I was really crashing, the two weeks of mountaineering before climbing Mount Olympus had caught up with me, compounded by this long trek deep into the heart of the Olympic National Park, and I struggled to keep putting one foot in front of the other.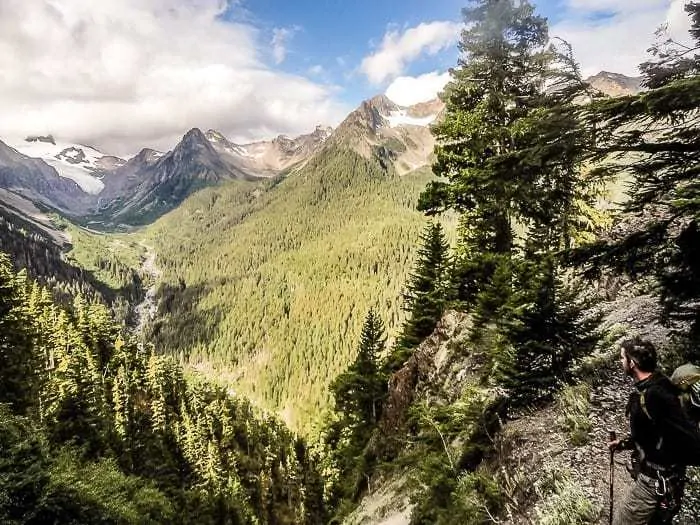 I just wanted it to be over with…
Finally, by 6pm — 8 hours after leaving that morning — we reached the parking lot back at the Hoh Visitor Center.
I never felt so happy to see my truck.
Of course, we still had the the long drive back around the Olympic Peninsula…
Climbing Mount Olympus
Even though we didn't make it to the true summit, I still felt that climbing Mount Olympus was one of the most incredible and full-on experiences I've ever had in the mountains.
You have to work for Mount Olympus, even the approach is somewhat brutal, but it's a special mountain hidden at the heart of one of the most incredible National Parks in the country.
I loved this trip, at least up until the last few miles when I was suffering.
I hope to someday make another attempt.
Mount Olympus Climb Gear List
3/4 length foam Therm-a-Rest
CiloGear 40B worksack – without framesheet or hipbelt
Feathered Friends Vireo sleeping bag
Sea to Summit waterproof pouch
Spot GPS messenger
MSR HyperFlow – Shared water filter
Climbing tape
Compass
Altice Eclipse Glacier Glasses
Sea to Summit bug headnet
Headlamp
Smartwool Light socks
Fox River Liner Socks
Prana Stretch Zion pants
Icebreaker 150
Patagonia R1 fleece jacket
Montbell Alpine Light down jacket
Feathered Friends Jackorack Windshirt
Outdoor Research Seattle Sombrero
Pair of Black Diamond Z-Poles – one broke on the Blue Glacier
1/2 Liter Gatorade with hang cord
32 oz Gatorade Bottle with Hang cord
32oz Hunnersdorf Bottle
Jetboil Sol TI shared w/ two small half full fuel bottles
Sea to Summit titanium spoon
La Sportiva Trango EVO boots
Black Diamond Couloir harness
One snow picket each
Small Toiletry kit
Small First aid / emergency repair kit
Two small garbage bags
2x midweight fleece gloves
Chopped 30m Petzl Zion 10.1 meter rope
Personal Climbing gear
Black Diamond Half Dome helmet
Share This
Did you enjoy this post about climbing Mount Olympus? Please take a moment to share it on Facebook, Pinterest, or Twitter.
The following two tabs change content below.