This article may contain
affiliate links
. If you make a purchase through these links, I will earn a commission at no extra cost to you. Thanks!
So I just finished my first ever organized race, the Corre Mi Tierra 10.5k in Medellin, Colombia!
The event was outstanding: well-organized, well-equipped, lots of fun with tons of people, and challenging.
As I've mentioned previously on the blog, I've had an on-again, off-again, love/hate relationship with running. But after we drove to Colombia and got settled into life here in Medellin, I wanted to get back in shape (all those cheap tacos & beer and lots of time driving through Central America), so I decided to dedicate myself to start running again.
Corre Mi Tierra 10k
The Corre Mi Tierra 10k was perfect timing for me, and would be a great challenge. I'd never previously run more than around 3 miles or half an hour and that was at least 1 1/2 years ago.
I'd enrolled in the 10k months ago as a way to hold me accountable and motivate me to follow through with training.
To prepare myself I'd been running every other day on a strict schedule and using the Run Double app to track my runs and up my mileage. I found their 5k to 10k training program to be great.
In the week leading up to the race I ran three 10k's, so the mileage had already been done prior to the race (which is certainly helpful).
But there was still the uncertainty of running with 3,000 other people, the crowds, and a new routine in a new part of town.
Pre-Race Preparation
The day before the race Andrea and I headed down to the Santa Fe mall (where the race would also start) in order to pick up the kit. They had tons of staff on hand to accommodate the 3,000 or so runners that would be passing through.
The cost for the race was only 50.000 pesos (about $16) and included the race shirt, bib, electronic tracking, a medal for completing, and some little freebie goodies like sunscreen and granola bars.
Looking at the cost of races in the States, I realize now just what a deal this race really is.
Heading back home that night, I ate my pasta for dinner and got all my running stuff ready for the next day.
I only had two safety pins to attach my bib, so I had to improvise and dig out some fishing line spinners from camping kit to use to attach the last two corners. They looked a bit funny, but worked like a charm!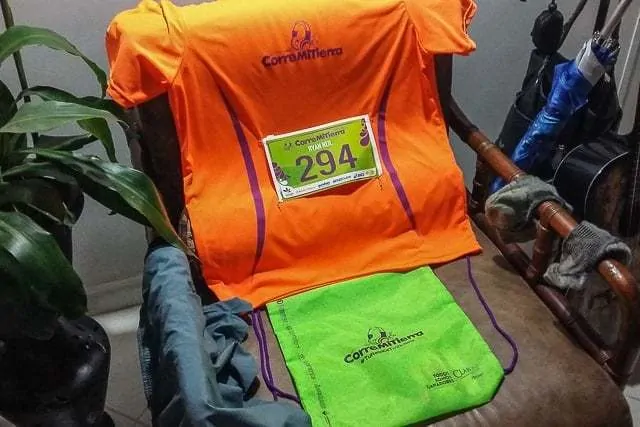 I tried to go to bed early to get adequate sleep before the 6am wake up time but I was excited and really had trouble getting to sleep.
10k Race Day
The alarm jolted me awake at 6am and crawled out of bed.
I've kept up with the cold showers since completing the 30-day challenge, and it never served me as well as it did this morning.
I headed straight to the shower, still asleep and the cold water immediately woke me up.
I was thrilled to look out the window and see a totally overcast day… Perhaps we would avoid running in the strong tropical sun.
For breakfast I had the tried and true pre-run meal of an arepa with cream cheese and some fresh mango. Arepas are basically a thick corn tortilla that are topped with cheese, or butter and salt, or whatever you want really.
I called an Easy Taxi via the app (like Uber here, but just regular taxis) and headed to Santa Fe mall.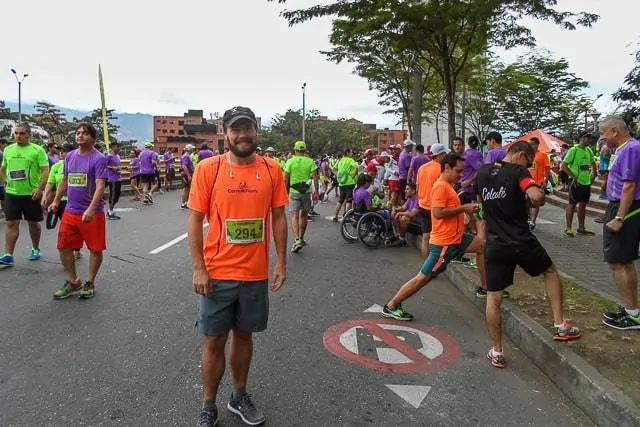 The crowds were already piled up in front of the mall when we arrived at 7:30. The atmosphere was colorful and festive with lots of music and getting the runners pumped up and ready to go.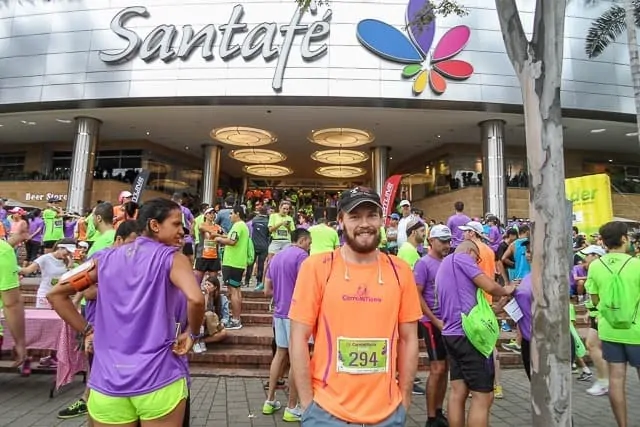 At 7:50 we were all lead in a warm-up routine by a trainer from BodyTech which was pretty funny. At this point a few raindrops started falling and I began to wonder if we would be hit with a downpour…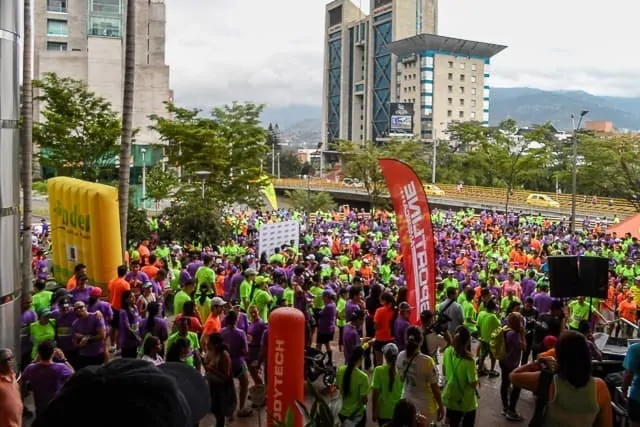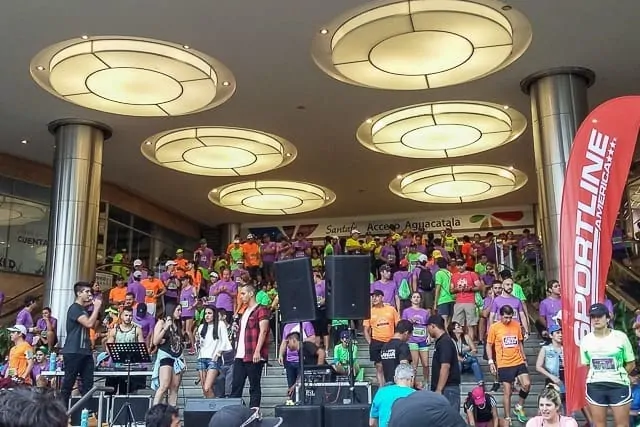 I squeezed in a bathroom break and downed a bit more water before squeezing my way into the crowds at the starting line.
8:20am Starting Gun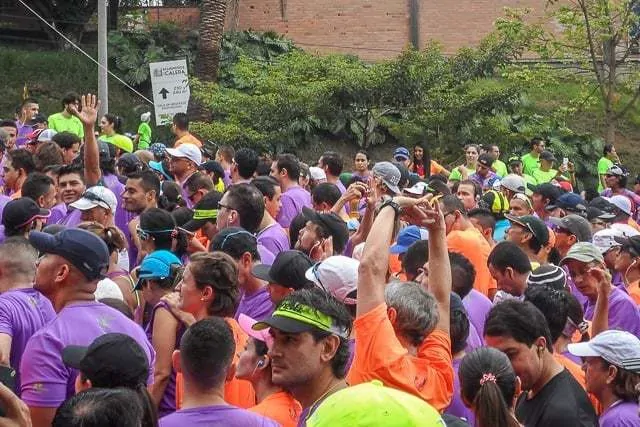 We got the countdown and the thick crowd slowly began shuffling forward in a slow walk, turned slow jog.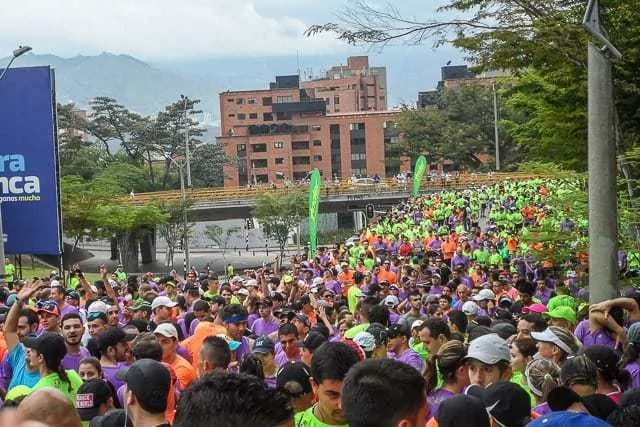 It was tough moving forward with so many people about, but as we started heading down hill to the bridge the crowds began to open up a bit.
I bee-lined for the far side walk which was mostly free of runners so I could get ahead of some of the pack.
From there it was just putting one foot in front of the other and doing what I've already done a handful of times before.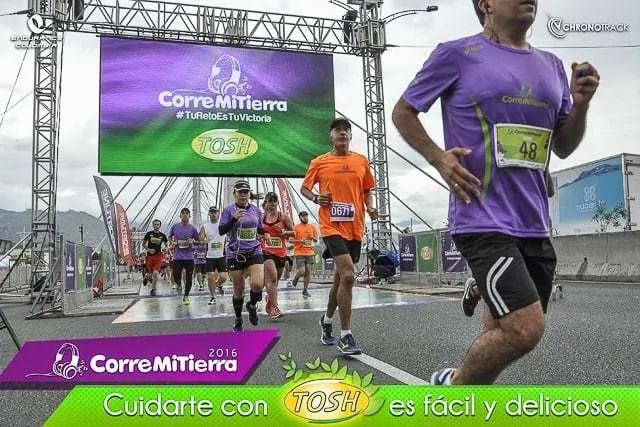 Normally I listen to podcasts while running, but decided I'd actually put some up tempo music on my phone to motivate me. The run also had live music at various stations through the course, which was pretty cool. And plenty of water or Gatorade stations throughout.
The course was mostly flat though there were a few areas going up or down hills, or climbing up the bridges we had to cross. Overall the terrain was great and the course wound through a nice part of the city.
For me it was great to run in a new part of the city and see something different for a change. It's especially awesome to be able to have the roads to yourself without the stress of cars or motorcycles buzzing around like normal.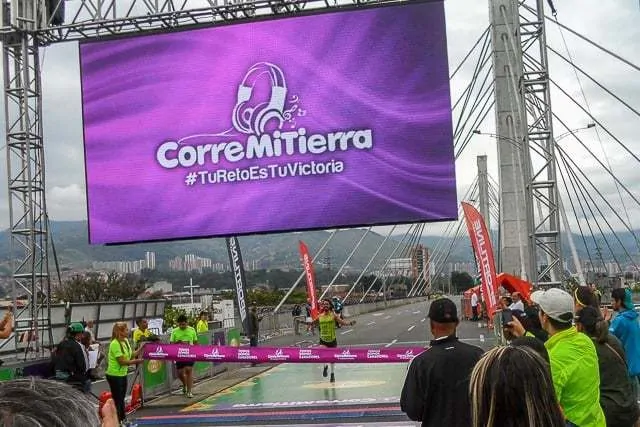 I really like the Run Double application because of the periodic announcements which help me see whether I'm hitting my pace or not and either running too fast or too slow.
In terms of crowds of onlookers, there weren't very many at all. A few people going about their regular day and confused by the mass of runners, and then a few people who were actually cheering us on.
Thanks Guy at Km9 who was cheering us on and saying "Only three more minutes! Go! Go!"
I rounded the corner and could see the bridge where the finish line is just ahead, and I pushed it as hard as I could for that last kilometer and passed those that I could.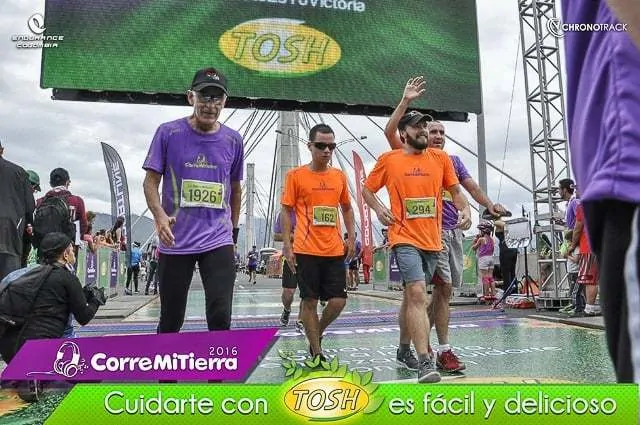 It was such an incredible feeling to cross the finish line and see all those months of dedication result in this race. I felt proud and accomplished, having completed the race!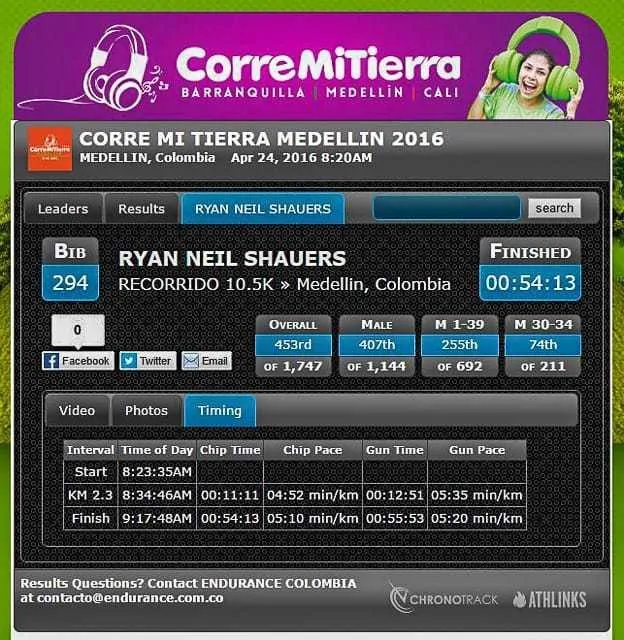 In the end I finished the 10.5k in 54:13. Not an incredible time by any stretch of the imagination, but it was a personal record for me!
My overall pace was 5:10 per kilometer, and I placed 407th out of 1,144 men in the 10k, or around the top 1/3rd. Hey, not bad for my first ever race and for someone still relatively new to running.
Post-Race Festivities
I crossed the finish line and found Andrea right there waiting for me, amazingly! I thought it would be a huge challenge to meet up again.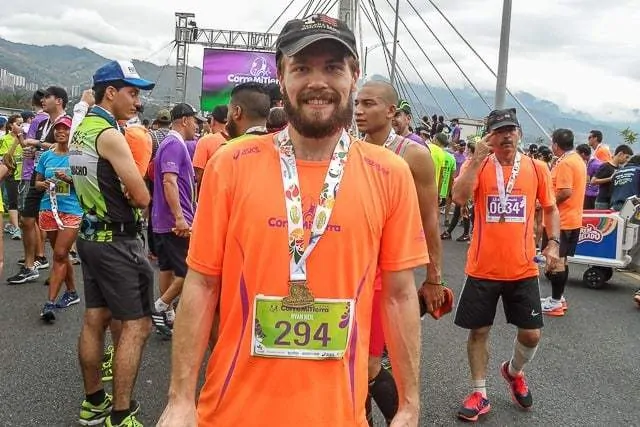 After the race they had more live music set up and tons of snacks and goodies from bananas and fresh pineapple to shot glasses filled with strawberries and kiwi.
Again, the race is a steal for everything you get and how well equipped it is for just $16.
The also had an awards ceremony with prizes along with a raffle for stuff like a free round trip flight for two on Viva Colombia to Miami, or a free night in a luxury hotel in Poblado, free dinners in various restaurants, and even gift cards for 100,000 pesos.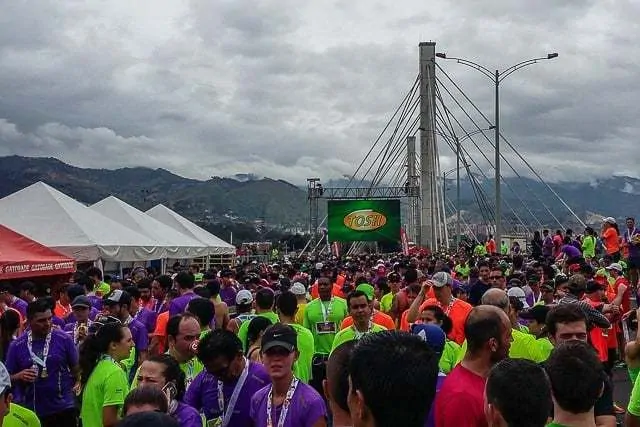 I never win anything, like ever. So I didn't have high expectations, BUT they did have a category specifically for foreigners so that narrowed the pool quite a bit.
Many people left following the race as the rain picked up a bit, so instead of a raffle based on drawing numbers they just started haphazardly selecting people from the audience who fit the bill of the various categories.
They began selecting foreigners and I went up toward the stage with my arms held high… Of course, they didn't choose me, among the four or five foreigners that got prizes.
I had another opportunity to win for the Instagram or Twitter categories, but nope. I'm just not lucky in that way. Ever. Haha.
Race Details
By the way, Strava.com is really awesome for keeping track of your runs. I LOVE this feature where you can see everyone who used the app during the race and then playback the race to see the differences and breakdowns. It's really quite impressive!
All-in-all it was a great race!
I really enjoyed the atmosphere of the whole event and finished feeling pretty good, not dead or anything like that.
I've already started looking for possible races in the future… And I can't wait!
If you ever find yourself in Medellin and looking for a great, well-organized run, I would definitely recommend you check out the Corre Mi Tierra 10k or 5k. It's a great time, in a wonderful city!
The following two tabs change content below.