Some articles on Desk to Dirtbag (and just what is a dirtbag, anyway?) contain affiliate links, meaning that if you make a purchase through these links, I may earn a small commission (at no extra cost to you!). Thank you for reading!
---
Andrea and I have been heading out pretty regularly here in Washington State, but it's winter here. The nights are long and cold–when you don't have a fire, there isn't a whole lot to do while camping once the sun falls below the horizon. Sometimes you just want to crawl inside your sleeping bag and watch a movie or an episode of your favorite series.
We've been alternating between tent camping nights and truck camping nights depending on the location. But when you're in the tent, it's pretty awesome to just lay back and have the movie floating above you in the tent.
I noticed that REI has a Big Agnes gear loft entertainment center that strings up to the gear loft points available in most modern tents. Unfortunately the thing retails for $50…
So, I decided to set out to make my own cheapo version of the gear loft entertainment center that we could use for those long nights in the tent.
Check out this short video I put together for Youtube for a demonstration of what it is and how you can make it — or read on for further details and photos.
You'll need:
I used a cheapo folding tablet case from Walmart that I wouldn't mind modifying. First thing was to stick velcro on the front and back in order to keep the tablet case closed while strung above.
I ran a 3′ section of cord where the tablet case folds over and put the toggle cord locks on each end. This piece is not attached whatsoever–just held in place by the crease in the tablet while velcro'ed shut.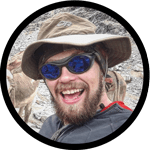 (Psst... Wanna know the "secret" to traveling forever or being free to do what you love? Here's how I did it, in five simple steps)
I ran another section of cord between the open holes at the bottom of the case and (when it proved to be too short) tied it into a closed knot and then tied a simple foot long extension to the loop. On the end of that single strand, I added my third toggle cord lock.
On my REI Half Dome 2 person tent, this setup works perfectly. I have five loops where I can hang things from the top of my tent, one in the center, and four along each pole.
I just slip the top two toggle locks through the loop at the corner, and the back toggle lock through the central loop. The weight of the tablet keeps the gear loops shut and prevents the toggle locks from slipping out.
You can adjust the height and the pitch of the tablet quickly and easily by adjusting the toggle locks.
We love the tent-ertainment center. Download a few movies, give your tablet a good charge, and you've easily got a few nights worth of entertainment for those long nights in the tent whether it's due to cold temps or rainy weather.
What do you think? Give it a try and sound off in the comments below.
Please be sure to LIKE it or SHARE it with your fellow campers.
The following two tabs change content below.