This article may contain
affiliate links
. If you make a purchase through these links, I will earn a commission at no extra cost to you. Thanks!
I found myself reflecting on some of the best climbing movies I've ever seen: of course, there are a number of incredible feature-length films, but I also wanted to highlight a few of the amazing short climbing films (5-15 minutes) that folks are putting up online to watch for free from the comfort of your home.
There are truly some amazing, beautifully shot and edited, and inspiring climbing videos available freely online for all us armchair alpinists to enjoy.
Here are a few awesome climbing short films that stood out in my mind and you should check out!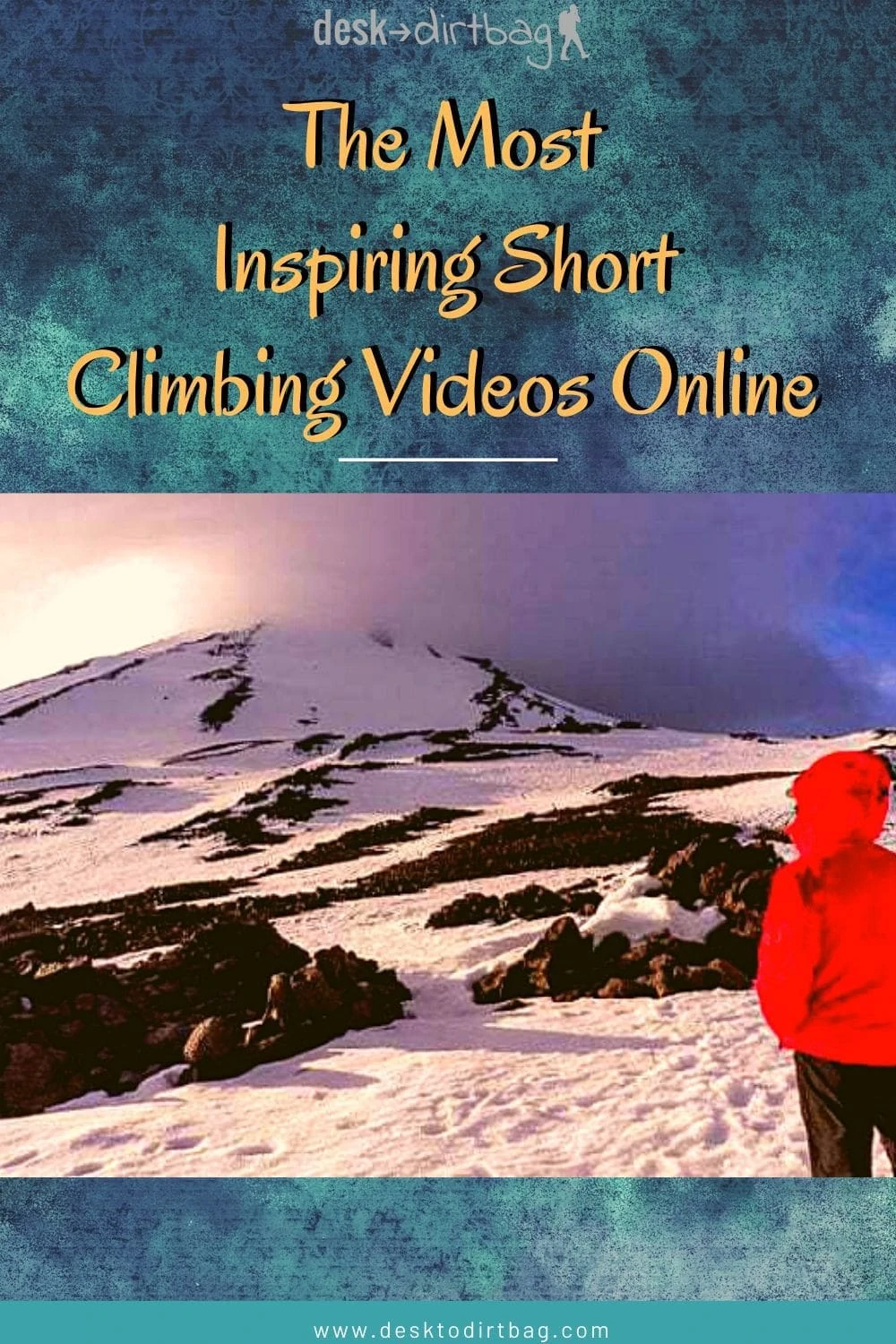 The Gimp Monkeys
"Hey Pete, can you hand me my leg?" That is not something you'd expect to be said on a big wall bivy, halfway up El Cap…
Gimp Monkeys follows Craig DeMartino, Jarem Frye and Pete Davis on the first "all disabled" ascent of El Cap. Their climb is remarkable and their commentary offers up some great insights about the excuses we make and the perspective and attitude needed to succeed.
"We are climbers first, disabled second," says Craig DeMartino. "If you're a climber, you want to climb El Cap."
Mt Robsons Wishbone Arete
Mark and Janelle Smiley have been on a quest to climb all of the 50 Classic Climbs of North America.
I haven't seen all of the Smiley's videos, but their video of Mount Robson's Wishbone Arete is absolutely breathtaking.
The video is incredibly well done and the route looks inspiring, although quite chossy…
Mark said "just think, we are going to climb the worst route in Canada, and maybe the world. The worst! That's kinda worthy right?"
Ahh, alpine climbing! Check out the Smiley Project here.
35
An inspiring story about celebrating the simple things in life by the team over at Duct Tape Then Beer.
This short depicts a birthday climbing challenge but is so much more thanks to the story behind it all. It's about following your dreams.
"We all have dreams. But they don't mean much if we don't act on them. If we put them in a drawer we label 'someday' for when we think we'll have more time for them."
This video really gets to the heart of what it means to live a remarkable life.
Smash and Grab
"Our life windows are a lot shorter than our weather windows."
Dave Burdick, Zac West, and John Frieh make a run at Burkett Needle in the Stikine Icecap region of Alaska, an amazing first ascent in Alaska over the course of only three days round trip from Seattle…
This type of climb really raises the standard for what a weekend warrior can accomplish.
"What will you do this weekend?"
Shattered
Tyler Stableford's film Shattered features legendary alpinist Steve House, who after having achieved one of his dream summits, is left with a feeling of emptiness.
This short film is more poetic and profound than your average 'get psyched and go climb' video on Vimeo…
Beautifully shot and edited, this short film will certainly cause some thought and reflection about why you climb.
Also Worth Mentioning
I love the following two videos as well, though they didn't meet my criteria for inclusion in the best climbing short films because they were, well, too short are trailers for future full-length productions.
Summits of My Life – Trailer
Trango Tower – RC Helicopter
This RC copter footage is really cool… Where can I buy one? This video includes footage from David Lama's ascent of Trango Tower in Pakistan as part of Mammut's 150 years peak project.
What short climbing videos would you add to this list? Sound off in the comments below.
Read Next: Best Climbing Movies Ever
Share This
Did you enjoy this post about the most inspiring short climbing films online? Take a second to share it on Pinterest, Facebook, or Twitter. Thanks!
The following two tabs change content below.