This article may contain
affiliate links
. If you make a purchase through these links, I will earn a commission at no extra cost to you. Thanks!
I joined a small group of twelve or so DC area climbers who were taking advantage of the long Memorial Day Weekend to make the more than five-hour drive to the popular New River Gorge in southeastern West Virginia. Some of the group was old faces but most were new to me on this New River Gorge Memorial Day trip.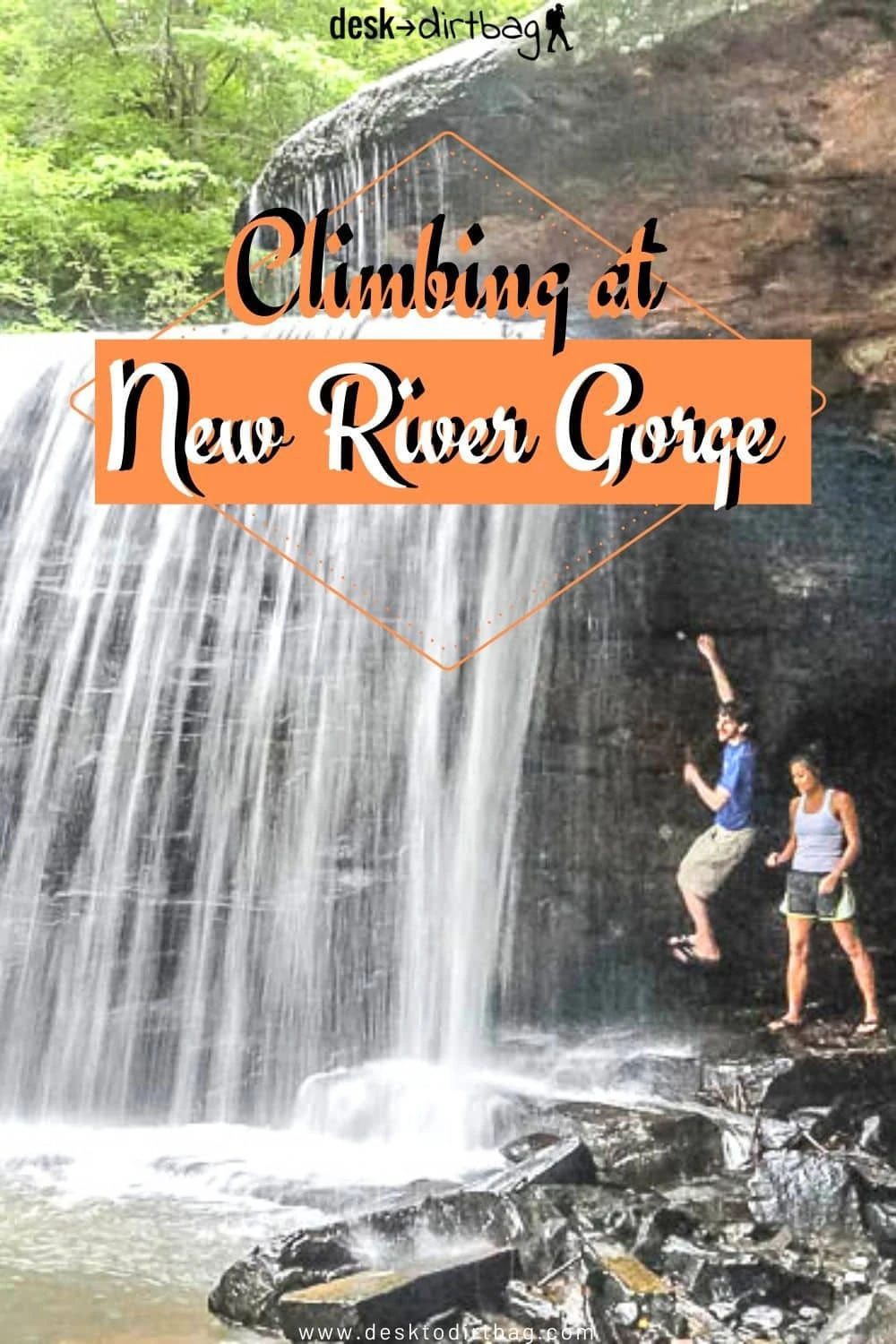 The New was also a totally new destination for me as I'd spent virtually all my climbing weekends at Seneca. The New is one of the most renowned climbing destinations on the East Coast with an almost endless supply of hard, modern sport climbs. Virtually everything is at a higher and harder grade, and quite frankly a little out of my league!
I'm not exactly cranking out sporty 5.10s or anything, and I was definitely one of the weaker climbers in the group. But I was eager to visit a new place and increase my exposure to other aspects of climbing like sport climbing.
The weekend was a lot of fun and mostly characterized by a tremendous amount of adventure with a fair bit of climbing during our New River Gorge Memorial Day trip. We left DC at a little after 4 pm, and after some brutal long-weekend traffic, stopping for dinner, and the long journey to the New, we arrived at the Chestnut Creek Campground just after midnight. Loooong day!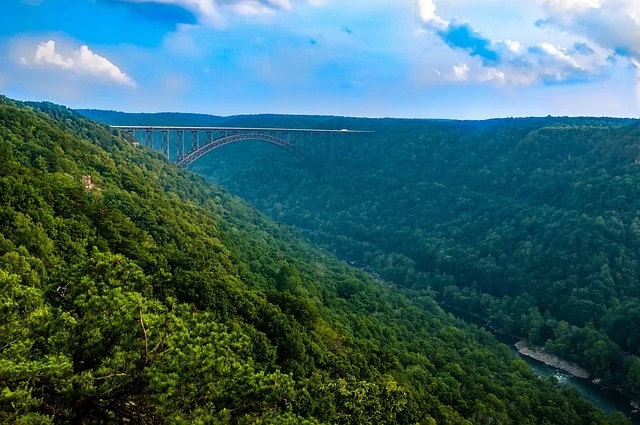 Bubba City Climbing
The next morning saw the group getting up at various times. Logistics and schedules can be difficult propositions with groups as large as this and we didn't really get on the road until about 11 am. There are miles and miles of crags at the New River Gorge but my impression was that everything was a bit spread out with the need to drive quite a bit, then hike quite a bit, then try to find yourself an open climb.
The group decided to head to Bubba City that morning, which is apparently one of the most popular crags at the New. We hiked along power lines and then made our way down a steep trail to arrive at the base of the cliff (Sandstonia, I believe).
Dozens and dozens of climbers were already there at this point, with virtually every route on the wall already roped up!
Rather than stop and wait in line we opted to keep hiking along the cliff band. We were searching for an elusive land of moderate 5.7 – 5.9 climbs. It seemed like we'd arrive at a place and then realize we were further back than we thought we were…
"It's just up ahead!" "It's the next crag!"
But we ended up hiking for at least an hour and a half and a few miles—not arriving at a suitable location until about 1:00 pm.
Along the way, we also realized that we lost about half our group. Apparently they decided to stay at that first jam-packed crag we arrived at.
Unfortunately, we were also doing group lunches and only one person was carrying the lunch food. They weren't in our half of the group. So our group of 12 was now a group of seven. Some of us had snacks, but others brought none—we shared and made do with what we had. Lesson learned though!
We had a few sport leaders and mostly non-sport leaders (like me), but they managed to string up a few different lines of varying difficulties. I tried my hand at a 5.8 climb with a finger crack, layback, with the crux right off the ground. I was struggling to get in even a few moves.
I flailed around for a bit—I couldn't get my feet to stick—before scratching up the back of my palm and then untying. We swapped through a few belays. I then hopped on a fun 5.7 chimney climb. It starts out really wide with some big stemming moves out from the back wall—the chimney then begins to narrow and you can transition into a butt skootch move up to the bolts.
We broke down the ropes and moved down the way to another area, setting up a 5.9 crack climb and another 5.8 on top rope. I gave the 5.8 a try and was able to get the first half of the climb down, but couldn't transition through the somewhat blank face in the middle.
It required a slightly dynamic move to the next hold which I wasn't able to stick. It was frustrating. It was hot, it was humid, I was hungry. Not the most impressive day of climbing on my part. I've been stuck at the 5.8 barrier for a while now, even when I was climbing regularly at the gym (once a week).
However, in the past few months, I haven't had the time to make it to the climbing gym after work at all and all my time spent climbing outdoors has been lead climbing at Seneca (and thus climbing the lowest grade climbs and practicing fundamentals like anchor building). We eventually headed back to camp after reconnecting with the remainder of our group.
We had some pretty amazing campfire cooked fajitas—as an ultralight backpacker, I'm really not used to such gourmet food at camp!
Read more about Bubby City Climbing
The Meadows Climbing
The next morning was another late start. We elected to head to a more remote crag, the Meadows / South Side Crag, which apparently had some decent 5.8/5.9 routes, shade, and an adjacent swimming area. What we didn't realize was how epic the journey was to actually get to the crag!
It was a decent haul just to get to the dirt road that takes you there. It was another few miles down the dirt road. We then came to a fork in the road—left took you over a rickety old railroad bridge with some sketchy looking railroad ties, and right took you through a moving stream immediately above a 15-foot waterfall.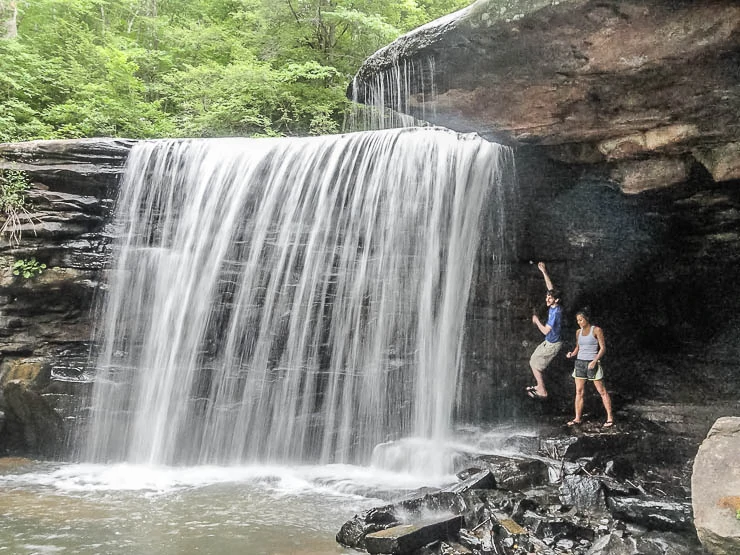 The other part of our group was in a small car with two others and decided to park the car as they didn't want to take either route. Our driver hemmed and hawed and then asked us to step out so she could take the water route. It proved to be an easy, but exciting, crossing. All seven of us then crammed into the SUV for the rest of the bumpy journey.
We continued down the dirt road and were unsure of the proper direction once we reached another fork. We drove down each road partially before asking a few locals on ATVs where our intended route might be.
Proceeding another few miles down the road we crossed a few narrow railroad bridges (less sketchy than the first one) and crossed through a series of massive, car-eating mud puddles—a good thing for SUVs and four-wheel drive—before finally seeing the lead car from our group at the trailhead.
The actual hiking approach was very short, in contrast to the vehicle approach. And the crag itself was absolutely spectacular… Huge, intimidating overhanging walls and some absolutely gargantuan roofs overhead. I was definitely out of my league on these climbs!
We proceeded a little further down to the more moderate climbs—merely vertical 5.9s and some big 5.8 slab climbs. I headed over to the big slabs while folks were attempting to lead them to set up a top rope… It proved to be quite challenging, haha.
The base of the climb was super wet and mossy and the first bolt was probably 15 feet up. We spent a lot of time trying to stick clip the first bolt. While they continued to work on setting up the slabs, I got on the crimpy 5.9 (non-slab) climb on top rope and managed to squirm my way up after a few takes.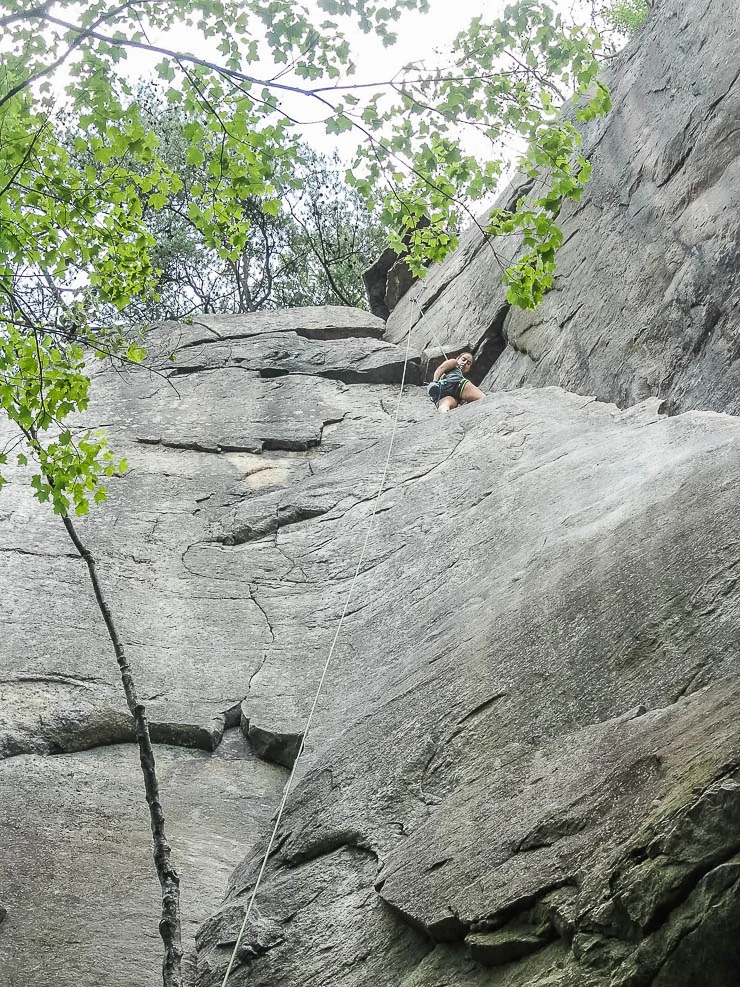 Even though it wasn't clean, I was still pleased that I was able to work my way up to the top of a 5.9 at the New River Gorge. I'll take it!
I returned to the slabs and they had managed to get everything set up. My rope was set up on the 5.8 so I belayed some folks and then got on it myself. The tree at the base was the key to bypassing the slick moss. On the slab there were really no holds whatsoever.
Only little embedded pebbles and small divots for feet. It's quite different from climbing the slabs at the gym and it took a little time getting used to. Very balancey, but man oh man it burned my calves and hurt my feet. I came off the rock a few times just to stretch my calves and ankles and give them a break.
We had been hearing thunder in the distance for a few hours now, but by about 6 pm it really appeared as though a storm was about to unleash.
I returned to the same slab climb and reclimbed it in order to retrieve my rope.
While I understood how to do so theoretically, I'd never actually cleaned a sport route before, so Casey belayed me and verbally walked me through the process—clipping-in directly, removing the quickdraws, passing the rope through the anchors, untying yourself from the rope, rigging yourself to rappel, coming out of the anchors, and then actually rappelling.
It was certainly nice to walk through the process with someone while I was doing it. Just as I hit the ground the wind really started to pick up and whip the trees and leaves around.
At that point, half of the group or so decided to take off before any impending rain and while there was still daylight out. The others kept climbing with the rule that once the rain starts to fall, you clean the route. The drive out, while long, wasn't terrible.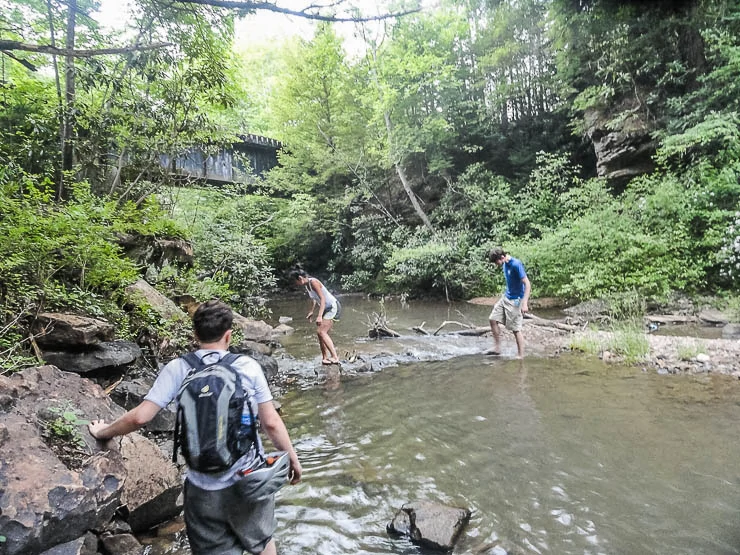 We stopped back at the vehicular river ford and waterfall for a quick jaunt down to the area below the falls. That night we were again treated to some amazing camp food with chili dogs, grated cheese, chopped onions, and tortilla chips… How come that isn't a Mountain House meal!?
Read more about the Meadows Climbing Area
The Bridge Area Climbing
Monday morning, in addition to our normal late start, we also had to break camp, pack everything up, go out for breakfast, make a decision on where to go, and then actually get there. Thankfully breakfast was a quick stop at Subway and we ended up going to the Bridge Area right by the huge bridge, for our last day on the New River Gorge memorial day trip.
It's a quick drive, and you can park just feet from the rock. Top rope setups are easily accessible via a short scramble around the back. I helped set up a few ropes and then just kind of hung out up top enjoying the awesome view of the bridge and river. I gave some belays but didn't really feel like climbing anything myself.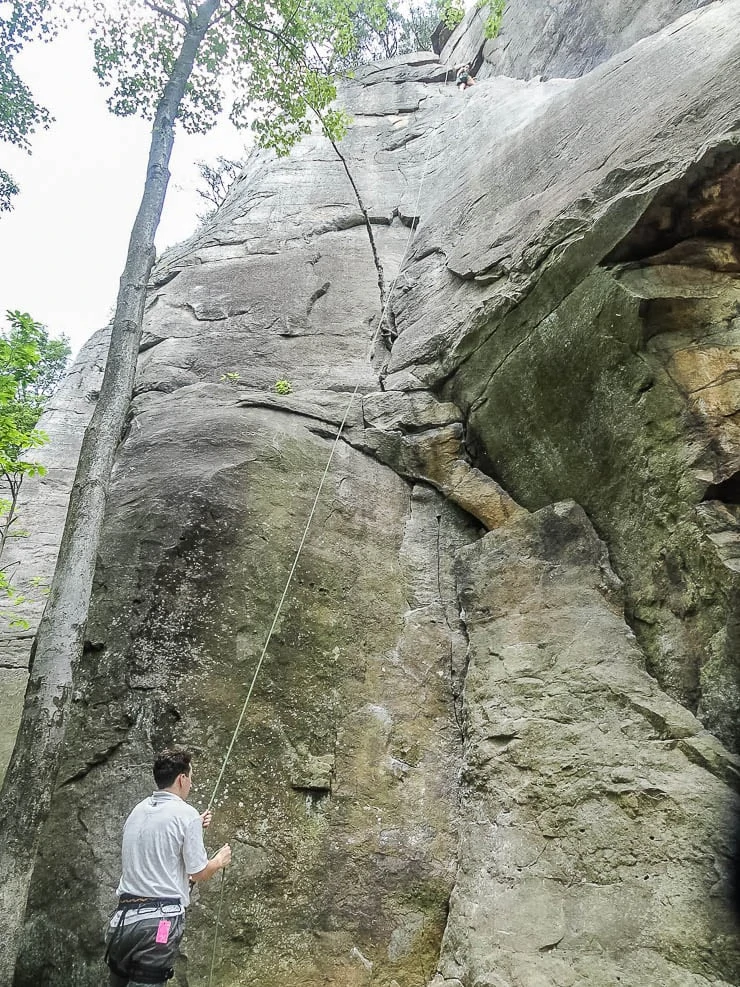 I was sore, tired, and didn't really want to overdo anything because of my upcoming trip to California's Sierras. There was a long 5.7 that got set up at the end, but at that point, it was just after 2 pm when our driver said we wanted to be on the road, so I decided to skip it.
We were on the road shortly thereafter for the long drive back to DC. All in all, it was great to go check out a new climbing area, and great to climb with some new people. It was terribly hot and humid, at least for a fair-weathered Seattlite, and really zapped my energy levels.
Read more about Bridge Area Climbing
New River Gorge Memorial Day Trip Thoughts
The New offers some pretty spectacular climbing, but it's not as accessible as I thought it would be—although once you are finally at the crag you can obviously get in a greater amount of routes than at a trad venue like Seneca. But ultimately, sport climbing destinations aren't much different from just top roping to me and doesn't really enamor me that much.
I can see that it is awesome training for climbing better and climbing harder, but I'm much more captivated by the multi-pitch, trad climbing at places like Seneca. I mean, even if I'm just climbing a 5.2 I really feel like I'm going somewhere!
Share This
Did you enjoy this post about the New River Gorge Memorial Day trip? Please take a second to share it on Pinterest, Facebook, or Twitter. Thanks!
The following two tabs change content below.