This article may contain
affiliate links
. If you make a purchase through these links, I will earn a commission at no extra cost to you. Thanks!
How would you like to spend some time in a cemetery on your next vacation? It doesn't sound like the typical attraction, but here in Buenos Aires, Argentina, you can just do that. Indeed, Recoleta Cemetery is one of those top things to do in Buenos Aires. Why? Because Recoleta is considered to be one of the most beautiful graveyards in the world, more akin to an incredible open-air museum. In this post, we will give you everything you need to know about visiting Recoleta Cemetery, as well as suggest some tours that you can take to get even more out of your visit.
Walking the narrow alleys here is like taking a walk and meeting the Who's Who of Argentina. Because of that, it is also a place rich in interesting history and marvelous architecture. Whether you're a history buff who wants to meet the Argentine greats of the past or just an admirer of art and architecture, this is a place worth checking out.
Though we usually find gravesites as depressing, dark, dull, and eternally gloomy, the Recoleta Cemetery is a place of wonder, full of exquisite beauty with its mini-cathedrals, Greek temples, Baroque structures, fairytale grottoes, mini-houses, and intricately designed mausoleums. Indeed, the BBC even included Recoleta in its list of the World's Best Cemeteries, and CNN also included it as one of the 10 Most Beautiful Cemeteries.
Stunning mausoleums here are just like the tip of an iceberg because underneath them lie the many coffins and crypts to house many prestigious and prominent personalities and their families. One family mausoleum may contain as many as 20 corpses.
History of Recoleta Cemetery in Buenos Aires
For more than two centuries, the city of Buenos Aires existed without an official cemetery. The monks of the Order of the Recoletos was in the outskirts of Buenos Aires and had built a cemetery and the Church of Our Lady of Pilar (the Iglesia around its convent). The order was disbanded in 1822 and eventually turned it the to the first public cemetery.
It was first named as Cementerio del Norte or Northern Cemetery under then-Governor Martin Rodriguez, who was also eventually buried there. The French civil engineer Prospero Catelin did the 1822 layout of the cemetery (Catelin also designed the facade of the Buenos Aires Metro Cathedral). In 1881 it was remodeled to accommodate more tenants.
The site spans more than 5.5 hectares or 14 acres and contains 4,691 vaults, 94 of which were declared National Historical Monuments like the tomb of the 7th Argentinian president Domingo Faustino Sarmiento. The entrance gates are designed with Neo-Classical Doric columns.
You'll find a wide mix of architectural styles in this cemetery ranging from Baroque, Neo-Classical, Art Nouveau, and Neo-Gothic and most of the materials come from Italy and France.
The Recoleta Cemetery sits adjacent to the upscale neighborhood of Recoleta and has become the luxurious resting place of Argentina's most famous personalities and families. The entire lot is laid out like city blocks with tree-lined main streets and sidewalks with mausoleums.
Honestly, strolling the grounds of this cemetery is quite unlike anything we've ever seen before, on a scale and level of grandeur that is almost shockingly impressive.
There are a few big names buried in this cemetery museum (below we have listed 10 of these famous residents of the City of the Dead of Buenos Aires like the international icon Evita Peron). But hundreds of important Argentinians like presidents, politicians, writers, philanthropists, businessmen, generals, heroes, actors, artists, poets, and so many more who have contributed to what Argentina is today are also buried here.
Like most visitors, you'll probably want to make your way to the humble tomb of Evita, but one of the best things to do in Recoleta Cemetery is just wandering around aimlessly and take photos of the stunning architectural displays packed into its tiny streets. Or you can take a peek into one of the tombs to see what's inside.
Before we get into the Top 10 most noteworthy tombs in Recoleta Cemetery, let's get a few important things to know out of the way first.
Things to Know Before Visiting Recoleta Cemetery
The Recoleta Cemetery is FREE and it is open every day from 8 AM to 6 PM, making it one of the best free things to do in Buenos Aires, for sure!
Closing time is prompt, so make sure you get out before it closes or you will be a part of the City of the Dead with the ghosts and chubby cats who walk the narrow alleys at night, haha, just kidding. BUt if you want to avoid the crowds, try to get there early in the morning.
There are free guided tours every 11 AM on Tuesdays and Thursdays. You can also get a free map at the entrance if you ask, but I just used my Maps.me app to help guide me around and to particular tombs.
Plan to spend at least an hour wandering around here. You'll see heavy crowds in the initial entry areas and in the area surrounding Evita Peron's grave, but keep walking and you can find alleys that are basically deserted.
The closest subway station is Pueyrredón which is about a 20 minute or so walk from the entrance to Recoleta Cemetery.
Before or after visiting, be sure to go hang out in the awesome Plazoleta outside the entrance and maybe grab an outdoor seat at La Biela or La Panera Rosa for a great Argentinian cafe experience.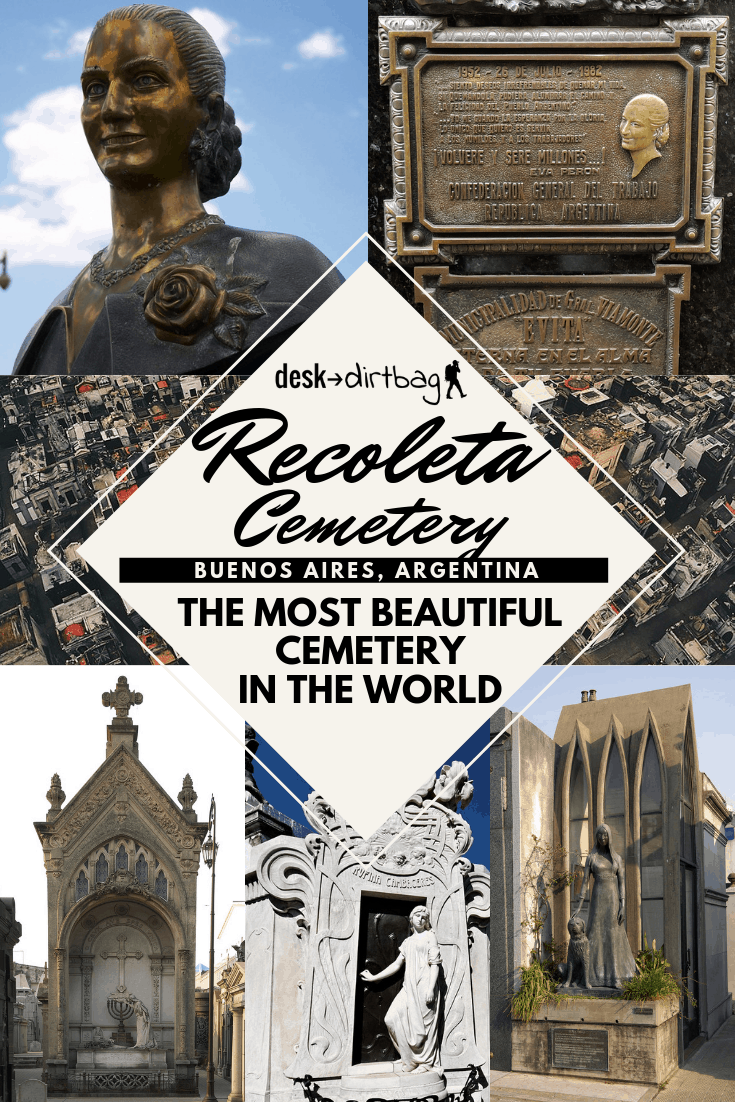 The 10 Most Famous Residents of Recoleta Cemetery
This cemetery is definitely a red carpet of ultra-rich and famous people, at least for Argentinians, but they are not exactly walking the red carpet but lying horizontally in their graves.
Since 1822, there are hundreds of known personalities that have been residents of the City of the Dead in Buenos Aires, Argentina. Along with the most famous Evita Peron, there are heroes, generals, celebrities, Nobel Peace Prize winners, artists, and aristocrats of Argentina.
Unfortunately, most foreigners will not have heard of most of these people, so let's take a minute to get to know a few of these interesting stories about these most famous personalities of Recoleta. It will help you better understand the history of this country and make your visit to Recoleta Cemetery a little more interesting!
Liliana Crociati de Szaszak
(1944 – 1970)
Let's start first with a love story. Liliana was the daughter of Italian parents. During her honeymoon in Innsbruck, Austria, a fatal avalanche took Liliana and her husband's lives. She was only 26 years old when this tragedy struck in 1970. Utterly grief-stricken, her parents designed her grave with wood and glass and designed it just like their daughter's childhood room.
A life-sized bronze statue of Liliana in her wedding dress accompanied by her dog Sabú is standing outside of the mausoleum. It was said that Sabú also died the exact time as Liliana died, despite the distance between them. Her mother designed it in the Neo-Gothic style which made it stand out from the other tombs around it.
Her father wrote a poem in Italian and had it written on a plaque near her statue. One of the lines in that poem is translated to: "Because we can't be without you, why? …You were so beautiful that invidious nature destroyed you. Why?" Clearly, the grief of a father longing for his daughter after an early demise.
Her tomb is near President Sarmiento's grave and is not hard to find.
Rufina Cambaceres
(1883 – 1902)
What is one of your greatest fears? Is being buried alive one of them? Then this 1902 story about Rufina Cambaceres will really creep you out.
Rufina Cambaceres was in her prime at 19 years old when she was believed to have fallen ill and fell into a coma. She was declared dead and was buried in this elaborate tomb built by her family. But, as the legend goes, a few days after her burial some grave-workers curiously wondered if the screaming and noises they heard were coming from her tomb.
When they checked it out, the coffin seemed slightly disturbed. They feared that some things were stolen from her coffin or her body might have been disturbed so they decided to open it. What they saw shocked them as they saw the unsuccessful attempt of Rufina to claw her way out of the coffin.
Her mother was so distraught and sad that she had her tomb rebuilt in Art Nouveau design. Rufina Cambaceres' tomb is one of the most iconic tombs in this cemetery which mirrored her family's grief. Beautifully sculpted flowers adorned her tomb with a life-sized statue of Rufina standing in front of a door.
David Alleno
(1881 – 1915)
A ghost story needs to be on this list since we are talking about graves, crypts, and coffins. Okay, so David Alleno is a former grave worker who was said to have been obsessed with where he will eventually be laid to rest. He had saved a lifetime's work for making his tomb grander than his own life.
His brother has already bought this lot but David Alleno was the one who commissioned a statue of himself complete with a broom, watering can, and keys. As soon as the statue was finished by the Italian architect, Alleno was said to have hurriedly gone home and killed himself.
Recent research by the Recoleta Cemetery showed that David Alleno worked in this cemetery for 28 years and had passed away on August 31, 1915. The cause of death stated was trauma and cerebral contusion. But whether he really committed suicide was not proven.
Still, urban legends never cease and David Alleno is one of these ghost stories in this cemetery. Many said you can still "see" him wandering at the cemetery at night… jangling keys and all.
Domingo Faustino Sarmiento
(1811 – 1888)
President Domingo Faustino Sarmiento is one of the most prominent personalities in this cemetery because he was the 7th president of Argentina. His tomb here is the only one with signposts and it is easily recognized because it is designed with a mini obelisk with a giant condor at the top. The condor, a native to the Andes Mountains, had become a symbol of Sarmiento for his contributions to the countries of Chile and Argentina.
This was designed by the Italian sculptor Victor de Pol. The base of the obelisk has a relief of Mercury, the Roman god of communication. Another is of Sarmiento holding books and is seen reading to children. Once when he was exiled to Chile, he inscribed onto a stone in the Andes Mountains the French phrase "on ne tue point les idées" which means "One never kills ideas".
Sarmiento was widely known for pushing for education for everyone. When he was 15, he founded a school in his native province of San Juan. All of his students were older than him but he taught them how to read and write. These actions were highly influenced by his early years of studying and reading.
He became an authority in education and even after his presidency he continued to serve in various government positions for education. Later in his life, he stayed in Asuncion because of his health challenges.
When he passed away at the age of 77 in 1888, his body was ferried back to Buenos Aires and buried in Recoleta Cemetery. His tomb which Sarmiento designed himself was declared a National Historic Monument in 1946.
Isabel Walewski Colonna
(1847)
An infant was buried here. Not just another baby girl but one who was said to be the illegitimate grandchild of Napoleón Bonaparte. Baby Isabel was born in Buenos Aires but died shortly after just 6 days.
Baby Isabel's father was Aleksander Florian Józef Colonna-Walewski who was a Polish-French diplomat and politician who was rumored to be the illegitimate son of Napoleon by his mistress Countess Marie Walewska. There were recent research studies done but none officially confirmed the bloodline.
Isabel was buried in the family tomb of her godmother María Sánchez de Mendevielle in Recoleta Cemetery.
Dorrego-Ortiz Basualdo
(1849 – 1920)
This amazing family mausoleum by the family of Dorrego-Ortiz Basualdo is one of the most beautifully designed pantheons in Recoleta Cemetery.
This wealthy landowner family highlights a sculpture about the Parable of the Virgins. There is a sculpted virgin lighting a candelabrum.
Designed by the French architect Louis Dubois, this is one of the largest and most majestic vaults in this cemetery, certainly worth tracking down!
Luis Ángel Firpo
(1894 – 1960)
Luis Ángel Firpo or the Wild Bull of the Pampas is Argentina's most famous boxer and in 2003 he was named as one of the greatest punchers of all time. He was incredibly popular in the 1920s.
The most epic fight of his life was with Jack Dempsey where he was able to send him out of the ring. Although he lost in this fight, he became widely known in Latin America for this inspirational fight that led a Salvadoran football club to name themselves as C.D. Luis Ángel Firpo.
When he died in 1960, he was buried in his tomb with a life-sized statue of him in his boxing uniform. His boxing record was 32 wins and 6 losses in 38 fights, with 26 wins by knockout.
Admiral Guillermo Brown
(1777 – 1857)
Admiral Guillermo Brown or William Brown was an Irish-born Argentine Admiral who founded the Argentine Navy. Regarded as one of the national heroes in Argentina, Brown is revered by many for his victories in the Cisplatine War, the Independence War, and the Anglo-French blockade of the Rio de la Plata.
His tomb is adorned with carvings related to sea and sailing and the exterior is painted in green in honor of his Irish heritage.
His mausoleum was partially built with melted down bronze from the canons of his battleships.
Salvador María del Carril and Tiburcia Dominguez
Salvador María del Carril was a prominent lawyer, jurist, policy-maker, and Argentina's first Vice President. He is known in Argentina for his appointment to different positions in the government and was even in the Argentine Supreme Court and became Chief Justice in 1870.
He became a wealthy man and in his later life, he owned more than 130,000 hectares of land in the La Pampa Province. However, he had constant financial troubles due to his wife Tiburcia Dominguez. He grew so tired of settling the debts incurred by his wife that he obtained an order that he is not responsible for the payment of these debts, leaving them all in her name. Despite having seven children between them, they eventually separated. Can you blame him?
Salvador María del Carril died in 1883 and was buried in an ornate crypt in Recoleta Cemetery. However, Senora del Carril commissioned a sculptor to create her bust and instructed that this will be positioned facing the other way around so she doesn't have to face her husband ever again. Yes, they are depicted giving their backs to one another.
Eva "Evita" Perón
(1919 – 1952)
No one goes to Recoleta without visiting her grave. Humble is the best way to describe the final resting place of the most popular and famous of all the Recoleta residents, with a simple plaque at the family grave.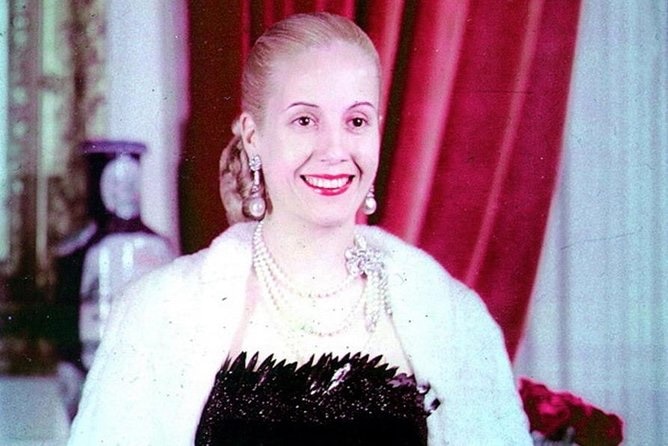 Eva Perón, widely known as "Evita" to the world, was the nation's iconic first lady to General Juan Perón. She was idolized by all of Argentina for her fight for the workers. Perhaps owing to her own humility and efforts, it is only fitting that her tomb is a rather simple, dull bronze plaque.
Coming from poverty, she grew up with her four other siblings in Los Toldos, Pampas. When she was 15, she moved to Buenos Aires to pursue her dreams of being a stage, radio, and film actress. She met Colonel Juan Perón, her soon-to-be husband, in 1944 in a charity event at the Luna Park Stadium. They were married the following year and in 1946, Juan Perón was elected President of Argentina.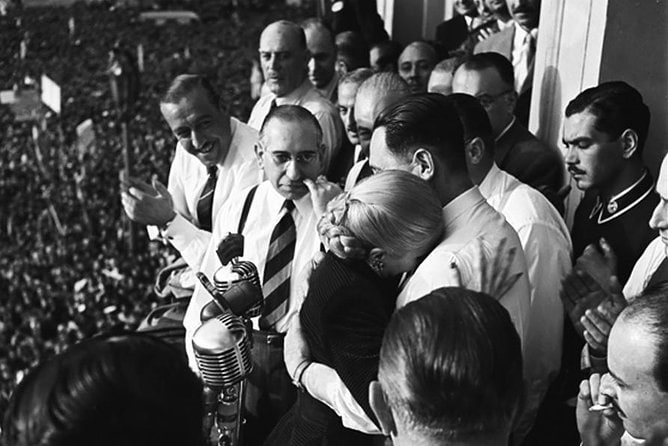 Eva Perón became powerful herself and supported and spoke passionately for labor rights. She championed labor, health, education, and women's suffrage in Argentina which endeared her to her countrymen.
She ran for Vice Presidency while receiving a lot of support from the low-income and working-class Argentines. She had to withdraw her candidacy because of her declining health and succumbed to cancer at the age of 33. She was given a state funeral upon her death.
Although she died from cancer in 1952, her body wasn't interred in Familia Duarte's mausoleum until 20 years after a controversial transatlantic odyssey to bring her home. Protecting it from any other disturbance, Evita's remains are buried in a heavily fortified crypt some five meters underground.
Evita has sparked an international cult following because of her fight for labor rights and the poor and even had her life made into a movie "Evita" in 1976 and another movie starring the pop icon Madonna. If you visit her tomb, you will see some Argentines and tourists alike paying respects to Evita. Just try not to start singing "Don't Cry for Me, Argentina" when you're there… Thanks!
Recoleta Cemetery Tours
While the free walking tours are a great option, there are a number of other guided tours that might be worth your while if you want to make the most out of your time and visit Recoleta Cemetery as well. While anyone can wander aimlessly and admire architecture (not a bad thing!), in a place like Recoleta, you may want the help from a local tour guide to make the most out of that place.
I highly recommend these guided tours that will really help you find a way to fully experience an extraordinary graveyard like this that you cannot find elsewhere in the world.
La Recoleta Cemetery Guided Tour
La Recoleta Cemetery is one of the most fabulous cemeteries in terms of artwork, craftsmanship, and design. This guided tour (both in Spanish and English) will show you the different mausoleums in this vast cemetery of 6,400 graves.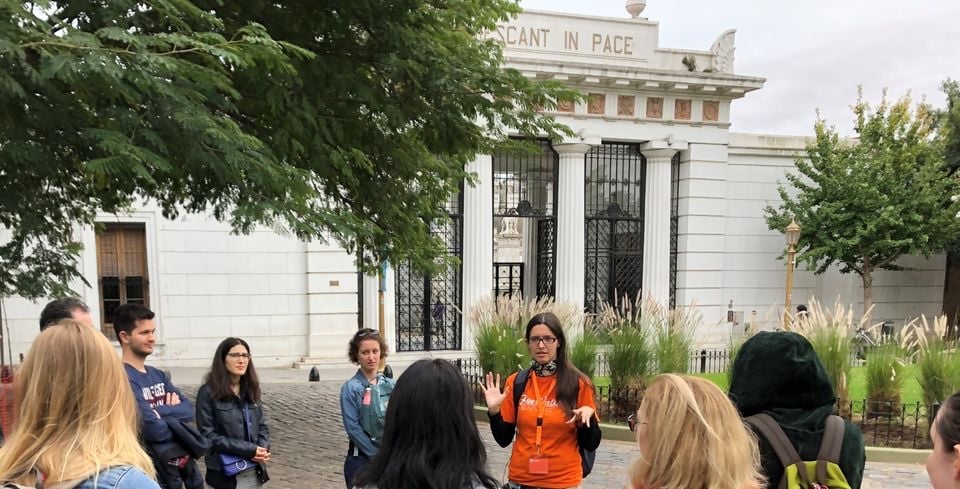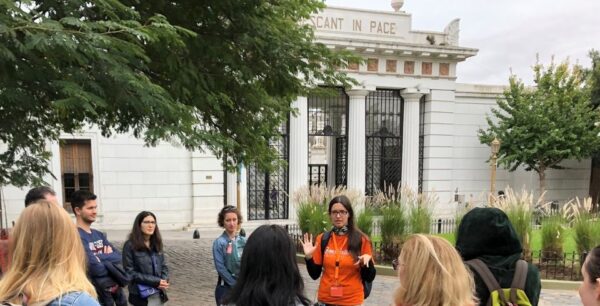 Although there are free guided tours on specific days, you might not be able to catch them. But for just $10 USD, you can experience this tour of La Recoleta Cemetery with an expert guide.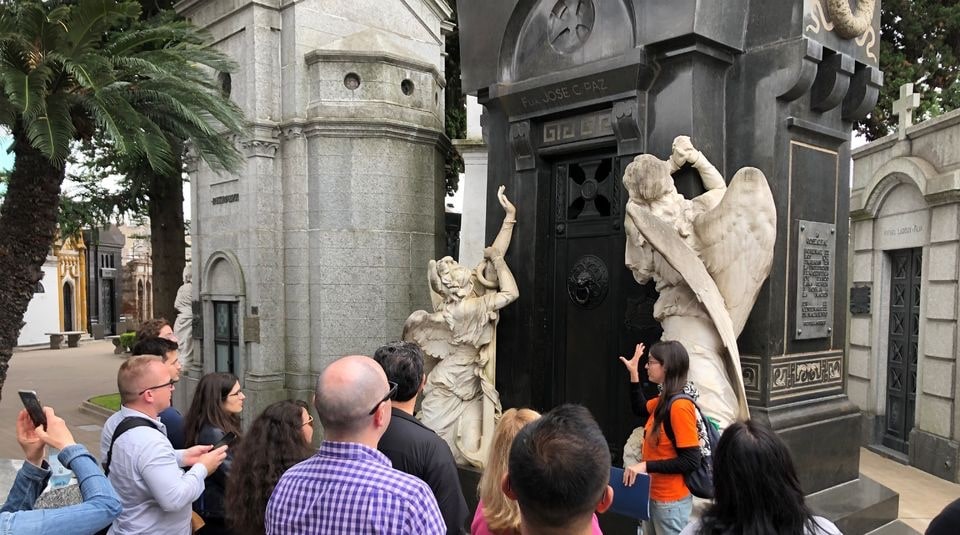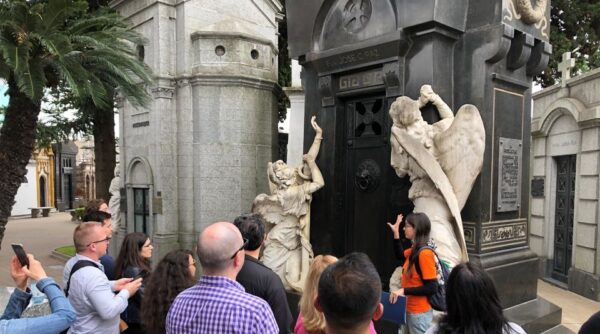 Visit the mausoleums of the most important celebrities, politicians, and Argentinian presidents. Know more about the stories of the different families who built these impressive structures in different styles. Hear about the legends of the "Sailor and his daughter" and the "Wild Bull of the Pampas".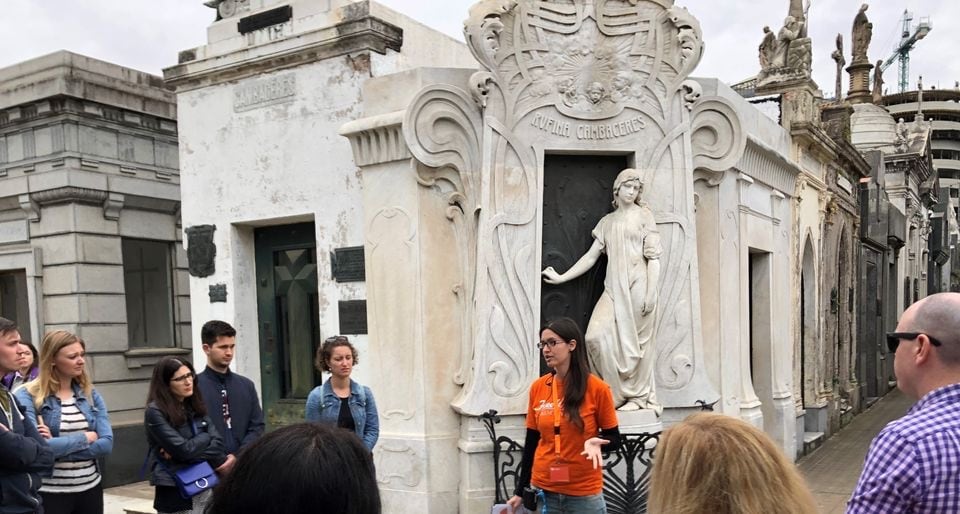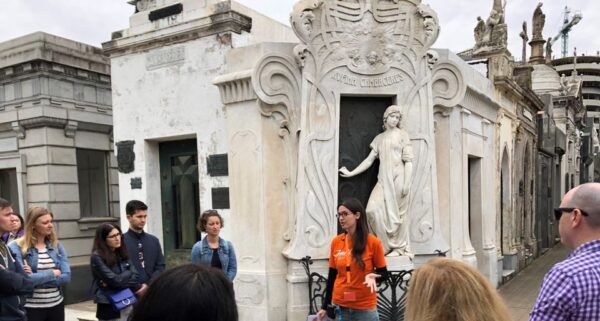 More than ghost stories, La Recoleta Cemetery has more history to tell with its different personalities as its residents.
Book your La Recoleta Cemetery Guided Tour now.
Buenos Aires City Walking Tour
One of the best ways of getting to know Buenos Aires is to do a full-day walking tour which will cover almost all the most important places and attractions in the city. And in this tour, Recoleta Cemetery is included.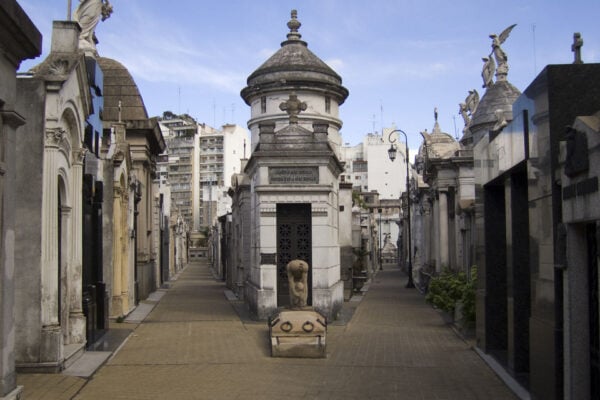 This tour will bring you to the coolest neighborhoods in Buenos Aires, including Palermo, Downtown, San Telmo, La Boca, and Recoleta. You will get to experience the different ways of how the Argentinians live their daily life. There are a lot of historical buildings, streets (9 de Julio Avenue is the widest avenue in the world!), and monuments that you will see and visit.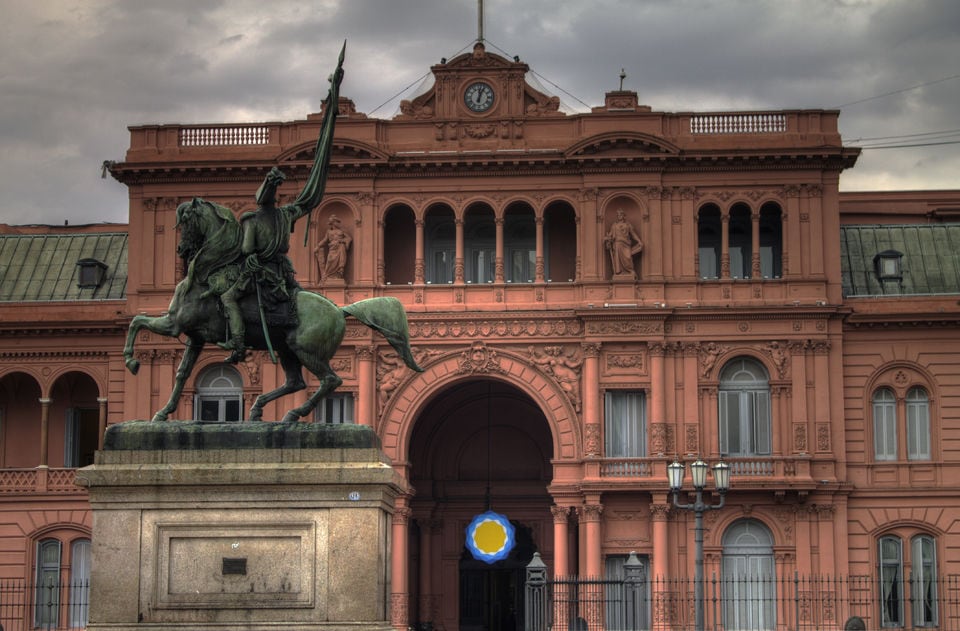 Experience the oldest neighborhood in Buenos Aires which is San Telmo with its tango and art scenes. This is my favorite neighborhood in Buenos Aires and I am sure you can see why with its many antique markets, candle street lighting (called 'faroles'), cobblestones and bohemian atmosphere. Here you can learn about the underground tunnels or the famous weekly market.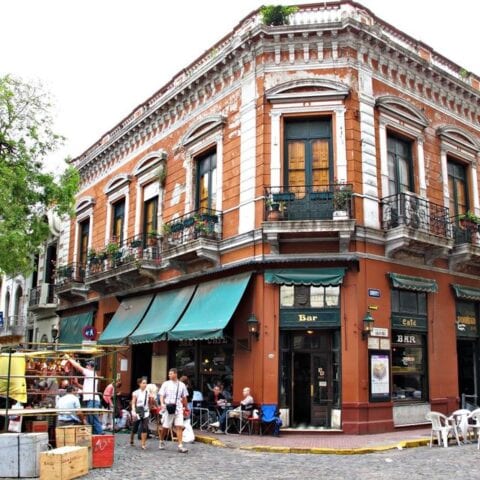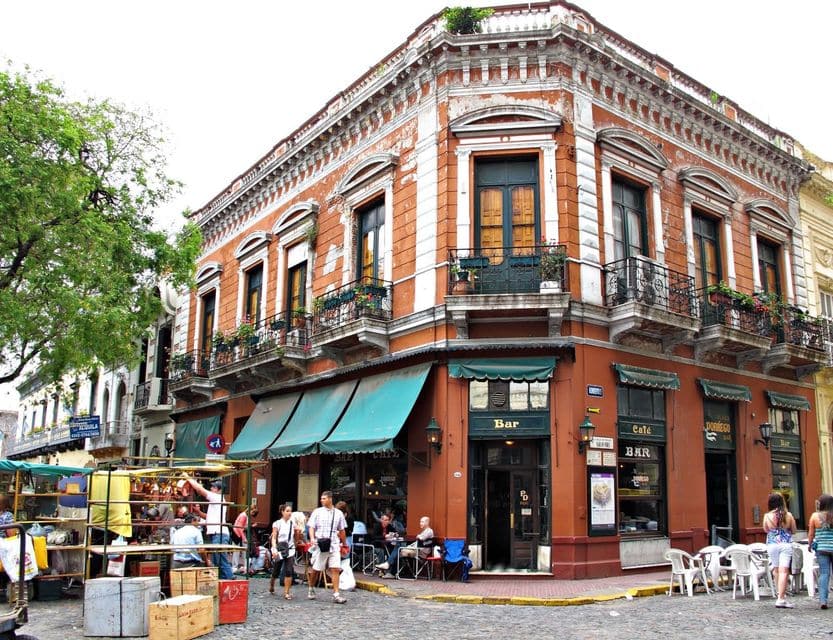 La Boca is a place where you can learn tango dancing and the history of this working-class neighborhood. There is also a big pool of different influences as La Boca became a neighborhood that welcomed all immigrants from different parts of the world. See the main city square and the political core of Argentina, and visit Piramide de Mayo, the Metropolitan Cathedral, the Colonial Town Hall and the Casa Rosada.
And lastly, you will be touring the Recoleta Cemetery, also known as the City of the Dead, famous as one of the most beautiful graveyards in the world. With its thousands of mausoleums, you can see the most impressive mini-cathedrals and sculptures as the final resting place of the rich and the famous of Argentina like its famed first lady Evita Peron.
Book your The Best of Buenos Aires: Full-Day Walking Tour now.
Buenos Aires Bike Tour: North Circuit
Bike around the city of Buenos Aires to get to know more interesting facts and incredible architecture in its many neighborhoods.
For this half-day fun ride, you will be meeting your guide in San Telmo first and have a quick safety briefing before getting your bike (plus helmet). Make sure you tell the guide from this point that you will be taking the North Circuit tour which includes the Recoleta Cemetery.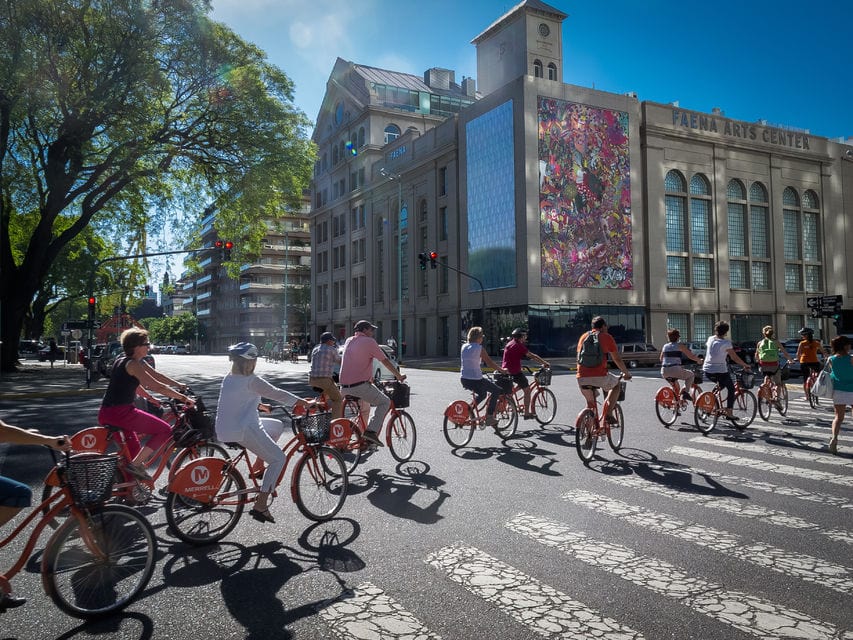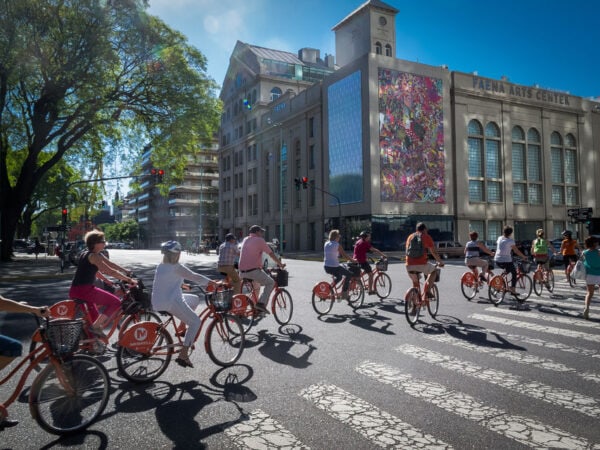 The North Circuit route will start in the newest neighborhood of Puerto Madero where you can see the old port area developed into a more modern area for dining and entertainment.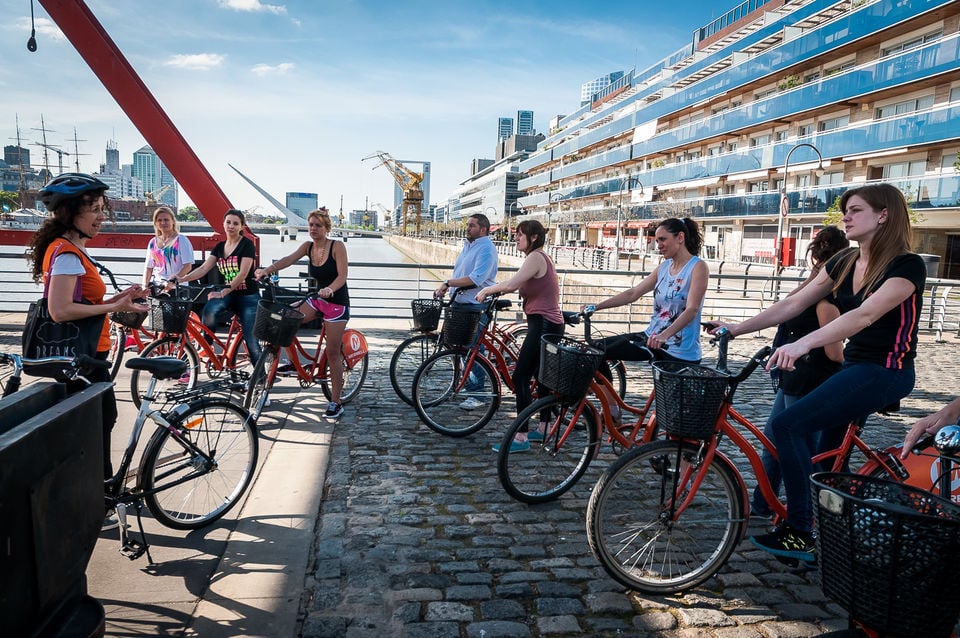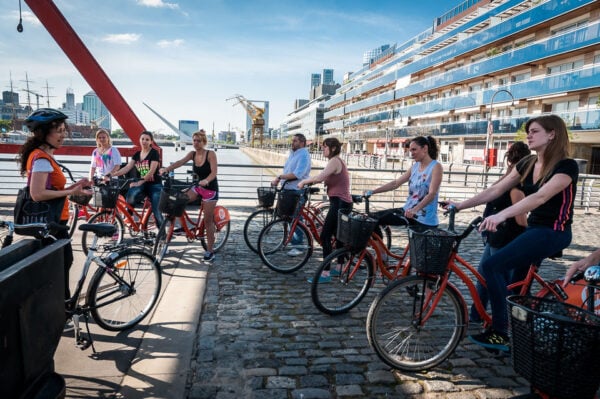 Then you will proceed to the Recoleta neighborhood where you can see large parks and a good number of French-style buildings. There are a number of embassies here and this upscale neighborhood is home to the first public cemetery of Buenos Aires which is called Recoleta Cemetery.
Here you will find out how the rich and the famous get to rest in peace and luxury with its intricately designed mausoleums with amazing sculptures and design.
After this area, you will then proceed to the district of Palermo which is the city's largest neighborhood. Visit Palermo Woods and the 400 rose bushes in the rose garden. You can also find Buenos Aires Zoo, Plaza Italia, Galileo Galilei Planetarium, and the Botanical Garden. You will end this tour in the San Telmo neighborhood where you can visit many shops, antique markets, art stores, cafes, and restaurants.
Book your Buenos Aires Bike Tour: South or North Circuit now.
Evita Tour in Buenos Aires
So many people have watched the Evita movie and have read about the stories of the most famous first lady of Argentina, Eva Peron (popularly known as Evita). But with this long-awaited Evita Tour, you will get the chance to answer most of the questions that you might have come across with regards to the life of Evita.
The Evita Tour will include visits to the most important places in her life like the General Confederation of Labor or The "CGT" where she gave most of her memorable speeches. You will also visit The Luna Park Theater where she first met General Peron.
Of course, Casa Rosada is also an important place for the President and her first lady. And last but not least, you will visit her in her final resting place at the Recoleta Cemetery.
Book your Evita Tour now.
More about Recoleta Cemetery and Buenos Aires
The city of Buenos Aires offers plenty of interesting places to go for your wandering feet, and Recoleta Cemetery is just one of these places that are unarguably different and magical.
I absolutely loved Buenos Aires and everything it had to offer, whether you're just hanging out enjoying cafe life, or learning to dance the tango at night. There are tons of great Buenos Aires tours and activities to do, like going to a polo match and learning the ways of the Gaucho in a ranch outside the city. Either way, always remember to get your steak fix with a glass (or bottle) of Malbec when you're here.
The good life, great people, and sumptuous food are waiting to greet you in Buenos Aires. This is my favorite city in all of Latin America and would love to go back in a heartbeat. How about you? Vamos!
Traveling to Buenos Aires soon? Be sure to book your room from Booking.com now to save on the best Buenos Aires hostels. If you are staying on for a few weeks, I highly recommend looking into Airbnb units. Don't forget to purchase international travel insurance for Argentina to protect yourself against theft, sickness, and injury. I use and recommend World Nomads for the best combination of affordability and coverage.
Read Next: The 18 Coolest Things To Do In Buenos Aires
Share This
Did you enjoy this article about the Recoleta Cemetery in Buenos Aires? Then take a moment to share it on Facebook, Pinterest, or Twitter. Thanks!
The following two tabs change content below.
Desk to Dirtbag is one of the leading budget adventure travel blogs online and is dedicated to helping its followers achieve their travel dreams through inspiration, information, and actionable steps. If you are new to the site, be sure to
Start Here
.
Latest posts by Desk to Dirtbag (see all)