This article may contain
affiliate links
. If you make a purchase through these links, I will earn a commission at no extra cost to you. Thanks!
A crew of seven of us from DC UL Backpacking headed up to Dolly Sods North over the weekend for 18 miles through my favorite area in the Mid-Atlantic. Dolly Sods is truly one of the most amazing places to hike and is one of the most unique and varied ecosystems I've encountered—every turn of the trail seemingly changes the entire character of the environment, from thick, dense groves of evergreen trees, to leafy deciduous clusters, to open, rolling grasslands, to thick mud bogs, and sub-alpine tundra-like environments… You can pretty much get whatever you are looking for on the multitude of trails running through Dolly Sods. I'd been to Dolly Sods in every season but summer over the years, and I was excited to get up to the high plateau and hopefully get away from the heat and humidity of the past few weeks.
[singlepic id=224 w=540 h=405 float=center]
Mike organized this weekend's trip, which allowed me to just tag along as a participant—a nice change of pace from worrying about the details and coordinating all the logistics as with recent trips. The seven of us all met up on Saturday morning at 8am at the Vienna Metro Station for the three and a half hour drive out to Dolly Sods. Four of us were regulars with DC UL and three were new faces to the group, which is always great to see! With a quick stop at Duncan Donuts in Front Royal, we were on the trail by about 11:45am… The drive out to Dolly Sods is straight forward, but the last ten miles or so up the bumpy, Forest Service dirt road makes for slow going. We saw an alarming number of cars at the various trailheads en route to ours, in addition to at least a half dozen or so hunting trucks, equipped with dog houses built into the bed of the truck with six or so holes for the beagles to stick their heads out of. I'm not sure what is currently in season, and I wasn't really anticipating any hunting at this time of year, but you frequently see the bear dogs during the fall season.
[singlepic id=226 w=540 h=405 float=center]
We started off on the Blackbird Knob Trail, located just past the Red Creek Campground. The trail starts under the tree canopy before winding down to a stream crossing at Red Creek and then begins opening up to the wider meadows and vistas that Dolly Sods North is famous for. As the tree cover began to thin we encountered our first big stretches of trailside blueberry patches—a very awesome treat that we stopped to take advantage of (the first stop of many, believe me!). Five miles on the Blackbird Knob Trail took us to the western edge of the plateau where we picked up the Rocky Ridge Trail northbound—this section of trail is one of my favorites in the area and includes outstanding views stretching out to the west over the Canaan Valley. This trail, as you can imagine, becomes quite a rock hop across heaps of sandstone boulders and also includes a number of larger boulder conglomerations along the way. Tony and I, the two climbers in the group, got on a couple little boulder problems on the way, which was really quite fun. We obviously didn't have a crash pad, but we weren't doing anything too crazy. One rock formation in particular was awesome–a large 15-foot or so rock with tons of interesting huecos and odd handholds. I climbed up a really fun corner system on the backside—though it was a little unnerving to be climbing up in my trail runners.
[singlepic id=228 w=540 h=405 float=center]
We continued up to the far northwest edge of the plateau before joining the Raven Ridge Trail down to the Beaver Dam View Trail and then on to the Dobbins Grade Trail. It was here that things really started to become the wet, muddy, soggy, boggy mess that Dolly Sods is infamous for… Up until this point the trail, while wet, had been relatively free of mud. Dolly Sods, a large rolling plateau, has extremely poor drainage so water just hangs around for a long time, add that to the fact that it sits right on the Eastern continental divide and sees its fair share of extreme weather and climatic conditions, and you get a windy, wet, boggy mess in places. This is a time when it is certainly liberating to have moved over to non-waterproof trail runners as footwear, as opposed to the Gore-Tex boots of old, since you can just plow through the water and bogs, knowing full well that your feet will get wet but that that's okay. With Gore-Tex boots you gingerly try stepping around and rock hopping while hoping you don't sink up past your ankles and hoping your feet don't get wet, because if they do, they are never going to dry out.
[singlepic id=230 w=540 h=405 float=center]
About a half-mile past the intersection with the Raven Ridge Trail we arrived at our hidden campsite off the Dobbins Grade Trail. Mike had discovered this site on a previous trip, but it is well off the trail, across the river, and certainly not visible or apparent as you are hiking along. We spread out through the open field and set up our respective shelters… [singlepic id=234 w=540 h=405 float=right]I had trouble finding a spot that I liked for my Mountain Laurel Designs Trailstar, but eventually settled on a marginal spot just beside the river. I had to pitch it on extremely uneven ground, over the top of a small bush, and in the soft, loose soil available. I wasn't really satisfied with it but figured it would at least cover me when it started to rain—as it was looking to do at any moment. We all spent some time gathering downed wood from the adjacent treed area and then folks began to get situated around the fire ring and cooking their dinners, and of course just as people started eating the sky decided to open up—a pretty decent downpour to boot. Everyone scattered back to their shelters to take cover and to finish off their food—though Mike and I went ahead and set up a groundcloth that he brought because of the forecast as a small lean-to tarp in the trees.
For awhile it was just me and Mike cowering under the small groundcloth, somewhat covered from the rain and intermittently dumping the water that was pooling above our heads, while we watched the rain come down across the open meadow accompanied by the distant rumbling of thunder. But after awhile we were joined by Chris and the other Mike, so we all crowded under this tiny reprieve from the elements. We watched a number of hikers pass by—trudging on through the downpour, including a group of three that saw our tents and decided to join us at our site, so there were now ten shelters present, including three hammocks. Mike thoughtfully brought one of those Primus lantern attachments for a gas canister which actually radiated a considerable amount of heat and, given the conditions, made for a decent substitute for a fire. After about two hours of rain it finally relented and everyone ventured back out into the night. Chris took charge of the fire situation and, despite the thorough drenching that all the wood received, was able to get an awesome fire going after a bit of concerted effort and utilizing a few fire starters. It was a great way to cap the night, and it felt good to be able to hang out beside the fire and dry out a little bit.
During the night the rains returned and the wind picked up quite a bit… I actually had my first shelter malfunction when one of the poorly staked corners came out. I awoke to a partially collapsed shelter with half of it flapping in the wind. I tried to go out and restake it, but the tent peg was nowhere to be seen in the thick brush and grass… Frustrating! I had to dig out my remaining unused stakes from my pack and get things re-situated before I was able to drift off back to sleep. I was never able to find that tiny stake either… This malfunction was most certainly due to my laziness in getting a good, taut pitch on the tarp and the poor quality of the sandy, loose soil I was working with.
[singlepic id=235 w=540 h=405 float=right]
We covered approximately 12 miles on Saturday and would only be doing about 6 on Sunday so we weren't under a huge time constraint to start bright and early. The rain thankfully stopped that morning and we were able to pack up our sopping wet shelters and get some breakfast in us before hitting the trail at around 9am. We continued north along Dobbins Grade Trail up to the Bear Rocks Trail… The Bear Rocks Trail passes through a grove of dense hardwoods and then begins climbing up a knob which quickly opens up to expansive views of Dolly Sods North. It is phenomenal to have such sweeping views of the trail ahead and the entirety of the terrain around you, and simply isn't something you get to see out here in the Mid-Atlantic. The whole Dolly Sods area reminds me so much of the sub-alpine terrain out west that I love so much, and is what draws me in each and every time I return.
[singlepic id=237 w=540 h=405 float=right]
From Bear Rocks we met up with the remaining portion of the Raven Ridge Trail which brought us back down to Dobbins Grade again—we basically did a quick loop in the northeast corner, and then we started hiking south along the Upper Red Creek Trail. Just as you access the trail you encounter a massive beaver dam that has been there for ages. It's really quite cool to see, though it can sometimes be problematic in terms of passing… You can wade through the ponds, but generally I've just crossed over the top of the dam. Your feet will still get a little wet, but the structure itself is pretty sound, just don't misstep and take a tumble into the pond! Upper Red Creek Trail passes from the open meadows and bogs back to the more well-forested area adjacent to the fork in Red Creek (which is also one of the most popular backcountry camping spots in the area) and led us back down to the intersection of Blackbird Knob Trail where we returned to previously covered ground for the hike back out to the cars.
[singlepic id=239 w=540 h=405 float=right]
All-in-all another awesome and memorable trip to Dolly Sods—it never fails to disappoint! It is definitely one place that I will really miss when I leave the region. I'm always astounded when I meet hikers or backpackers out here who haven't yet been to Dolly Sods and I absolutely implore them to go check it out—it has so much to offer, with such varied terrain, and a multitude of trails that can accommodate almost any mileage you desire—from short and easy to long and strenuous. The northern section of Dolly Sods remains my favorite, but there is a lot to see in the southern section as well, including the awesome vista at the Lion's Head along Breathed Mountain, and the cascading falls in the canyons descending Red Creek. If you have a chance to visit Dolly Sods—do it!
Check out the Monongahela National Forest Hiking Guide by Allen de Hart and Bruce Sundquist for a thorough guide to the trails of Dolly Sods, as well as the rest of the area. You can also find info and possible routes from Mid-Atlantic Hikes, such as this great 24-mile circumnavigation.
Details about Dolly Sods North
18 miles beginning and ending at the Blackbird Knob Trailhead. 12 miles on day one and 6 miles on day two. Water is quite plentiful throughout, although less so in the NW corner. We used Red Creek for water resupply. I used my standard ultralight overnight gear and other hiking essentials.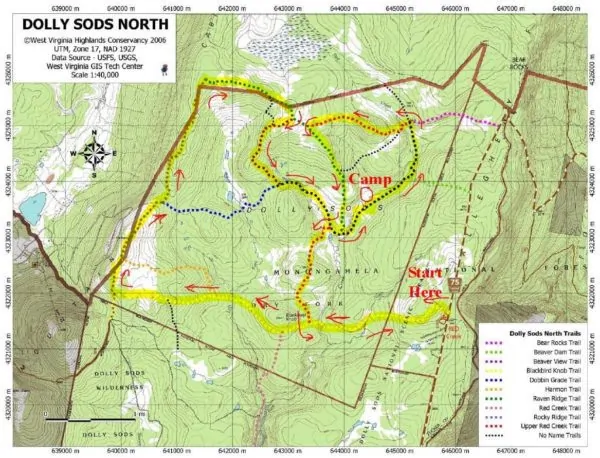 Read Next: Trekking Packing List
The following two tabs change content below.