This article may contain
affiliate links
. If you make a purchase through these links, I will earn a commission at no extra cost to you. Thanks!
A group of us from DC UL Backpacking decided we needed a change of pace from Virginia backpacking, so we headed north to Pennsylvania so we could hike the Allegheny Front Trail up near State College, Pennsylvania over the recent three-day weekend. The Allegheny Front Trail (AFT) is a relatively recently completed trail (1998) and which forms a nearly 42-mile loop encircling Black Moshannon State Park.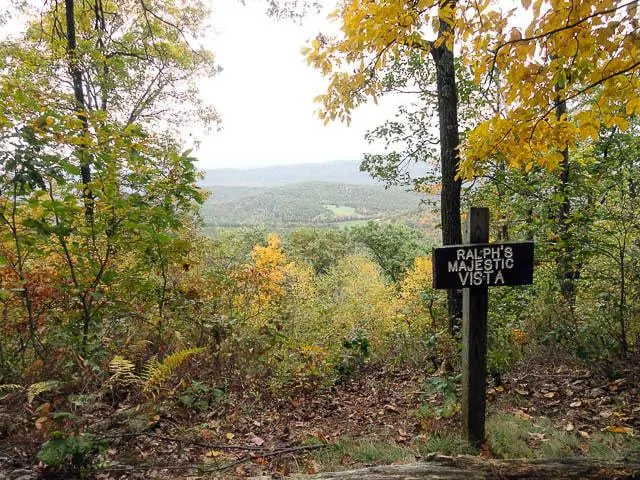 Backpacking in Pennsylvania
The Allegheny Front Trail features a few short but steep climbs, lots of beautiful stream-side scenery, varied ecosystems and terrain, and a few outstanding vistas off to the east. We were there near the peak of fall colors which made the trail even more impressive with the yellow and orange canopy over bright red foliage.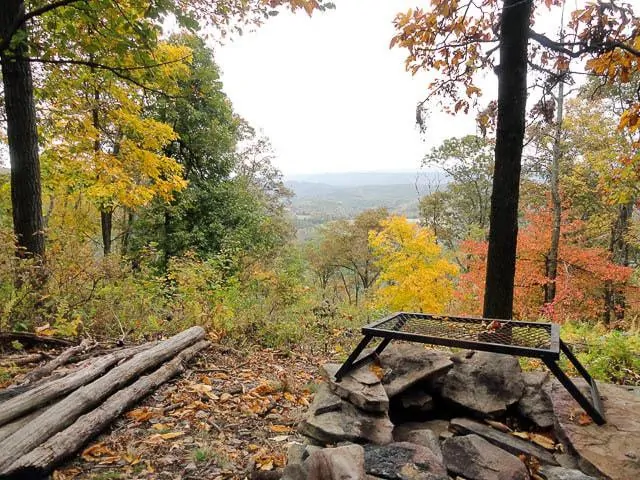 The trail is moderate in nature and not overly strenuous or challenging—I think it would be a great introduction for folks looking to up their backpacking mileage without having to deal with strenuous climbs or nasty terrain.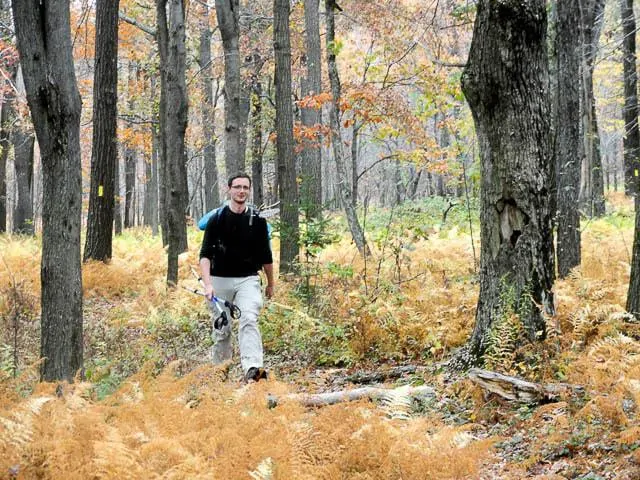 The drive north from DC is approximately 4 hours to Philipsburg, Pennsylvania. We stopped at Goody's Pike Inn to rendezvous and grab some lunch before we hit the trail—it's a pretty good burgers, shakes, and fries place to check out either before or after your hike.
Starting the Allegheny Front Trail
We took Black Moshannon Road (504) up to Sixmile Run Road where we would start on the Allegheny Front Trail (AFT) in a north bound / clockwise direction. The trail hikes along some gently graded forest scenery and eventually takes you to the banks of the "Red" Moshannon Creek, an acid-polluted stream that fell as a casualty to the coal mining activities in the area, which we had also dubbed "Cancer Creek".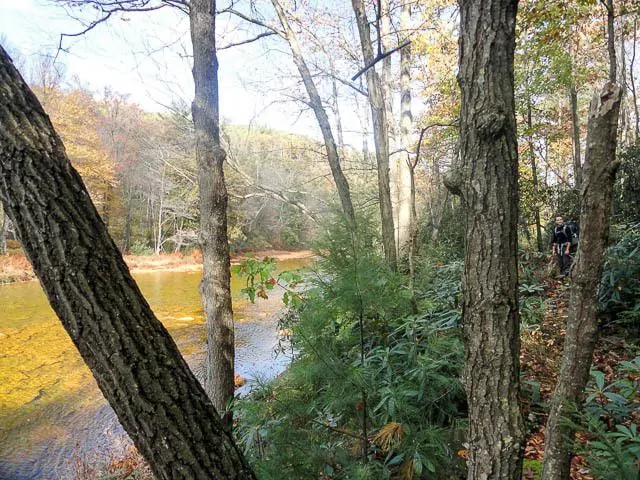 The trail climbs steeply up to an impressive vista above Cancer Creek before heading off toward the east. We continued past the Shingle Mill Trail junction by a mile or so to arrive at a pretty heavily used camp area adjacent to a hunting lodge and Black Moshannon Creek where we decided to setup camp.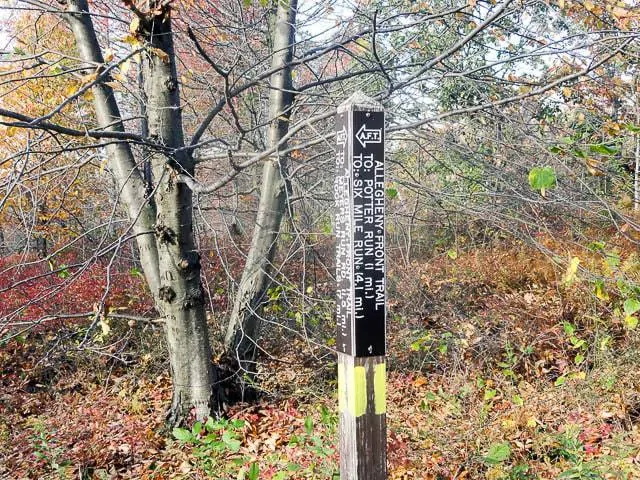 There were no other people in the area but there are numerous sites scattered about, and it's obviously quite accessible and popular. We covered nearly 11 miles on this first day (half-day really, considering the drive and lunch got us to the trail after 1pm).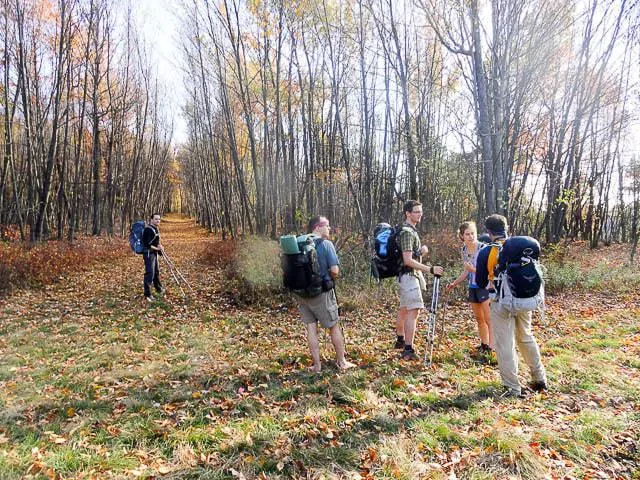 Sunday morning we got up and moving at a decent hour… Through more beautiful stream side scenery and some densely vegetated trails that were at their full color—quite gorgeous.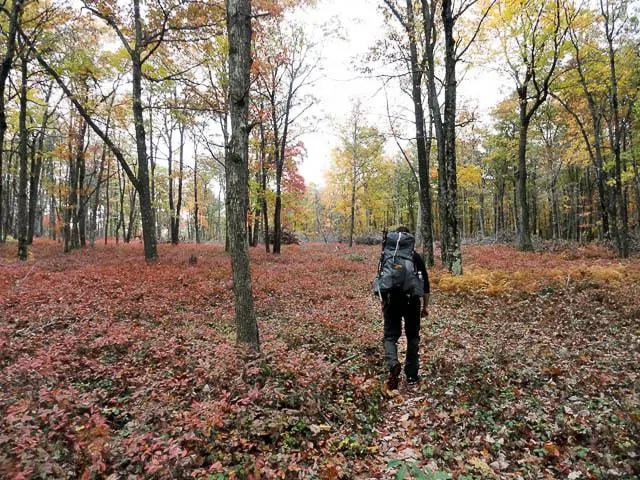 Then abruptly we encountered a recently logged portion that left maybe one out of 10 trees standing—they each had a swath of blue paint across them to indicate "Do Not Cut". It was a somewhat stark scene, and I'm not sure if it was just routine harvesting, pest control, adaptive management or what.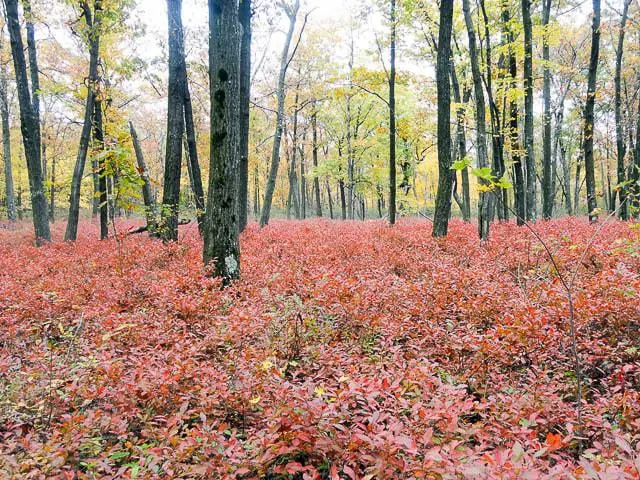 In the afternoon we reached the awesome south eastern stretch of the AFT where you are actually hiking along the Front. There are commanding vistas that stand high above the surrounding landscape…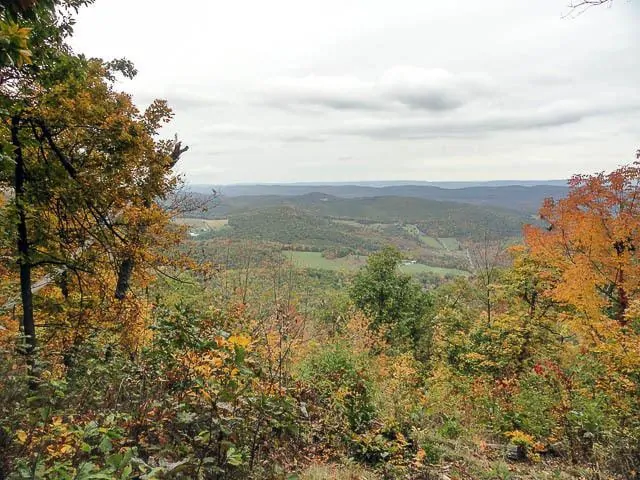 Some of these vistas are even named with signage, such as "Ralph's Pretty Good Vista" and "Ralph's Majestic Vista". Named in honor of Ralph Seeley who brought this trail into existence—but clearly the trail maintenance crews have a sense of humor around here!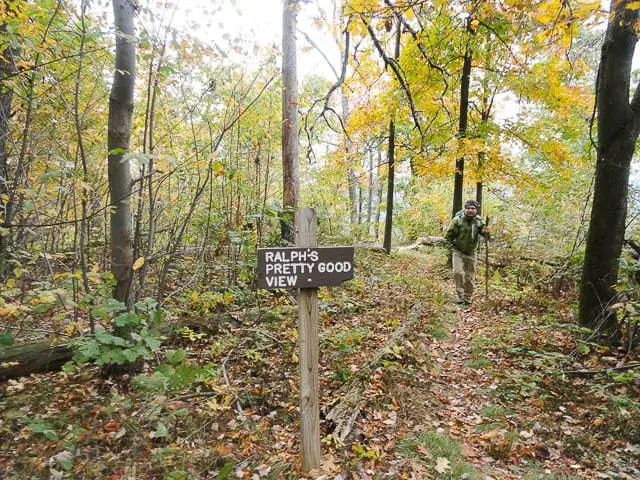 In fact, I must say that this trail was amazingly well maintained, had great signage, clear direction, ample double blazes, even boardwalks over boggy areas. Although I should mention that most of the trail is blazed yellow, however there are a few portions of the AFT that are blazed differently (either red or orange) which is kind of annoying and potentially confusing.
Despite that, the trail maintenance crews have done a truly great job that deserves commendation—I understand that these high trail standards are pretty common throughout Pennsylvania, as well.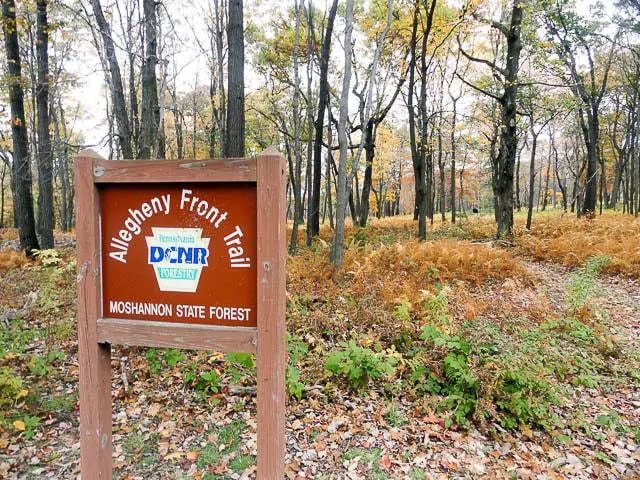 We veered away from the edge of the plateau heading inland and eventually reaching a boggy stretch in the interior. We passed a sign that recommended waterproof boots as this part of the trail is particularly wet. Soon thereafter the skies opened up and it started heavily raining on us—wet, indeed.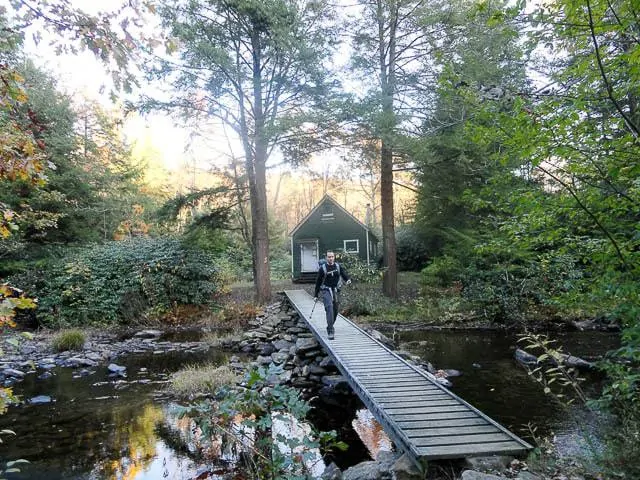 We pressed on for a few miles before reaching the Lucky Ridge Camp, an unexpected encounter… There was a large grassy field and a covered porch. We debated about whether or not we could camp out on their lawn or not. No one was around, and it was still raining pretty hard.
We decided the prospect of a covered porch to hang out under (since we weren't going to have a fire) would be a pretty nice amenity. So we scattered about their lawn and set up our shelters—passing the rest of the evening at Lucky Ridge Camp, lucky us!
There were other camping options available either a few miles before this or a few miles after this (though somewhat sparse). We covered approximately 19 miles on this day.
Monday morning we were greeted with beautiful weather… Breakfast on the porch and we were soon on our way. There is another stretch of boardwalk hiking over muddy and boggy terrain before reaching an area with a huge storm blow down.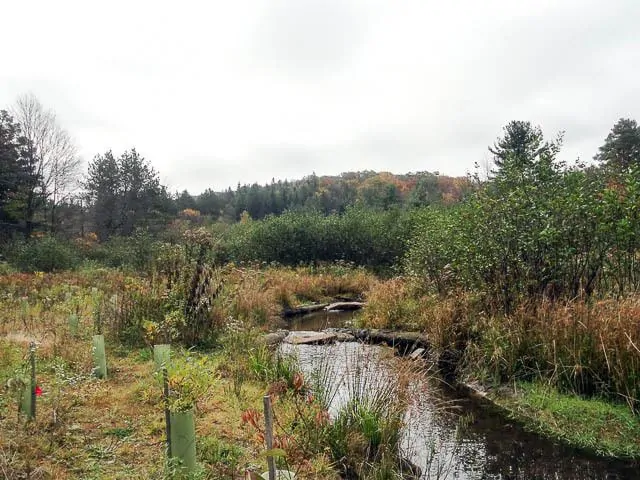 It took a little bit of effort in this area to find the blazes and follow the trail. Beyond that there is some exceptional hiking through meadows and fields, followed by more hiking through the thick of the forest. A few things stood out: one, there was an odd area of overhanging boulders which had tremendous amounts of animal droppings below—I'd never seen anything like it, but supposedly it is from porcupines and deer?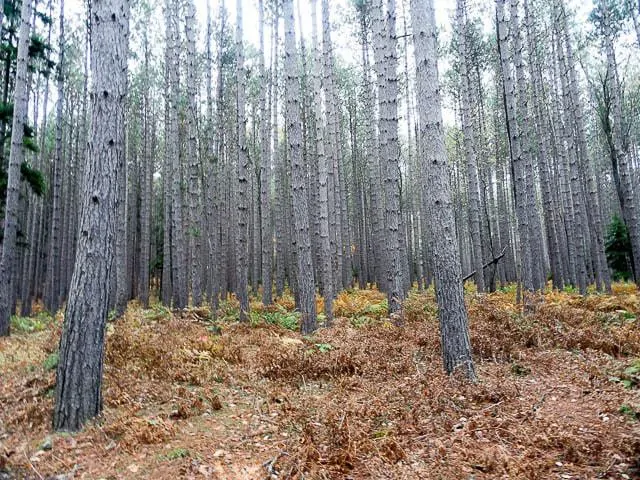 Strange. Two, you hike through a CCC reforestation area where there are precisely spaced pine trees towering above. The symmetry and stark landscape makes for an unusual and peculiar sight. After a total of 11-12 miles on our third and final day we arrived back to our car.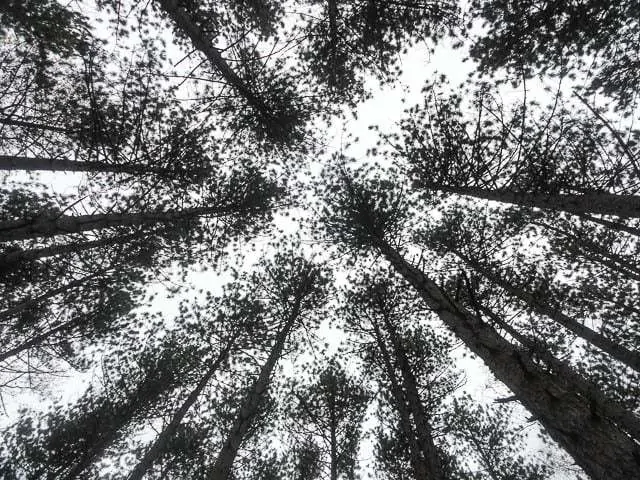 Hike the Allegheny Front Trail
The Allegheny Front Trail (AFT) makes for a great three-day weekend trip and offers up its fair share of scenery to make it worthwhile.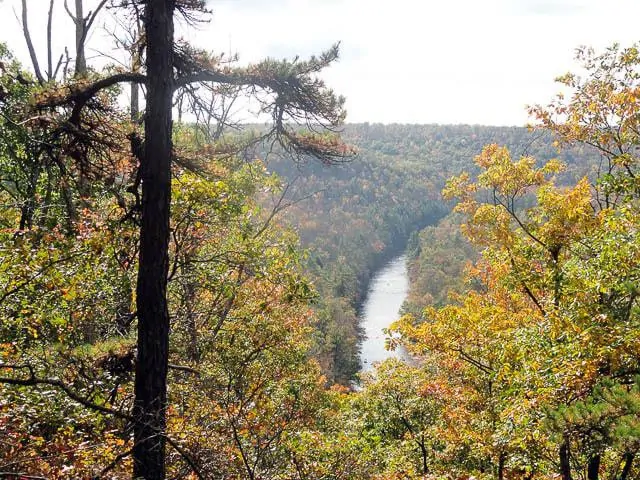 As mentioned earlier, I think it would be a great first trip for someone looking to push themselves mileage-wise: there is nothing terribly strenuous about the trail and there are also a fair number of nearby roads where one could bail or even shorten up the hike should the need arise.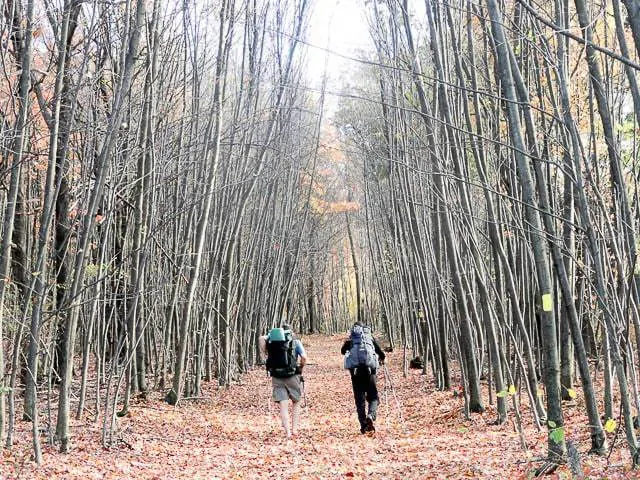 Our three day weekend saw us break the 42-mile loop into an approximately 11-mile/19-mile/12-mile split. I could easily see a two-day weekend breakdown of, say, 2-miles night hiking on a Friday night, 22 miles, and then 18 on Sunday—or something like that. There are also lots of different places where you could start the trail and do it in a manner different than we did—lots of options!
More Allegheny Front Trail Resources
Share This
Did you enjoy this post about backpacking the Allegheny Front Trail? Please take a moment to share it on Pinterest, Facebook, or Twitter. Thanks!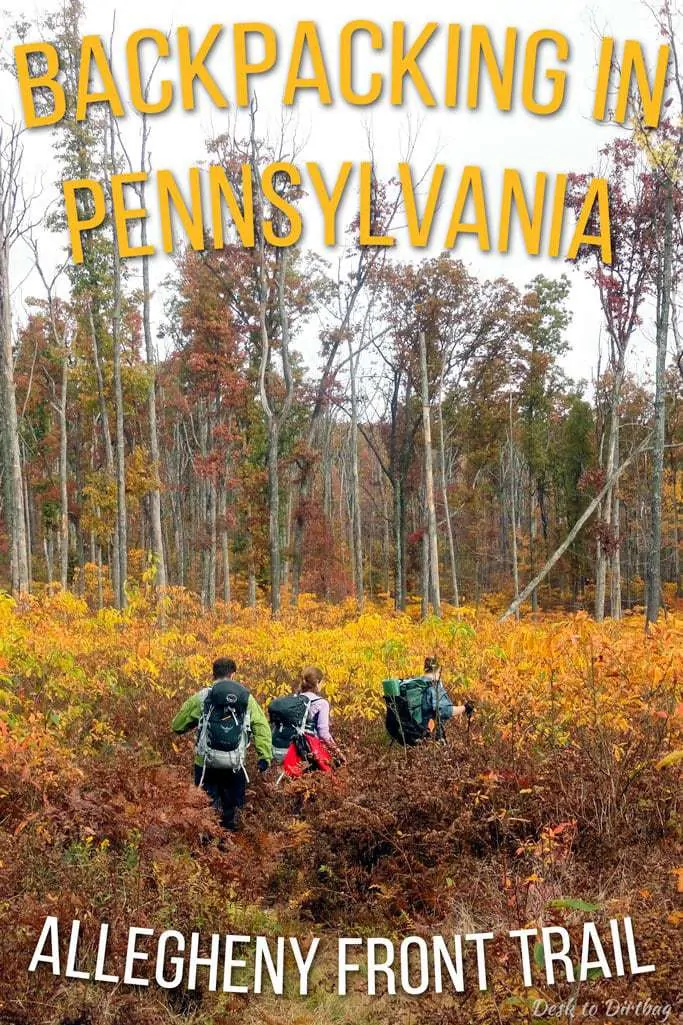 The following two tabs change content below.