This article may contain
affiliate links
. If you make a purchase through these links, I will earn a commission at no extra cost to you. Thanks!
If you're planning on taking a Utah National Park road trip then you definitely don't want to miss one of our most underrated national parks, Capitol Reef. This park is a geologic wonder often outshined by neighboring parks, but if you really want to see what makes this place special, then be sure not to miss experiencing some of these awesome Capitol Reef National Park hikes available to the public.
Capitol Reef sits in the middle of Utah's five national parks and makes a perfect stopover when connecting the pairs of parks on either side of the state: Bryce Canyon National Park and Zion, along with Arches and Canyonlands. Don't forget to explore some of the incredible state parks in Utah like the nearby Goblin Valley State Park, located just to the east of Capitol Reef.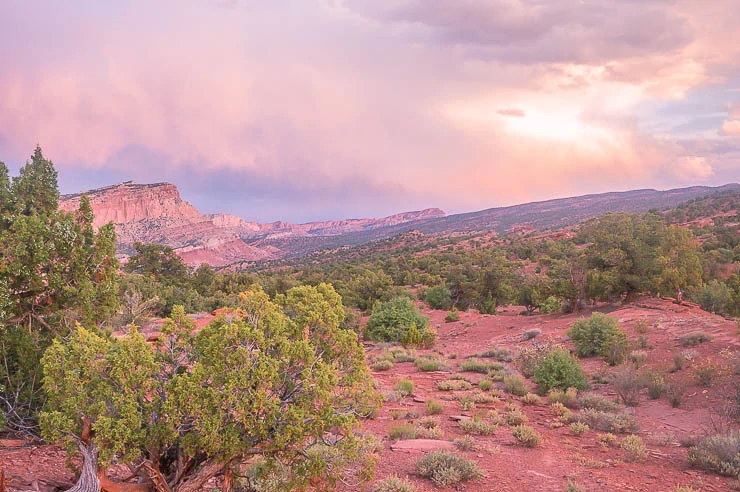 Capitol Reef is a geologic park sitting across a wide stretch of the Waterpocket Fold which is basically like a large ripple in the earth's surface running north to south. While the park lacks some of the big spectacles of others, that doesn't mean there aren't awesome arches, natural bridges, incredible canyons, and stunning vistas. I'd encourage you to stop in at the visitor center near Fruita to learn more about this geology and what you'll be seeing on these hiking trails.
Want to learn more about the best hikes at Capitol Reef National Park, or CRNP as it's affectionately referred to by many? Here's the scoop on some of the best options for the novice and expert hiker alike to enjoy a bit of the amazing Capitol Reef hiking opportunities that are available here.
Tip: Don't forget to buy your America the Beautiful National Park Pass to save money on entrances fees as you travel the region! It is valid for a full year from the date of purchase and means you won't have to pay entrance fees.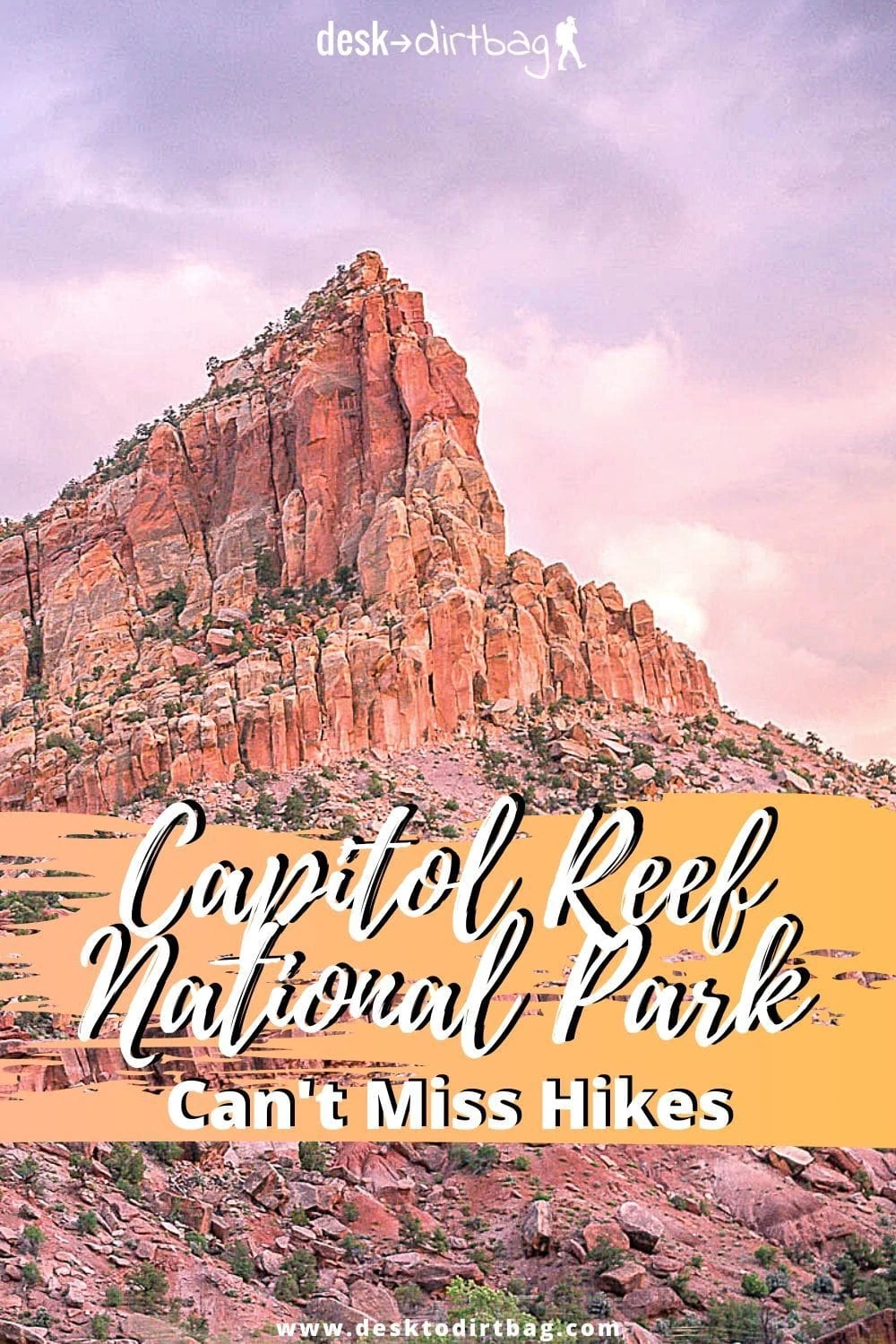 Cassidy Arch Trail
No rundown of the best Capitol Reef National Park hikes would be complete without talking about Cassidy Arch Trail, so let's start things off there. Cassidy Arch Trail is one of CRNP's premier hikes for those in search of a strenuous hike that also takes you to a centerpiece of the whole park – Cassidy Arch. Once here, hikers can enjoy one of the few remaining arches that are still legal to walk across today, which sits like a bridge across a chasm.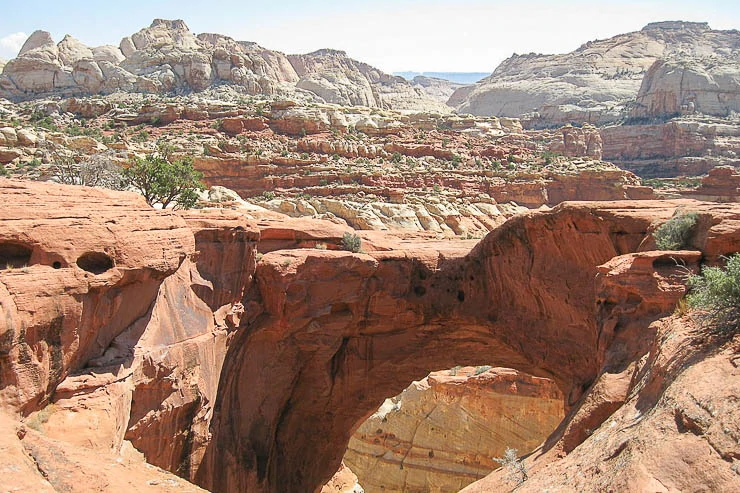 To get there and ultimately finish out the trip, plan on a total trail span of about 3.4 miles. Also, expect some respectable elevation changes with a vertical climb of more than 700 feet which is what makes this strenuous. While the little ones can technically go on this hike, it's recommended that they not do this one, particularly due to some of the long drops found at certain points on the trail.
Cassidy Arch Trail can be accessed along the Capitol Reef Scenic Drive and turning off on the unpaved Grand Wash road.
Sulphur Creek Route
This hike is what some consider to be the best hike in the park, but you'll have to get wet if you want to enjoy this one, perfect for those hotter days. You'll want to check with the park rangers at the visitor center to talk about water levels and how swiftly it is flowing though.
Here you will hike in and along Sulphur Creek which winds through gorgeous canyon country. If you're doing this as an out and back, then it is about 11.5 miles, but you can also do this as a one-way hike if you're able to station vehicles or up for some hitchhiking. If you do it one-way, start at the western end on Highway 24 which will make the hike downhill.
You'll see some pretty awesome canyon terrain with wide bends in the river and a few awesome waterfalls as well. Beware though about waterfalls as they can sometimes reach shoulder depth or even require a little swimming. Alternatively, you could start the hike from the Visitor Center and make the hike uphill to the waterfalls before backtracking out. To the last waterfall and back in this direction is approximately 6.5 miles.
Capitol Gorge Trail
CRNP's Capitol Gorge Trail is another solid choice, this time for the whole family. On this novice-rated trail, taking the kids and even letting them run a bit ahead is a safe and fun option, as this hike is pretty much all flat and without any major fall dangers. As to total distance, this one runs for about two miles in total length and with next to no measurable change in elevation.
One of the sightseeing highlights we really enjoyed here was the set of historic wall etchings on one of the main gorge walls. Many also choose to set out to see if they can find the nearby water tanks which is another fun addition to this hike. Finding the tanks does require a bit more physicality, though, as you'll have to climb one of the walls and do a bit more hiking after that.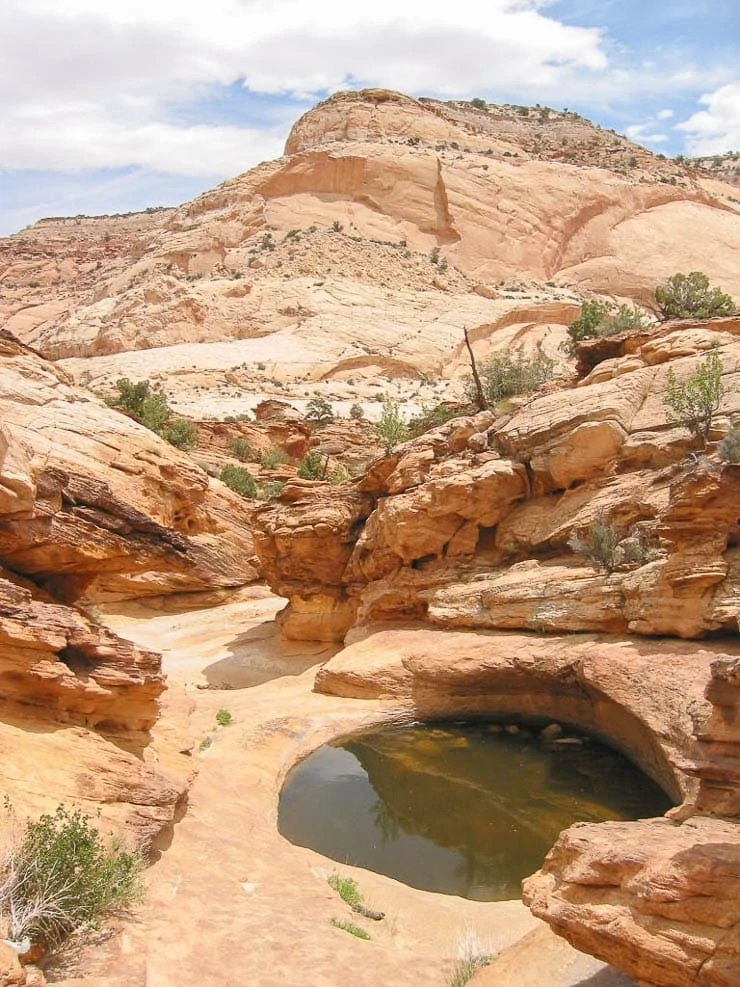 If you continue the scramble to the tanks, you can expect to hike about 4.5 miles or so. These tanks are large natural recesses that are often filled with water (they may be dry depending on the recent weather).
For my fellow road trip buffs, it is interesting to note that Capitol Gorge was the original highway that lead to/from Notom, just outside the park. Capitol Gorge is accessed at what is basically the terminus of the Capitol Reef Scenic Drive.
Hickman Bridge Trail
Hickman Bridge Trail will take you to, you guessed it, Hickman Bridge, which is one of the trail's centerpiece attractions that's actually a very cool, 133-foot natural bridge. To get to the bridge and eventually finish the trail, expect a not-so-long hike of about 1.8-miles.
Most will find this to be a fairly relaxed and quite scenic trail packed into a relatively short package, even though there is a 400-foot total elevation change from start to finish, but that steep bit is mostly just at the beginning. This is one that the whole family can enjoy, for sure, and you'll see a number of incredible features on the way.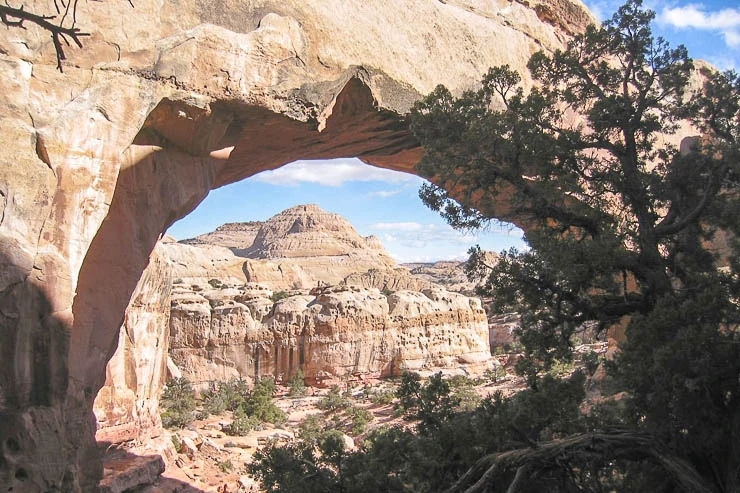 This particular hike is also a great choice for those wanting to experience a full cross-section look of what the park has to offer in terms of vegetation, terrain, and wildlife. As hikers get to experience this great variety in this part of the park, much of it is owed to the bounties of the nearby Fremont River. Much of the trail, in fact, gives some great views and unparalleled access to the river.
You can access the trailhead from the main Highway 24 just east of Fruita, Utah.
Frying Pan Trail
As you might be able to imagine by the name, this can be a hot hike, so be sure to do it out of peak season and bring sun protection and plenty of water. Going beyond the descriptive name, though, this trail is a popular favorite among hikers who enjoy more strenuous hikes that will work up a little sweat. Here, the challenge is to cover a total of 810 feet of elevation gain at a total distance of 8.5 miles and across a fairly challenging terrain layout as well.
Locating the head of this trail is easy, as it's located just before the head of the Cassidy Arch Trail and is otherwise clearly marked. In addition, you'll probably want to be sure to put on those grippy hiking boots to stay safe along the many high ledges on this route through Frying Pan Canyon and the heights of the Kayenta Formation area.
It's a relatively low trafficked route so you may be able to spot some bighorn sheep or other wildlife which are possible sights to spy among the many, unique rock formations, spires, and canyons here.
This trail basically connects the Cassidy Arch with the start of the Hickman Bridge Trail, so you could add another two miles and cover both popular sites and the Frying Pan Trail. For those that want to cut the mileage, you could also stage vehicles (some hitch rides) and just do this as a one-way hike, basically.
Grand Wash Trail
As its name suggests, Grand Wash Trail is essentially a big run through an ancient wash that cuts between two, formidable gorge walls. This easy but moderate-length, 4.4-mile, flat walk is another great choice for the whole family to check out. Finding this hike is also easy as it has two access points, one right off of Grand Wash Road and another right off of Highway 24.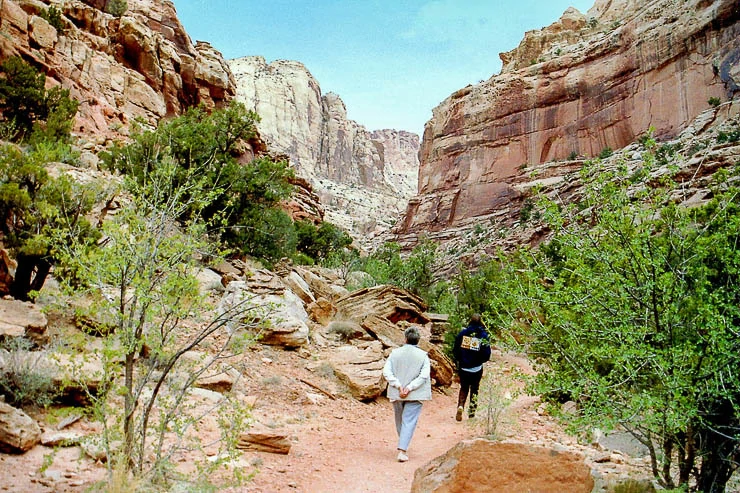 Hikers making their way through this extraordinary wash bottom can expect to progress through multiple, fascinating layers of formed rock compositions. Eventually, The Narrows will then emerge ahead, and the canyon width will narrow to a very interesting area totaling just 16-feet in width. If you are claustrophobic or prone to discomfort in smaller spaces, this trail choice may not be the best option for you, as The Narrows makes up about half a mile of this trail.
Be sure to bring sturdy soled footwear here as this trail can be particularly rocky which can be hard on your feet.
Chimney Rock Loop Trail
If you enjoy loop hikes more than the out-and-backs that we've been covering, the park's Chimney Rock Loop Trail provides a fantastic opportunity at exploring new terrain after the first half mile or so. Hikers on this trail can enjoy some incredible sunset and sunrise views too, so be sure to take that into account when planning your visit to Capitol Reef National Park.
Hikers should know that this is one of the park's many, moderately strenuous hikes. This is because of its length and the way its 590-foot elevation differential plays out underfoot. The park's Waterpocket Fold Cliffs are also best viewed by way of this trip.
The trailhead can be accessed along Highway 24 just west of Fruita.
Cohab Canyon Trail
Like most of this particular park's trail offerings, Cohab Canyon Trail is another one for the moderate level hiker. Here, we get a great, 3.4-mile trek with moderate elevation changes throughout its length. You can find either end of the trail by hitting either the Fruita Campground or the Hickman Bridge Trailhead just off of Highway 24.
Be sure to bring your camera on this hike, too, because it is arguably one of the most scenic areas of the whole park. Things to see along this route include Wingate Wall, the Fremont River, the Kayenta Formation, and a postcard-perfect view overlooking the Fruita Historic District.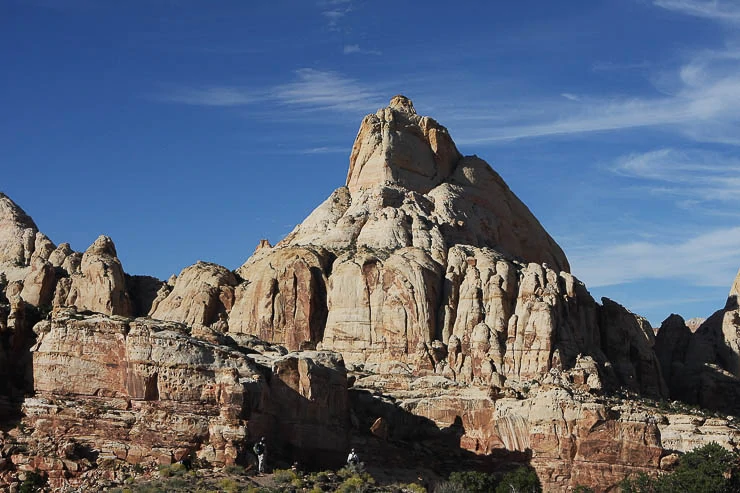 Plenty of side trails also connect to this one for even more, great exploration options to take if you have the time. Be sure to grab a cinnamon roll at the Gifford House to wrap up a great hike too! 🙂
This one is nice because you can do it straight from the Fruita Campground or you can link it up with other trails like the aforementioned connection to Hickman Bridge or along the intersection to the Frying Pan Trail. Perfect for those looking for more of a challenge.
Navajo Knobs Trail
Finally, one more of the many Capitol Reef National Park hikes that absolutely must be noted is Navajo Knobs Trail. This trail is the park's longest, single trail and maybe its best overnight opportunity at about 9 miles of total distance. For the widest and most panoramic view of the Fremont River District, this is it.
Beyond the stunning river views on this hike, you can expect amazing views courtesy of the trail's halfway point, Rim Overlook. A very cool, final reward also rests ahead in the form of the park's renowned Navajo Knobs rock structures. The last segment of the trail leading to Navajo Knobs is even part scramble, so for those into the rock scramble, this is your opportunity to shine.
More Capitol Reef National Park Hikes
So there you have it, a sampling of some of the best Capitol Reef hiking opportunities across a wide range of difficulties and lengths. Exploring these trails will give a great perspective on why this is probably the most underrated national park in Utah, one that many pass through quickly but which has a lot to offer.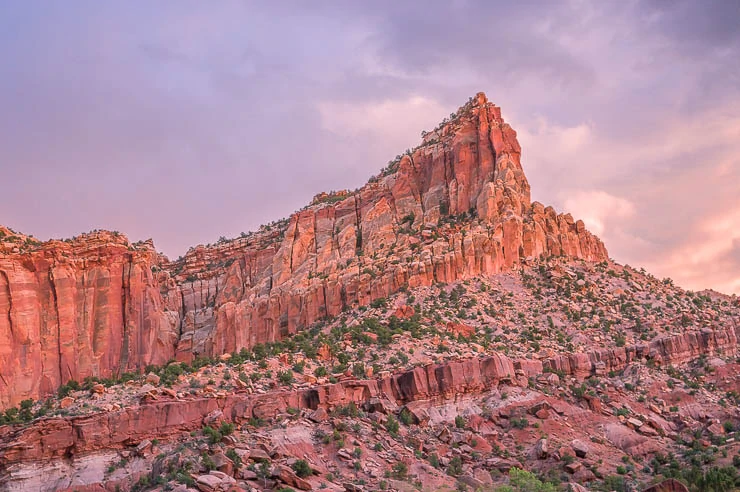 Most people don't realize that Capitol Reef is actually the second-largest park in Utah, not too far behind Canyonlands and much larger than Zion (the third).
Honestly, Capitol Reef is a pretty cool place and it would be the premier destination for most states, it is just that Utah has so much to offer that it remains underappreciated. But if you're on a road trip through the region, you'd be remiss not to dedicate a few days to explore this incredible terrain.
Read Next: One Epic National Park Road Trip
Share This
Did you enjoy this post about the best Capitol Reef hikes? Take a second to share it on Pinterest, Facebook, or Twitter. Thanks!
The following two tabs change content below.