This article may contain
affiliate links
. If you make a purchase through these links, I will earn a commission at no extra cost to you. Thanks!
If you're looking for a little fresh air or adventure while you are visiting Otavalo, Ecuador, then look no further than Laguna Cuicocha, also known as Cuicocha Lake in English.
This little day hike in the north is probably one of Ecuador's best-kept secrets since almost no one seems to do the hike around the entirety. We only saw two or three other couples hiking the day we were there.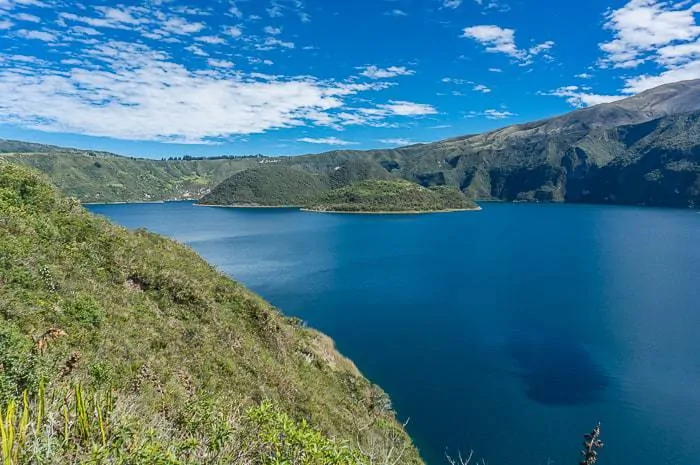 About Cuicocha Lake
Laguna Cuicocha — which translates as the guinea pig lake — sits about an hour's drive northwest of Otavalo, and is a large caldera lake nearly two miles across.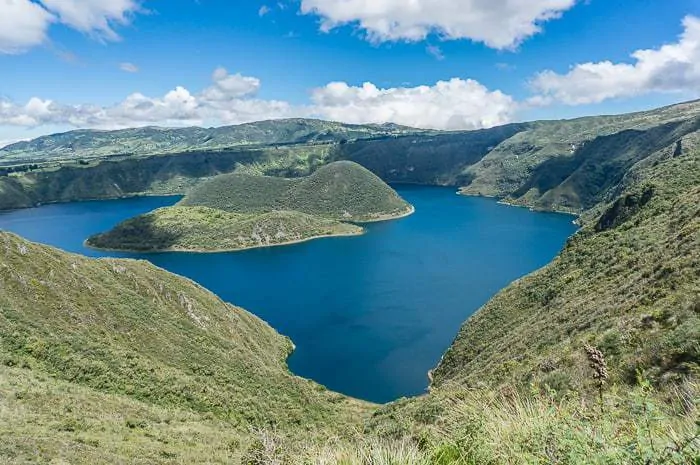 Long ago the volcano erupted, leaving the caldera to fill up with water. The place really reminded me of Oregon's Crater Lake, just on a smaller scale.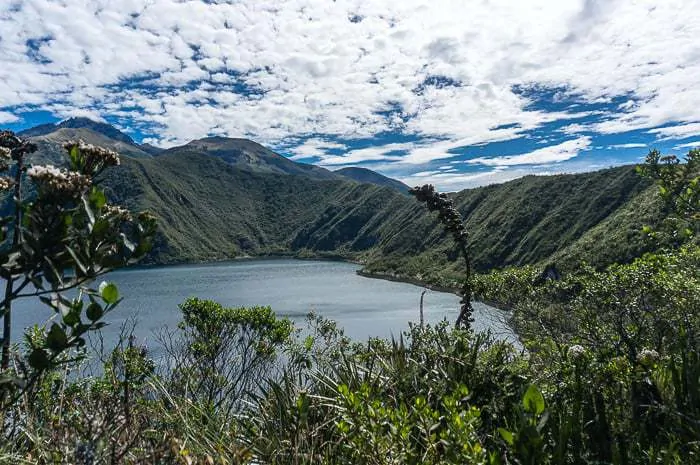 But the blues are blue, and the hike is well worth it. If you're looking for one of Ecuador's best hikes, then look no further than Laguna Cuicocha.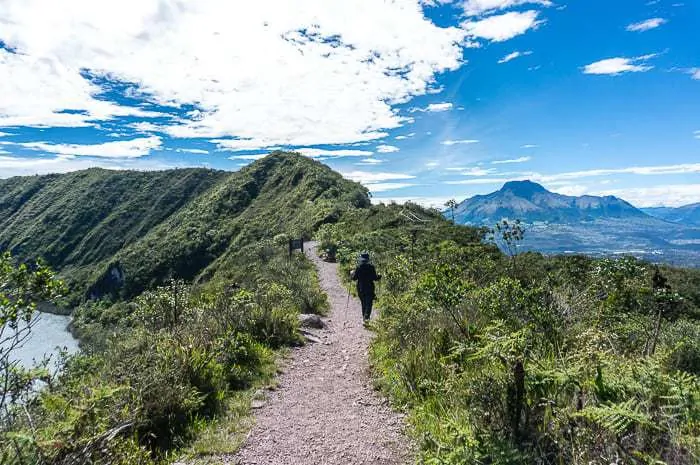 At the center of the lake sits two small islands. One of the stories about why it is called the guinea pig lake is because one of the lakes resembles the shape of a guinea pig or because there were/are actual guinea pigs living on the islands.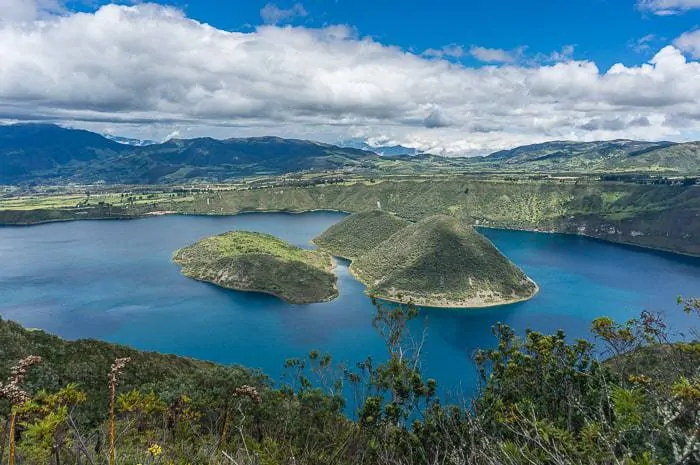 Whatever the story though, beyond the cool name the lake is actually amazingly beautiful.
The view of the surrounding area (including the Cayambe Volcano) is incredible!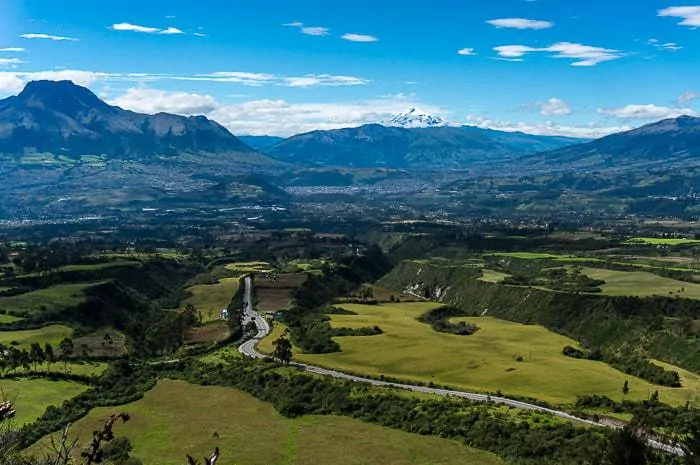 Hiking Around Laguna Cuicocha
In total the Cuicocha Lake hike is about 14 kilometers, includes 550 meters of ascent with a starting elevation of 3,071m, topping out at 3,512m (according to the GPS track).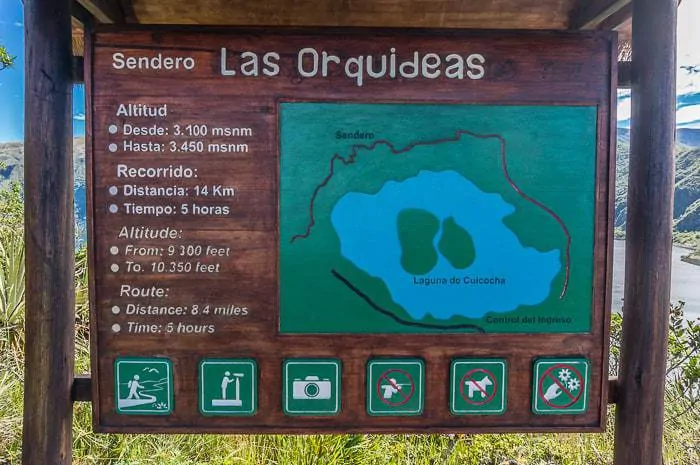 The hike takes about 5 hours to complete the full circle and is an excellent first acclimatization hike if you are thinking about climbing Ecuador's volcanoes.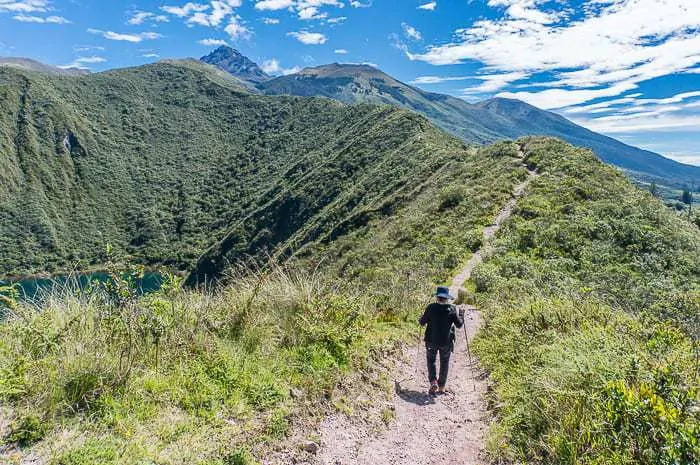 It makes for a perfect day excursion as you hike along its banks and complete the circular hike.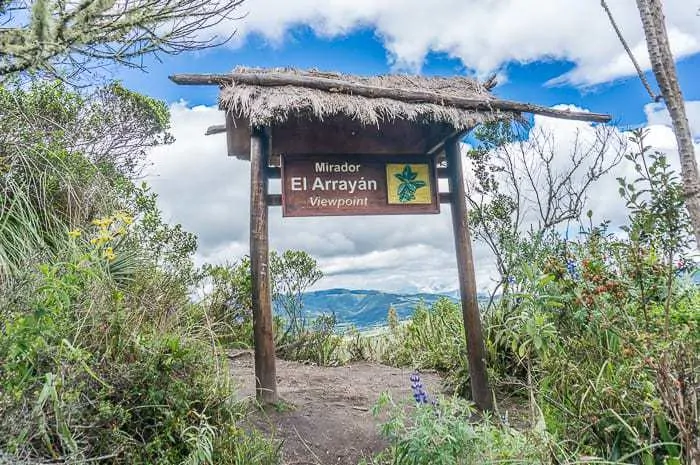 There are guided trips to the lake, but that is absolutely unnecessary. It would be almost impossible to get lost, since you are just hiking around the lake, and the trails are all very well defined.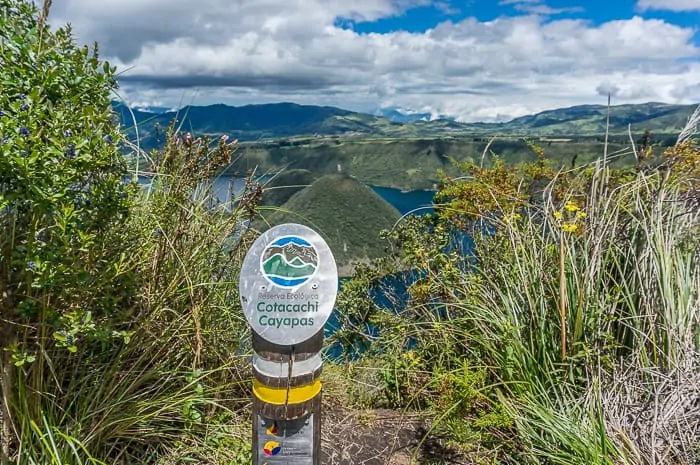 Which Way to Hike Cuicocha Lake?
Since it's a big ol' circle you'll have to decide whether you want to hike clockwise or counterclockwise.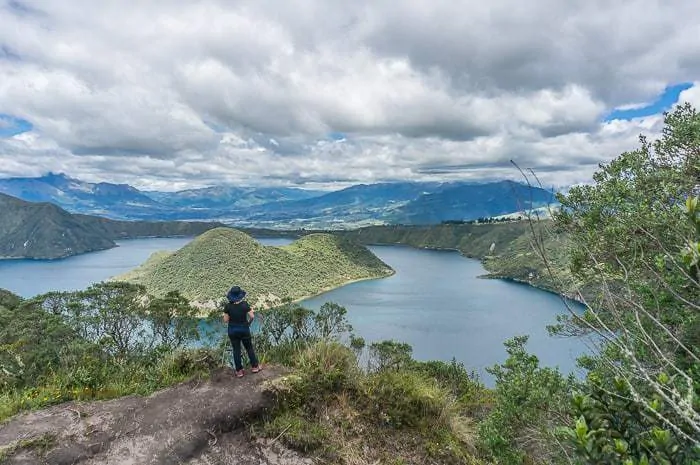 Some old trip reports mention hiking along a road for a section near the visitor's center, but that information is out of date, there is now a trail that completes the loop in its entirety by skirting alongside private property in a fenced-in path.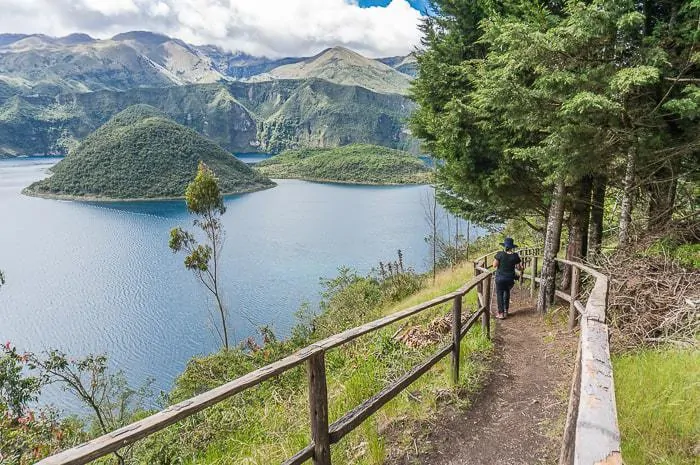 Clockwise: Here you will set out along the visitor's center, walking through some forests and grassy meadows before you drop into a valley filled with vegetation. You'll climb somewhat gradually out of the valley to the highest point before you drop down to the visitor's center.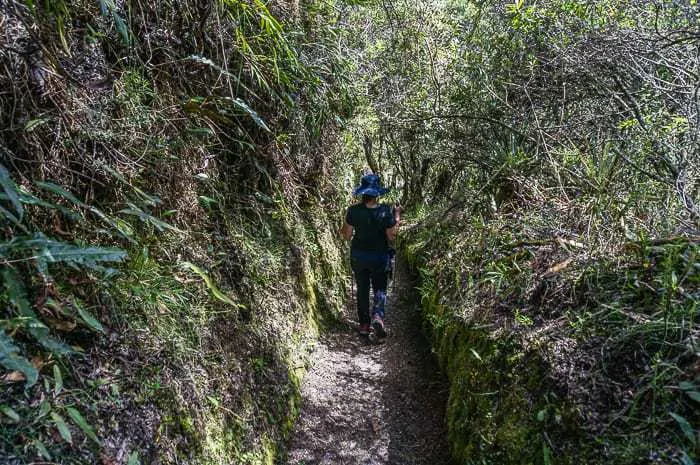 Counter-clockwise: Here you will head off to some of the best views early, and will climb somewhat steeply up and relentlessly up to the highest point. You'll cross the viewing platforms with the best views of the islands, and then cross into the vegetation filled valley before wrapping around to the visitor's center.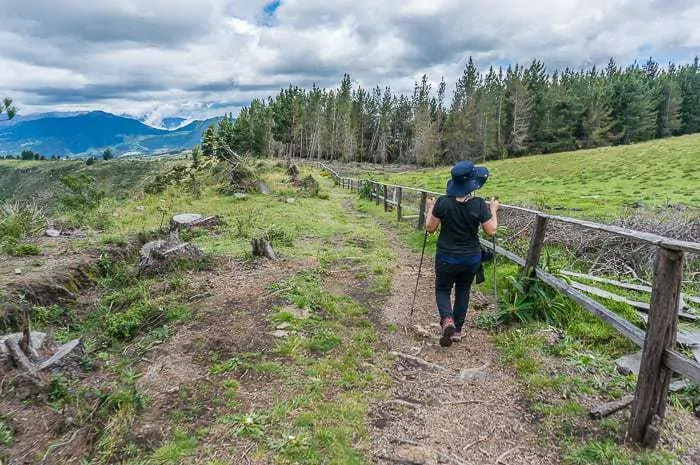 Either way is fine, really. But you can expect a steeper ascent if you go counterclockwise, which is the way we hiked and what I would recommend, rather than the steep descent that is harder on your knees.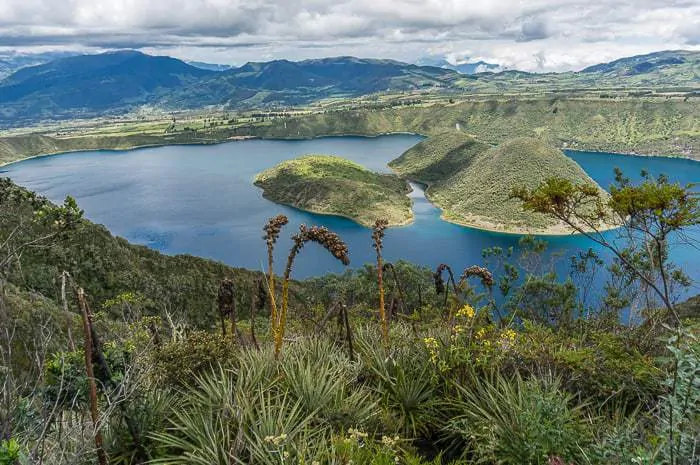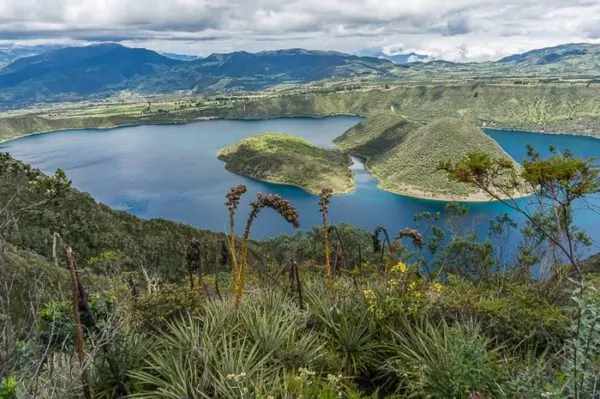 What to bring: you'll need your typical day hiking essentials, snacks, and water. There are a few streams that you will cross, but I'd just recommend carrying everything you'd need for the day. Be sure to bring plenty of sunscreen, the sun is especially brutal along the equator, and at altitude.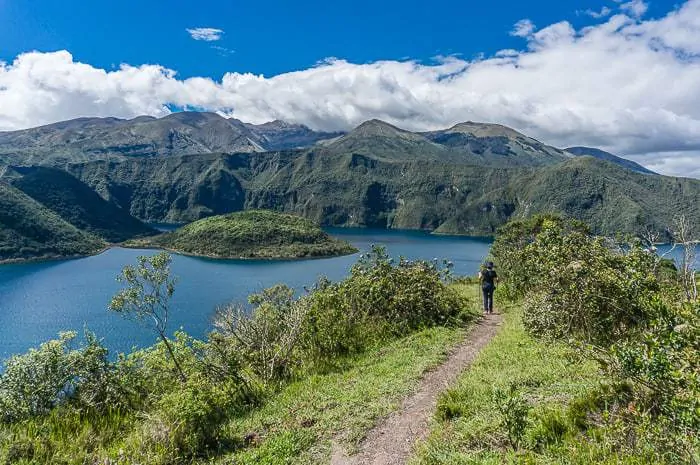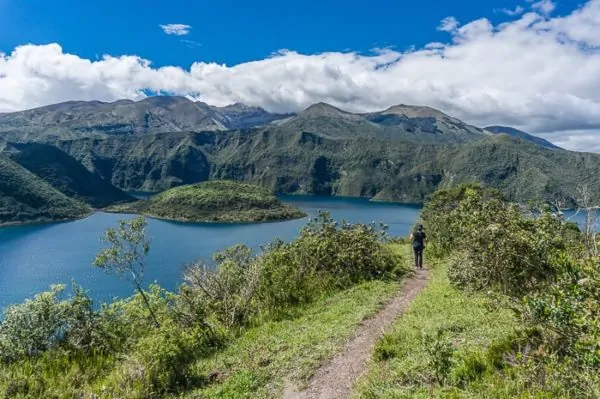 Once you return to the visitor's center, you can hop on a boat tour if you are feeling inspired, and get to take a closer peek at those islands you've seen from every angle.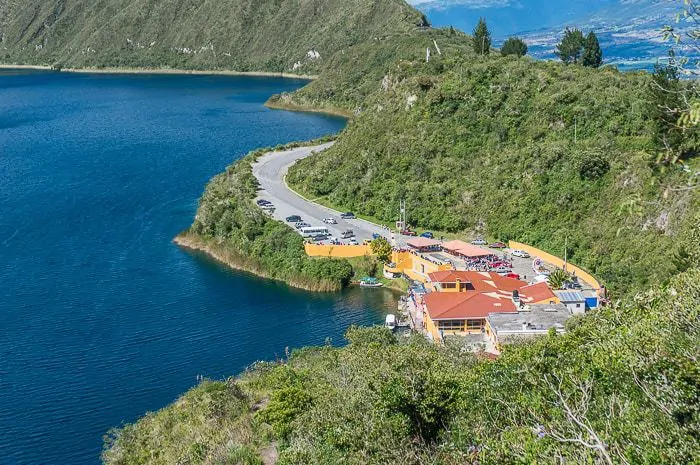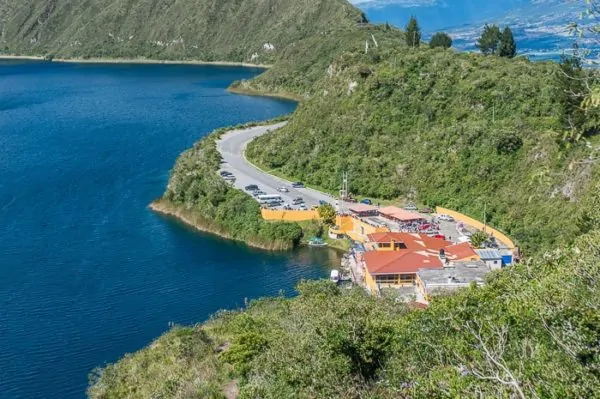 Traveling to Ecuador on your next trip? Book the perfect room on Booking.com today!
Traveling to Ecuador on your next trip? Book your lodging on Booking.com now to save, or if you plan to stay longer, I highly recommend looking for a place on Airbnb. And don't forget to purchase international travel insurance that will help protect you against illness, injury, and theft. I use and recommend World Nomads for its combination of coverage and affordability.
Read Next: Guide to Traveling in South America
Share This
Did you enjoy this post about hiking Cuicocha Lake? Please take a moment to share it on Facebook, Pinterest, or Twitter. Thanks!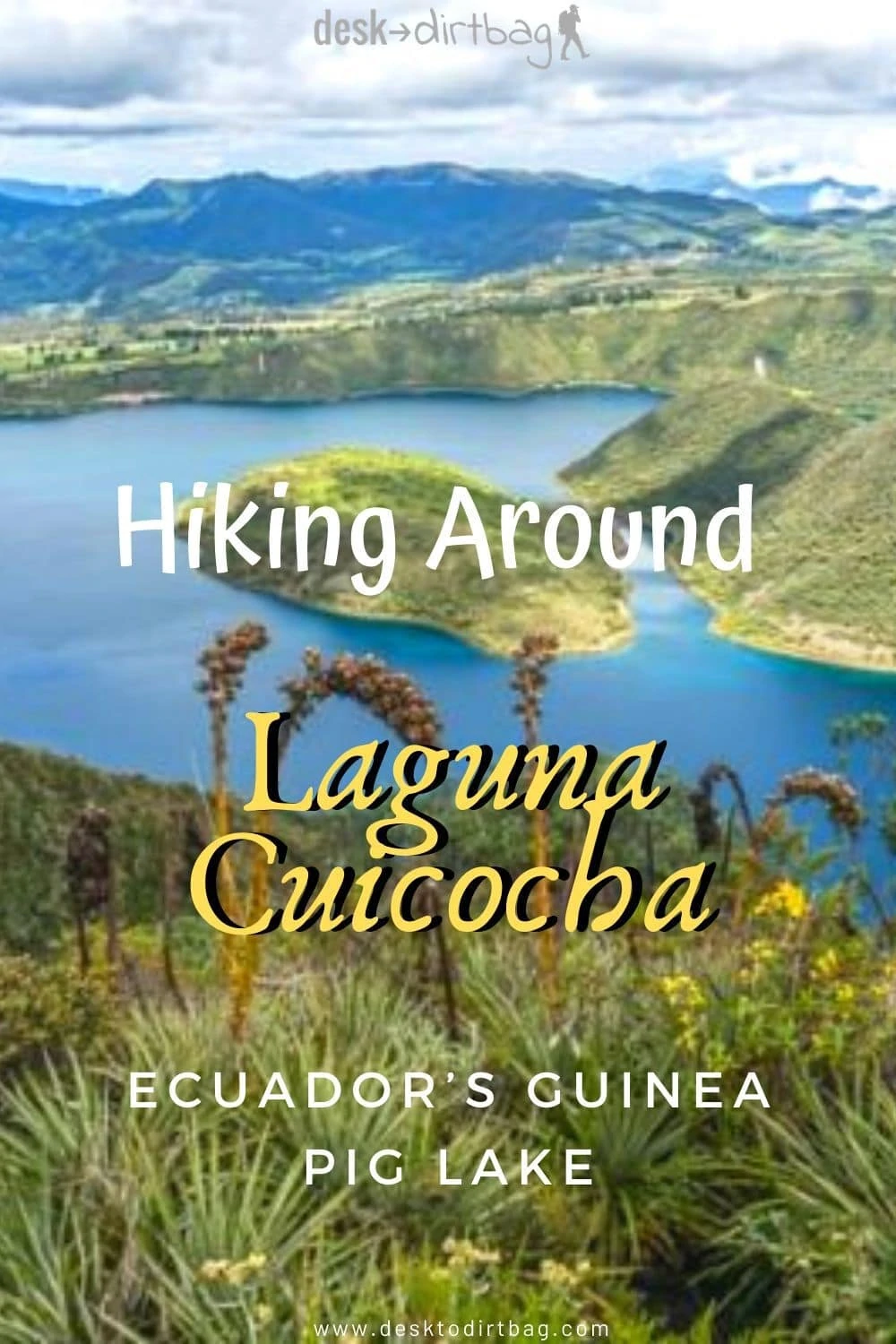 The following two tabs change content below.