This article may contain
affiliate links
. If you make a purchase through these links, I will earn a commission at no extra cost to you. Thanks!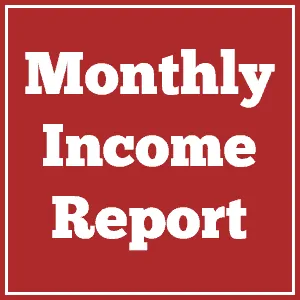 Here's the deal:
Time for another one of my monthly online income reports. I set the goal of earning $1,200 per month exclusively from my website and related projects by the end of the year.
You might be wondering why I share this:
These monthly income reports are meant to hold me accountable to both myself and my readers. They offer a glimpse into the nature of making money through a blog and other online endeavors, as well as my efforts to cover my expenses while traveling in the pursuit of becoming location independent.
On to this month's report…
May 2016 Income Report
Each month I report on what I did well as well as what I could stand to improve on from a financial perspective, as well as a blogging strategy perspective.
What Did NOT Go Well
Work Productivity
As I'll talk about a little later, I headed back to Seattle to visit family for the last part of the month. Of course, that's always a great thing, but that meant my work productivity took a nose dive during that time.
I basically did nothing related to this site except for manage the massive giveaway that I was running.
Of course, having the flexibility in lifestyle to be able to return home for three weeks when I want to is absolutely incredible.
And despite the fact that I didn't do much work, May still ended up being a pretty great month in terms of income… Even a little better than April!
What Went Well
Amazon Affiliate Sales
After having taken a dip through winter and early-spring, my earnings from Amazon.com are back on the rise, thankfully.
Again, I think that's just proving my recent realization that search traffic related to my website is fairly seasonal in nature. Obviously most people in North America do their camping around summer time, and not the dead of winter.
Increased Site Visitation
May was far and away the best month ever in terms of visitorship to the site. April was a record at 39k, then May came along and blew it out of the water with 49k…
Here's to hoping the upward trend continues in June and July…
Full Income Report
-$353.37 – Amazon Affiliate Sales
-$66.32 – REI Affiliate Sales
-$65.26 – Big Travel, Small Budget Kindle sales
-$64.60 – Big Travel, Small Budget paperback sales
-$44.38 – YouTube Videos
-$40.29 – Unconventional Guides
-$8.40 – Go Outside T-Shirts
TOTAL = $642.62
GOAL = $1,200 per month
53% of goal covered
What Else is New?
May was a great month… Not just in income, but in travel!
Like I mentioned, I headed back to the good ol' US of A for a three week visit.
I got a lot of stuff done that I'd been needing to do, like pick up a new driver's license, tabs for the truck, and even canceling my Verizon service and porting my phone number to make a digital nomad phone.
I also went on a bit of a shopping spree in the States to buy things that you just can't find easily or cheaply in Colombia. Silly things like 40oz jars of peanut butter (a two-pack for $10 on Amazon, hah!) and Costco sized boxes of granola bars, to more important things like high quality Patagonia running shorts and a Nathan Hydration Belt.
Read more about my new favorite running gear.
I even got to work in a climb of the 12,281 ft Mount Adams. Oh man it was so great to be climbing up those snowy slopes and camp out in the snow. The weekend we went up had summit temps of around 5-10 degrees with windchill. It was cold!
Then I heard that the next weekend the summit temps were like 60 and people were hiking up in shorts and no gloves, haha.
Flying back to Colombia (which actually was in June) was also AMAZING. I flew back First Class for all three legs of my flight, from Seattle-Chicago, Chicago-Miami, and Miami-Medellin.
Not only did I get incredible in air service–the flight from Chicago was the best, we had those seats that go all the way flat like a bed!–but I also had access to all the lounges in each airport (Seattle, Chicago, and Miami).
I had a red eye flight from Seattle, and got to pop in and shower the next morning in Chicago… Then grab a buffet lunch and free espresso drinks. How awesome is that?
And the whole round trip flight, including First Class, only cost me $117?!
Travel hacking is truly amazing.
That's all I got for you this month.
Are you following me on Instagram or Facebook? Be sure to do so, if you want to get the latest.
If you found this post interesting or insightful please don't forget to Like it, Tweet it, or otherwise spread the word among your social networks. Cheers!
As always questions, comments, and feedback are extremely welcome.
The following two tabs change content below.