If you've been following my blog for any amount of time, you know that I'm all about travel hacking, and making travel more affordable for everyone.
I just bought a ticket back to Seattle from Medellin so I can visit friends and family for a few weeks. It's a LONG trip between South America and the Pacific Northwest. So as you can imagine, it'd be a pretty expensive flight.
But in the end, I paid $117.06 in TOTAL.
That's a round trip flight.
And the return flight is (all three legs of the trip) are in First or Business Class.
That's just mind-blowing, isn't it?
One of the biggest obstacles stopping people from traveling long-term is that travel is "expensive".
But it certainly doesn't have to be expensive.
Don't miss the FREE printable travel hacking tips at the end!
Fly Around the World
In my book Big Travel, Small Budget, I talked extensively about travel hacking, and also told the stories of some fellow travel hackers like my friend Katie.
Thanks to travel hacking and airline mileage rewards programs you can fly around the world for pennies on the dollar. Literally.
Last year Katie used her airline miles to book a trip around the world through six city tour across Europe stretching between Madrid and Zurich, and another 12 city tour through the Middle East, India, and Eastern Asia. For less than $600 (the cost of some round trip domestic flights in the USA), she was able to travel around the globe and visit a dozen countries.
That is just awesome.
My plans aren't quite as exciting, but it's definitely time to head back home to Seattle for a visit after being on the road for more than a year… We left Seattle at the end of April last year, and left the United States at the end of June.
I'm looking forward to some delicious Seattle teriyaki, hanging out with friends and family, seeing Mount Rainier (hopefully) and the beautiful Puget Sound.
Travel Hacking
So how did I actually get the flight for $117.06?
It's all through airline mileage reward programs. I had a bunch of miles through Alaska Airlines thanks to prior credit card bonus offers.
I talk in detail about these offers in the book, but they don't cost you anything additional out of pocket… You are essentially rewarded with free mileage. Promos vary all the time, but many are sufficient for at least one or two domestic round trip flights, or at least one international round trip flight.
This particular flight end up costing my 52,500 miles and $117.06.
Similar flights for those same dates were at minimum $650 round trip to Seattle. So I save more than $500 out of pocket. Always a nice thing!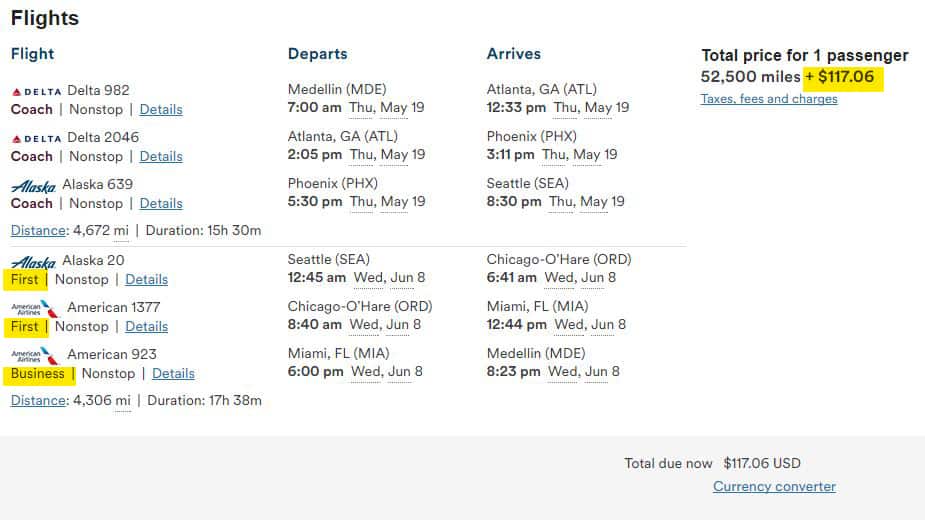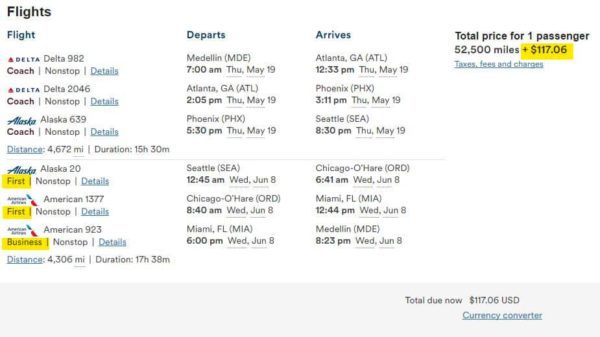 Cost Per Mile
The cost per mile on this flight ($650 / 52,500) equals 1.2 cents per mile, which is a decent rate of redemption. If it's at or below 1 cent per mile, it is usually better to just purchase the flight in cash rather than use miles. The higher the cost per mile, the more valuable your redemption is.
But this was a flight that I needed to take, so I was just happy to save a huge chunk of change.
And in reality the cost per mile is much, much more valuable given that my return flight is First Class and not Coach.
First Class
Even more incredible is the fact that the entire return trip is First Class! I've only ever flown first class once before when I was upgraded, so it will be a fun experience to be up there with the high rollers…
I'll be the poor guy who sneaked in by spending 7,500 miles more on the return flight (30,000 for First Class, instead of 22,500 for Coach).
Traveling in style, and traveling for cheap? Some people think it's impossible, but they just haven't figured out the tricks of the trade yet…
If you're interested in getting started with airline travel hacking be sure to check out my Amazon.com best-selling book Big Travel, Small Budget: How to Travel More, Spend Less, and See the World. It has over 100 reviews now with a 4.6 star average (out of 5).
I promise it will change your perspective on how much travel costs. I also go in depth on three other big money saving travel strategies that I've personally used in my perpetual travels.
Get the Book
Big Travel, Small Budget: How to Travel More, Spend Less, and See the World is available from Amazon.com in both paperback and Kindle editions. More than 100 reviews with a 4.6 star average.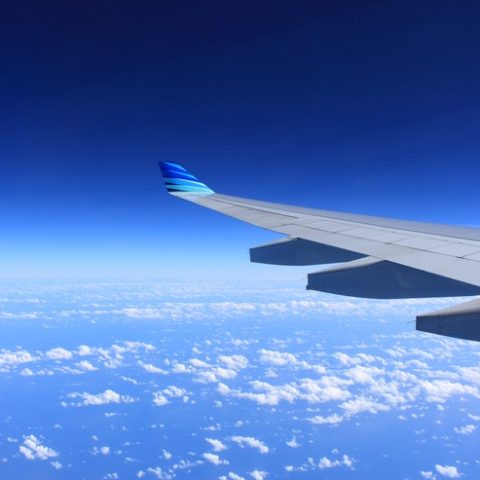 Get Started Travel Hacking
Travel hacking is quite simply the best way to reduce your travel expenses, travel on a budget, or even just to take a free vacation every year.
Tools
Travel Hacking Credit Cards
Stay Organized
Learn More About Travel Hacking
Instructions
You should already have a good handle on the fundamentals of personal finance, including not carrying a balance on any consumer debt before you get started. Free travel via travel hacking ONLY makes sense if you aren't paying high interest to get it!
Identify your travel goals and timeline, including whether you are targeting free flights or free hotel stays to start with, what airline network best services either your local airport or your dream vacation.
Find the best credit card for travel hacking that will help you meet your goals. I love the Barclay AAdvantage, Chase Sapphire, and Chase Marriott Rewards cards.
Apply for your credit card before any big expenses (existing travel, electronics, auto repairs, taxes, etc) and put all of your recurring bills or other expenses onto the new card. Read more about credit card minimum spend tricks.
Put a note on your calendar 11 months from now about the upcoming annual fee, this will ensure that you can call to either cancel or downgrade the card before the fee hits. I use Google Calendar for this.
Sign up for Mint.com to track your spending on this new credit card to ensure that you meet the minimum spend. Mint is also a great way to help manage your personal finances in general.
Join Award Wallet to keep track of your points and miles across all loyalty programs to ensure that you don't forget about them and accidentally let them expire.
Keep maximizing your point earnings by joining airline dining programs, using the airline shopping portals, and double dipping on points by buying gift cards for upcoming purchases.
Enjoy your travel hacking lifestyle and the ensuing free vacations! WARNING: it will make you NEVER want to pay full price again in the future.
Notes
I hope this helped you get started travel hacking! I know it can be confusing when you are just getting started, which is why I started writing so extensively about it!
If you have any questions about travel hacking, budget travel, or anything else shoot me an email at ryan@desktodirtbag.com.
(I love getting questions! That is how I get ideas for my blog posts and what to write about!)
Recommended Products
As an Amazon Associate and member of other affiliate programs, I earn from qualifying purchases.
The following two tabs change content below.