This article may contain
affiliate links
. If you make a purchase through these links, I will earn a commission at no extra cost to you. Thanks!
When I first set on my epic west coast USA road trip, exploring the great outdoors, every once in a while I would drive past a minivan with the words Semi-Rad plastered prominently across the side. the van was always empty and at a trailhead somewhere as Brendan Leonard was always off somewhere doing awesome stuff.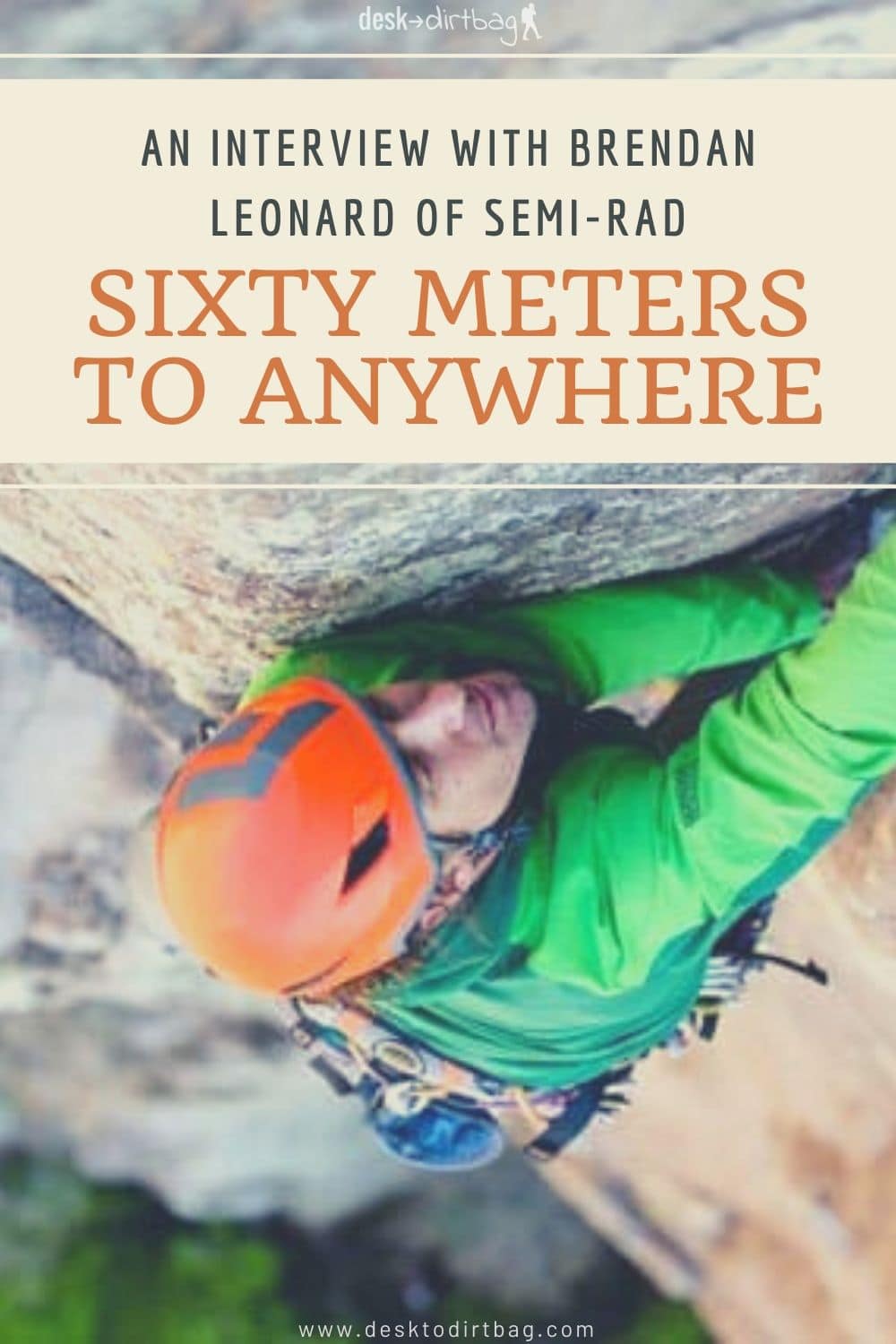 Beginning in 2012, Brendan spent nearly three years living in a van, bouncing around the west, exploring the great outdoors, and working remotely. His first book, the New American Road Trip Mix Tape shares some of those early adventures on the road.
Brendan was one of the folks that I followed while I was stuck working at a desk, and one of those who inspired me to get out there and explore the country as well.
His book, Sixty Meters to Anywhere, is a heartfelt memoir about his journey from alcoholism and rehab to the sharp end of a climbing rope and tells the story of what initially led to his love for the great outdoors.
Brendan is an incredible storyteller, and I'd highly encourage you to pick up a copy for yourself, as he takes you along on his journey of redemption through the American West. And of course, check it his humorous and insightful website, Semi-Rad. I was pretty stoked to be able to interview Brendan about his adventures, life, the new book, and more… Check it out!
Brendan Leonard of Semi-Rad
Ryan: The restorative nature of the American West, specifically Montana and Colorado, are featured prominently in your new book. What was it about heading west that had such a powerful impact on you?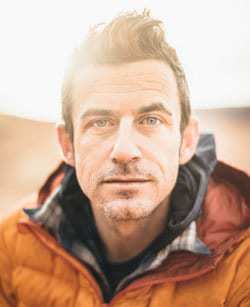 Brendan: I have joked that paying out-of-state, graduate school tuition at the University of Montana was worth it just to get me out to the western United States—but that's actually true in a lot of ways.
I think there's always been this "go West" mythology in the U.S., that it's a good place to reinvent yourself, whether you were Jeremiah Johnson, the folks on the Oregon Trail, or people today who go out and live in their cars and see all this beautiful open space.
Personally, though, I needed something else after I got sober. Sober is one thing you identify with, but I knew it couldn't be the only thing. And I kind of just gradually got into the mountains, until I did enough climbing that I found a new identity—being a climber. Which became this incredibly formative thing in my life.
You are perhaps best known for your humorous insights about the outdoors and life in general, though your book Sixty Meters to Anywhere is more serious and reflective writing that details your struggles with alcoholism and beyond. How hard was it for you to share so openly those things you aren't you proud of?
I always looked at the book as the one story I could tell that had the potential to help people.
It's great to make people laugh, but I saw the Sixty Meters to Anywhere story being this narrative that could show people that life isn't perfect, and that change is one of the hardest things in our lives, but if you can find the courage or grit or whatever it takes to make a big change in your life, it can sometimes have this incredible, beautiful outcome.
Which is how I see my story. I'm not a super-big-deal outdoor writer, but I get to make a living working for myself telling stories about adventure. And that's a really special thing for a person who came from a really small town in the flatlands and made some terrible decisions early in life.
So I guess the short answer is that it wasn't hard at all—I wanted to get it out there for anyone who's struggled with something, and hopefully, they could read the book and say, "If this guy could get his shit together, anybody can." And maybe change something in their life.
What has been the biggest surprise or happiest moment for you since publishing the book?
I moved away from Iowa in 2002 and really haven't been back much since. My parents left the town where I graduated from high school, so I haven't been in super-regular contact with folks from my hometown.
But a number of people from my hometown—high school classmates and friends I haven't seen in years, friends' parents, and other people—have read the book and reached out to tell me it resonated with them. And that's been a really pleasant surprise for me.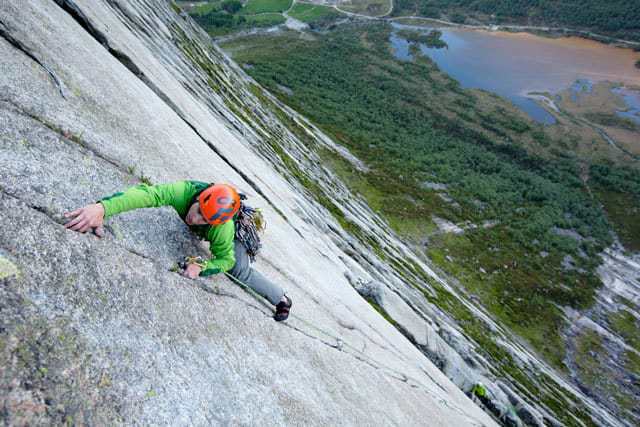 In the book, there's a scene where you're climbing your first mountain, Borah Peak, and how that was a big moment in your new outdoorsy lifestyle. Can you tell us about another one of your more recent memorable climbs and what made it so impactful?
I just climbed and skied Mt. Adams in Washington back in June in a day, and it was at the end of a really hectic and exhausting week, and I wasn't sure I'd be able to do it (or even get up at 3:20 a.m.).
Plus I haven't done very much backcountry skiing, and I don't think I'm that good of a skier. But we skinned up Adams, my first volcano, and then skied this perfect 4,000-foot-long 35-degree chute, and I have been telling people it was "no shit, the ski run of my life."
So that's just totally opened my eyes to how fantastic that type of skiing can be.
Which book have you gifted or recommended most to others besides your own and why?
I've been buying tons of friends copies of this book of short stories by this Irish writer Kevin Barry, called There Are Little Kingdoms. It's so brilliant, funny, and just blew my mind when I read it this past January.
I've also been recommending Marlon James' A Brief History of Seven Killings, but it seems like one out of every four friends of mine can get through the first 100 pages.
There's a lot of Jamaican patois, and I don't have a hard time understanding it, but I think it's hard for a lot of people. I want to tell them "stick with it, the book's amazing!" But I don't know if that's working or not.
Your site, Semi-Rad, shares an enthusiasm for "adventures for the everyman and woman," but in a world where virtually every adventure has already been done before, whether that is biking across continents, climbing mountains, or whatever else, what is the role of "adventure" in the personal, everyday lives of individuals? What does adventure mean to you and what role does it play in your life?
I interviewed my dad for a Dirtbag Diaries podcast back in 2009, and he had this great line he said: "I grew up poor and had nothing. Everything I did in my life was an adventure." I love that sentiment.
Everyone's going to have a different definition of adventure, and everyone's going to have a different scale of adventure. I don't get too hung up on what it is, but I really like challenging myself in my spare time, whether it's a one-day outing in the mountains or a trip to a new country.
I think personally, I always want to be having new experiences, and some weeks the biggest "adventure" I have is going to try a new pizza joint a couple of miles from my house. Some weeks, it's trying to run farther than I've ever run before, or climb something really difficult. But I gravitate toward new experiences more than anything else.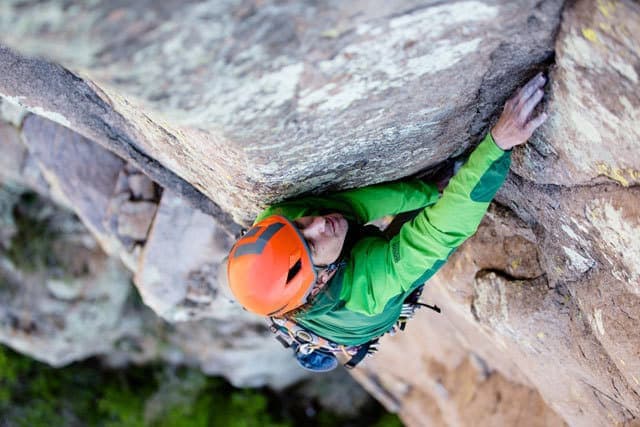 You are "living the dream" in the eyes of many young people who love the outdoors, tell me more about how it felt when you made the transition into full-time freelance writing and traveling. And what advice would you give someone considering going down that road now?
I graduated with a master's degree in journalism in 2004, and one of the freelance writers who came to my magazine writing class said, "to be a successful freelance writer, you either have to have an understanding spouse with a good job or a trust fund."
I had neither of those things, so I worked full-time jobs for almost eight years before I drummed up enough freelance work to make a go of it.
The first few months I was about 45% sure I'd made the right decision to leave my cushy job with health, vision, and dental insurance, but a year into it I was fine.
I definitely don't think I've "made it," (somehow I think when you "make it" you work a little less and get bigger checks in your mailbox?), but I do get to create things full-time for a living, and that's a really special thing.
Advice? There's a lot of things people think about nowadays, trends, what platform is best, are blogs dead, Instagram Stories vs. Snapchat, et cetera, et cetera. I would say if you want to create something, just try it and see what happens.
Start a blog, or start shooting photos, or making films, or whatever it is that catches your interest. I think you've done a great job with Desk to Dirtbag and Big Travel, Small Budget experimenting and figuring out what works for you and what works for your readers.
No one out there who's making a living doing creative work got permission from someone to do it—they just started trying.
Can we expect another book from you in the near future? What goals do you have for yourself either personally or professionally in the next few years?
I actually have two books coming out in the near future: One is a quick book on creating that I'm going to self-publish in November, called "Make It Till You Make It."
The other one is called "The Great Outdoors: A User's Guide," and it's being published by Artisan Books next spring. It's a humorous-but-useful intro to everything in the outdoors, from canoeing to ice climbing.
My friend Seth Neilson illustrated it and I'm psyched to see the final version in the next few months.
Other than those, I have some other film projects I'm working on, and after this book tour for Sixty Meters to Anywhere is over, I would like to go on a trip and do something, you know, adventurous. But I'm having a blast this year.
Sixty Meters to Anywhere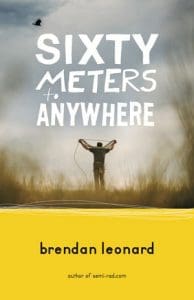 Thanks so much to Brendan for taking the time to chat with me!
I recently finished reading Sixty Meters to Anywhere, and I really did love the book, and highly recommend it to anybody who loves the outdoors or just loves listening to a good storyteller.
Sixty Meters to Anywhere was also announced as a finalist in the Mountain & Wilderness Literature category for the 2016 Banff Mountain Book Competition.
You can purchase Sixty Meters to Anywhere from Amazon.com in paperback or Kindle.
If for some reason you aren't already, be sure to check out Semi-Rad.com and give Brendan a follow on Facebook, Instagram, or Twitter. Photos courtesy of Brendan and Forest Woodward.
Read Next: Must Read Mountain Climbing Books
Like This? Share It.
Did you enjoy this interview with Brendan Leonard about Sixty Meters to Anywhere? Take a second to share it on Facebook, Pinterest, or Twitter. Thanks!
The following two tabs change content below.