This article may contain
affiliate links
. If you make a purchase through these links, I will earn a commission at no extra cost to you. Thanks!
Virginia is often overlooked when it comes to the great outdoors, but there are some truly incredible hiking and backpacking opportunities in the state and the Virginia Triple Crown is among the best — check out my list of the top six hikes in Virginia, as well.
The Triple Crown is a 37-mile backpacking loop that includes three of the iconic vistas — McAfee Knob, Tinker Cliffs, and Dragon's Tooth — along the Appalachian Trail near Roanoke, Virginia.
Indeed, McAfee Knob is one of THE most iconic shots along the entirety of the AT, with the rock ledge jutting out into the sky.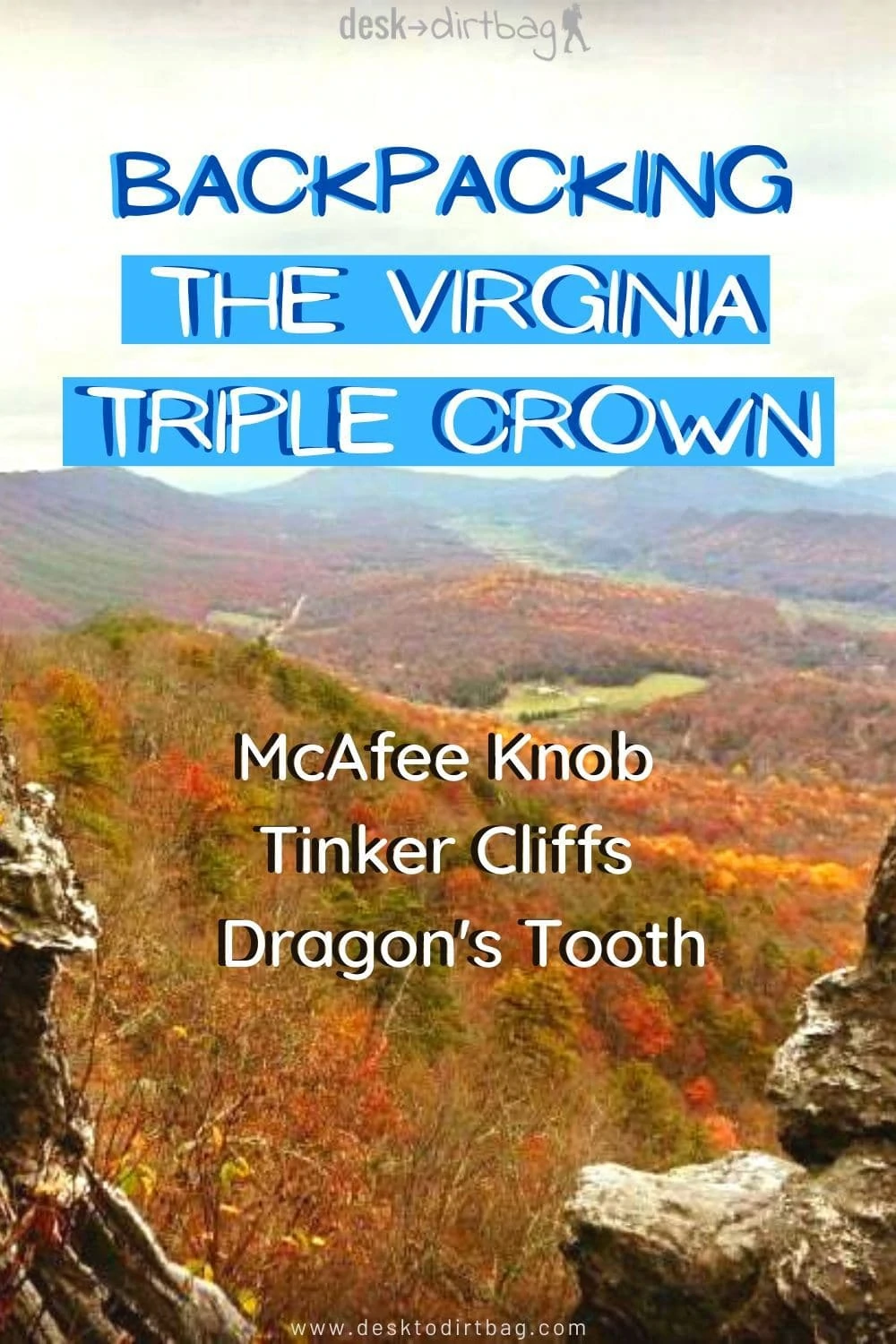 Backpacking the Virginia Triple Crown
Four of us from the DC UL Backpacking group set out Friday night after work for the four-hour drive down to southern Virginia. It's a long haul, but I really wanted to check out these classics before I left Washington, D.C. and set out on my massive road trip.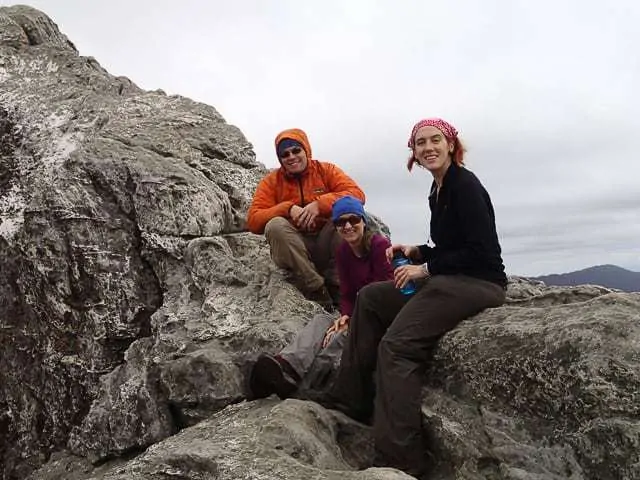 With a quick stop for a four-star dinner at the Sheetz gas station, we made it to the trailhead (311 / Catawba Valley Dr) around 10 pm.
From there we headed off in the dark to cover the first couple miles and set up camp near the Catawba Mountain Shelter on the way to McAfee. I decided to just cowboy camp with an open bivy since we'd be there so briefly and I wasn't expecting rain.
We were up bright and early at 6:00am for the pre-dawn hike up to McAfee Knob so we could catch a spectacular sunrise—unfortunately, just moments after we set off on the trail it began to rain…
Cold, rainy, dark… Ideal hiking weather!
McAfee Knob
We pressed on in the hope that it would just be a quick passing storm. We arrived at McAfee Knob with another 20 minutes or so before sunrise—and while it was totally clouded in, we still debated about whether or not to stick around.
You never know, inclement weather can provide either a super-spectacular sunrise or a total let down. We were getting chilled waiting on the blustery overlook and opted to continue down for a mile or so to the next shelter (Campbell Shelter) where we could have our breakfast and coffee.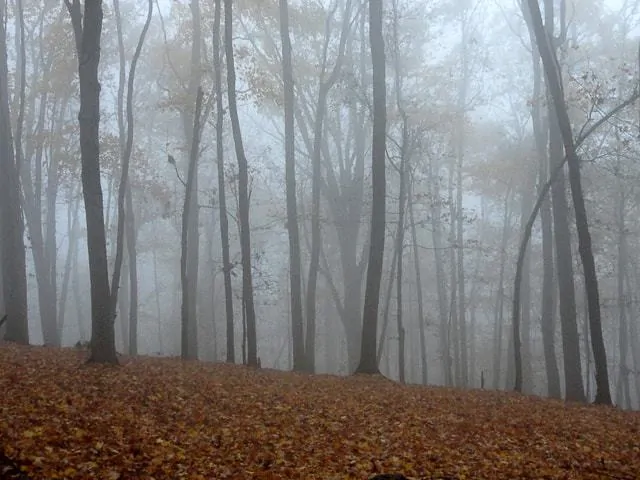 As we hid out under the little three-sided shelter for breakfast the rain began to let up, thankfully.
We were bummed that we didn't get the awe-inspiring sunrise that we hoped for on McAfee, but that's mother nature for you; we still hoped the day would break in our favor as we pressed on to Tinker Cliffs.
Tinker Cliffs
We pounded out the next couple miles in good form, ascending steeply at times up to the Cliffs. Unfortunately, the clouds were still totally enveloping us at this elevation and all we had were thick pea soup views.
It was somewhat eerie and enchanting though, I must say; to have these cliffs completely obscuring the ground and leaving it to one's imagination as to what was beneath the veil.
Despite the lack of a view we still hung around the Cliffs for awhile for a late morning snack before continuing on to Scorched Earth Gap and then beginning our descent into the valley via the Andy Lane Trail.

Back in the valley, we got the feeling that the weather was beginning to break. We topped off our water supplies since this was our last source for the day—we'd be camping high on the North Mountain Trail ridgeline later.
We proceeded across the valley, through pastoral and idyllic farmlands, ascending up and over makeshift staircases to get through the farmer's barbwire fences. At times it felt slightly reminiscent of a Spartan Race or Tough Mudder—who has to clamber over barbwire on a backpacking trip?
After crossing the valley floor we arrived at the blue-blazed Catawba Valley Trail which had signage indicating it was "Most Difficult". It offered a sustained, yet moderate, 1,100 or 1,200 foot climb up to the ridge proper. It was a nice climb.
North Mountain Trail
You arrive at the junction with the North Mountain Trail, which we'd be taking southbound. The North Mountain trail is spectacularly situated on the crest of the ridgeline and throughout much of it offers outstanding views on both sides of the trail (at least when the leaves have dropped).
Parts of the ridge are nearly knife-edged—I'd love to see this area in the dead of winter with significant snow.
The ridge undulates up and down—nothing too big or too steep, but I'm sure there is a significant accumulation of elevation throughout. We finished off the majority of the ridgeline before finding a nice campsite just past the intersection with the Grouse Trail.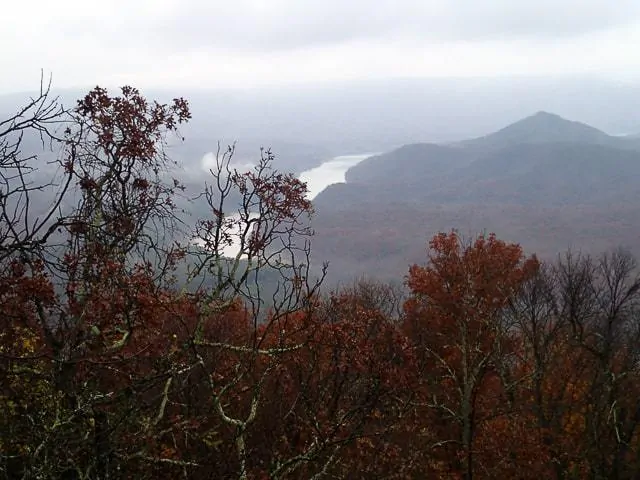 There was plenty of space for both Michael and I's Trailstars (MLD) and for Sharon to MacGyver a shelter with her rain fly (she forgot her tent poles at home). Ample firewood was available nearby—it was apparent that this section of trail isn't nearly as popular as the AT on the neighboring ridge.
Sunday morning we aimed to hit the trail by 7:30 am. We still had a long day ahead of us… Indeed, we thought the whole loop to be 35 miles, but it turned out to actually be 37, making for an extra hour on the trail today.
We continued along the North Mountain Trail for a few more miles of amazing scenery before descending steeply down to the road. Here we arrived at the parking lot for the third peak of our Triple Crown, the Dragon's Tooth.
Dragon's Tooth
It's only two and a half miles from the parking lot but there are all sorts of ominous warnings to discourage the unprepared day hiker from attempting it (good hiking boots or broken ankle, high-end rain gear or hypothermia—oh no, I have none of these!).
The first mile and a half climbs moderately out of the valley and then reconnects with the AT, from there the last bit turns a little hairier with moderate third and maybe fourth class rock scrambling.
It is the most precarious section of the AT that I've ever been on; they've even installed some metal rungs to provide footing in certain places.
As a climber, I found it quite fun and didn't feel encumbered by my light pack or trekking poles, though I did stow the poles toward the end.

Eventually, you top out on the ridge at the intersection with a short side trail off the AT to the Dragon's Tooth proper. There is one large flat area where people obviously camp and a wide rock notch with views down the valley and back toward McAfee Knob.
You can easily clamber up to the top of the rocks for an even more spectacular view.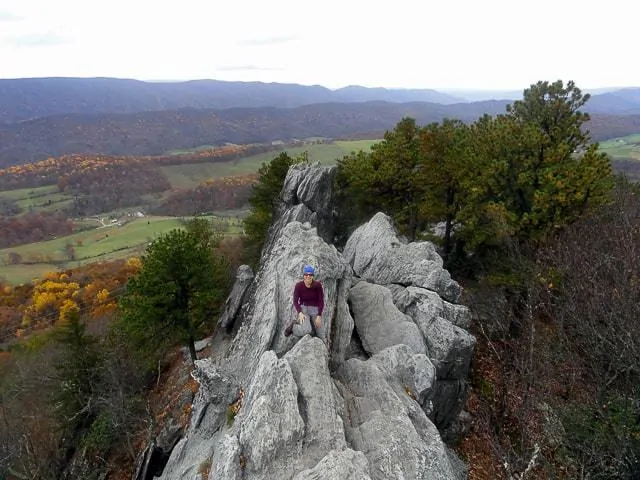 It was still overcast today but the view was absolutely worth it—especially after getting shut down at McAfee and Tinker. The leaves were past their peak, but there were still some vivid yellow leaves at the bottom of the valley.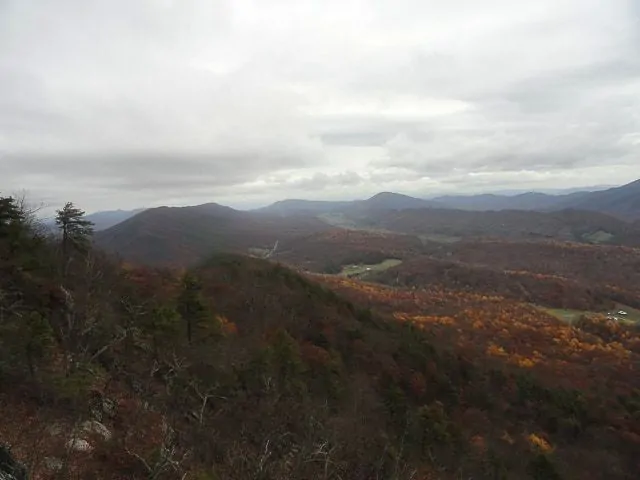 The Long Walk to the Car
We descended back down the scrambly portion of the AT, having to backtrack for a period before gaining new ground on the AT. We would stick to the AT northbound which would take us back to our car at 311.
We still had about 7.5 miles to go from the Dragon's Tooth.
We descended back in the valley once again—crossing pastoral farmland and ascending up and over numerous barbwire fences.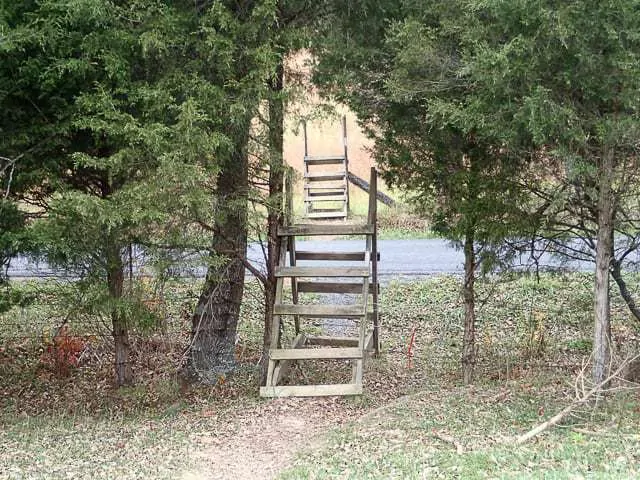 I would guess that this sort of scenery isn't something the most weekend hikers see and is probably more familiar to thru-hikers or section hikers.
We then ascended back up to the ridge and cranked out the last four miles or so along the undulating ridge.
The topo certainly doesn't suggest as much elevation gain and loss as there actually is, making for a sometimes slow going and trying affair after you've already walked 32 miles in the past day and a half.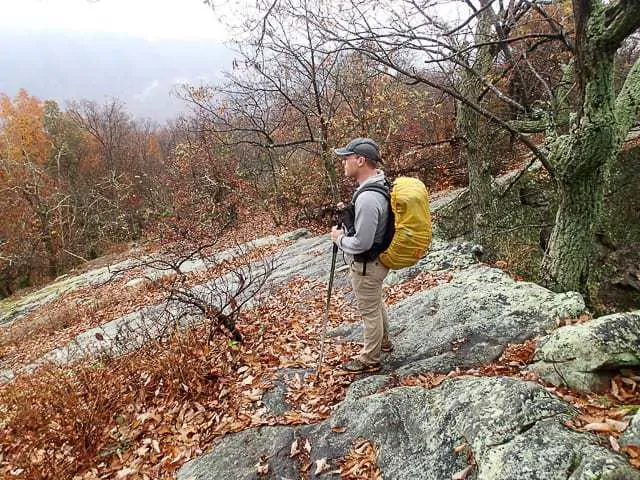 But then cresting over a hill you spot it, that beacon of hope, the cotton clad day hiker without so much as a water bottle…
You're close, real close.
Up and over another hill—there's a young couple with a kid.
And another hill—an older couple taking in the view.
The parking lot and car can't be far beyond now. Plodding on you keep a mental note of how many day hikers you've seen up until now, and then rounding a bend you spot the vehicles…
37 miles down in a regular two-day weekend… Good times, but now I'm just looking forward to the post-hike restaurant and the drive back.
The Virginia Triple Crown
Virginia's Triple Crown is most assuredly a pretty cool hike…
It's hard for me to really speak about the views since we only got one of the three vistas, but that one vista was really awesome, and I've seen pictures of the others so I think they'd be worthwhile as well.
The Triple Crown features the supposedly three best views on the AT in Virginia, and our hike combined all three vistas into a pretty large and ambitious loop — it is certainly among the best hikes I've done in Virginia.
We did it over the course of a normal two day weekend (Friday night to Sunday) with a 2 mile / 20 mile / 15 mile split.
But you could probably break it up over a three day weekend to resemble something like a 10/15/10 split.
There is a significant amount of elevation change (gain/loss) throughout the course of this loop, so it isn't for the faint of heart.
You will work hard but will be rewarded with (weather cooperating) outstanding views and, excluding the popular parts of the AT, pretty quiet trails.
This area provides a plethora of options for amazing day hikes, as well. Check out my guide to the day hiking essentials you'll need on your hike.
Map of the AT Triple Crown Loop (37 Miles)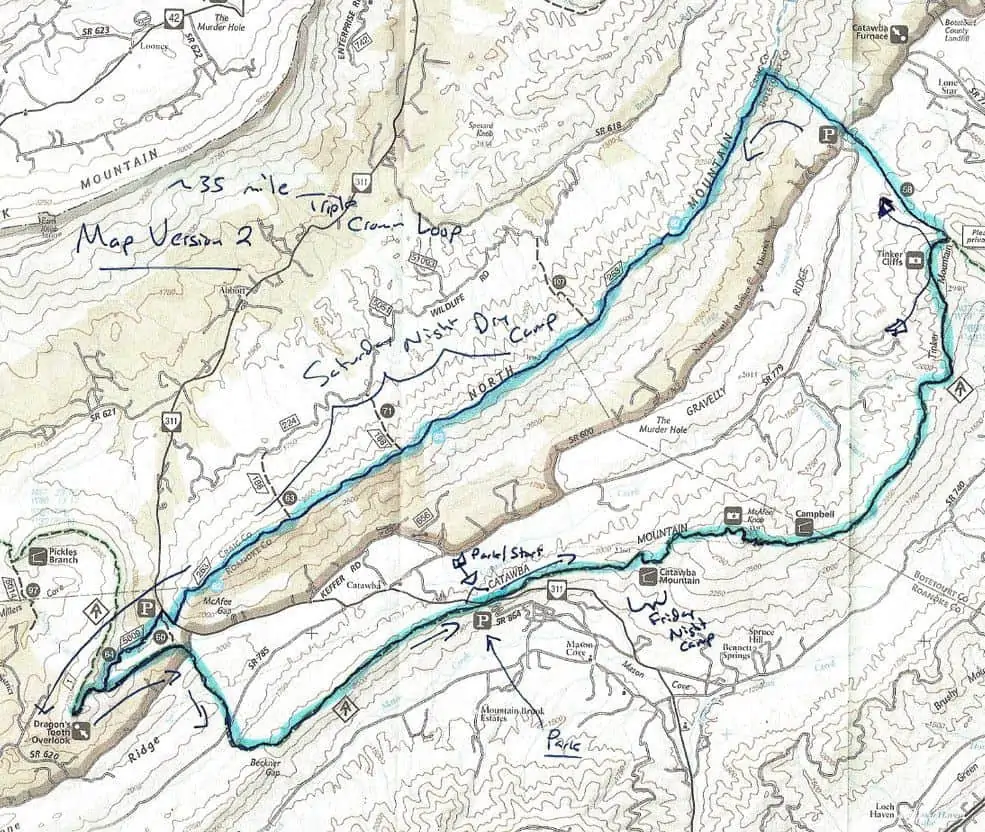 Warning: This trip and mileage is outlined for ultralight backpackers, if you need help dropping weight from your pack I highly, highly recommend reading Andrew Skurka's Ultimate Gear Guide and the awesome (and animated) Ultralight Backpackin' Tips from Mike Clelland.
I would not recommend a loop of this nature for traditional backpackers in the 30-40lb pack weight range. Less is more.
Read next: The Best Hikes in Virginia for Backpackers.
Be sure to check out the comments below for additional information and contributions from readers!
Share This
Did you enjoy this post about the Virginia Triple Crown Loop? Take a second to share this on Pinterest, Facebook, or Twitter. Thanks!
The following two tabs change content below.