This article may contain
affiliate links
. If you make a purchase through these links, I will earn a commission at no extra cost to you. Thanks!
One of my most frequently received questions via this blog is "How much money do I need to be able to dirtbag across the country on a climbing road trip like you did?"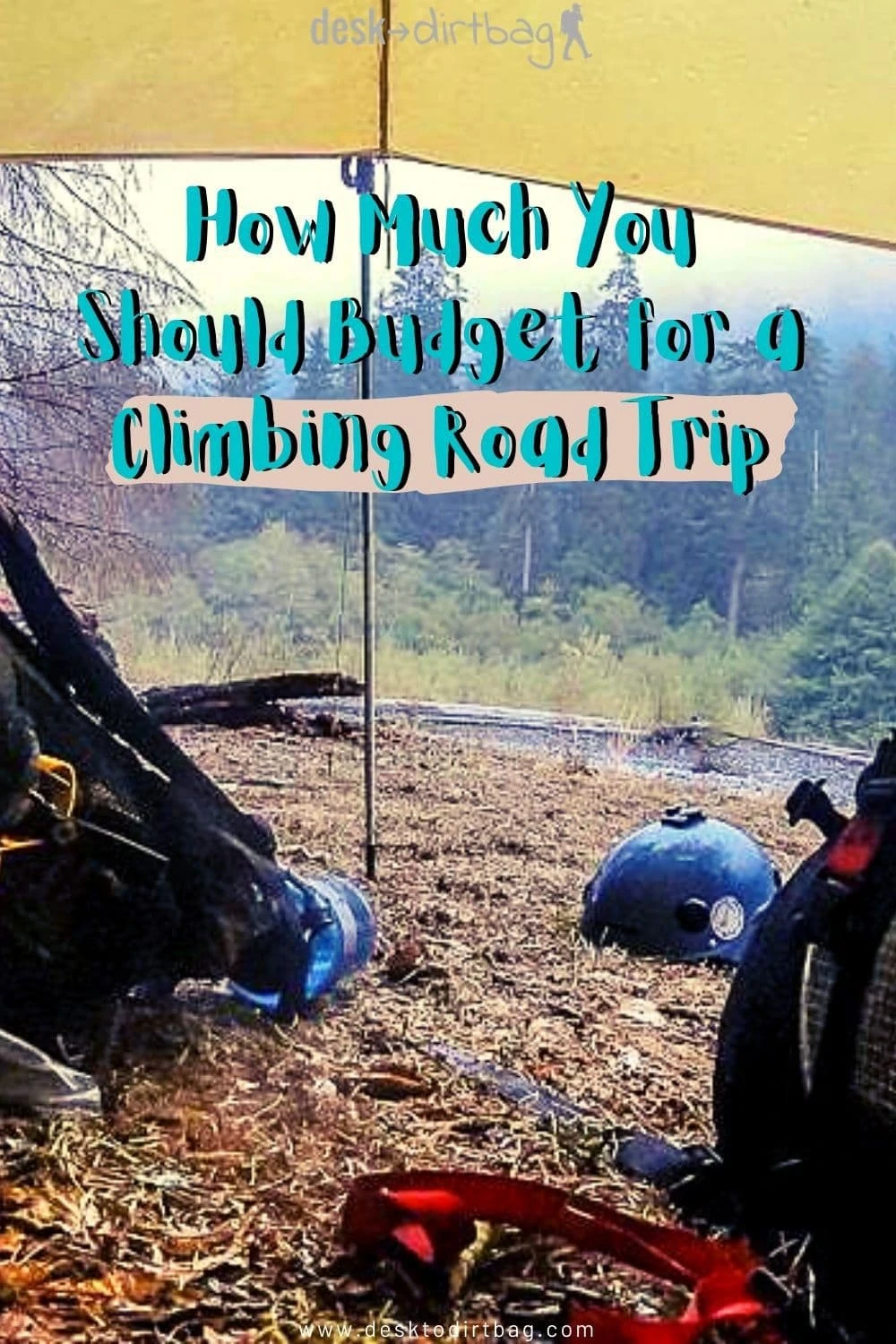 I've always done my best to try and answer this question privately via email but have refrained from answering it more directly in a blog post here, just because it is something that can vary so dramatically from person to person and from trip to trip.
I am going to do my best to give some average figures from my climbing road trip and go into detail discussing the most significant variables that will change the price of your trip.
Living out of your vehicle and on the road is a pretty affordable thing to do, even with today's high gas prices.
But the largest cost, most likely, will be related to gas and to your automobile. For more details about preparing, be sure to check out my road trip planning guide.
Climbing Road Trip Budget
If you are road tripping across the country to climb, hike, or for whatever reason, and will be basing yourself out of your vehicle, you will be faced with the conflicting options of staying put in a place and exploring it in more depth, versus continuing on and exploring MORE of the sights.
For example, you could try to do a giant loop around the United States in a year to see everything on your list, but you will inevitably have to spend less time in any individual place.
Or you could restrict yourself to a smaller geographic area like, say west of the Rockies as I did, and explore that area a little more in-depth.
This is obviously a personal choice, but one that will greatly dictate how much money, time, and other resources you will be putting into the travel portion.
For me, I always fall to the side of staying put in a place a little longer.
If the cost of a trip like this is an issue for you, I would encourage the same.
Maybe spend a month or two based out of one area, and then venture on to the next. If you are covering a huge amount of territory with only a short amount of time in each place you will spend a lot more money.
I covered more than 20,000 during my trip in 2013.
My truck gets about 16mpg fully loaded. With gas prices as they were (and are), I spent more than $4,000 on gas alone.
The days of covering big mileage meant spending $50 or $60 a day to fill up my truck.
This, of course, is in contrast to a lifestyle where you settle down in Joshua Tree or Indian Creek for a month at a time–only venturing into town once a week to replenish groceries and check the Internet.
Depending on the month and the nature of my travel during that time period, I was spending from $400 to $600 per month just on gas.
This does not factor in additional maintenance tasks, oil changes, or any catastrophic breakdowns that you may or may not experience.
Food and Eating Out
Going somewhat hand in hand with the constant travel versus staying put theme is the subject of food.
For me, the days where I was constantly on the move and traveling were the days where I couldn't be bothered to stop on the side of the road or at a rest stop and cook up some dinner on my stove (and then deal with clean up and such), which often meant stopping in to eat at some restaurant or fast food joint.
Prior to this trip I almost never ate fast food (I still haven't eaten at a McDonald's in 10+ years), except for things like Chipotle or maybe a trip to Dick's Hamburgers when I was back home in Seattle.
But I definitely found myself eating fast food more. It was cheap. It was easy. It was ubiquitous.
Eating out, even if it's just fast food, is obviously more expensive. If you limit the days of constant travel and time spent behind the wheel, you will probably be less likely to eat out. At least that was the case for me.
More often than not I would simply stock up on cereal, powdered milk, PB&J and bread, and some sort of pasta combo to get me through my days. I would do my best to supplement my diet with those fruit and vegetable things when I headed into town as well.
Part of travel, of course, is the eating out (not fast food) when you pass through new areas. Of course, I couldn't resist trying the Mexican food with green sauce in New Mexico, the date shakes in Palm Springs, and some fresh seafood once I hit the coast again.
In my mind, these are things that you should not miss out on and are essential to travel.
Beyond that, these periodic splurges to enjoy a good meal, to treat yourself, are also ways to keep the stoke up and morale high.
It isn't all butterflies and rainbows living in your truck in the desert.
Lodging
The beauty of living out of your vehicle on the road is the fact that you don't really need to be concerned with paying for lodging.
It is quite easy actually to find tons of free camping in the USA, in almost any area where an outdoorsy climber or hiker would be heading.
FreeCampsites.net is one of the best go-to resources that I use while road tripping.
I would also on occasion camp in Wal-Mart parking lots while between areas or tribal casino are another really, really awesome option for free casino camping. Or would even stealth camp at times in places or areas where it wasn't necessarily permitted to do so.
There was no way I was going to pay $40 per night to camp along the Californian coast, so I'd park in residential areas with curbside parking and discreetly tuck in for the night–after getting ready for bed elsewhere.
Or I would find an auto repair place and park my truck alongside the other cars needing to be fixed and be sure to leave early in the morning.
In other instances, like in the middle of Portland, I would just park in the parking lot of some business that had 24-hour service… A grocery store, a Denny's, or something of that nature.
I almost never paid to camp–I can probably count the number of times on my hand(s).
How Much You Will Need
Again, this is a really tough question to answer because it depends so much on your vehicle, nature of travel, your plans, and your own ability to scrimp, save, and be resourceful.
If I was to give a hard number for an individual I would use the following numbers as a starting point:
Gas and transportation: $500 per month (at 16 mpg and $4 per gallon that equals 1600 miles — which should cover some big travel days (and all the little back and forth travel once in an area).
Living expenses: My ballpark figure would be $20 per day x 30 days = $600 per month. Your figure may vary significantly. This should include little things like food and coffee and things you don't even think of. $600 was my average for food and dining last year. You could probably cut that in half though.
Essentially you are looking at needing the minimum wage ($7.25 x 40 hours per week = $1,160) to cover your monthly expenses.
That is about the best-generalized guideline that I can come up with in terms of how much you need to have on hand to embark upon a road trip similar to mine.
So with around $6,000 dollars in savings, you could set out for about six months, provided you don't have any unexpected problems with the vehicle.
This figure is almost the same as what I am looking at for the cost of living here in Medellin, Colombia (albeit with a much higher standard of living–I shower like every day, eat out almost all the time, and have an apartment). This article was about expenses for a solo, climbing road trip, but I also wrote my real life road trip expense report for a later trip as a couple.
Check out Roll Global's budget breakdown on their five-month climbing road trip.
Do you have experience with long term road-tripping and can share some details about your expenses? Any follow up questions about my trip and my expenses? Sound off in the comments below.
The following two tabs change content below.