This article may contain
affiliate links
. If you make a purchase through these links, I will earn a commission at no extra cost to you. Thanks!
After two months of exploring the American West with Andrea and showing her the beauty of America's National Parks from Mount Rainier, to the Grand Canyon, to Yosemite Valley, we decided to take a turn south for Mexico. First stop: driving to Tijuana!
Andrea's tourist visa for the USA was coming up upon its sixth month limit for the year and we decided that we weren't done truck camping and traveling quite yet.
We weren't quite sure what to expect when traveling to Mexico: I'd only been there once for a short touristy visit to Cabo San Lucas, and she'd never been. We only ever hear about all the bad things about Mexico: how dangerous it is, the ever-increasing violence, thieves, banditos, etc.
Why Drive in Mexico?
One of our stops on the tour of the American West was to the annual Overland Expo in Flagstaff, Arizona. We made it a point to gather as much info as we could about road tripping through Mexico, visiting all the seminars related to Mexico and chatting with lots of folks who had been before.
Talking with people who have actually been there, done that is one of the best ways to actually cut through the misinformation and make an informed decision for yourself about safety and security in Mexico.
Mexican Auto Insurance
While we were in Southern California we purchased auto insurance for Mexico, a must-do before you cross the border. Your US coverage will not cover you there. This is different for general travel insurance for Mexico (which is also something you should have, so read more about that).
NOTE: While Mexican auto insurance coverage is supposedly required, I will mention that no one ever asked to see proof of insurance nor even asked if I had it without proof during 3.5 months. Not the immigration officials, not the police/military checkpoints, nor during the 5x I was pulled over by the cops.
I called and spoke with both Baja Bound and Discover Baja for auto insurance. Discover Baja required an additional membership fee in order to purchase the insurance so we went with Baja Bound.
Your quote for coverage will depend on the age of your vehicle, length of time, and whether you will be traveling to Mainland Mexico as well.
My truck was too old for anything more than basic liability coverage, so it would not be covered in the event of outright theft… Hopefully our luck isn't that bad.
It total I paid $169.14 for six months of coverage including Mainland Mexico for my 1991 Toyota Pickup. Not too bad.
We were all set to cruise across the border.
Heading to San Diego
Initially we were planning to cross one of the smaller borders like Calexico or Tecate, but with Andrea's visa to the USA we wanted to chat with some US Border Patrol officials to confirm that she didn't need to receive an exit stamp or something equivalent and so we opted for the Tijuana border crossing.
After a night truck camping in the amazing Viejas Casino parking lot in the mountains above San Diego we headed down in the morning for the crossing.
This would be my first time driving into Mexico and I wasn't sure what to expect.
We exchanged our dollars for a few pesos outside the border before heading to the crossing…
Driving to Tijuana
To my utter surprise you just drive directly into Mexico. There was no one to stop us, ask questions, nothing. It's basically just open.
Now we're in Mexico!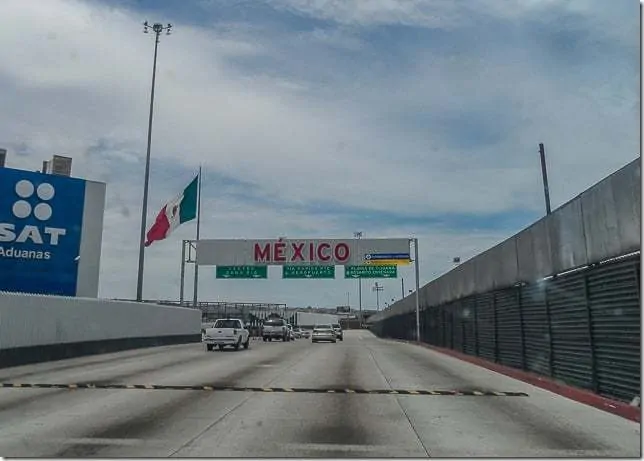 We pulled over near the offices so we could try and track down a US official to chat with about getting an exit stamp, but apparently they were no where to found nearby.
Mexican Tourist Card
In the process, we grabbed our Mexican tourist card (FMM) which cost $46 (or would be 295 pesos per person) for the both of us which is valid for six months.
WARNING: Save your receipt for the FMM tourist card or immigration officials may try to charge you for it again upon leaving the country–something we faced when leaving for Belize. Just Google "Mexico Belize Exit Scam" for more stories. There is no exit fee. I would staple your receipt to the tourist card. Read more about the Mexico Belize border crossing here.
After talking to a few Mexican officials who assured us that the Mexican stamp was more than sufficient, but not wanting to push her luck with being able to reenter the US in the future, we decided to turn right around and drive back to the USA border crossing…
Back to the USA
In order to cross back into the USA from Tijuana, we had to wait in a terribly long and disorganized line for at least one hour.
We made it back to the USA border crossing to ask the officer, who was a complete smart alec, acting as if he had just caught an illegal: "does she even have a visa?" "well, she *was* good until… Oh, yeah, a few more weeks. Go on ahead."
Now we're back in the USA!
In the end, she needed no exit stamp or anything from the USA.
Back to Mexico
So we pulled yet another U-Turn and ended up driving to Tijuana again. For our third border crossing in as many hours. But this time we would stay in Mexico for at least the next few months.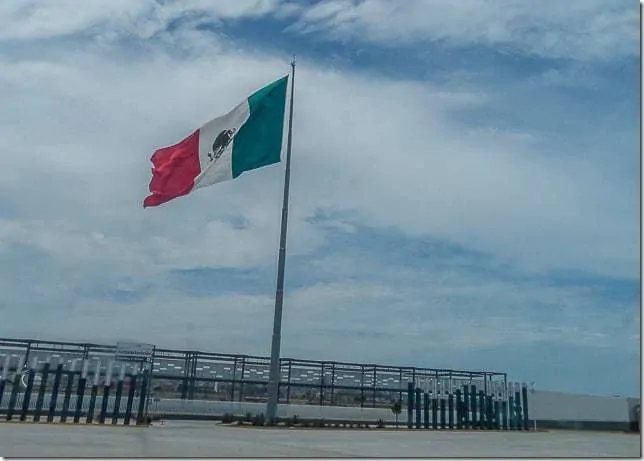 Bienvenidos a Mexico.
To drive into Baja you do not need to do the temporary vehicle import permit, but you do need the FMM tourist card and separate Mexican vehicle insurance.
If you are continuing on to Mainland Mexico, you can get the temporary vehicle import permit in La Paz (Pichilingue) before boarding the ferry.
Traveling to Baja California on your next trip? Book the perfect room on Booking.com today!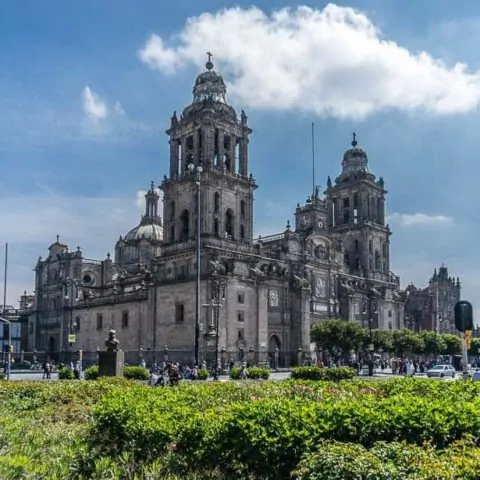 Mexico Travel Tips
Important tips and resources for planning an amazing trip to Mexico, based on my extensive experience traveling across the entire country.
Tools
Instructions
Book a cheap flight to Mexico with Momondo, or better yet, start travel hacking so you can fly for free.
Plan a rough itinerary and how long you will spend in each destination. Pick up Lonely Planet Mexico to help with this.
Work every day to teach yourself Spanish, you want to know as much as possible before you arrive.
Book your cheap accommodation in advance, at least for the first destinations -- For hostels use: Booking, for cheap hotels use: Hotels.com, for apartments use: Airbnb.
Reserve your on the ground tours and activities through Get Your Guide.
Purchase travel insurance for Mexico with World Nomads to protect yourself from illness, injury, and theft while in Mexico.
Check out my comprehensive guide about traveling to Mexico with information on cities, things to do, places to see, and more.
Learn more money saving tricks with my top budget travel tips if you want to get more bang for your buck.
Put together your Mexico packing list.
Enjoy this incredible country!
Notes
I hope this helped you plan your travels in Mexico! I know it can be a struggle to find accurate and on the ground information when traveling to a new place like Mexico, which is why I started writing so extensively about it!
If you have any questions about Mexico, budget travel, or anything else shoot me an email at ryan@desktodirtbag.com.
(I love getting questions! That is how I get ideas for my blog posts and what to write about!)
Recommended Products
As an Amazon Associate and member of other affiliate programs, I earn from qualifying purchases.
Share This
Did you enjoy this post about driving to Tijuana? Please take a moment to share it on Facebook, Pinterest, or Twitter. Thanks!
The following two tabs change content below.