This article may contain
affiliate links
. If you make a purchase through these links, I will earn a commission at no extra cost to you. Thanks!
Playa del Carmen is one of the most popular destinations for travelers to the Yucatan Peninsula (right after Cancun) — and for good reason… This is one of the coolest destinations in the area, offering tons to see and loads of things to do in Playa del Carmen. In order to get the most out of your time in the Riviera Maya and the Yucatan Peninsula, here's your cheat sheet to the best Playa del Carmen tours and activities.
About Playa del Carmen
Playa del Carmen is an ideal basecamp from which to explore different Mayan archaeological sites, the mysterious cenotes, and other adventures that might tickle your fancy. It has become a major destination in Mexico and a popular but much less crowded option than Cancun (just 45 minutes away).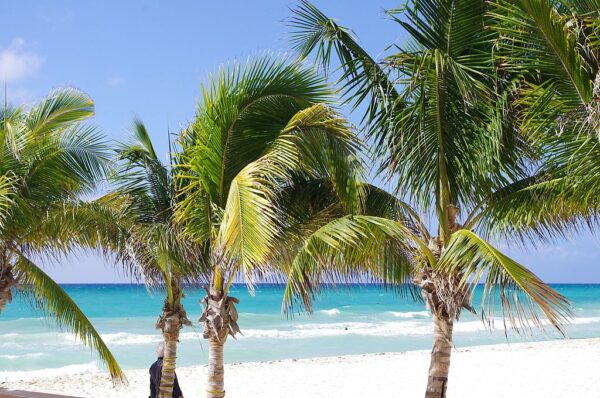 It was once a fishing village but has since transformed into a tourist destination because of its white-sand beaches, turquoise blue waters, great cuisine, and the friendly people. You should definitely start your trip by discovering shops, bars, and restaurants on the cobblestone street, lined with palm trees called 5th Avenue or Quinta Avenida, a famous walkway for tourists and locals alike.
Playa del Carmen is also home to the Meso-American Barrier Reef, which is the second-largest coral reef in the world, just off the coast of the city. Whether you love snorkeling or you are already a professional scuba diver, this is as good a place as any to get inspired to dive in and marvel at the underwater beauty of this area.
In any case, that's but just a taste of what this amazing town has to offer, so let's get on to the best Playa del Carmen tours and activities to choose from…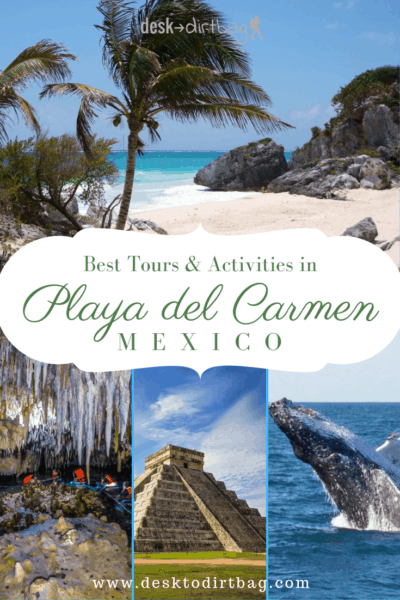 Visit Chichén Itzá, Hubiku Cenote, and Valladolid
Visit the Chichen Itza archaeological site, chill in a cenote, and explore an old Hispanic town, which sounds like the perfect full-day tour to join when you are in Playa del Carmen. This Chichén Itzá All-Inclusive with Hubiku Cenote & Valladolid tour offers a complete look at the region.
Start your day with a scenic drive to the Yucatan jungles where you can take a refreshing dip at Hubiku Cenote to start. This cavernous sinkhole of cool freshwater is in a limestone cave, and the Hubiku Cenote is just one of the 6,000 cenotes in the Yucatan Peninsula.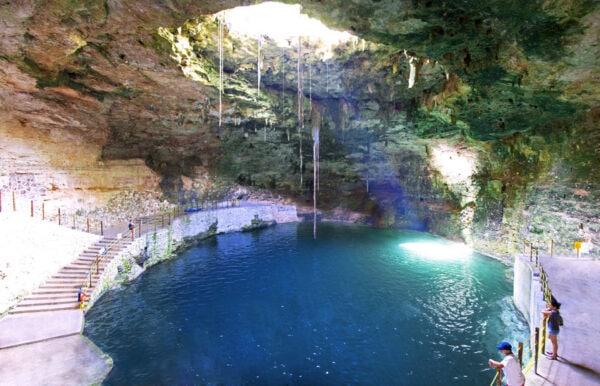 A swim can sure leave you hungry and this buffet lunch of typical Mayan dishes should fill you up. After, you'll hop on back to the bust for the drive to Chichén Itzá.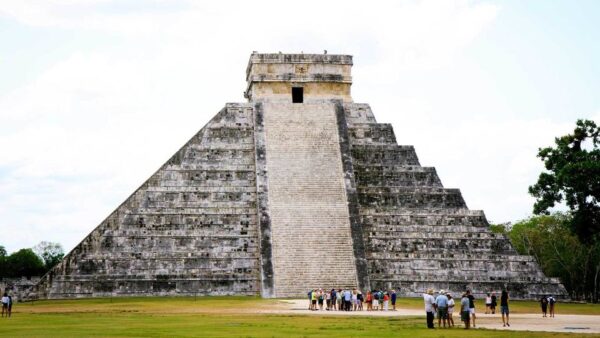 Chichén Itzá is one of the most famous and visited Mayan sites in Mexico. The ancient Mayans were considered to be the best builders in the New World and has surpassed the Greeks and Egyptians with their advanced mathematics and engineering.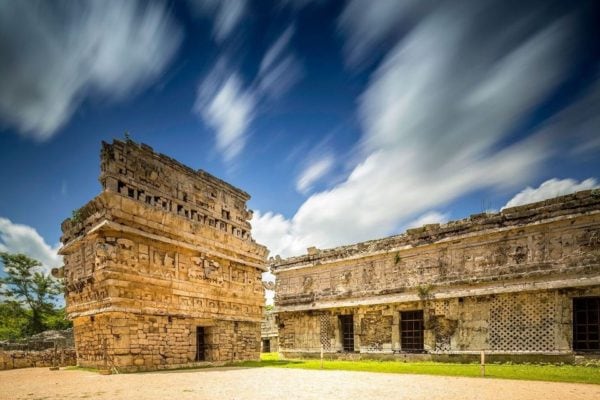 At the height of Chichén Itzá, it was known to have as many as 50,000 inhabitants in a total area of 10 square kilometers (4 square miles). The sacbes or raised roads connect the structures within the complex and some connect to different cities. This is a UNESCO World Heritage Site and a must-visit when you are in Playa del Carmen.
You can learn more about Chichén Itzá by visiting the main structures such as the Great Ball Court, the Temple of Warriors, El Caracol, the Platform of Eagles and Jaguars, the Platform of Venus, the Tzompantili, The Temple of the Jaguars, the Nunnery, Akab Dzib, La Iglesia, and the Temple of the 1,000 Columns.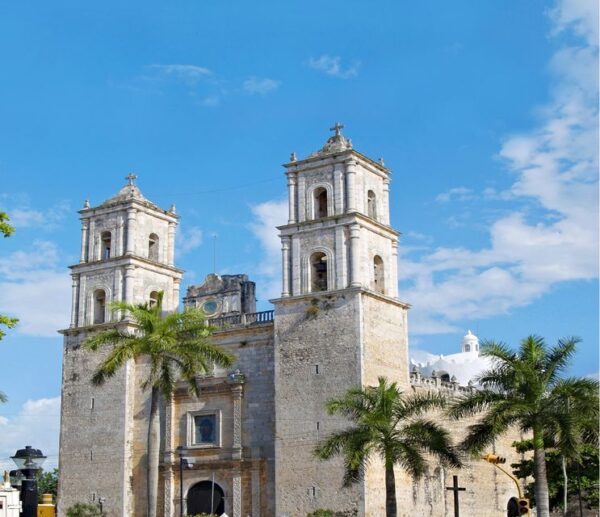 After appreciating Mayan history in this well-guided Chichén Itzá All-Inclusive with Hubiku Cenote & Valladolid tour, hop on back to the bus for some refreshments as you drive to the next stop, the colonial city Valladolid. Exploring this city will surprise you at every turn, with its history, culture, and people. It's a cool place, for sure!
Book your Chichén Itzá, Hubiku Cenote & Valladolid tour now.
Visit Tulum and Cobá Ruins
This interesting full-day tour includes the two ancient cities/ruins of Tulum and Cobá, a visit to the sacred sinkhole of the Mayans, a cave, and even a taste of the region. Tulum, Cobá and Hilario Cave Day Trip is most certainly an epic tour that you should consider booking while you're in Playa del Carmen.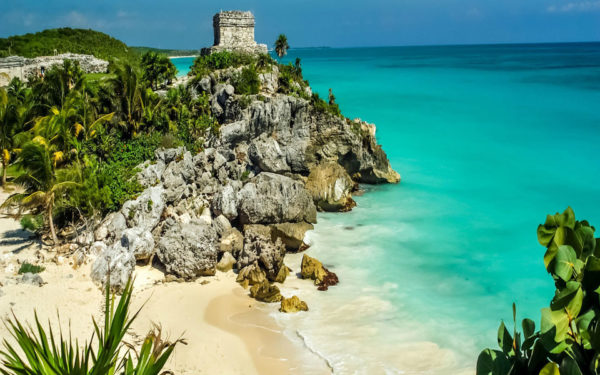 First stop is the Tulum archaeological site just south of Playa del Carmen. This is a port city of the Mayan civilization and here you can find the remains of temples, pyramids, observatories, and palaces. This was once ruled by the supreme Halach Uinicoob.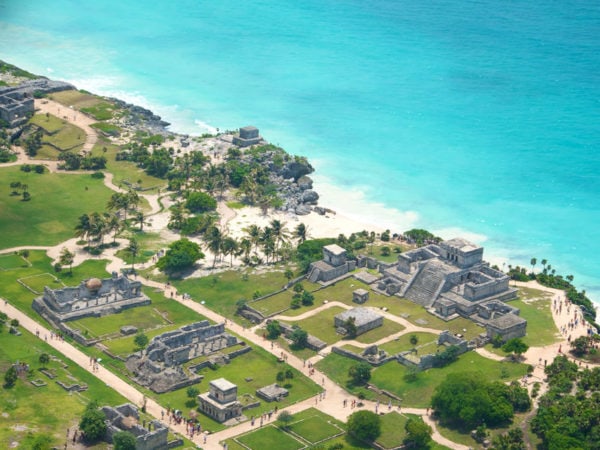 The Mayan megacity of Tulum was already flourishing when the Spaniards came. This site shows off plenty of incredible ruins, but it is perhaps most famous because the location of this ancient site also overlooks the turquoise waters of the Caribbean.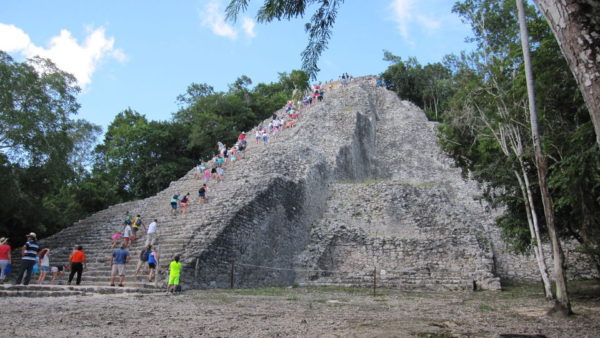 Your next will be the drive to the ancient city of Coba, where you'll learn how important this ancient megacity was to the other Mayan cities in Mesoamerica at that time.
Coba became a center of trade and worship within the area and the proof of which is the interconnected sacbes or white roads. There have been more than 50 sacbes discovered and exposed on site, 16 of which are now open to the public.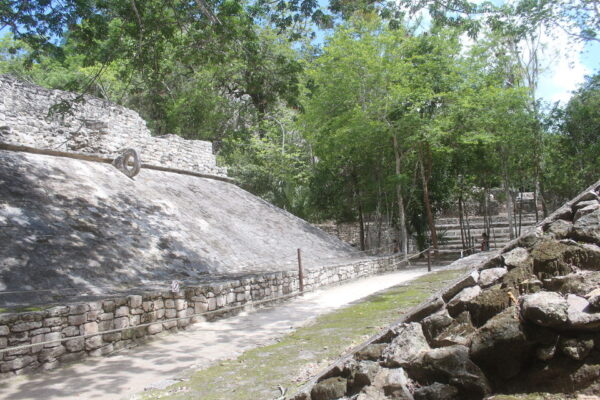 These sacbes start from city center are said to have continued miles away from the city and connected to sacbes of other cities (the longest road is known to have run for 100 miles to the city of Yaxuna).
What I love about Coba is that it gives you the feel of the ultimate Indiana Jones ancient city, hidden in the jungles. Also, since it is a lesser-known Mayan site than Tulum and Chichen Itza, it receives fewer tourists and the structures are quite well-preserved. You can even climb the 42-meter tall pyramid to see the green jungles surrounding it! Something you can't do at Chichen Itza.
Only a handful of structures of pyramids, temples, and observatories were discovered from the 6,500 structures that were believed to have been part of this ancient city. You can even wander off into the jungle to find buildings covered in trees and forest.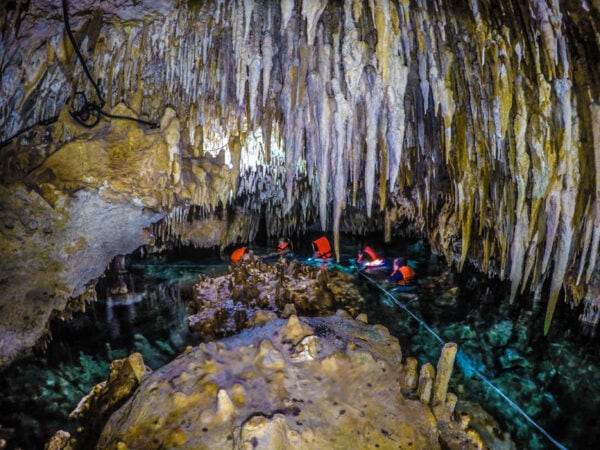 After lunch, head on to the closed cenote of Hilario Cenote Cave and be amazed by the stalactites and crystal clear waters. Descend into the cenote with a spiral staircase and jump into the cool waters of this cenote (the waters in this cenote stay at around 20 to 21 degrees Celsius).
Finally, you'll get to refresh at Playa Paraiso, which is also one of the must-visits when you are in Playa del Carmen. White sand beaches are like a code word for a perfect holiday.
Book your Tulum, Cobá and Hilario Cave Day Trip now.
The Old City of Ek Balam & Cenote Maya
Mexico is the former home of the Mayans and you will get to visit another incredible ancient city called Ek Balam on this Ek Balam & Cenote Maya: Full-Day Tour. You also get to chill in one of the best cenotes in the Yucatan which is Cenote Maya.
You'll start with a visit to Cenote Maya which is just a mile away from Ek Balam, literally next door to this great Mayan ruins.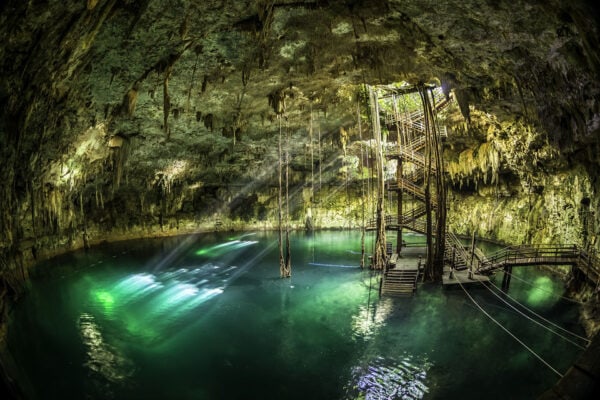 Descend into the cenote in a wooden staircase (done with ancient Mayan building techniques). Cenote Maya is a freshwater sinkhole with some beautiful rock formations. You can swim, dive, rappel, or even do a Tarzan swing from a sturdy vine!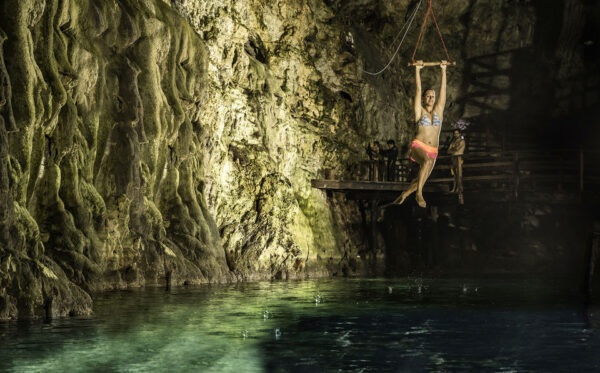 If you are someone who likes to buy and support local artisans while traveling, you will have a chance to explore a local market, where you can choose from many locally made items which make for great souvenirs to take back home. And look out for the Mayan ritual performed here and be part of an authentic blessing ceremony by a shaman.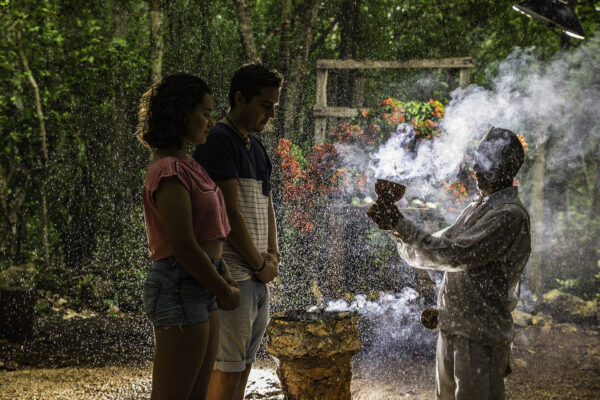 After the swimming and artisan market, you'll get to enjoy a buffet of traditional Mexican food. Choose from the lime soup, beans, vegetables, rice, chaya tamales, chicken, and handmade tortillas.
Then for the last and most important part of this tour, you'll proceed to the ruins of Ek Balam. Older than Chichen Itza, Ek Balam dates back to 100 BC and reached its height at 700 BC – 1,200 BC. Having the chance to explore this impressive site which was just recently restored is a pretty special thing.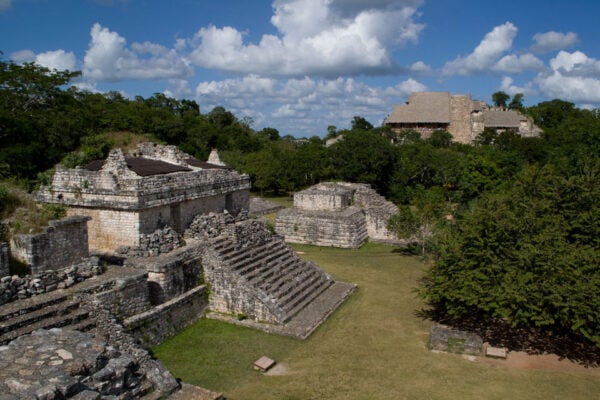 In Ek Balam (the name means Black Jaguar in the Mayan language) you can find the main Acropolis structure, one of the biggest structures discovered in Yucatan measuring to 500 feet long and 200 feet wide. You can still climb the structures but make sure you are up for a workout because while this mega structure is only 95 feet high, it is steep!
Ek Balam is one of the most impressive ceremonial centers of the ancient Mayans. There are unique high-relief sculptures, wall paintings, and decorations. One of the interesting things found here is the temple with a huge "monster mouth" which represents a portal to the underworld to the Mayans.
There was evidence found here that suggest that blood sacrifices were done as part of the ceremonies and rituals done by the priests and nobles. Although there is not much information, archaeologists continue to find more structures and artifacts which illuminate how these ancient people lived.
If you climb to the summit of the major temple, you can even see Coba (30 miles away) on a clear day. If not, you still can say you got a bird's eye view like an ancient king.
Book you Ek Balam & Cenote Maya: Full-Day Tour now.
Whale Shark Safari
Playa del Carmen is a jump-off point of water activities and one of the best things you can do here is the Whale Shark Safari Snorkeling Tour . This full-day tour of snorkeling and swimming with the largest fish in the world is a safe and interesting way of spending some of your time in Playa del Carmen.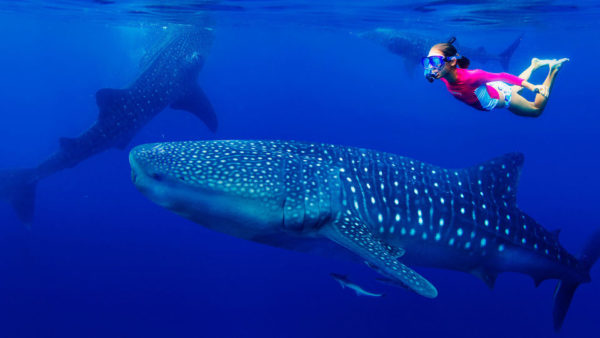 Start early at 6:00 AM to 7:00 AM for pickup and proceed to Punta Sam in Cancun. Then from here, you will ride a speed boat to the area where you will find the whale sharks. You can watch them from your boat or, better yet, swim with these docile creatures!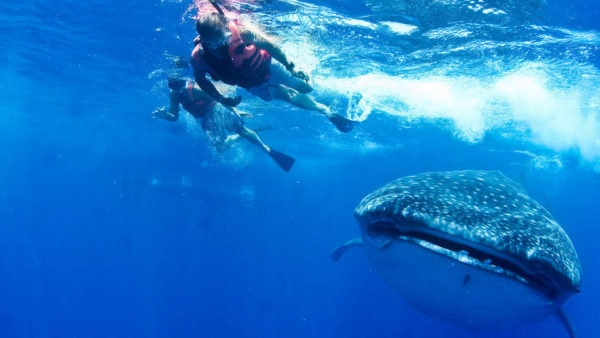 The gentle giants measure up to 46 feet (14 meters) and weigh up to 15 tons. The whale shark is the largest fish in the world but they only feed on plankton and even seem to casually enjoy human interaction. Don't worry, you will be safe with the tour guides and you will be provided with your full snorkeling gear, masks, flippers, and life vests.
Not only will you get to see whale sharks but also have a stop at Isla Contoy which is home to an abundance of sea and birdlife. Look for the rare "Chimay Birds" (your guides will point them out to you) and enjoy the sights of flocks of flamingos, ibis, egrets, and pelicans. And usually, wild dolphins will frolic around the boats along with stingrays and sea turtles.
Book your Whale Shark Safari Snorkeling Tour now.
Excursion for the Day: Xel-Há Park
Spend an adventure-packed day at the natural wonder of Xel-Há Park with this all-inclusive Xel-Há Park Excursion day pass. This is a ticket to enjoy the lazy river, mangrove forest, colorful schools of fish, snorkeling, swimming, and a lot more.
Xel-Há offers different experiences on land and water but they also make sure that they take care of the environment so that people can continue to enjoy this park. Stroll along jungle paths and dive into cenotes in this natural park, or marvel at the native flora and fauna while you discover the forests, rivers, freshwater pools.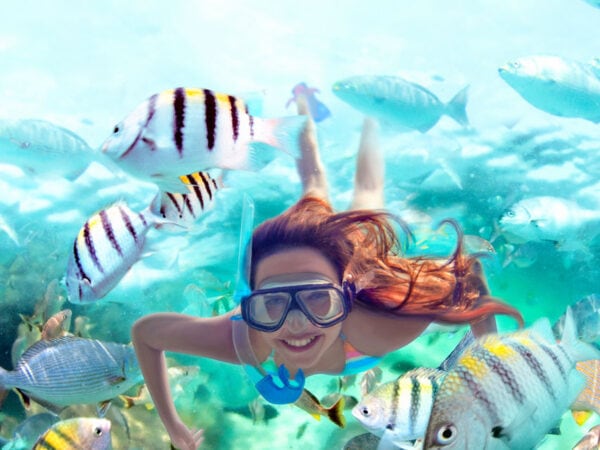 Complete this experience with a buffet of delicious Mexican and international cuisine with unlimited drinks. There is an open bar available all day.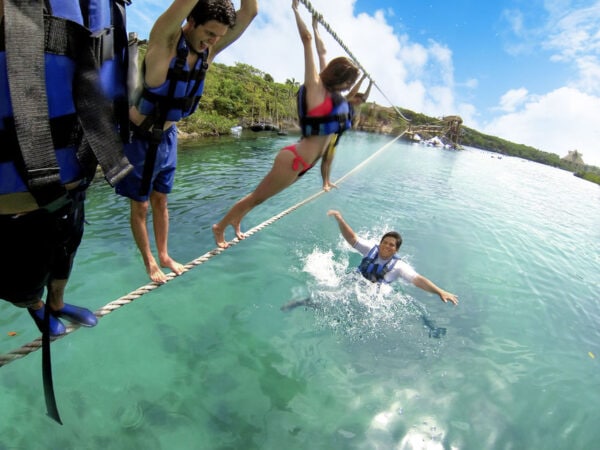 Dive into the waters or do a Tarzan jump to experience Xel-Ha's natural aquarium and spectacular ecosystem. Let me know how your adventure was, okay?
Book your Xel-Há Park Excursion now.
Cooking Class with Local Chef & Market Tour
Always learn from the best, particularly when it comes to cooking! Why not take the time to learn how to cook Mexican recipes from scratch with a local chef in a half-day Cooking Class & Local Markets Tour package? Meet Chef Alma and she will be your expert guide to immerse into the local flavors of Playa del Carmen.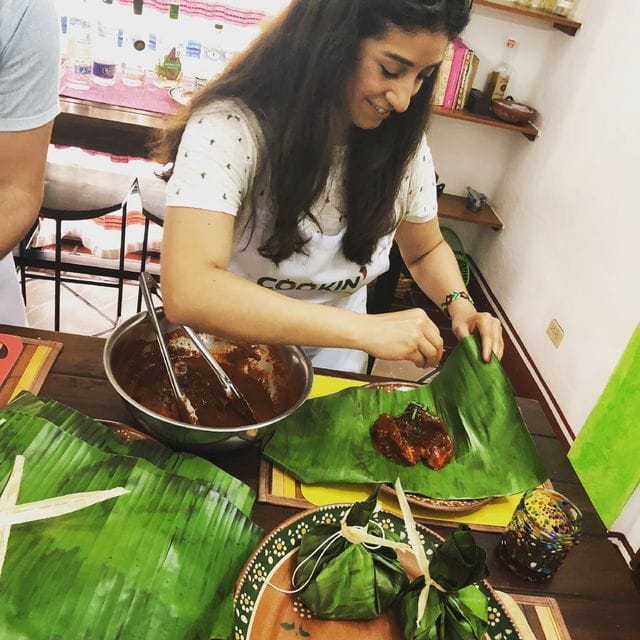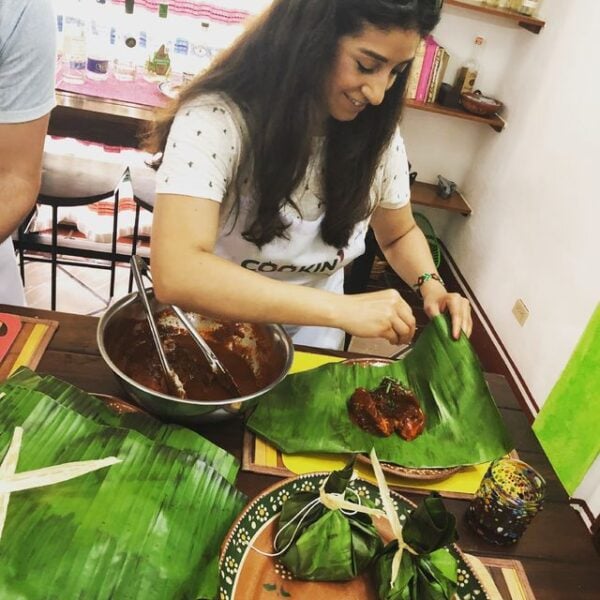 Chef Alma will help you choose ingredients to be used in the many recipes you will be learning how to cook after stopping at the local market for supplies.
Discover an off-the-beaten-path tour of one of Playa del Carmen's different neighborhoods and its markets to scout for the best produce to cook. You'll learn how the locals select their produce and where they buy their groceries for their daily meals.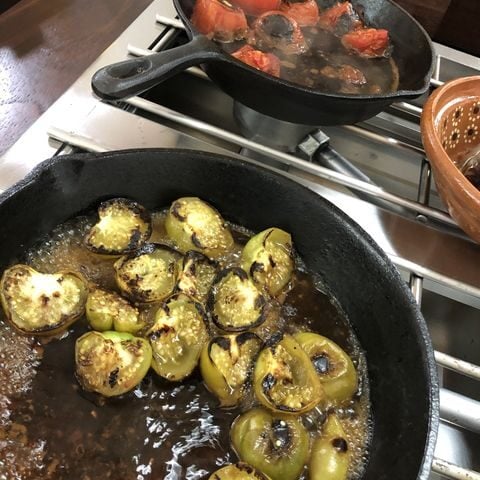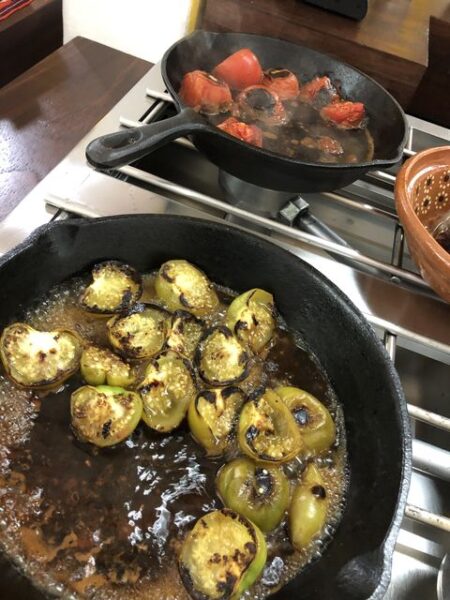 After the market tour and shopping, Chef Alma will lead you to her kitchen to prepare a feast of Mexican home-style dishes. In this short cooking class, you will cook a 3-course meal and enjoy the different foods that you will prepare along with tequila for lunch.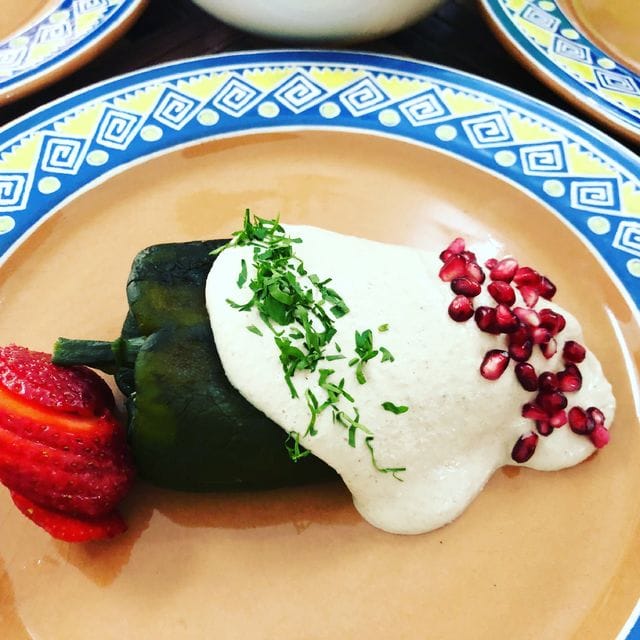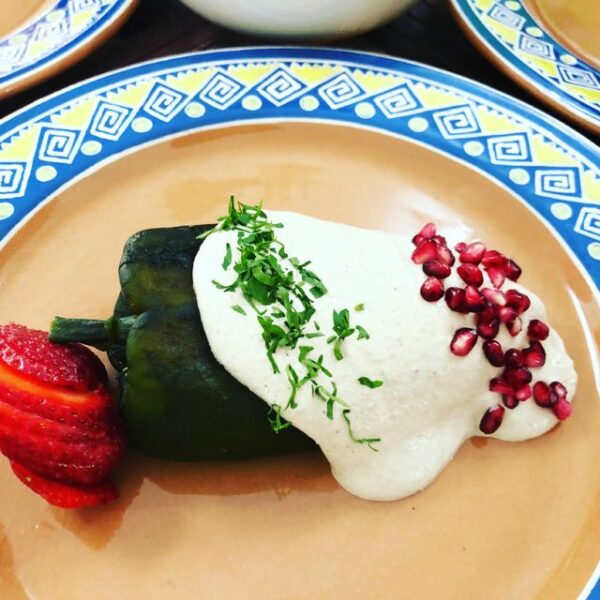 Don't worry, all recipes will be emailed to you at the end of the class so you can recreate these Mexican home-cooked meals experience back in your own home. Cooking and food classes are one of my favorite ways to experience a new destination, and Mexican food is some of the best in the world!
Book your Cooking Class & Local Markets Tour now.
Full-Day Sailing Trip to Isla Mujeres
Isla Mujeres is a beautiful island in the turquoise blue waters of the Caribbean. You will get to explore this island and the waters around it on this Full-Day Sailing Trip to Isla Mujeres. On the way there, you can often see dolphins and turtles swimming beside the catamaran as it sails through the warm waters.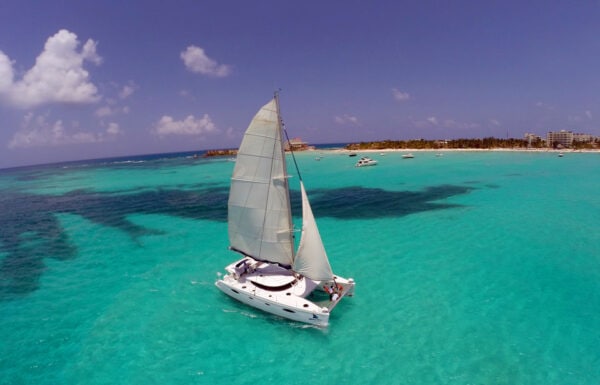 This full-day catamaran sailing trip to Isla Mujeres is a must-do while you are in Playa del Carmen. More than just a beach, Isla Mujeres also has a rich and colorful history with the Mayans crossing to this island during pre-Hispanic times.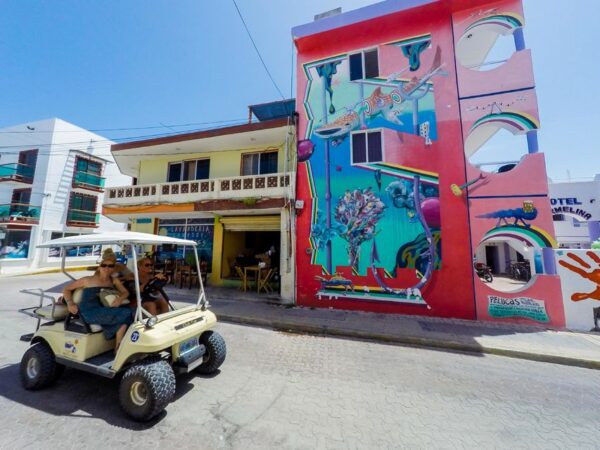 And there are even stories of famous pirates such as Fermin Mundaca hiding on this island and your guide will also share stories about the cave of sleeping sharks which was discovered in the 1970s.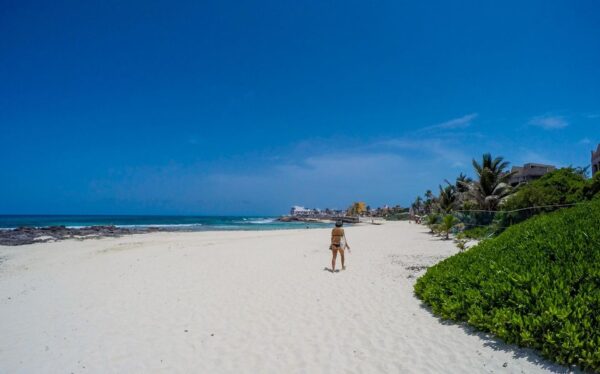 On this catamaran trip, you'll get to snorkel and swim along the Machones Reef and marvel at the incredible life teeming just below the water's surface. Manchones Reef has clear waters with abundant marine life that is definitely worth exploring.
A visit to Isla Mujeres should be on the itinerary for almost any visit to the Yucatan Peninsula.
Book your Full-Day Sailing Trip to Isla Mujeres now.
Parasailing Adventure in Playa del Carmen
The thrilling Parasailing Adventure is awaiting you in Playa del Carmen! If you are up for an exhilarating ride with unparalleled views of the Caribbean Sea and Playa Del Carmen, then you should be down (or should we say up?) for this adventure.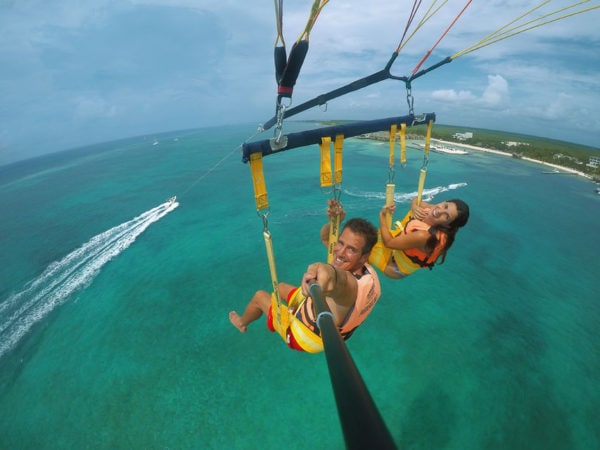 A boat will propel you to new heights and as you rise you, and you'll get to sail along the beautiful blue waters in front of Playa del Carmen. You can enjoy this breathtaking ride alone or with a companion — and while the tour is quick, it's definitely unforgettable.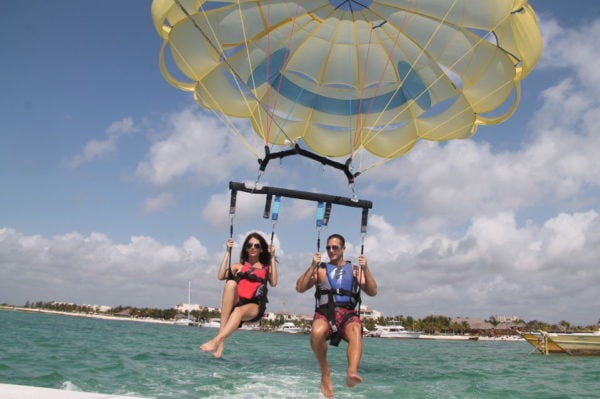 This tour includes round trip transport from your hotel, snacks, and refreshments. The operator is trained by the Professional Association of Parasailing Operators (PAPO) and will fly from the world-famous Playa Maroma, so you can be assured of a safe and fun trip!
Book your Parasailing Adventure now.
Jungle Ziplining & Horseback Riding Experience
For adrenaline junkies, this Jungle Ziplining & Horseback Riding Adventure Experience is a perfect half-day tour to choose. This Jungle Ziplining & Horseback Riding Adventure is a fun-filled experience that will let you explore the incredible jungles and nature in the area.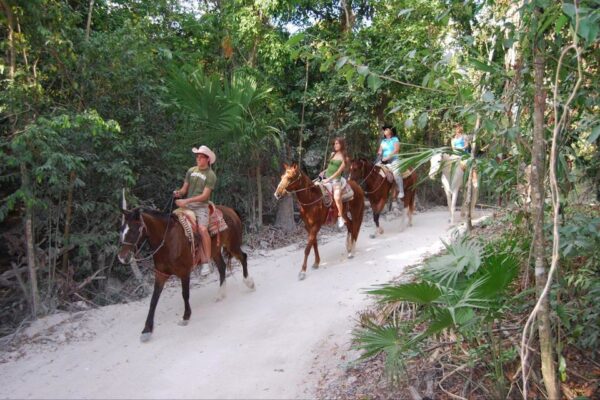 You'll start with an easy horse ride at the park where you will navigate through some narrow jungle paths. Enjoy the (relative) coolness of the jungle paths and the beautiful landscape.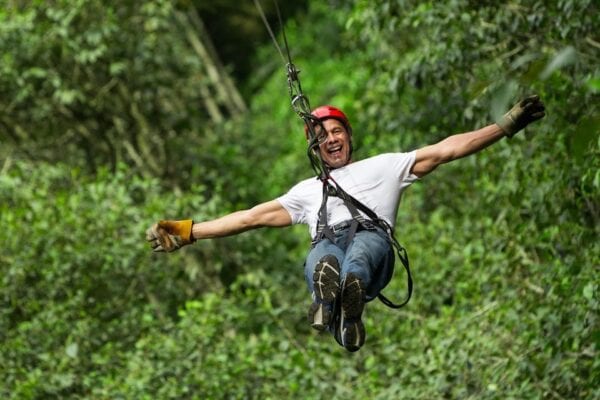 The next activity will be zip-lining through the canopy above the forest. You will fly among the treetops! Feel the rush of zip lining through each of the 10 towers distributed across seven lines and two suspension bridges. You'll get the blood flowing and be amazed by the flora and fauna as you swoosh through the treetops.
Finally, you'll get to zipline above the cenote and jump into the water, where you'll finish the adventure with a chill swim in the cenote. A relaxing end to a thrilling day!
Book your Jungle Ziplining & Horseback Riding Adventure Experience now.
Rio Secreto Underground River Tour
Explore the Rio Secreto Nature Reserve on this full-day Rio Secreto Underground River Tour with Crystal Caves tour. This is one of the most spectacular underground caves in Mexico (and maybe even the world).
You can see the most famous crystal caves inside Rio Secreto. This is one of the wonders of the Yucatan Peninsula and this is a must-visit which just outside Cancun and Playa del Carmen.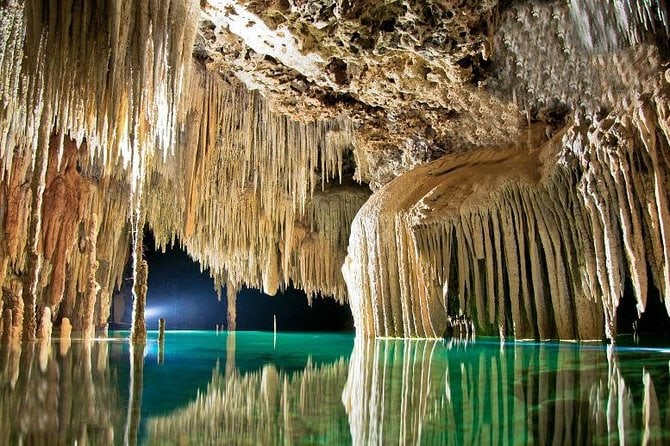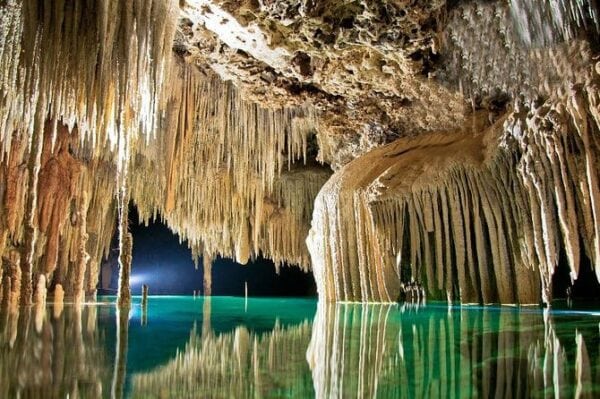 First, the guides will be giving you a safety review and provide you with the wetsuit, life vest, and water shoes. Then you'll follow your guide as you descend into the underground cave to marvel at the crystal formations on the ceiling and the floor of the cave. There are some truly dramatic mineral forms and vibrant colors to discover here.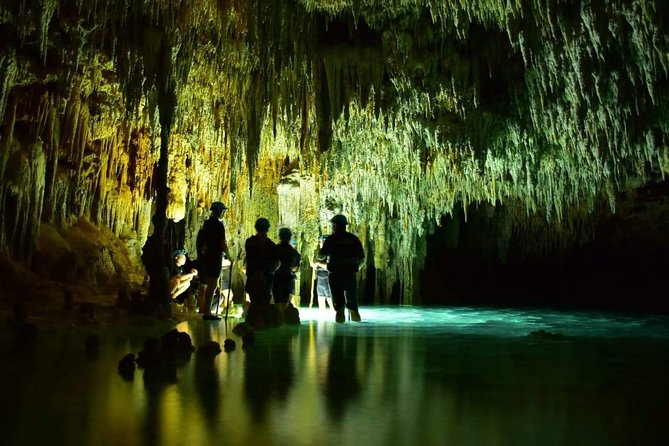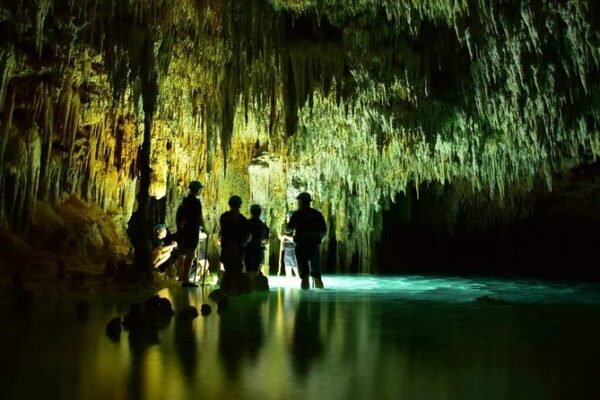 Enjoy a day of crystalline waters in this mysterious and amazing cave before you head on back to your hotel.
Book your Rio Secreto Underground River Tour with Crystal Caves now.
More Playa del Carmen Tours
Playa del Carmen, or "Playa" as it commonly called by locals, has so many things in store for a traveler who wants to experience more exciting tours and activities both on and off the beach.
Playa del Carmen is also a great place to base yourself thanks to its location near popular Mexican cities like Tulum, Cozumel, and Cancun, thus adding possibilities of adventures and activities that you can fill up your days while you are in the Yucatan Peninsula of Mexico.
Right in the heart of the Mayan Riviera, Playa del Carmen is more of a bohemian lifestyle in the Caribbean compared to Cancun. The people are warm and friendly which makes for a great place to stay longer to experience more of the warm days and fun nights along the beach.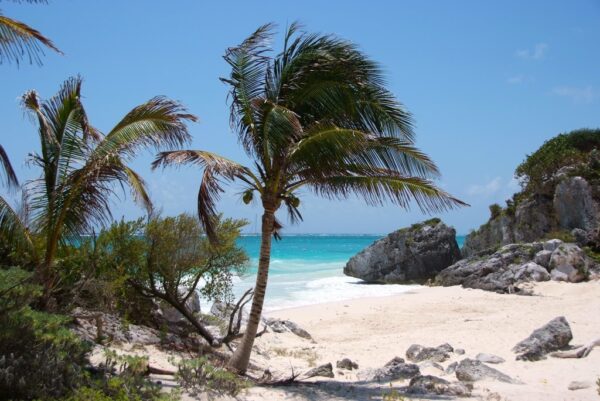 Playa del Carmen will always be a fun place for you to visit or to come back again. Indeed, if I had to choose one between Playa or Cancun, I'd choose Playa del Carmen — the city has a cool laid back vibe that I quite enjoyed compared to the Las Vegas-like experience in Cancun.
Read More: The Best Things to Do in Playa del Carmen
Traveling to Playa Del Carmen soon? Be sure to book your room from Booking.com now to save on the best Playa Del Carmen hotels. If you are staying for a few weeks, I highly recommend looking into Airbnb units.
Check out my ultimate guide to traveling to Mexico if you plan to explore more of Mexico, including some of the other interesting Mexican cities nearby like Merida, Cancun, or Tulum. And don't forget to purchase travel insurance for Mexico to protect yourself against injury, theft, and sickness. I use and recommend World Nomads thanks to its combination of coverage and affordability.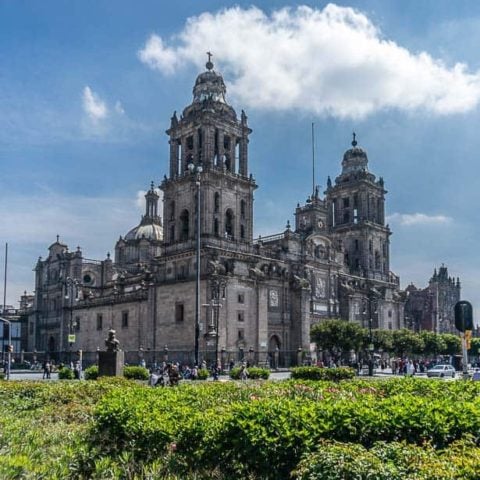 Mexico Travel Tips
Important tips and resources for planning an amazing trip to Mexico, based on my extensive experience traveling across the entire country.
Tools
Instructions
Book a cheap flight to Mexico with Momondo, or better yet, start travel hacking so you can fly for free.
Plan a rough itinerary and how long you will spend in each destination. Pick up Lonely Planet Mexico to help with this.
Work every day to teach yourself Spanish, you want to know as much as possible before you arrive.
Book your cheap accommodation in advance, at least for the first destinations -- For hostels use: Booking, for cheap hotels use: Hotels.com, for apartments use: Airbnb.
Reserve your on the ground tours and activities through Get Your Guide.
Purchase travel insurance for Mexico with World Nomads to protect yourself from illness, injury, and theft while in Mexico.
Check out my comprehensive guide about traveling to Mexico with information on cities, things to do, places to see, and more.
Learn more money saving tricks with my top budget travel tips if you want to get more bang for your buck.
Put together your Mexico packing list.
Enjoy this incredible country!
Notes
I hope this helped you plan your travels in Mexico! I know it can be a struggle to find accurate and on the ground information when traveling to a new place like Mexico, which is why I started writing so extensively about it!
If you have any questions about Mexico, budget travel, or anything else shoot me an email at ryan@desktodirtbag.com.
(I love getting questions! That is how I get ideas for my blog posts and what to write about!)
Recommended Products
As an Amazon Associate and member of other affiliate programs, I earn from qualifying purchases.
Share This
Did you enjoy this post about the best Playa Del Carmen tours and activities? Please take a moment to share it on Facebook, Pinterest, or Twitter.
The following two tabs change content below.
Desk to Dirtbag is one of the leading budget adventure travel blogs online and is dedicated to helping its followers achieve their travel dreams through inspiration, information, and actionable steps. If you are new to the site, be sure to
Start Here
.
Latest posts by Desk to Dirtbag (see all)