This article may contain
affiliate links
. If you make a purchase through these links, I will earn a commission at no extra cost to you. Thanks!
Zipolite Mexico is one of the most relaxed and coolest beach towns you'll find in Mexico, that is well off the beaten tourist and resort path. Here you will find sleepy cabanas, lazy hammocks, and fresh food. Dare I say, it is probably the best Mexico hippie beach town. We headed there straight from Oaxaca on our road trip south through the country.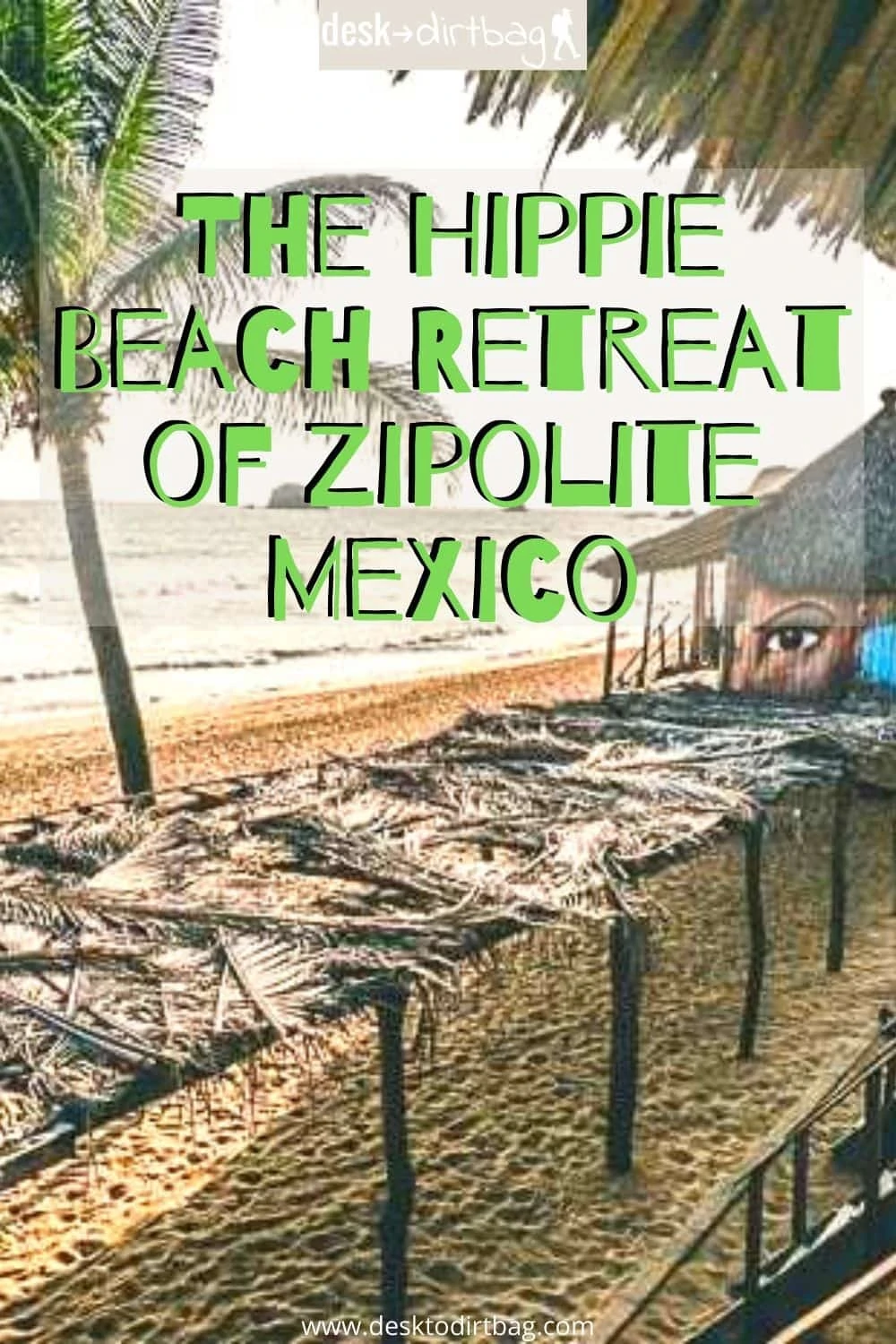 The road from the city of Oaxaca to the coast is an incredible drive that takes you up to nearly 9,000 feet before dropping back down at sea level in just a few hours.
On our way from Hierve el Agua's petrified waterfalls, we wrapped back around the outskirts of Oaxaca before turning off onto Highway 175, which is reportedly the most scenic of the three highways the lead to the Mexican coast.
We had been in inland Mexico for a long time now, basically ever since leaving the Puerto Vallarta area.
It was time to head back to the beach for the salty air and crashing waves.
San Jose del Pacifico, Mexico
The road began to wind wildly up the mountains and the temperature dropped while the plants and environment changed.
The clouds closed in around us and a light rain began to fall as we reached the highest part of the pass… I had to roll up the truck windows and reach back for my jacket. It was chilly!
We decided to break up the drive to the coast, so we stopped in for a night at San Jose del Pacifico and wandered into Hotel Cabanas, which offered private little mountain cabin rooms with a nice view of the surrounding valleys.
The hotel was only 350 pesos per night, the rooms had a TV, but no internet, you had to pay by the hour in the lobby for that.
We tucked into the thick blankets. It was nice to feel truly cold for the first time since leaving the United States.
Off to Zipolite Mexico
The following day we wound back down the mountain roads and felt the temperature and humidity creep up once again.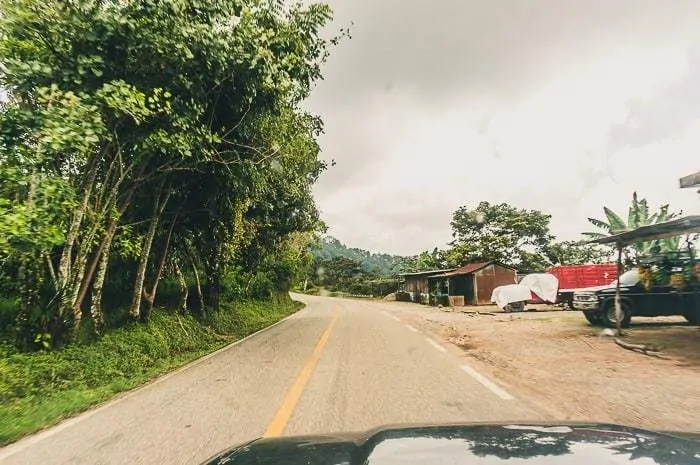 It took us another four hours of driving to reach the crashing waves of the Pacific in Zipolite.
The surrounding countryside is green, wild, and tropical. It felt like we'd driven a very long way from Seattle for the first time, with a new and different atmosphere. Lots of little shacks and vendors on the side of the road selling fruits.
Zipolite: A Mexico Hippie Beach Town
This part of Mexico's coast is still very much removed from the major tourist path and is nothing like Cancun, Mazatlan, Puerto Vallarta, or Cabo San Lucas.
We found a humble little place right on the beach called La Havana which had rustic elevated cabanas for 150 pesos per night (about $10) with an absolutely incredible view of the crashing waves.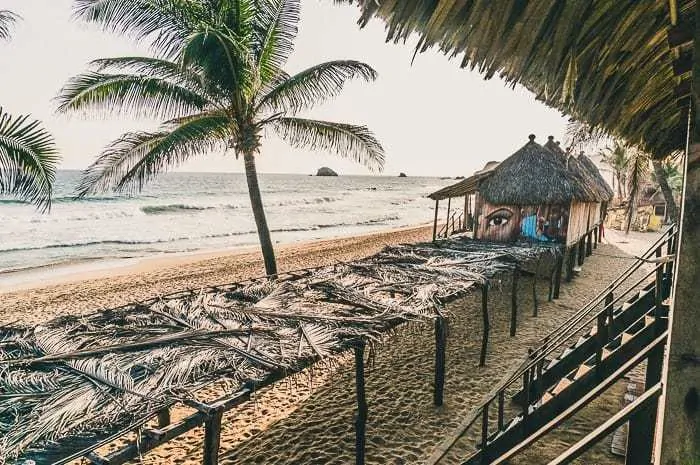 It felt like we'd found our little slice of paradise on the Mexican coast.
In the distance, we saw the bare, pale butt cheeks of a couple walking past… Certainly a strange sight.
But Zipolite has become well-known for being one of the few nude beaches in Mexico. It is probably the most well-known, at least.
I gotta say it's a little strange to have people walking past your door and letting it all hang out, but that's the way it is here.
Nudity, while not officially allowed, is tolerated, even on the main beach in front of the town, and this place has become popular with the hippy backpackers especially.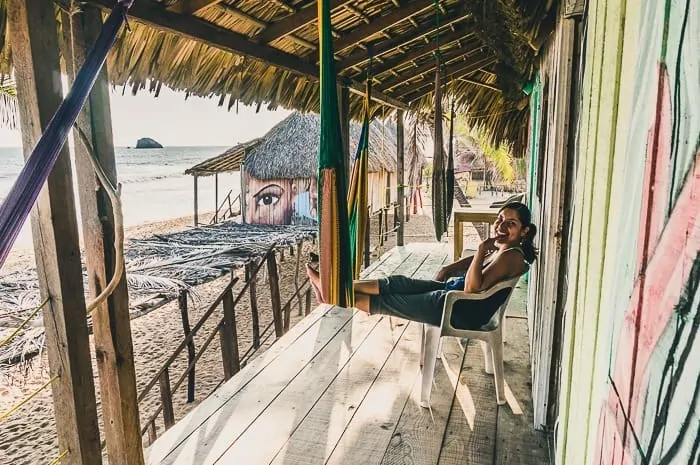 Despite all the bare skin (there weren't that many people, in reality), we were blown away by the incredible view and the cheap prices.
It was a short walk to "town" which isn't more than a couple of blocks long, where you could grab a beer for 15 pesos ($1) or a bite to eat like a tlayuda — a traditional Oaxacan dish, with a baked tortilla topped with all sorts of goodies that resembles a Mexican pizza — for just 40 pesos ($3).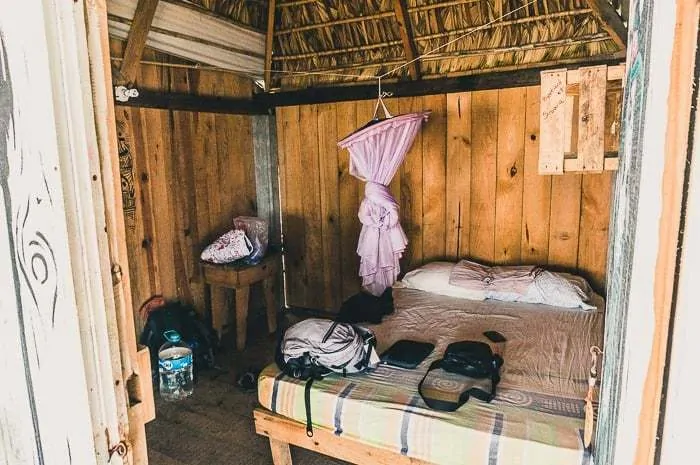 Life in Zipolite is quiet, relaxed, and peaceful. Most people come here to do nothing at all, just laze about and enjoy beach life and the sounds of the crashing waves.
I loved just hanging out on the chairs on our porch, swinging in the hammock, or walking along the beach at sunset. Honestly, I could have stayed much longer, but the WiFi situation was relatively sporadic and not very strong. Certainly not conducive to someone like me who needs to do at least some work to keep traveling.
Read More: How I Get Paid to Travel the World
Mazunte, Mexico
We managed to break away from our little slice of paradise to explore a little further up the road and made our way towards Mazunte, another cool coastal town just a short drive away.
We were hoping to see sea turtles and made our way to the National Mexican Turtle Center to seek out info or a tour, but were told that they weren't expecting any activity in the coming days. Bummer!
After a few nights of rustic living in Zipolite cabanas, we decided to splurge on a slightly nicer place to stay… Andrea was dying for a real shower, instead of the salty shower at the cabanas in Zipolite.
Budget options were not plentiful in Mazunte, but we decided to stay at Hotel Arigalan for 750 pesos per night (5x more expensive than we paid in Zipolite).
But they had good internet and an air-conditioned room, so it would be worth it.
Instead, we found that the internet was "down" after already paying and checking in and the A/C in our room only marginally worked. It felt like a huge rip-off!
On the plus side, the hotel did have a most excellent view, situated high on a bluff overlooking the ocean.
The saving grace (besides the nice shower) was hiking down the steep steps later that night and wandering into a delicious wood-fired pizza place that sat right on the edge of the sandy beach and lapping waves. Delicious!
Either Zipolite or Mazunte makes a great base to explore the area, including things like the impressive La Ventanilla mangroves and wildlife refuge — a must-do!
Zipolite vs Mazunte
Zipolite is decidedly more rustic, wild, and less-developed, whereas Mazunte is more refined and slightly upscale.
Zipolite is like a slightly dirtier place where hippies go to walk around naked, drink cheap beer, and living in cheap little shacks overlooking the ocean.
Mazunte is like a more upscale place where blond foreigners pay big prices to go on a yoga retreat and eat vegetarian meals closed off in their hotels.
I liked the ambiance and vibe of Zipolite much more than Mazunte, personally. In any case, this whole region of Mexico is so incredible and inviting, much more laid back, relaxed, and fun compared to the bigger overrun tourist destinations in Mexico. If you're looking for something a bit different, but still with beautiful weather and extraordinary beaches, be sure to head to the coast of Oaxaca and visit Zipolite, the coolest Mexico hippie beach town I've ever visited.
Traveling to Oaxaca on your next trip? Book the perfect room on Booking.com today! Be sure to read more about why you need travel insurance for Mexico, as well. I recommend World Nomads to protect you against illness, injury, and theft. It's what I use myself.
Read Next: Guide to Traveling to Mexico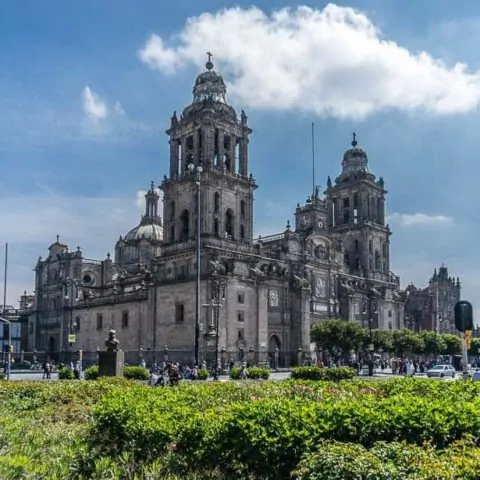 Mexico Travel Tips
Important tips and resources for planning an amazing trip to Mexico, based on my extensive experience traveling across the entire country.
Tools
Instructions
Book a cheap flight to Mexico with Momondo, or better yet, start travel hacking so you can fly for free.
Plan a rough itinerary and how long you will spend in each destination. Pick up Lonely Planet Mexico to help with this.
Work every day to teach yourself Spanish, you want to know as much as possible before you arrive.
Book your cheap accommodation in advance, at least for the first destinations -- For hostels use: Booking, for cheap hotels use: Hotels.com, for apartments use: Airbnb.
Reserve your on the ground tours and activities through Get Your Guide.
Purchase travel insurance for Mexico with World Nomads to protect yourself from illness, injury, and theft while in Mexico.
Check out my comprehensive guide about traveling to Mexico with information on cities, things to do, places to see, and more.
Learn more money saving tricks with my top budget travel tips if you want to get more bang for your buck.
Put together your Mexico packing list.
Enjoy this incredible country!
Notes
I hope this helped you plan your travels in Mexico! I know it can be a struggle to find accurate and on the ground information when traveling to a new place like Mexico, which is why I started writing so extensively about it!
If you have any questions about Mexico, budget travel, or anything else shoot me an email at ryan@desktodirtbag.com.
(I love getting questions! That is how I get ideas for my blog posts and what to write about!)
Recommended Products
As an Amazon Associate and member of other affiliate programs, I earn from qualifying purchases.
Share This
If you enjoyed this post about the coolest Mexico hippie beach town, please take a moment to share it on Facebook, Pinterest, or Twitter. Thanks!
The following two tabs change content below.